On Thursday morning this week, the FIA World Motor Sport Council will be assembling in the Salle du Comite, the large meeting room within the FIA's plush headquarters at 8 Place de la Concorde, in the heart of Paris's swanky 8th arrondissement.
As I need not remind you, the WMSC is meeting in order to decide the fate of McLaren in respect of a spying scandal that has become known as 'Stepney-gate' - a bitter homage to Nigel Stepney, Ferrari's recently-sacked technical manager, who allegedly passed 780 pages of confidential Ferrari technical information to McLaren's recently-suspended chief designer, Mike Coughlan, earlier this year.
As to how McLaren did or did not use that info, we will surely find out later on Thursday, when the WMSC verdict is known; as to what disorder in Ferrari's IT security systems enabled Stepney to get his hands on such a huge quantity of highly sensitive material, we may never know.
Ferrari and McLaren in parc ferme © XPB/LAT
After all, despite his exalted job title (and salary), Nigel was in reality no more than the Scuderia's chief mechanic, albeit an extremely able and experienced one.
So, if Ferrari's IT security had been as good as it should have been, Coughlan could never have received even one page, let alone 780.
This is not merely my opinion; the ease with which Stepney was able to stroll out of the famous Maranello factory, his briefcase presumably bulging with top-secret documents, is one of the elements of this sorry saga that has proved most astounding to the senior technical personnel of other Formula One teams.
If it was in fact a disk that he walked out with, and the 780 files were all digital, then 'Stepney-gate' damns Ferrari's IT security even more gravely.
And it has happened before! A cache of confidential Ferrari technical information found its way into the hands of a Toyota engineer not so long ago, which episode has been keeping the Italian judiciary, but not the FIA, busy for some years now.
Again, the FIA will doubtless explain on Thursday why the 'Stepney-gate' case warranted its assiduous attention when the Toyota case did not.
There is surely a good reason for the apparent discrepancy, because the FIA is usually very careful about observing due process, but it is not yet widely known; as such, this conundrum has been the cause of much bemused head-scratching among Formula One insiders recently.
But, since it is 'Stepney-gate' that we are discussing, let us go back to Stepney himself. What kind of man is - or, rather, was - he? I use the past tense because, surely, 'Stepney-gate' will have changed him enormously, and not for the better - nor for the happier.
First of all, he was an astonishingly hard worker. He would attend every Grand Prix, and take no time off in lieu. He would arrive at Maranello at 7:00 am every day. He would then work until 7:00 pm, without stopping for lunch, preferring to eat a sandwich while checking emails at his desk - for 20 minutes but no more.
He would eat dinner as soon as he got home of an evening, after which he would drive back to Maranello and work alone and undistracted, usually on a mechanical problem, often into the early hours.
Then he would go home again, for three or four hours' sleep.
By the time his colleagues arrived at 8:30 am for the next day's shift, he would already be on the shop floor - often, while burning the midnight oil alone, having solved a problem that had been confounding them the day before.
Ross Brawn, Ferrari's ex-technical director (who is now on a sabbatical, but will perhaps return to the Scuderia before too long), thought the world of Stepney, and vice versa.
There is no doubt that Nigel's phenomenal appetite for hard work was an inspiration to his colleagues; equally, the extraordinary reliability enjoyed by Michael Schumacher during his golden era (2000-2004) owed more to Stepney than to anyone else.
Michael Schumacher and Nigel Stepney celebrate the 2004 World Championship © LAT
And yet he always had a reputation, among his detractors, for being dodgy.
But you have to speak as you find in the sometimes unwonderful world of Formula One, and I always liked him.
The last Grand Prix he went to was last year's Brazilian race, and it so happens that he gave me a lift from Sao Paulo's Grand Hyatt Hotel to the Interlagos circuit on race day - the day that, although he did not know it, would be his last in Grand Prix racing.
Parenthetically, I should explain that I never hire a car for the Brazilian Grand Prix, preferring to stay at a good hotel and blag a lift from whomever I meet first in reception each day.
So it was that, last year, I was driven to the track by Toyota's team manager Richard Cregan on the Friday, by Sakon Yamamoto (then driving for Super Aguri) on the Saturday, and by Stepney on the Sunday.
Ferrari had allocated Stepney a small Fiat for the weekend. On the way, we chatted about this and that - nothing very important, certainly nothing remotely sensitive or confidential - and I remember him speaking bullishly about Ferrari's 2007 prospects. I also remember him singing the praises of, of all people, Heikki Kovalainen.
"I guess we [ie, Ferrari] should win the constructors' championship next year [ie, in 2007]," he said, looking out over the Fiat's stubby bonnet into the Sao Paulo traffic.
"And I guess that means Kimi [Raikkonen] should win the drivers' title. But, next year, as this year, I think our biggest rivals will be Renault.
"We know we can handle [Giancarlo] Fisi[chella] - he'll never be champion, will he? - so I reckon our biggest threat is going to be Heikki. He looks pretty good to me. I wouldn't be that surprised - honestly, I really wouldn't - if he were to be champion in his rookie year. But I think Kimi'll edge him in the end."
Well, he was wrong about that, but through no fault of Kovalainen's. Renault have failed to produce a winning car this year, for reasons that they have taken months to understand.
He was wrong, too, to assume that Raikkonen would eclipse Felipe Massa by such a margin that the latter was not worth mentioning as a championship contender. And he was wrong to ignore McLaren's chances, of course.
But there is no punchline to my Stepney-in-Brazil anecdote - no revelation about his relationship with Coughlan or his ambitions to better himself with another team or his fears about the legality of the Melbourne-spec Ferrari F2007. All that would come later.
So I am sorry if you expected more. Nonetheless, I often think back to that drive into Interlagos on the morning of Sunday October 22, 2006 - and, when I do so, I do so with a heavy heart.
Perhaps Stepney was - is - dodgy. Maybe he is not. It would be improper for me to make either claim before the WMSC, and indeed the Italian judiciary, had reached their verdicts.
But he is - was - an extraordinarily hard-working racing man, and it is a tragedy, in the proper (ie, Greek) sense of the word, that all that hard work has come to this.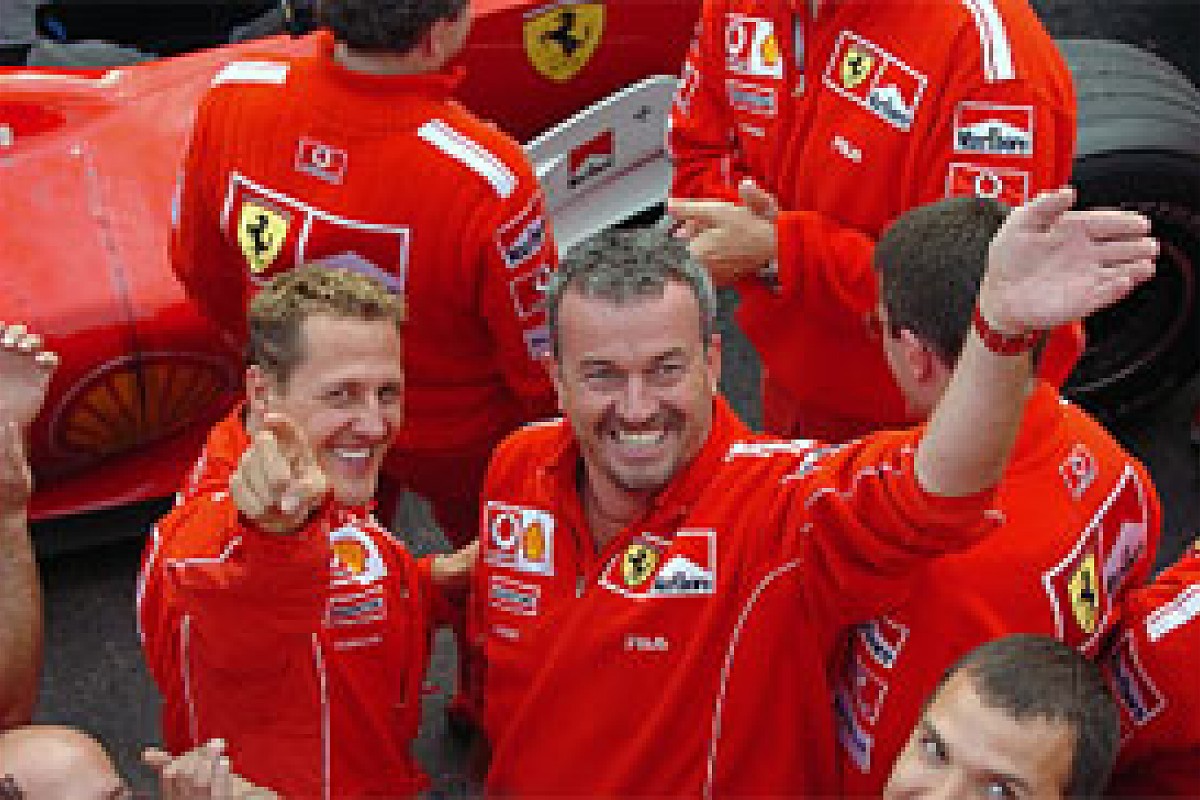 Richard Cregan © LAT
That it has come to 'Stepney-gate', to disgrace, and to unemployable status as far as Formula One is concerned.
Very sad. Silly man.
PS: On a more humorous note, I thought you might be amused to learn that, in terms of handling the maelstrom of downtown Sao Paulo traffic last year, Cregan did it best: fast and opportunistic, yet very smooth.
Stepney was less confident, his gear-changes jerkier, but I had no complaints.
Yamamoto was the least assured, the roughest and the slowest. Indeed, on the road that flanks the circuit entrance, he attempted what London taxi drivers routinely pull off with aplomb a couple of dozen times every day - namely, the one-handed palm-on-wheel-rim U-turn - and made a right old mess of it.
Rather than allowing the wheel to spin under his palm as the car neared the straight-ahead position, stopping its rotation as the car's intended direction of travel was reached, he gripped the wheel too early, preventing its return to dead-centre, and then had to effect a hurried and unseemly two-handed flurry of arms and elbows in order to right things as we nearly speared into the central reservation.
In the race he finished last, two laps behind the winner, Massa, and a lap behind his teammate, Takuma Sato. 'Nuff said.
I think he will struggle at Spa this weekend - not that anyone in Belgium will be thinking much about what is happening on track, sadly...