Will Fernando Alonso drive for McLaren in 2008? If the Istanbul scuttlebutt was anything to go by, and I think it was, then the answer is no. The relationship breakdown between him and his team is now too comprehensive, too irreparable, for that.
Moreover, Alonso seems uninterested in repairing it. In fact, he appears to be eager to enlarge the rift between himself and Ron Dennis, in particular. Hence his frankly idiotic recent comments about having brought six-tenths to the McLaren MP4-22's performance envelope and having had "nothing much" in return.
Well, I guess that's true (a) if you accept that the MP4-22's pace is solely the result of Alonso's car-development skills (which you shouldn't) and (b) if you regard US$22 million a year as "nothing much" (ditto).
Fernando Alonso © LAT
But, despite the fact that he's saying idiotic things, especially in the Spanish press, on an almost daily basis, Alonso isn't in fact an idiot. Far from it. So what's he up to?
What he's up to is, I'm afraid, pretty transparent. He's trying to engineer a situation whereby Dennis has no option other than to let him go - to Renault, in all likelihood, whose MD, Fernando's old mate Flavio Briatore, is palpably keen to welcome him back as early as next year.
But why should Dennis allow that? Why, even if he's reluctantly forced to concede that the Alonso-McLaren marriage is already heading for divorce, should he allow his handsomely remunerated (and, lest we forget, fully contracted for 2008) superstar to two-time his team for a rival? No, Ron wouldn't allow that, surely - and, to be frank, why the hell should he?
Fernando is, of course, aware of all these nuances. He understands the situation only too well. And, to go back to the Istanbul scuttlebutt - and particularly to a bit of inside info whispered to me by a friend of the unhappy Spaniard's on the Istanbul Park grid - Alonso would be prepared, if necessary, to sit out 2008, ready to return in 2009 with another team.
With Renault, yes, perhaps, or with BMW or Toyota or Honda or even Red Bull.
All those teams would have (a) budget enough for him, (b) a vacancy ready for him (hence the 2008-only deals - or extension deals - they've recently struck with Nick Heidfeld, Jarno Trulli, Rubens Barrichello and David Coulthard) and (c) a need for a driver of Alonso's calibre, pedigree and speed.
But we'll have to wait and see. The more pressing question, now, is: whom will McLaren run alongside Lewis Hamilton in 2008 - and beyond?
Dennis has long been of the opinion that the optimal policy for a team such as McLaren is to hire the two best drivers around, and let them do their stuff.
Time and again we've seen history prove him (and others) wrong. Bluntly, it doesn't work. It never has worked, other than for Juan Manuel Fangio, Stirling Moss and Mercedes-Benz in 1954-55.
It didn't even work with Alain Prost and Ayrton Senna in 1988 and 1989 (also at McLaren, under Ron). Granted, Senna won the drivers' championship in 1988 and Prost took the honours in 1989, and McLaren won the constructors' title in both years.
But such was the team's car advantage at that time that all that silverware would have headed Woking-wards had they fielded either Prost or Senna (take your pick), backed by an able number-two such as Gerhard Berger, the man with whom Dennis replaced Prost when he flounced off to Ferrari at the end of 1989.
Gerhard Berger and Ayrton Senna © LAT
For three seasons thereafter (1990, 1991 and 1992), Senna and Berger worked extremely well together at McLaren - and the reason was that Berger was good enough to score points and even win when something happened to Senna, but wasn't ever quick enough to make Ayrton unhappy. Moreover, he realised that it would be a politic idea to get Senna to like him, which he accordingly did.
As a result, Ayrton stayed on and on at Woking, winning and winning for McLaren, which was the object of Ron's exercise. Gerhard won only three times in those three seasons, and was replaced for '93 by Michael Andretti, who barely troubled the scorers that year (and therefore didn't trouble Senna at all).
In those four seasons (1990-93) Ayrton won 21 Grands Prix and two drivers' championships, and McLaren took two constructors' championships.
And it was only when Andretti was replaced for the 1993 Portuguese Grand Prix by a feisty young Finnish gun by the name of Mika Hakkinen - who out-qualified Senna on his McLaren debut, to add injury to insult - that Ayrton began to be unhappy again, and duly left McLaren to go to Williams at the end of the season.
Okay, enough history already. But it's useful history to re-live, because it illustrates that, if McLaren want to keep Hamilton happy (which they do, at all costs), and if they want to retain him for years and years (ditto), so that he can win and win for them (ditto again), then they must give very careful thought to the choice currently facing them: namely, with whom should they replace Alonso for 2008?
The obvious choice in many ways is Nico Rosberg. He's quick, clean-cut and 'German' (which would be nice for Mercedes-Benz). On the other hand, he's contracted to Williams for 2008.
In Turkey I asked Sir Frank whether he'd consider releasing Rosberg to McLaren for 2008, in return for a bundle of Woking wonga to sweeten the pill (and, dare I say it, help Williams pay the bills next year), and he said he wouldn't. "No way."
On the other hand, that's exactly what he said a couple of years ago when Jenson Button was so anxious to buy himself out of his Williams contract so as to remain at Honda.
And we all knew (and, yes, wrote) at the time that what Sir Frank really meant by that was that he wanted Honda to have to shovel serious money Grove-wards in order to keep their (then) golden boy. And - lo! - it came to pass.
The situation is identical today. Indeed, recently Sir Frank has even taken to using the media to up the Rosberg ante. Why else did he deem it politic to recently make the following remark in an interview with autosport.com:
"Nico could become the next big thing, which he would have been already if he'd been in a Ferrari or a McLaren last year or this year." (Are you getting this, Ron?! Did you get the hint?!)
Moreover, Nico and Lewis are mates. They went on holiday together (along with Adrian Sutil) between this year's Australian and Malaysian Grands Prix. As teenagers, they karted together for Team Rosberg - and, importantly, Hamilton edged Rosberg, performance-wise, when they did so.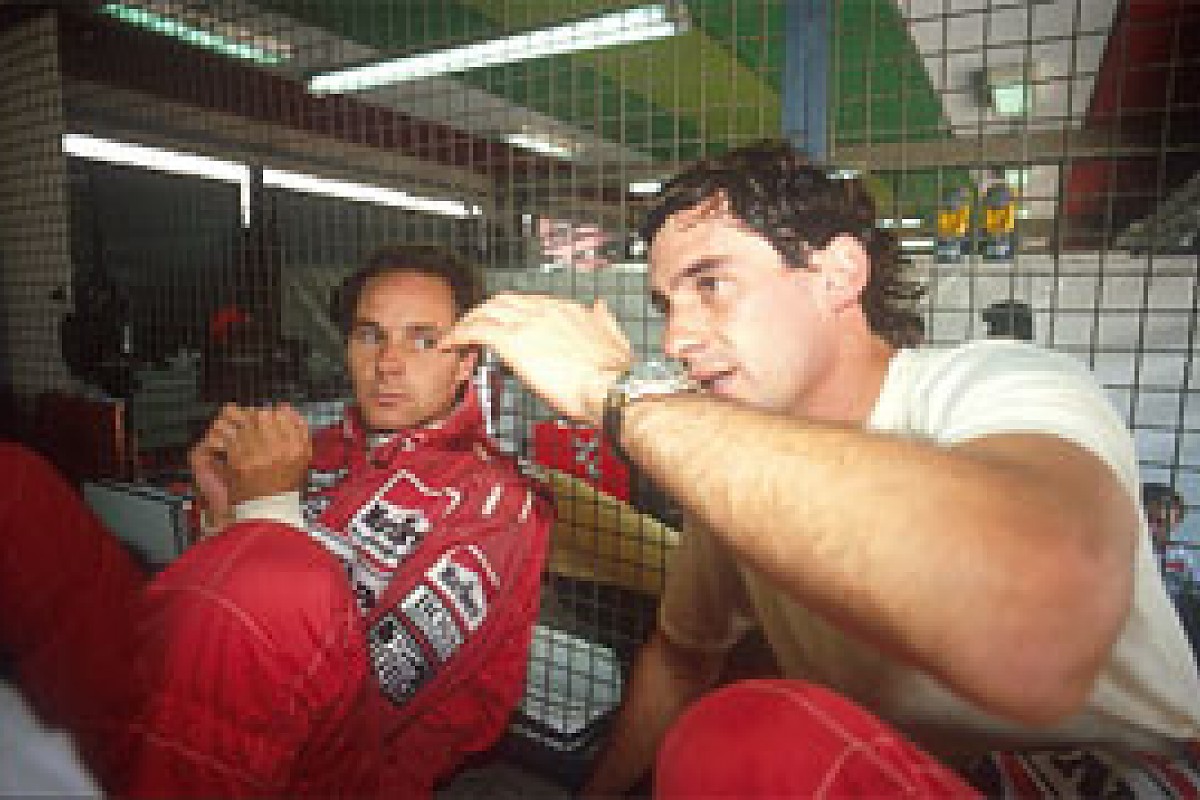 Nico Rosberg and Lewis Hamilton in the 2004 Bahrain Formula 3 Superprix © LAT
Lewis will remember that (and so will his father Anthony, which is almost equally important, so significant is Hamilton Snr's influence over his son). And so Lewis will think he could edge Nico again, performance-wise, in Formula One.
So, yes, Hamilton-Rosberg could work very well for McLaren, for Mercedes-Benz and for the team's many sponsors ("partners", in Woking-speak). But there could be a problem, and the problem could be Nico's ever-improving pace, especially in qualifying.
In race conditions Alex Wurz has been pretty close to Rosberg at Williams this season, but in qualifying he hasn't got near the flying Finn (sorry, German). The last thing Dennis needs is another driver feud on his hands. Combined with the need to pay Williams heftily for Rosberg's services, that nagging doubt may be enough to cause Ron to look elsewhere. But where?
Who else, pray, is available?
What about Hamilton's other big F1 mate, Sutil, alongside whom Lewis drove so chummily for the ASM team in the F3 Euroseries in 2005? No. Adrian is still too raw, too inconsistent, for a team like McLaren, despite his obvious talent.
Anthony Davidson? Probably not, principally because McLaren's sponsors (sorry, partners) would likely regard a second Brit as a bit too much of a good thing.
Besides, Dennis would see Davidson as too much of a comedown after Alonso, despite his having won Ron's own highly prestigious McLaren Autosport Young Driver Award in 2000.
But, other than those two problems, Ant would be ideal. He'd test brilliantly, he wouldn't rock Lewis's boat, everyone at McLaren would grow to love him and he'd drive for peanuts. It won't happen, though, sadly.
Takuma Sato? No, too wild - and, again, too much of a comedown after Alonso.
Vitantonio Liuzzi? No: do you honestly think Ron would ever hire a driver with piercings on his face?!
Scott Speed? No. No way would Dennis hire a driver who had been rejected by Berger.
Alex Wurz? Like Davidson, and for all the same reasons, Wurz would actually be a pretty good choice - but it couldn't happen, chiefly because Alex has been at and left McLaren and has publicly described having done so in positive terms. That, in Ron's eyes, is a cardinal sin.
Ralf Schumacher? No. Dennis needs his new signing to be a peacemaker, not a moody ex-superstar with a chip on each shoulder.
Pedro de la Rosa? He'd be as good as Davidson and Wurz, and for the same reasons. But Pedro will be 37 by the time the 2008 season kicks off in Melbourne next year, which means he's significantly older than either Alex (33) or, particularly, Ant (28).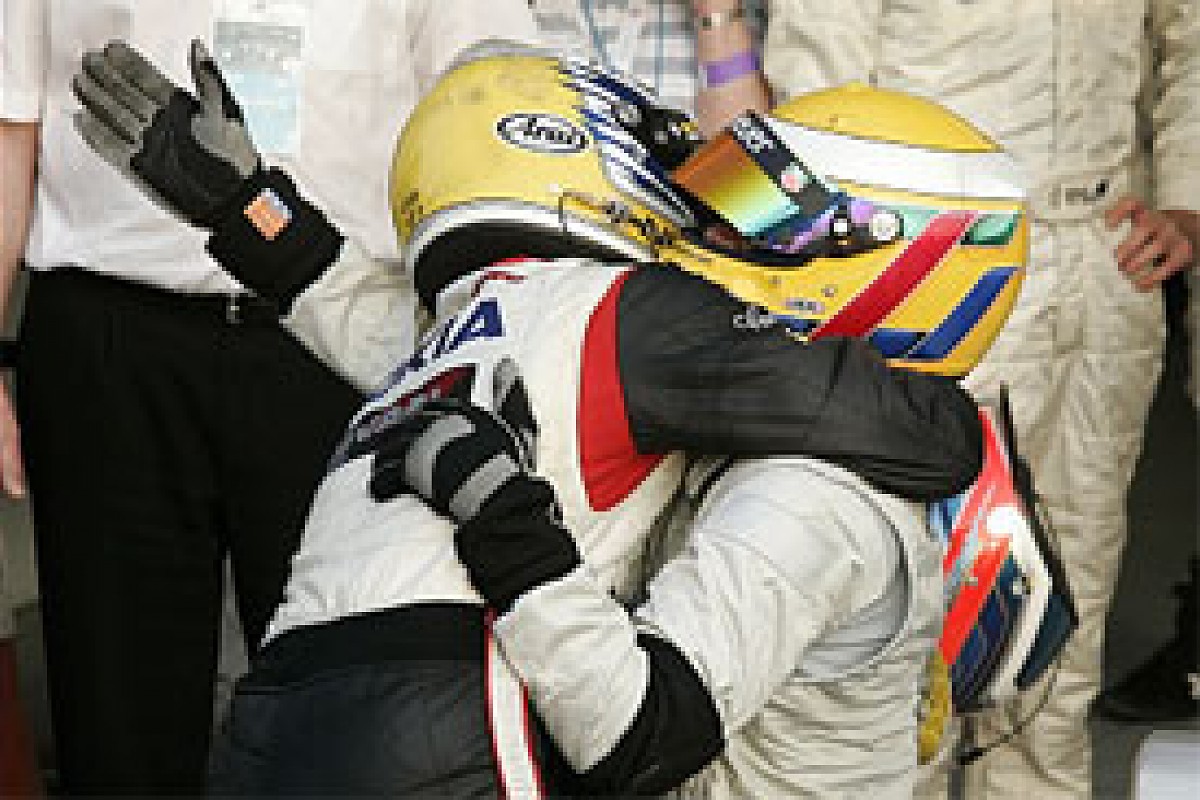 Giancarlo Fisichella © LAT
Besides, all at McLaren-Mercedes would like Pedro (and the team's other test driver, Gary Paffett) to drive for their unofficial B-team, Prodrive F1, next year, and they may well do so.
Which leaves only... Giancarlo Fisichella.
Fisichella is experienced, likeable and clean-cut, and he wouldn't rock Hamilton's boat. He's quick, too, but these days not quick enough to upset Hamilton.
At 34, he's no longer the Latin hot-head he once was, and is now very amenable with sponsors and media. As such, he'd be a help to McLaren's partners' efforts to activate their F1 sponsorship(s) in Ferrari-dominated Italy, which has long been a (small) problem for a team whose profile is so irrepressibly Anglo-German.
And, of course, Giancarlo would jump at the chance of driving for McLaren in 2008, and would gladly sign a one-year deal, with options (on McLaren's side only) thereafter, for quite a bit less than he's currently being paid by Renault (around US$6-7 million, I gather).
Last but not least, think of this: all at McLaren now know exactly how difficult - how impossible, in fact - it is to create for Alonso a situation in which he can perform without behaving like an idiot.
And yet the fact is that, for two years at Renault, Fisichella was Alonso's mate, and scored a lot of points, and won two grands prix, and yet he enabled Fernando to knuckle down and win championship after championship for himself and, yes, for Renault, too.
An hour before every grand prix, Fernando and Giancarlo could be found in a small room in the Renault motorhome, playing cards together. Sometimes Flavio joined in, too. They were having fun. It worked.
Fisichella could do the same thing for, and with, Hamilton and McLaren in 2008. In fact, he could do the same job for them as Berger did for and with Senna, also for and with McLaren, all those years ago.