Post-Budapest, Ron Dennis looked like a man who needed his holiday. I was looking forward to mine, too. But there was a difference. He was leaving his squabbling kids behind as he headed for a short break in the Caribbean. I was picking mine up at Budapest airport.
They say you shouldn't mix business with pleasure, but an upside of doing the European races with a motorhome is that you've got a ready-made hotel in some interesting places - and you can take plenty of toys.
But anyone who thinks it's a glamorous life might just enjoy a bit of schadenfreude if I relate some details of my summer 'break.'
To say that plenty had gone on in Budapest was a bit of an understatement. I also had a feature to do during the following week, which I'd stupidly taken on at short notice.
"Try to make sure you've got your work out of the way by the time we land," my wife had said. Er, right...
Tuesday was stinking hot and I headed for a bit of waste ground near Budapest Terminal 2, where I could at least fire up the generator, run the aircon and write, relatively undisturbed - but for the odd 737 or two...
Tony Dodgins' latest adventure began in the Hungaroring pitlane © Reuters
I'd worked late into Monday night, and felt a bit ropey. So, when Angela called to say that they were delayed three hours and wouldn't be in until 10pm, I had sympathy for her - the need to amuse a six-year-old and a four year old - but figured I might get an unexpected hour or two's kip before they arrived.
So I put the kettle on, switched on the satellite dish and watched a bit of the IRL race from Michigan while I swigged my Tetley's.
I was sitting there contemplating whether it would actually be enjoyable to be sat there at 220mph two inches away from other cars jinking all around you for two hours. Just as I was thinking it, Dario Franchitti got airborne, Danica Patrick went underneath him and he came down on top of Scott Dixon.
Obviously this was Tuesday and so it wasn't live, but we'd been pre-occupied with Budapest and hadn't heard about it.
It soon became evident that Dario, and everyone else, thankfully, had escaped totally unscathed, which was incredible. That Dario went aviating again, six days later, must have left him seriously contemplating the meaning of life.
Back in Istanbul last weekend we were talking about it with Mercedes motorsport boss Norbert Haug and got on to the media days on the old Nurburgring Nordschleife where, for years, Mercedes drivers have taken journalists, wide-eyed, around the old Ring.
Norbert remarked on the fact that the pros all respect the Ring and that Mercedes has never had a damaged car. Whereupon I told him of the lap I'd done with Franchitti and Autosport's Andy Hallbery and photographer Martyn Elford.
It was Dario's first experience of the place and, I'm sorry Dario, but I did grass you up and reveal how we'd explored the scenery just after the Karrussel.
"Ah but there was no damage," Norbert said.
Well, not after we'd got out and pulled the front spoiler off the tyre, removed the mud and told a sheepish Dario that if he got out of there before anyone else came round, we'd keep schtum.
But, Dario, we did tell you that it would cost you and, as the cheque still hasn't arrived 12 years on, despite you making off with Tony George's spondoolicks in May, it's high time we snitched...
Anyhow, two hours before their revised ETA, my mobile rang - the family was outside Terminal 2 awaiting collection. My feature was two-thirds written as I shut the laptop and drove round to pick them up.
Tony Dodgins' latest adventure began in the Hungaroring pitlane © Reuters
With the motorhome switching from working tool to holiday accommodation mode, my other half did the sort of things that other halves do when blokes have been in their living environment, which included monitoring the fridge and chucking away anything remotely approaching its use-by date. We needed to go to the supermarket, she announced.
First thing next morning we're at Tesco in Budapest - really - and there's one of these stupid height restrictions which, I guess, is to stop people camping in the car park.
So we left it parked on the road for 45 minutes. Wrong. We returned to find the passenger side front window shattered all over the seats, the contents of every locker strewn on the floor and no briefcase. The installation of a metal safe was a job I hadn't quite got around to.
Happily we'd taken wallets, purses, passports, etc, but the laptop, with my two-thirds written feature had gone, along with three phones, two cameras, etc, etc.
We started the glass clean-up but the kids were upset and wanted to know if the 'naughty men' would come back. 'Bloody hope so', I thought, quietly contemplating the hammer I keep in a drawer as some kind of spurious nod to the idea that I might actually have the first clue about what to use it for.
Obviously there wasn't a hope in hell of getting anything back but you have to go through the motions at the local cop shop for insurance purposes. But they didn't have anyone on hand who spoke decent English, or even Geordie.
It was a case of parking up outside, in your 26ft motorhome, and waiting for the translator to arrive.
After a couple of hours he pitched up, by which time it was 8pm and the game of 'I Spy' was becoming tedious.
"Tell you what, Angela said, why don't you take the kids in with you so that they can see what goes on..."
And so I'm in a sweaty room with my four-year-old, Olivia, on my knee, and my six year-old, Freya, keenly taking in what's going on. Which is not a lot. There's a stroppy, portly - putting it kindly - Magyar, who doesn't look so happy about being called down to plod central.
"I get annoyed when people move," he says.
Come again?
"You should have called the police from where you were because we need to know where the incident happened," he sighed.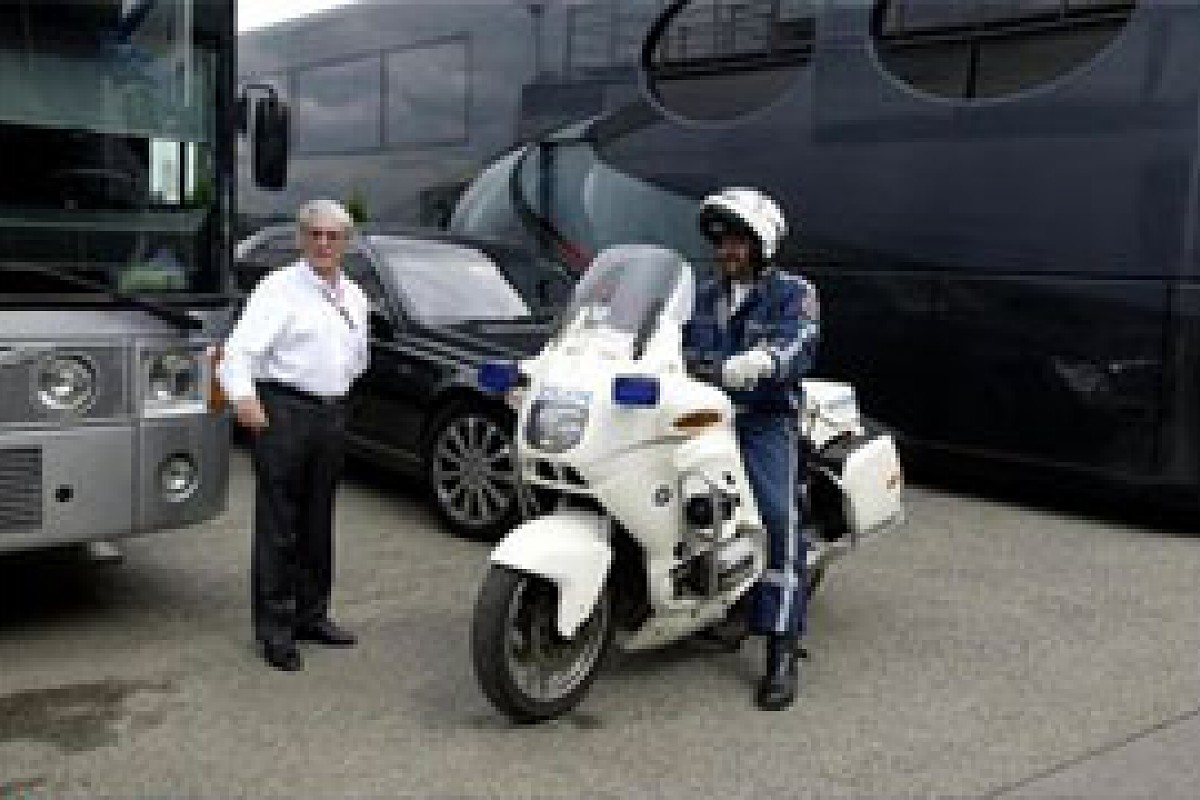 Bernie Ecclestone and the Hungarian police © LAT
"Give me a street map and I'll show you," I said. "Funnily enough, I didn't have a phone left, I didn't have the direct line to the station, I had some upset children and a more pressing need for some Perspex or at least some polythene and tape for the gaping hole that used to be my passenger window."
He sighed and shrugged. Whereupon Olivia, who looks angelic, fixed him with a sweet smile and blew the most sensationally-timed raspberry I've ever heard.
Freya, who's a sensitive child, looked mortified. I closed my eyes, simultaneously thinking 'atta girl!'.
When we got around to the list of what was missing, I made mention of my Formula 1 pass. Whereupon the stroppy, apathetic Magyar reacted as if he'd just plonked himself down in the electric chair. Suddenly, I was his best friend. He normally went to Hungaroring, but hadn't made it this year.
We spent the next 15 minutes discussing the ins and outs of the Hamilton/Alonso situation at McLaren. Remember the old beer adverts - 'Only Heineken has the power to do this!' Well, Formula 1 does as well, it seems...
Finally, I was told, we would have to wait for the 'special man' who would come and take pictures and fingerprints in the motorhome. The kids were excited at this development and Olivia repeated, twice a minute for the next hour, "Daddy, daddy, when's the special man coming?"
I don't know what they were expecting, but seemed a bit let down when a bored-looking bald fellow arrived and fired off a couple of shots with his digi camera. Eventually, at 11pm, we were out of there.
The enthusiasm to see Budapest had evaporated and we headed for Austria, where priority number one was a replacement laptop so that I could restart my feature, now rapidly approaching deadline.
Of course, they all had German operating systems when we stopped in Liezen. A computer store told me they would have an English Windows XP within 24 hours if I placed an order, so we clicked our heels for a day. Guess what? It didn't arrive.
I had a bit of a sense of humour failure about that, whereupon Fritz, the store manager, told me that I was welcome to come to his house, where his 13-year-old son had just about every computer disc under the sun and would install an English operating system.
Only problem was, he lived halfway up a mountain. Getting there, in the motorhome, proved interesting...
Sorted, and very grateful, we head out of Austria, for the Italian lakes, which had been the original plan, Monza being the next stop after Istanbul, which I planned to fly to from Milan.
I beg a bit of extra time on the feature, rewrite it while the kids are in bed and try to send it. No dice. The satellite internet in the motorhome is not working. Our visitors had tried to remove the electronic control box and buggered up all the wiring.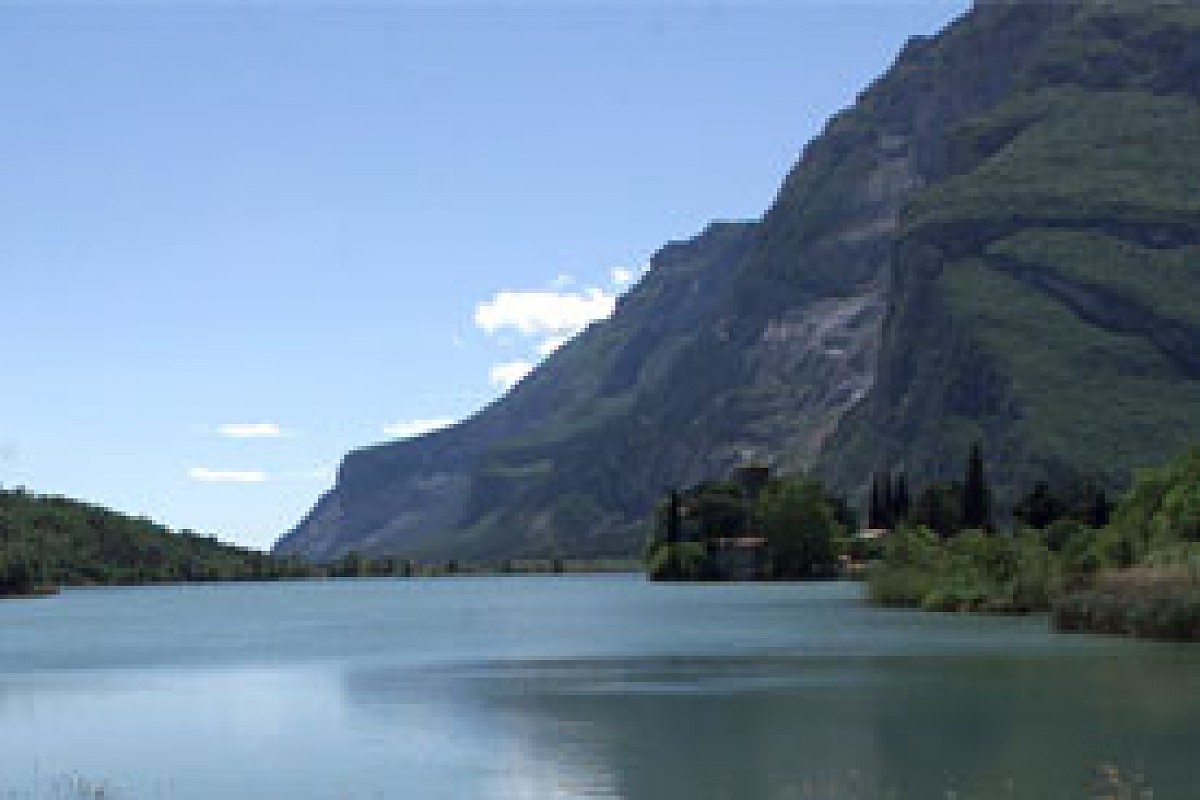 Lake Garda, Italy © Reuters
But there's a wi-fi point at the campsite. Trouble is, my teenage saviour has not loaded any wireless drivers. Panic!
The site has a computer that can be used in an internet room, but you can't advance book it and the office only opens at 8am next morning.
I manage to blag a USB stick from the girl in the office and transfer my feature onto it. I then get up at 7am to make sure I'm on pole for the internet room. But I'm only on the front row. A bloke from Sydney has beaten me to it. You can't pre-book time and so I have to wait until he's finished. He tells me he'll be an hour, but he takes two and a half...
Lake Garda is crawling with Dutch and German cars and you see an English registration about once a day. Then my luck changes.
Unbelievably, an English Jeep parks a few pitches away and the chap wanders over to talk motorhomes. I tell him about my dramas and, guess what, he works for Sunseeker boats and regularly installs satellite systems. And he's brought his tools with him!
He hops up onto the roof, establishes I still have power, delves into the control locker and, hey presto, it's working again!
He then tells me about the new boat that Lewis Hamilton has just ordered after the company lent him one in Monaco. Hope he doesn't get the kind of grief from the tabloids that Jenson did, I laugh...
My second saviour means that I can now watch England versus Germany and also be confident in the fact that I can return from Istanbul on Monday, transmit finished work and also keep my promise of taking the kids out on a speedboat.
I work till midnight after Turkey then get up at 4am to catch the 6am Alitalia back to Milan, writing as we fly. I jump into a hire car and am back at Lake Garda for 10am. The satellite still works, I send a feature and go to book the boat. There's one left, with a single outboard and, says the girl, there's a slight problem with the propeller.
What kind of a problem?
"Ah well," she says, "Someone has crashed into some rocks and it's a little bent, but it still works. "You need to pay 300 Euros if it is more bent when you come back."
And, what, I ask, if it fails when I'm in the middle of Lake Garda? And I don't have a mobile phone? I'm due at Monza for the test and have commitments at 8am the next morning.
There is substantial disaster potential here, I reckon, but the kids look very disappointed when I suggest I'm not up for it.
She smiles, and shrugs. Charmingly. Very Italian. There's life jackets on the boat and we'll know if you don't come back. She smiles again.
Oh, what the hell... We go for it, and there's a happy ending. The prop holds up, there's no drama and I get to Monza on time, from where I can report that Lewis Hamilton's low-downforce McLaren package finished the opening day a tenth up on Kimi Raikkonen's Ferrari. Never a dull moment...