Sweet Sixteen

---
By Thomas O'Keefe, U.S.A.
Autosport-Atlas Senior Writer
All the ingredients are in place for Danica Patrick to make history this Sunday and become the first woman to win the Indianapolis 500. It will be the longest race of her career, but she is the first female with a real chance of making it into the highest echelon of the Boys' Club. Patrick has become arguably the biggest story so far in the 89th event, but where did the IRL rookie come from and how did she become the center of everyone's attention? Thomas O'Keefe, who discovered Patrick back in 2000, reviews her climb up the racing ladder
No car carrying the No. 16 has won the Indianapolis 500 since 1946, when George Robson did it in the Thorne Engineering Adams/Sparks 6 Special. But don't tell that to 23 year-old Danica Patrick, who drives the No. 16 Argent Mortgage Panoz-Honda for the Rahal Letterman Racing team, and who, as a 5 foot 1 inch, 100-pound woman, has been bucking the odds her entire life.
While most teenage girls spent their adolescence kibitzing with their girlfriends over clothes, cosmetics and each other while scheming to get attention from the boys, the pert and perky Patrick has been going the opposite direction: warding off the burdens of her sex and trying to fit in as one of the boys, just a racer like them, under her driver's helmet.
On May 29, 2005, at the Indianapolis Motor Speedway, Patrick will continue her quest to become a Champion race car driver who happens to be a woman, a challenge that has marked her since she and her younger sister, Brooke, began mixing it up in go-karts at the tender ages of 8 and 10, respectively, in makeshift tracks in and around their home town of Roscoe, Illinois. In time, Brooke would go away to college in Knoxville and in Patrick's less formal education she would graduate from go-karts, where she won everything in sight, and move to England when she was barely 16 - there is that number again - to drive her first open-wheel formula cars in the British Formula Ford Zetec Championship, running usually as the only woman in the series.
Her long-suffering parents, TJ and Bev Patrick, along with Brooke, made more trips than they can recall from Chicago across the Pond to visit their daughter and sister and support her during those lonely and frustrating years abroad, living with the family of her team manager, Jim Warren, in the chilly Midlands of England in Rougeley.
In 2000, it all came good, when Patrick placed second in the Formula Ford Festival to Anthony Davidson, her teammate at the time at Haywood Racing, now a Formula One driver with BAR-Honda team. Even then Anthony knew Patrick had the goods, when he measured Patrick's skills against the boys, saying of her: "She's matched up pretty strongly against all of us and there's been a couple times I've been quite worried about her."
As it luck may have it, her current team owner, Bobby Rahal, happened to be working in Milton Keynes, England, while running the ill-starred Jaguar Formula One team in 2000 and 2001, at the same time Patrick was shivering her way through the raw English weather in Rougeley and learning the craft of road racing on the tracks that have bred so many famous race car drivers: Brands Hatch, Donington, Oulton Park, Caldwell and Snetterton. One weekend, responding to rumours he had heard about this American girl running in Formula Ford, Rahal came out to watch Patrick race at Oulton Park. He said back then that she was a diamond in the rough. Later on, Rahal saw her race at the American version of European road racing tracks, Elkhart Lake, Wisconsin.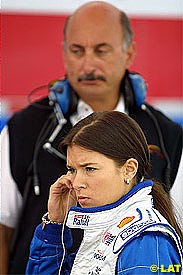 Rahal was not the only one in Europe taking notice of Patrick's progress. But for the price of gasoline in the UK during a temporary gas shortage being experienced in September 2000 due to a truckers strike, Patrick could very well have ended up driving for the Benetton/Renault Formula One team. Flavio Briatore, known for his ability to spot talented young drivers, had arranged for Patrick to come visit the Benetton Formula One factory at Chipping Norton and be evaluated by the physio and fitness people at Benetton to see if she was up to the task and G-forces of a Formula One car physically. But her invitation was ruined when Patrick ended up without enough gas to get to Benetton and she took that as a signal from the gods that Formula One was not for this very American girl, at least not just yet.
Gil de Ferran, 2003 Indy 500 winner and now Sporting Director for the BAR-Honda Formula One team, has also taken an interest in Patrick's progress when he was a TV Commentator for the IRL races earlier in the season; Gil met with Patrick and her parents before joining BAR-Honda and endorses the gradualist approach being followed by Bobby Rahal in bringing Patrick along.
Bernie Ecclestone, Formula One's Master and Commander, has also been a source of encouragement to Patrick in her career, writing a letter to her parents when he first learned she was racing in England, dated February 28th 2000, saying: "I understand that your daughter is competing in Formula Ford for the Haywood Racing Team this year. This is by far the best way to gain the experience for her future. Tell her not to give up, she will have to mix it up with the boys and fight harder for her position. I hope everything works out for her."
Willi Weber, manager for Ferrari's Seven-Time World Drivers' Champion Michael Schumacher and his brother Ralf Schumacher of Toyota's F1 team, also spoke to Patrick and her parents about Patrick's career path, before she chose to go the route of pursuing the Indianapolis 500. How many other IRL drivers have a letter from Bernie and Willi Weber's mobile phone number in their hip pocket?
Back in America, after her Formula Ford experience in the UK, Patrick began to come to notoriety in her own country with a dramatic win in the streets of Long Beach, California, in the professional division of the 2002 Toyota Celebrity Race, beating ace street-racer and Trans Am Champion Tommy Kendall in the process.
By this time, Bobby Rahal was back in the States and licking his wounds from having left Jaguar Racing, re-building his Indycar race team in Hilliard, Ohio, and fellow-Midwesterner Patrick was also back in the States looking for a ride. With support from Argent Mortgage, then a new motorsports sponsor, Rahal signed Patrick to race for Rahal's Toyota Atlantic team, a stepping stone feeder series for Indycars and Formula One that Bobby himself had cut his teeth in.
Before Rahal signed her, Patrick had made the rounds to all the major team owners but it was Rahal, who had spotted something he liked that day in Oulton Park, that was the one team owner with the vision to step up to the plate and do what others would not: sign on the dotted line and offer Patrick the structure and resources of a professional race team to continue to help her climb up the ladder.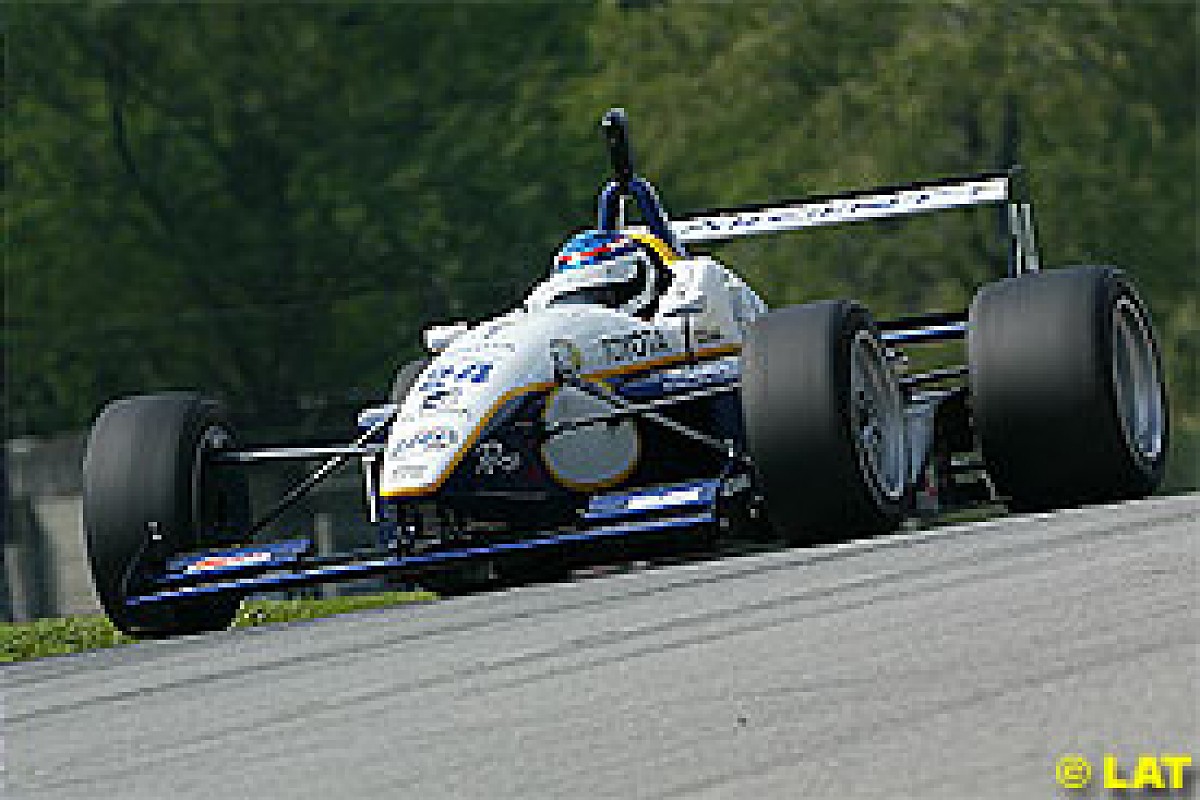 During her participation in Toyota Atlantic, she took one pole position and finished in the top 5 fifteen times but throughout that time the Championship was dominated by two-time Toyota Atlantic Champion Jon Fogarty and two-time runner-up Ryan Dalziel. Patrick finished third, behind them, in 2004.
In her first season in the IRL, apart from being caught up in a multi-car melee in Homestead, she has shown the same kind of steady improvement she has shown in every series she has entered, finishing 15th on in the second race of the season in her adopted hometown of Phoenix, but then nearly taking pole in Twin-Ring Motegi in Japan and finishing a career-high fourth in that race, just behind her teammate Buddy Rice, who won the 2004 Indianapolis 500.
But can Patrick win the Big One this weekend, in No. 16?
Sunday will be the longest race of Patrick's career and only the fourth time she has raced her car on an oval. She posted the fastest lap of any driver this month when she touched 229.880 mph in the final practice session before qualifying - and she set the fastest lap in qualifying itself. However, she made a basic error in the first turn of her four-lap, 10-mile run, eventually ending fourth with an average speed of 227.004 mph - the best placing for a woman since Lyn St James qualified sixth in 1994.
Without that first-lap bobble, Patrick could have been the first woman on pole in the race. "I feel like I wasted a pole car," she said with steely cold eyes staring at the cameras and tape recorders of the media. "But then again, maybe I saved it."
Patrick had already attracted attention when she was the fastest driver in the Indianapolis Motor Speedway's rookie orientation programme, with a lap of 221.463mph. By the end of her qualifying run, on May 15th, the media attention had grown to a frenzy. "Going fastest and 'could have, should have, would have,' having a pole, is big news," she said this week. "It should be big news. For any driver."
Only four women have ever entered the Indianapolis 500: Janet Guthrie, Lyn St. James, Sarah Fisher (not running this year) and Patrick - and only pioneer Janet Guthrie has ever finished in the Top Ten, qualifying on the outside of row five in fifteenth place and coming 9th in her Texaco Star in 1978, her second attempt at running Indy, down 10 laps to the leader. Guthrie had Texaco sponsorship helping her along but she was her own team owner in 1978: the entrant on the form submitted to the Indianapolis Motor Speedway was "Janet Guthrie Racing."
Guthrie, who did have the unique honour of having Tony Hulman open the race by saying "in company with the first lady ever to qualify at Indianapolis, gentlemen start your engines", believes that Patrick is now ready to become the first woman to win the prestigious race.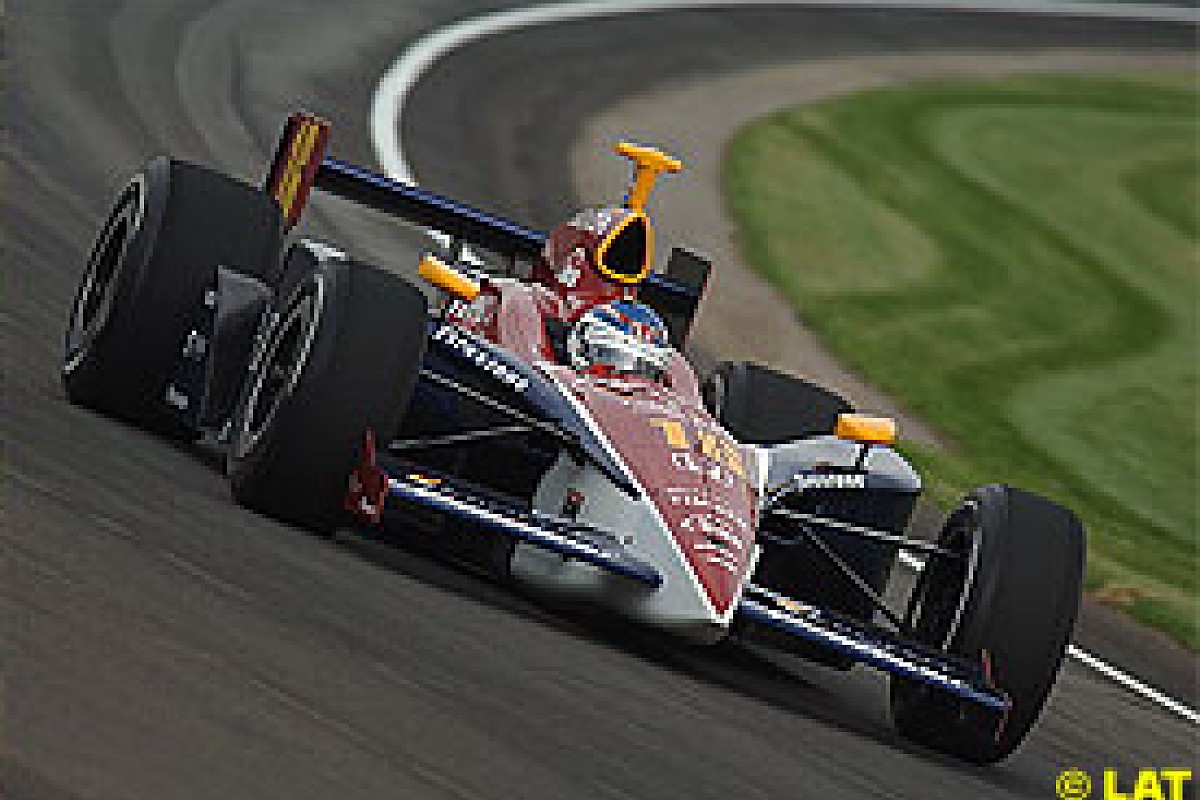 "All the ingredients are in place," she said this week. "Danica is the first woman to arrive at the Speedway with top-notch equipment and the full backing of a winning team. And she has the talent and determination to make the most of her opportunity. Despite her inexperience at Indianapolis, there's no reason Danica can't win if she gets the right breaks on race day."
Indeed, after struggling all those years in obscurity and testing everything from sprint cars to NASCAR stock cars, Danica Patrick comes to Indy with all systems on Go. Sponsored by Indianapolis native and TV star David Letterman, and with the Rahal team that showed the way in last year's Indy 500 to supposed betters like Roger Penske's Toyota-powered team or the four-car Honda-based juggernaut of Michael Andretti's team - all of whom will be gunning for the Rahal team of Kenny Brack, Vitor Meira and Danica Patrick on race day.
Right now, though, none of this bothers Patrick; she is living the dream in No. 16 and is headed for the top, where the boys are.