Heroes or Zeros

---
By Tony Dodgins, England
Autosport-Atlas Contributing Writer
Formula One is all about perceptions, and perception in Formula One is all about results. Tony Dodgins looks at the two most talked about casualties of this phenomenon at Monaco: Juan Pablo Montoya, and the Ferrari team
Montoya
Juan Pablo Montoya's brake-testing of Ralf Schumacher and the subsequent chain-reaction shunt at Massenet was the talking point of Monte Carlo on Saturday.
Schumacher does not deny that he accidentally held up Montoya, but thinks his former teammate's reaction was somewhat over the top.
Montoya's explanation that he was simply moving across in front of Ralf to slow down and keep out of the way having had his lap ruined - going 53mph where he'd normally be doing 179mph - stretched the bounds of credibility.
I much preferred Ralf's version: "I went out of the pits and first of all I looked in the mirrors and didn't see anybody. In the meantime he came around and I was still on the radio at the pit exit and held him up. I was sorry about it but I let him by and then he moved over and went totally to the right. He went by and then just brake-tested me to say, basically: you held me up, you arsehole! That's what happened. But I'm sure he didn't do it believing that somebody would crash."
So Ralf thought Montoya's penalty was rough justice?
"Well, you have to consider that at the drivers' briefing we had already talked about not slowing down in Monaco because it's so difficult to see and so narrow and tight. And, you know, he's not so young in Formula One that he wouldn't know what could happen..." So that's a 'no', then.
The Red Bull, Sauber and Toyota race teams no doubt concurred as they were faced with repairing damaged cars ahead of the first qualifying session. Thankfully there was no personal injury but Jacques Villeneuve was not slow to point out what could have happened.
In his most recent column in Autosport Magazine, my mate and colleague Mark Hughes wrote a column about perceptions. Basically, about how people in the F1 paddock are quick to make snap judgements based on what they see before them, forgetting what has gone before. See a couple of below par performances from someone and they're written off, often irrespective of extenuating circumstances.
A few short weeks ago, it was Raikkonen who was attracting all the brickbats. There was a lap-dancing club, talk of fuel-adjusted Alex Wurz laps that were just as quick as the main man, and suggestions that Ron Dennis and Martin Whitmarsh must be wondering why they are paying millions to their non-performing superstars when the far more manageable Pedro de la Rosa and Wurz seemed to be going just as fast.
All forgotten now, of course. After Imola, Barcelona and a dominant weekend at Monaco, people are now talking about the dawn of the Raikkonen era.
It is Montoya now, who needs a boost. Montoya is the kind of driver who, had he arrived at Monaco, performed faultlessly, blown everyone away and gone home with the 10 points, you wouldn't have been entirely surprised.
But he didn't, because a) his qualifying lap was 1.2s away from Raikkonen; and b) a moment's hot-headedness has sentenced him to the back of the grid at a circuit where it's near-impossible to pass.
Ron Dennis made the point that the penalty was harsh given that incidents happen and this one came in a practice session that counted for nothing. But isn't that the whole point? If it was an untimed session that didn't matter, why did Montoya get so steamed up about one screwed lap?
Because he's Latin, says Frank Williams, with a smile.
It brings back all the memories and examples of flawed genius that have shaped sport throughout the years. The huge talents that under-performed because they couldn't concentrate their focus. George Best, of course. John McEnroe to an extent, although his was a different problem.
Before the season, so many looked forward to the Raikkonen/Montoya battle at McLaren - a potential clash of the titans and the kind of rivalry that was sure to make good copy. If not quite Senna/Prost or Ali/Frazier, it at least promised to be Borg/McEnroe.
That analogy, you could see. Raikkonen - 'Ice Man' as he is known - would be the Scandinavian Borg; relentless, making few mistakes, even-keeled but perhaps lacking a spark of excitement. Montoya would be McEnroe - more unpredictable and prone to occasional self-destruction but with freakish talent that on his day, would overwhelm everyone.
What few realise about Borg, who was the genuine Ice Man in terms of masking any kind of on-court emotion, is that as a teenage player he threw tantrums left, right and centre until Lennart Bergelin trained it out of him. Made him realise that unchecked emotion broke concentration, which is key to all.
Anyone involved with Montoya now might do well to seek out Bergelin's number and ask him how he did it. And you can bet that McLaren, with a management that emphasises the analytical approach, will give the matter some thought.
Nobody ever managed to put the lid on McEnroe and one sports psychologist made some interesting observations. He noted that almost every time McEnroe really lost it, lambasting an umpire to the point of disqualification or, famously, obliterating the entire court-side flower arrangements, it followed shortly after one of his own unforced errors. The guy's theory was that McEnroe, the ultimate perfectionist, was internally simmering at his own perceived incompetence and anything on top, a 50/50 line call, heckling from the crowd, etc., simply tipped him over the edge. And nobody managed to teach him a defence mechanism, save for the scowling, silent, brooding malevolence that countenanced his features and body language later in his career.
With Montoya, you feel, it's not as complex as that. It's simply a case of filtering out anything that doesn't matter and, perhaps, making him want it a little more, which might not be possible.
In Monaco, someone tried to have a bit of fun with Frank Williams. Ron Dennis, the chap pointed out, had told the press that he thought he could get much more out of Montoya than Williams did. Hinted, in effect, that Williams mismanaged drivers while McLaren nurtured them. What did Frank think of that so far?
Frank grinned, and then resisted the temptation. "I don't think like Ron," was all he would say.
Is Montoya too indisciplined, I asked?
"Juan is Latin," Frank grinned, again. "The same characteristics that make him do things like he did on Saturday also make him fast. And on his day he's brilliant. It's the same thing as Ayrton whacking Eddie Irvine. Except that the only thing that he caused any damage to was Eddie's ego." Another grin.
Whatever it is, Montoya needs to tame it. Far from thinking his back of the grid penalty was too harsh, there were those close to governance who thought he should have been thrown out altogether. And then there's the real issue. The fact that Montoya, in what looks like the best car in the field, at a race he won two years ago, beating Kimi, has finished fifth. Even if Kimi doesn't need any help, Juan is making it easy for him.
Ferrari
Poor old Jean Todt. Never thought I'd find myself writing that, but there you go. On Sunday night he faced the same old questions again: What's wrong with Ferrari? How do you solve it? Can Michael and Ferrari still win the World Championship?
Someone, missing the point entirely, even asked about young guys. Is it not a new era with fresh young faces like Kimi Raikkonen and Fernando Alonso doing the winning in a young man's sport? That was the drift.
"Our old guys, they are quick," Todt responded, bristling a bit, "but they don't have the package to allow them to deliver. That's what annoys me the most."
You can bet that it annoys Michael Schumacher too. Barring the odd aberration, like his error in 1996, Schumacher was always likely to win Monaco starting from a level playing field. But winning Monaco 2005 was always going to be an insurmountable task. And so it proved.
And what is wrong with Ferrari is only too obvious: the tyres.
There was a key point in the Monaco race when Michael Schumacher proved that, had he been able to qualify properly, he had more than enough race pace to blow Raikkonen away.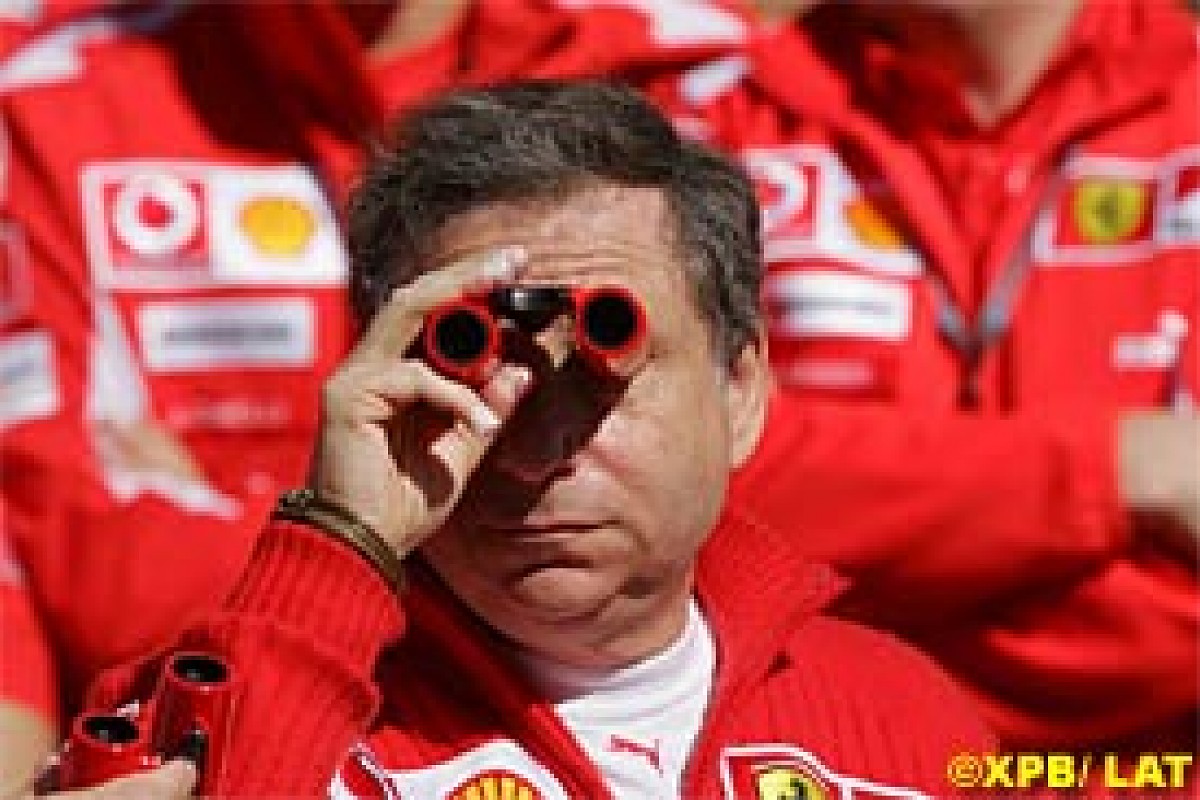 After the Safety Car period, when Raikkonen didn't pit and needed to open a big enough margin over the Renaults in 14 laps to be able to stop and refuel without losing the lead (because the Renaults didn't stop again), we can safely assume that Raikkonen was going for it. Actually, his task proved much simpler than he thought, because the fuel-heavy Renaults also struggled so much to get heat back into their tyres, but Raikkonen didn't know that. He was on it. On lap 41, the one before he stopped, he set his fastest lap of the race: 1:15.921s. With a practically empty tank.
Schumacher was the next car on the circuit at this stage, a lap down, having pitted for a new nose and refuelled. Raikkonen's lap was the fastest of the race, but only fleetingly. Only for as long as it took the Ferrari to trip the timing beam a few moments later. Schumacher's 40th lap took him 1:15.842 and it remained the fastest lap of the race.
Very close, maybe, but the point is that Michael did not make his second pitstop until lap 58. And so, when he beat Raikkonen's empty-tank time, he had close to at least 40 kilos of fuel on board, which equates to almost one second around the Monaco lap. And so, if they'd started together on the front row and both ran flat-out, over a 78-lap race the Ferrari had enough potential race-pace to just about lap the McLaren. The answer to the first question, then, is that there's not a lot wrong with the Ferrari.
Second question: how do you solve the problem?
That's a bit like being asked where you've left something when you can't find it. Often gets a snotty response...
"We know our weak point but we are not yet in a position to say that we are going to solve it, because otherwise we would have solved it already," Todt painfully pointed out. " We were quicker today [in the race] by three or four seconds than some of those ahead, but it wasn't enough to overtake at Monaco. I just wish we could confirm the car's pace in qualifying. In the race, the tyres are giving much better performance than those of the competition. We're working with Bridgestone to resolve the problem as quickly as possible."
What about the tyre testing? Is there light at the end of the tunnel?
"You know, it's very difficult. The tarmac, the asphalt, is very different from one race to another. We need to have immediate performance on one lap, that's our weak point. We are working on it...When we were living this kind of period 10 years ago, we had no hope of improving the situation because we still had to build a winning team. Now we have a winning team and we know what the problem is, so it's just a question of time."
There's a deep irony in all of this. When tempers were getting frayed in Brazil last year and The Gang of Nine were pushing for a single control tyre and less testing, Todt was honourably defending the right of tyre suppliers and pointing out, correctly enough, that they should be treated correctly and not cast aside whenever the mood took. One Wonders what he'd give to have everyone on the same tyres just now...
As for the chap who thinks F1's due for an era change, I could have sworn I saw a 36-year-old with seven world titles scrabbling past his teammate on the last lap and then almost knocking his brother into oblivion. All for two points.
Don't write off Michael Schumacher and Ferrari just yet.