"You can't polish a turd." Hardly the most elegant of motor racing cliches, I know, but very much a truism. It means simply that if your car is a shed in January, you are not going to be fighting for the world championship come October.
Even in these days of constant testing and development it generally holds true. But Honda have got the Brasso out and are trying hard. Last year's car was hardly the most user-friendly of tools at the start of the season, but it was turned into something that at least gave Jenson Button a decent second half of the year and allowed him to win his first race in Hungary, with a bit of help from the elements.
I remember Nick Fry at Honda's Christmas bash relating how he'd enjoyed pointing out to Ron Dennis that his team won more races than McLaren in 2006. Not something he's likely to be able to do this time around...
It's as if the good Lord had a sense of humour: 'Good effort with RA106 chaps, now have a go with this!' And, voila, the RA107...
Nick Fry © LAT
At the start of the season the car was lamentable and you felt for Jenson and Rubens Barrichello. It's one thing to be paid a decent stipend to drive a Formula One car but quite another to be chasing the car you drove last year, tended by a handful of Aguri Suzuki's blokes. Not in their wildest imaginings could Jenson and Rubens have anticipated that.
Jenson is not a youngster anymore, and the fact of a fruitless Grand Prix season will not sit comfortably with him at a time when he should be at his peak in terms of the melding of desire and experience. For any racing driver, no matter how well remunerated, there is no substitute for a competitive car.
How enviously Jenson must cast his eye over Lewis Hamilton's situation at McLaren. From being the darling of the British media, Jenson is now the forgotten man. Not that he'll mind not having to give the same old lines to hacks as we faithfully relate every cough and spit from Lewis, but he will be starkly reminded of the facts of his own situation. And chief among them is the reality that in seven races Lewis won twice as many Grands Prix as Jenson managed in seven seasons.
Which all proves nothing, other than the fact that Lewis has his backside in a race-winning car - a delight that Jenson has yet to experience. But that's not the perception. The perception is that Lewis is a God.
Already you have Jackie Stewart telling the world that Tiger Woods was not the world's highest earning sportsman when Michael Schumacher was netting £50m (GBP) a year from all sources, but that it doesn't really matter because Lewis is fair set to leave them both trailing. The logic is that there will always be more corporate money in cars than golf.
It was against such a backdrop that Jenson scored a point in the French Grand Prix, Honda's first of the year. Hardly cause to stop the presses or hold the front page, but it came after a truly excellent drive - one in which Jenson wrung everything to be had from the latest iteration of the RA107.
When Button qualified 12th at Magny Cours it was, Monaco apart, the team's best qualifying performance of the season. Monte Carlo is a one-off that panders to driver ability, but Magny Cours is a more representative circuit. Twelfth is hardly cause to crack open the Bollinger, but it was progress.
It would be easy for Jenson to sulk and to slate the team, but he hasn't done so, for which he has earned appreciative words from Fry in recent days. Such is the cynicism of the business that you immediately wonder what is going on behind the scenes, but that's just the result of 15 years in the business, not something founded on any great inside knowledge.
Honda went to Magny Cours with a new aero package and some front suspension modifications.
"I'd say that on average it's worth two tenths per lap on new tyres and four tenths on old tyres," Honda's engineering director Jacky Eeckelaert said on Saturday night in France. "In a 70-lap race that's a 28-seconds improvement over the distance, which is a lot.
Jenson Button at speed in the revised Honda RA107 at Magny-Cours © LAT
"What the evolution does - apart from giving a bit more downforce for the same drag and increasing the efficiency, which is worth two or three tenths a lap - is to bring the balance more together. Before, the car was more difficult to set up, it was on edge all the time, and when the tyres went away during the race, it gave more pronounced understeer and oversteer and much less traction, so the race pace dropped quite a lot."
Eeckelaert was also keen to give Jenson credit for both his attitude and his role in the car's development.
"Even though the car is far from competitive he still keeps calm and tries to help us out of the situation," Jacky said. "Apart from being quick, Jenson's good to work with because he doesn't let his judgement be influenced by the lap time.
"He can do a run on Friday morning and be P16, come in and say the car is well balanced. Or he can come in P7 and say that the car is a piece of shit. Most drivers, they come in and crane their necks to see the timing monitor and then they tell you how the car is. Jenson's not like that. He's very, very objective and for us that's so important.
"You have your mathematical models and simulation tools that give you 98% of reality, but it's the last 2% that makes the difference between winning and losing. Engineers love numbers. We make graphs with numbers and look hours and hours at those graphs. In the end, though, the most complex sensor in the car is the human being. They sense things that we can't see from our numbers."
Jenson's assessment on Saturday was this: "It's always so tight here in Magny Cours during qualifying, and we saw that again. We have made a step forward and the car is certainly better than at Indianapolis, although our position doesn't really reflect that. But it's nice to be in front of some of our direct competition in the midfield.
"Our race pace is definitely better than our one-lap pace - you could see that in practice yesterday, and I think we have a good strategy, so I'm hopeful we can have a better result."
Eeckelaert expanded on that: "I looked at the race pace from everyone's long runs on Friday, and obviously the two fastest teams were Ferrari and McLaren. Then BMW and Renault, so eight cars. Then, the next on race pace were actually the Red Bulls (who qualified 14th and 16th), and then it was us.
"It means that if the quickest four teams finish the race with both cars, we get no points. But it's very close. We are two tenths faster than Toyota and one tenth faster than Williams. If it's a normal race, we will fight Toyota and Williams for ninth and tenth but not for points - unless something happens."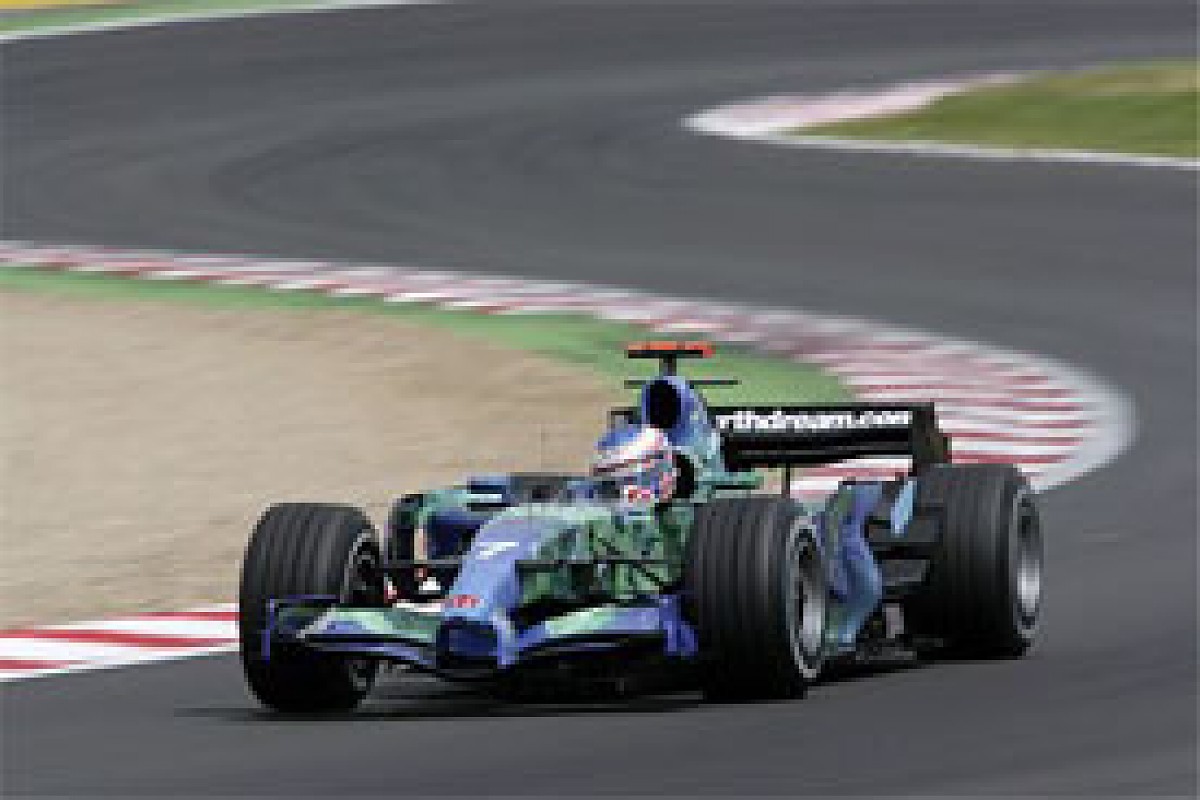 Jenson Button at speed in the revised Honda RA107 at Magny-Cours © LAT
His reading of the situation was spot on. Jarno Trulli had done his usual Senna-like qualifying job with the Toyota and was starting eighth but, bullied by Alonso on the opening lap, he forgot to brake for the Adelaide Hairpin and promptly removed himself and Heikki Kovalainen's Renault from the top 10 equation.
In the ensuing confusion, Jenson managed to get himself ahead of Ralf Schumacher's sister Toyota, which had also outqualified him, and was straight on to Nico Rosberg's case. Nico had again done a fine job to qualify the Williams in the top 10.
Rosberg has actually done a standout job all year without much in the way of good fortune, and in the first stint in France he was getting away from Jenson. That, though, was because the Honda car was 12 laps' worth of fuel heavier and ran a 32-lap opening stint.
In a short 18-lap second stint the tables were turned, and Jenson was lighter than Nico, who ran 26 laps. The upshot was that when Jenson pitted out for his final 20-lap run to the flag, he was 3.5 seconds clear of the Williams and extended that margin to 9.6 seconds by the chequered flag, setting his fastest time on the very last lap.
Button's 1:16.770 best lap was the sixth quickest of the race. It compared with 1:16.099 from Felipe Massa's Ferrari, 1:16.207 (Kimi Raikkonen), 1:16.494 (Fernando Alonso's McLaren), 1:16.587 (Hamilton) and 1:16.703 (Giancarlo Fisichella's Renault, also on the last lap).
It was quicker than anything recorded by BMW (1:16.875s by Nick Heidfeld, and 1:17.153 by Robert Kubica), and bore out everything Eeckelaert said about the proportionately bigger gain in race pace vis a vis qualifying speed.
"What's Jenson saying about his race?" one journalist said on Sunday night, back from door-stepping Alonso.
"Oh, he's pleased with his race and the point," his mate said, "but as you might imagine he's not getting the bunting out over eighth place. It's more promising, he says, but they still need to work on qualifying speed."
"Anyone ask him what it feels like to be within three points of Super Aguri?"
Ouch. It's a harsh world. If you're going to Silverstone this weekend, enjoy the Lewis show, of course. But reserve a cheer for Jenson, as talented as ever and increasingly mature, working hard in difficult circumstances. A point in a Honda is every bit as deserving as ten in a McLaren.