What the hell was Sebastien Bourdais' idea? To make even the Quebecois hate him?
I couldn't believe the way he was behaving after the Mont-Tremblant race in front of the crowd. What's the point? The race is done, the results aren't going to change, so why turn the fans against you?
Having said that, I know what he means about Robert Doornbos. He does block a lot: lots of people have pointed it out. In fact, he's held me up four times in qualifying this year - once in Las Vegas, twice in Cleveland and once at Mont-Tremblant.
Last week he came out of the pits and was weaving all over the track, and I came up on him on my first flying lap. He was in the middle of the track but weaving back and forth through Turn 6, which is a fast sweeper, and forcing me to slow down to 70 mph.
I drew alongside and waved my fist at him. So then I screwed him twice after that, and he comes running down to my pit to complain that I held him up. Well sure, pal; what goes around comes around.
On his plus side, he's clearly good at his job, and I liked the faces he made at Bourdais on the podium. Funny shit! Real classics.
He's probably now realising that Bourdais is always this way - give him any competition like I did in 2003 and '05, or like AJ Allmendinger did last year when he became competitive, and suddenly Sebastien gets into verbal confrontations denouncing the guy, saying they're idiots and so on.
Everyone - and I mean, Champ Car series owners, team owners, other drivers and the fans - are just getting tired of it. And I think the crowd showed it on Sunday when they started booing his comments over the track PA system.
Robert Doornbos mocks Sebastien Bourdais on the podium in Mont-Tremblant © LAT
Hell, the Quebecois are more pro-French than the French; for Bourdais to get them to mock him, he's gotta be some kind of warped genius.
For Forsythe Championship Racing and me in particular, the last month has been a complete roller-coaster ride - and I mean like a Thunder Valley rollercoaster.
We went to Portland and the car was absolutely diabolical - we didn't have the set-up, nor could we find the set-up at all. Both me and Oriol Servia, who for now seems to be my teammate, had the same issues all weekend - poor performance in terms of braking stability, grip level, massive understeer into and through corners, oversteer on exit. The car was not driving well at all.
I was put on an alternate strategy, and kept struggling around. The pace was OK because I was out on my own, not really having to deal with other cars, but it wasn't good.
I don't even recall where I ended up, without looking it up. Shit - 10th, with 13th quickest race lap. Not exactly a champagne moment. Oriol set a quicker lap in the race than me, but he said he got that within his first five laps after a pitstop.
He said to me, "I went really quick for three laps because the car felt good, and then I realised I shouldn't have done that because I paid the price for the rest of the stint." He basically tore the tyres off the wheels and just destroyed his lap times.
I suppose if you're that far off the pace but you're driving for one of the big teams, a spectator might be watching thinking you're not trying, which is pretty annoying.
There was one stint where I actually had fairly decent pace in Portland, but like with Oriol, the handling got worse and worse. But you've got to give the best with what you have, go as fast as the car will let you go.
And if nothing else, you've gotta test your own fitness. I didn't have a sore neck or arms, even though that was only the second race distance I'd done since Surfers' Paradise last October.
Maybe if we'd tested at Portland when the rest of them did, it might have helped some, because I hear the weather conditions were basically the same at the test as they were on race weekend.
But then again, we'd tested at Mont-Tremblant beforehand, yet we arrived there last weekend completely out-to-lunch with our set-up, so it's anybody's guess. Mine is that I think our Portland weekend was always destined to be crap.
So then we went to Road America, and Oriol and I were trying completely different set-ups - shock settings, diff settings - working within what the rules allow us to do, but trying to find whatever the hell seems to work against us on road courses.
We left there feeling kinda OK about how we ran, but not really sure. Oriol hit on a good diff and shock combo in the last hour of the second day, and turned in a really good time, but we had no time to really evaluate it.
Was it down to just the track conditions and the coolness of the day? We didn't know, because some of the quick guys - like Newman/Haas/Lanigan and RSPORTS - weren't running at that moment.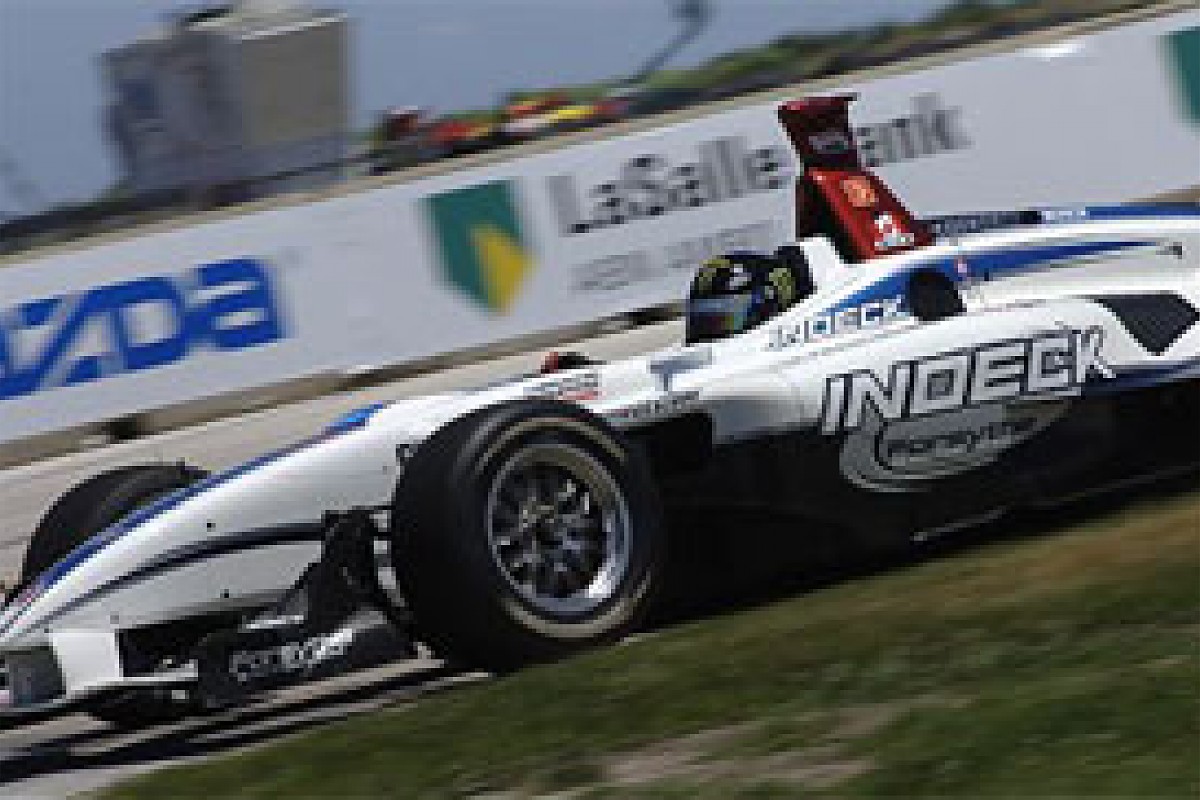 Paul Tracy at speed in Cleveland © LAT
Whereas Alex Figge, in the Pacific Coast car, was something like only three tenths off Oriol's time. So we felt we might have found something, but we didn't know.
At Cleveland, our opinions were still kinda on hold. We had understeer there, but that's a track where you typically have understeer anyway because you're accelerating hard out of what are effectively big chicanes. And even when the rubber goes down and the track's grippier, the car still handles that way, but you can just get on the gas earlier, harder.
I knew we'd go okay there, and that the car would be pretty good. We didn't exactly qualify where we wanted to, and I struggled with the softer tyres, the red-walled ones.
But that was more down to me just not getting the time - I could have done a better job. Every time I had a good lap going, I dropped a wheel off, or I had a car coming out of the pits in front of me.
In fact, on the first day I dropped a wheel off on one lap and lost three tenths in one corner, and that turned out to be my quickest lap of the day. So the car I'm sure was better than I showed - I should have been in the top four, and we ended up seventh.
In the race though, I guess you could say we achieved a little more than we expected. I got off to an okay start from the standing start. Justin [Wilson] beat me, but then I got past him and then I was following Graham Rahal and Robert Doornbos.
They were fighting like crazy. Rahal made a move on Doornbos on the pitstraight, but Doornbos ran him all the way to the cones on the inside to make him back out of it. I guess that's what Race Control punished him for.
So Graham went to the outside, and they went around the Turn 1 hairpin together and Doornbos got out of the corner a little bit better and they were side by side going down through Turn 2 to 3, which is basically a straight.
At the turn Doornbos moved Rahal, like, 175 feet across the track to run him out to the grass, and there were kinda rooster tails of dust flying.
At this point I'm sitting there licking my chops, thinking I'm gonna make two places up at this rate because they're heading for the boonies.
Both of them braked super-late for the right-hander and went sliding across the track. Doornbos got in first and kept it together, but Rahal slid wide about to go into the grass, then it snapped sideways the other way for the immediate left-hander that follows, and I figure he's sliding out of my path.
So I come in real tight to drop under him and pass ... at which point he gathers it up by standing on the brakes, and he's precisely where I'm aiming for.
So yeah, I drove into the side of him, knocked my front wing off and drove us both into the grass. Well of course there was a yellow, and I needed a new wing so that set the tone for our pit strategy. I got a wing, and topped up with fuel.
The deal with Bruno Junqueira two laps later was much lower speed, although the same effect for me. Just ahead of me, Oriol was passing him at the Turn 1 hairpin, Bruno tried to duck underneath him like I had with Graham, and I misjudged how much more speed Bruno was gonna scrub off to try and do this, so I thumped his car up the backside.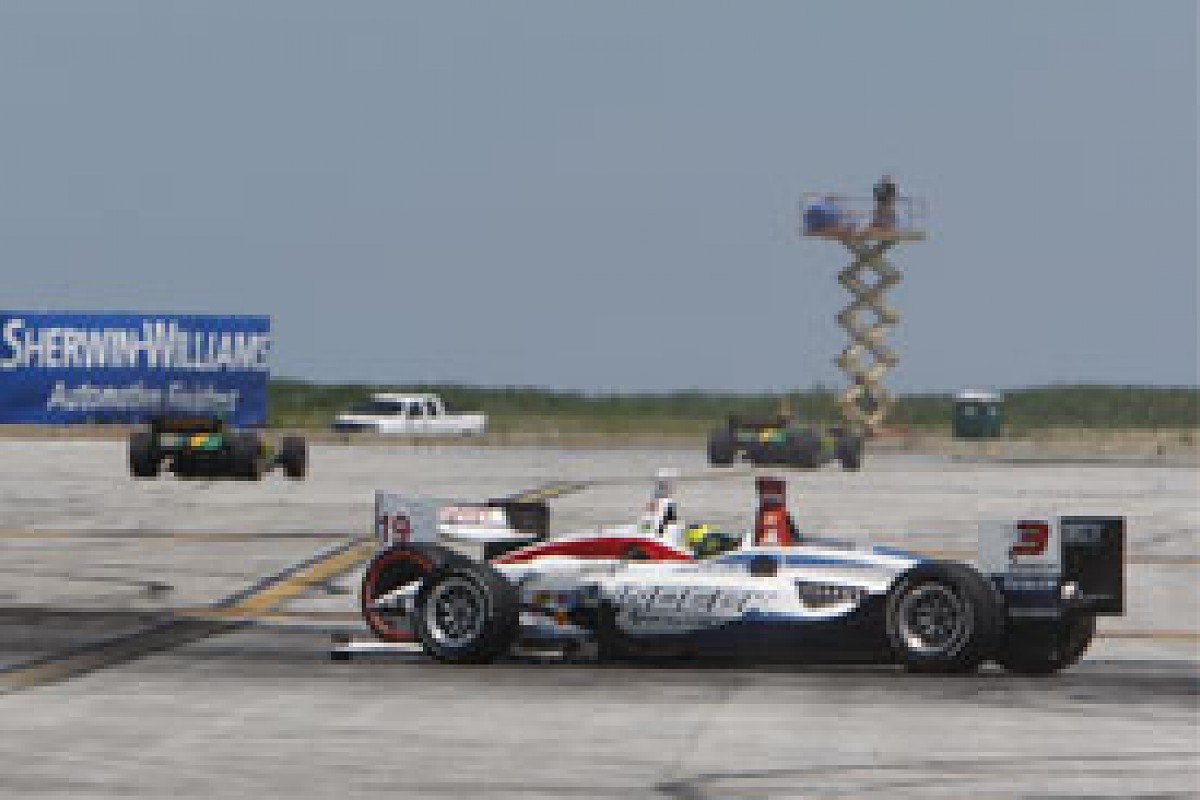 Paul Tracy spins Bruno Junqueira in the first turn in Cleveland and damages his second front wing © LAT
I wasn't trying to outbrake anyone, pass anyone - and certainly not hit anyone. If you look, at the TV footage, I was only slowing the same amount as the guy behind me.
It's just that Bruno was obviously fighting to get his place back from my teammate and the only way to do that was duck under him, which involved going extra slow there. So yeah, my fault, and I was sorry to put Bruno out - I really like the guy.
I paid a price because that was the second wing gone. Well I got back to the pits, got another wing, came in again to top the fuel off on the last lap of the full-course yellow.
And I have to admit, for the first time in a long time I was pretty demoralised. We were stone last and I really needed a reminder that this is Cleveland and anything can happen here - there's always hope while your car's still running.
Well, I got that reminder. After we went green, I was wanking around at the back, not doing a whole lot for six or eight laps, and then Neil Micklewright [our team VPO] got on the radio and said: "Come on, get going, we can still win this.
"You've got eight to ten more laps more fuel than anyone else out there. Get past some people, turn some fast laps when everyone else pits, and we could get in the frame again."
So I thought 'okay', and I think I passed five cars in front of me before they all made their pitstops, and then I was closing in on Rahal, Wilson and Alex Tagliani.
When they pitted I was able to lay some fast laps, then pit and I came out among them. They were lighter than me, so that produced a good fight with Rahal and a really fun one with Tag that went on for about two laps, but by the end of their stint I was going a little faster than them and when they pitted again I had a clear track to cut some quick times.
By the time the fourth yellow came, that was it - everyone else had to pit, I didn't and suddenly it was me and Rahal up at the front. Well Newman/Haas/Lanigan had shortfilled him in the middle stint, taken him off my strategy and put him onto the same as the leaders.
So he had to pit before the end and I didn't, so there was no point in him trying to pass me. I didn't know that: my team assumed he was okay to the flag, so they told me this was my race to win and not let anyone past, but I also had to save fuel. So in those circumstances, you just do the best you can and play it smart.
That wasn't so easy because the tyres I had on at the end were not the best. The rears were the ones I had on in the second stint, the ones I was wearing when I hit Bruno.But the fronts from that shunt got cut.
Well, by the time of my last pitstop, the team had zip to give me except some old tyres that had 20 laps on them from practice.
Now, my last stint was 26 laps, so you can imagine the state those fronts were in over those last few laps. Suddenly it was like Portland again - a fairly well glued back end to the car, but a front that didn't want to turn this side of Thanksgiving.
We coped for the first ten laps of that stint, but then jeez, I couldn't get the car to stop without locking up the fronts and then it wouldn't turn. I was just hanging on to that lead for dear life.
I won't disagree that the timing of the fourth yellow was a bit of luck for us, but after two years since my last win, I felt we deserved it.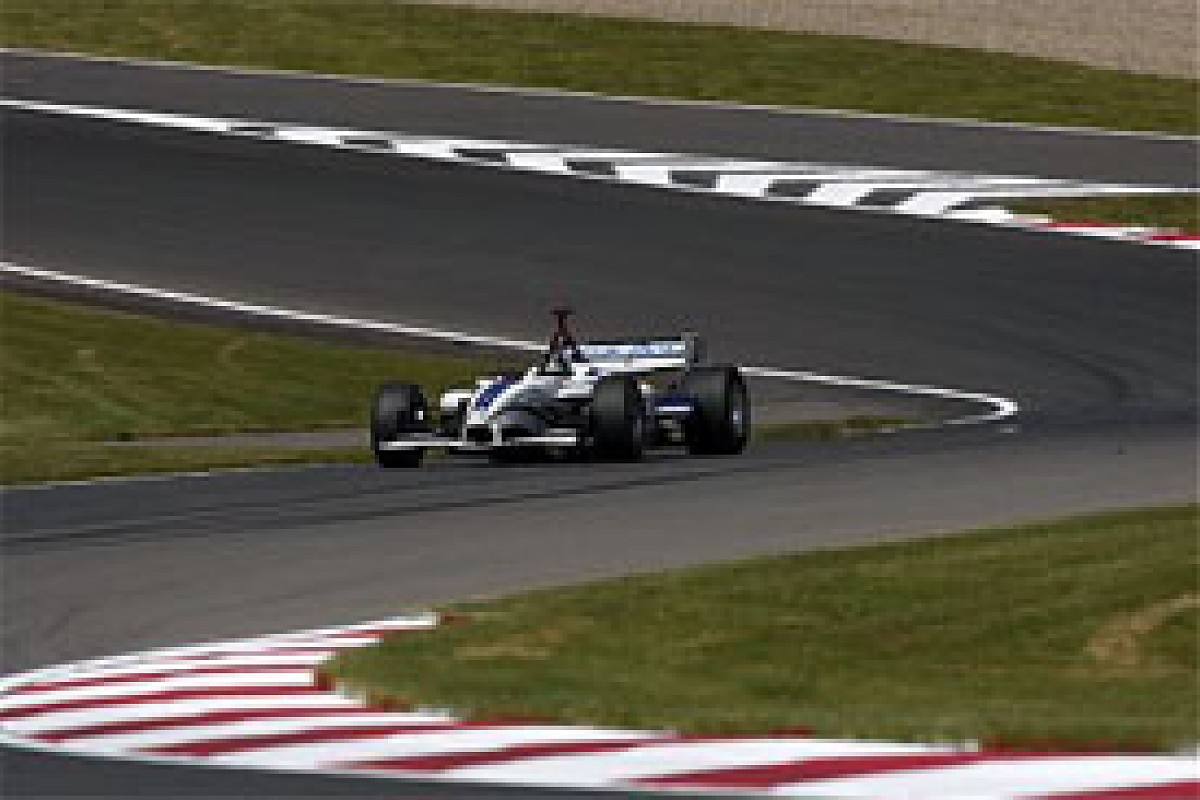 Paul Tracy at speed at Mont-Tremblant © LAT
Since that Cleveland '05 victory, I can point to a bunch of times where I thought we should have had victories and second places and something's always come along and pissed in our gas tank. So now I have 31 wins, same as my old teammate at Penske, Al Unser Jr, joint sixth on the all-time Champ Car winners list. That's cool. I hope we add to it.
No chance of that at Mont-Tremblant last week, I'm gutted to say. One way to look at it would be that when we were running good, circumstances went against us.
The harsh truth that all of us at Forsythe have to face up to is that we weren't good enough often enough to maximize a situation, or take advantage of any lucky breaks. You know, our excuse to Jerry Forsythe after Portland was that we didn't test there, so that's why we were slow. We say that to explain our first day at Tremblant ...
In fact, we had no excuses there. Excuses are reasons, and we had none. We came back for race weekend with a different car from the test.
We'd changed everything since then - springs, shocks, rockers, differential, even the aero package. But the car handled exactly like it had before: major front-end washout in long corners, meaning we had to overslow for the turns. Un-freakin'-believable! Oriol and I were shocked and pissed off, and the engineers were confused. Last Friday was horrible.
Then on the second day a couple of major changes were made. I'd love to tell you what they were, but as far as I can go is to tell you one of the changes was to loosen up the diff a bit more to counteract the fact that the DP01 is just a natural understeerer.
Anyway, during the Saturday morning practice, I started to find a good balance, and in the 10 minute pre-qualifying session I was second quickest to Bourdais, and I told the team "Hey, I think we can do something here. I don't think we'll be on pole but we can definitely be in the top four."
Then we're just sitting there and two minutes before the green flag for the start of qualifying, it starts pouring with rain, so we ended up relying on the Friday times.
Sure, if we'd been quickest in that Saturday session we'd have ended up second on the grid, because the fastest in qualifying for each day is guaranteed a front-row slot.
But although mine was one of the names that went to the top of the times in the final minute, it was all dependent on when you crossed the line.
So every five seconds it changed - it cycled through me, then I think Wilson, Clarke, Doornbos and finally it went to Will Power. In fact, I had one more lap left, but Katherine Legge spun in front of me at Turn 1, and was sitting broadside, so I had to bypass the chicane and as that's a shortcut, that lap didn't count.
Ultimately, I suppose it cost me nothing though because in Sunday morning warm-up I went off. Changing the steering weight - giving it more castor - had given us more front-end grip in qualifying, but it needed to be changed for the race because it would be too heavy for an hour and 45 minutes.
So we needed to alter the steering geometry, we didn't do it right and on my first proper quick lap I turned the wheel at a right-hander and the car didn't turn and we had quite a shunt. It wasn't a write-off, but it was too much damage to repair in time for the race.
So we had to switch to the spare, and the new rule is - and I didn't know about it, I have to say - if you don't race the car you qualified in, you start from the back.
That meant immediately going to an alternate strategy. We got a couple of cars at the start, plus three cars didn't get off the grid, and our polesitter Tristan Gommendy didn't even do the warm-up lap! So that was six places made up. Then Bruno retired, this time without any help from me, so I was in the top 10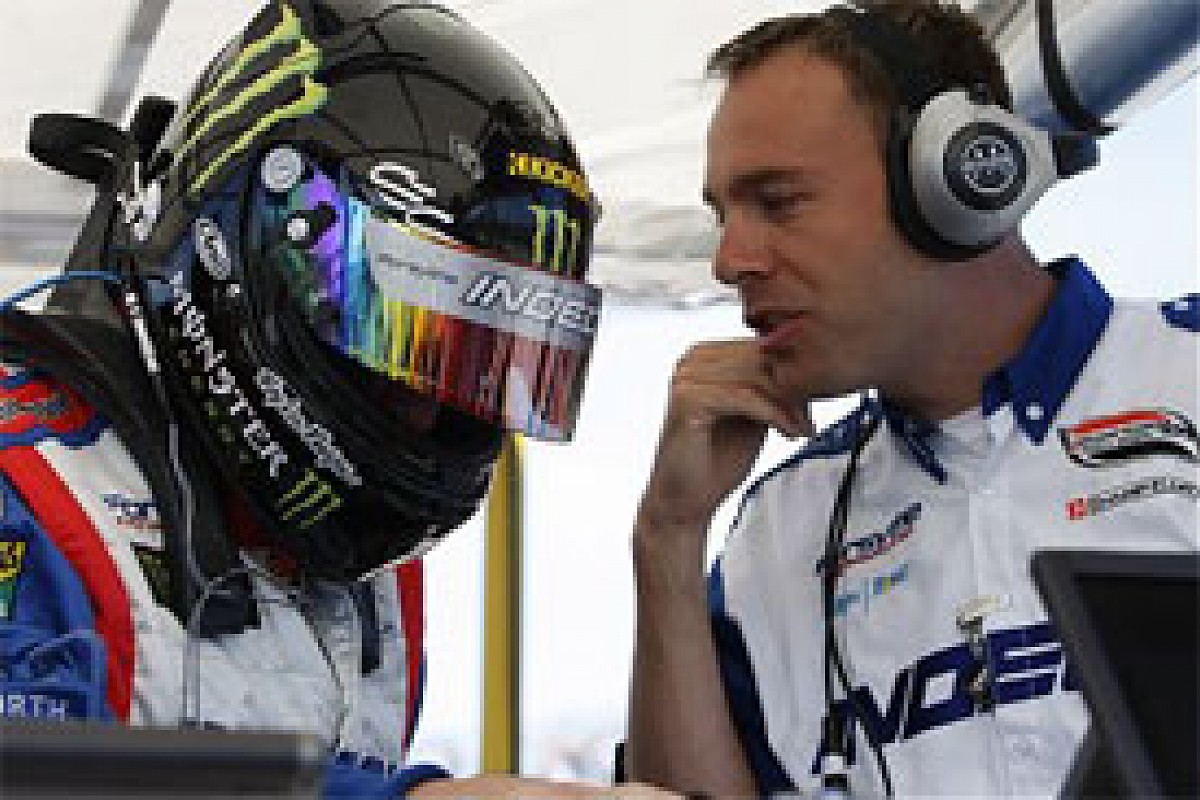 Paul Tracy confers with his engineer in the pitlane © LAT
Then I got the chrome horn from Power who spun us to the back again, but no foul, no harm. We weren't setting a fantastic pace, but with a dry-wet-dry-wet race - at times a dry-wet-dry-wet track! - you don't need the fastest car because anything can happen.
Like Sebastien and Will and Simon Pagenaud proved, you can spin and still finish well. Who knows where we might have ended up? Probably the top five.
As things transpired it was irrelevant to me because the engine just expired during a yellow flag period. Cosworths don't normally let go in a big way, so I got the Safety Team to tow me back in case it was just a small problem, but when the crew turned it over it made a horrendous crunching noise, so this one had clearly shat itself.
Unlike some reports said, it wasn't even an old one - it had about 300 miles on it, so that's a bit weird.
Well as if we didn't know it before, we're well out of the championship frame now. But as a team we have to try to put our house in order, get a handle on this car, and try and rack up race wins.
Nothing's going to stop me trying to do that. I think Oriol joining the team has been a good thing, because at least everyone can take the question marks off my pace. A couple of years back in the Newman/Haas car, he was getting podiums every event, and he won a race. He's two or three tenths off me, but we're down in 10th and 13th on grids.
Even if I was just a fan, I'd be pretty intrigued by the championship battle right now. I don't think Bourdais expected after six races he'd be tied at the top of the table with a rookie.
I don't know Doornbos too well, but I know he's been in Formula 1, he seems to have the European racing mentality, he's got the attitude needed in F1 where drivers have to have a bit of conflict with each other, and he's pretty well versed in how to play this game.
Right now, he's got Bourdais' number and he won't be intimidated by Bourdais' reputation - he'll just see it as a challenge.
Same here, naturally. I'm looking forward to getting to my old home city, Toronto, this weekend. In fact I think we'll be fine on all streetcourses, like we were in Vegas, and like Oriol was standing in for me in Houston.
So if you're a fan, don't despair. We've got some good events coming up for us, I think. I just hope by the time we get to the European rounds we'll have figured out our road course set-up so that I can be a pain in the Assen for Mr Doornbos.
PT