After the Ferrari resurgence in France, the circus moves to Silverstone, a wind-swept ex-airfield in the heartland of England. Home for most of the teams - including championship-leading McLaren - this should not be a simple walkover.
Analysis
Silverstone is a technical track, which emphasises the importance of getting the car set up well. The opening sequence of corners in particular are very quick, emphasising good downforce and aerodynamic balance, whilst the straights require aero efficiency or a powerful engine to compensate. The tight complex at the end requires good mechanical balance and rewards traction.
Overtaking is hard (unless it rains) and this will be emphasised fairly strongly as most of the teams tested there a couple of weeks ago, so they will be expected to have a good handle on dialling in their cars, making it more likely they will qualify and run in performance order.
That said, gusting winds may upset the relatively delicate balance of these cars, which may open opportunities, and particularly could lead to surprises in qualifying.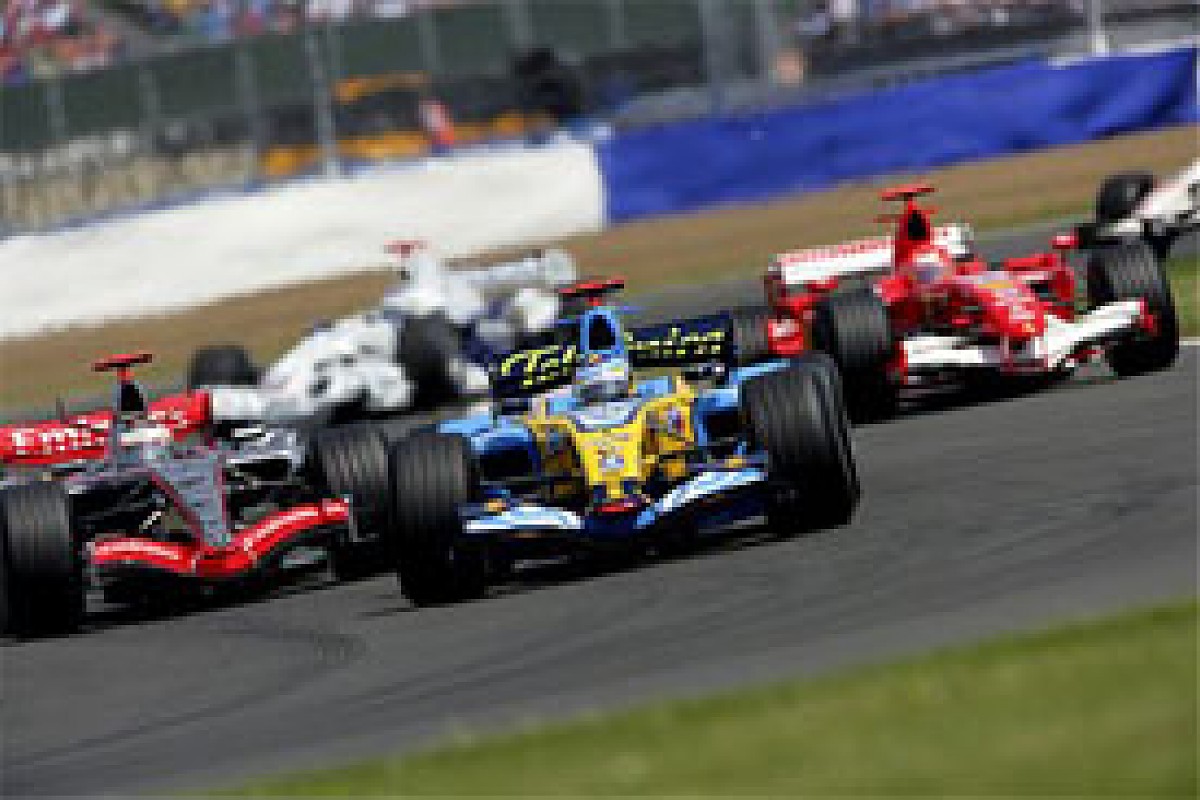 Fernando Alonso (Renault) leads Kimi Raikkonen (McLaren) and Michael Schumacher (Ferrari) at Silverstone © LAT
Flashback
In 2006, gusting wind and hot temperatures made qualifying somewhat unpredictable. Trulli's engine blew in Q1, whilst Button was called to the weighbridge, preventing the local hero from making any improvement to a poor first lap and eliminating him. In the end, Alonso's Renault led Raikkonen's McLaren to pole with the Ferraris of Schumacher and Massa a quarter second behind. Fisichella and Barrichello followed, leading Ralf Schumacher and Montoya. Heidfeld and Villeneuve rounded out the top ten.
As the race got under way, Heidfeld made a strong start to leap from ninth to sixth, though Villeneuve's attempt to follow suit failed when he Montoya took his line in to the corner and they collided, putting a hole in the McLaren: Rosberg took his chance to pass the Sauber.
Ralf Schumacher made a poor start from seventh, getting caught in collection of cars at Copse to emerge in thirteenth. Speed attacked in to Becketts, nudging the Toyota which collected Webber, taking all three out of the race and bringing out the safety car.
Alonso bunched the pack repeatedly at the restart, leading Raikkonen impatient; the McLaren driver made a couple of spirited attempts to pass, resulting in ragged lines and poor exit from Club, offering Schumacher an opportunity to attack in to Abbey: the cars touched sidepods, but the Ferrari went through on the outside of the chicane. These three slowly pulled away at the front thereafter, leaving Montoya all over the tail of Heidfeld.
Button was making up places, but an oil leak sent him spinning out on lap eight, then Alonso put the hammer down and edged away from his rivals at the front, despite a heavier fuel load: after the first round of stops, he had 10.7 seconds over Raikkonen, and he controlled the lead comfortably from there for the remainder of the race. Fisichella moved ahead of Massa based on the same strategy.
The second set of stops saw Schumacher put in a couple of stunning laps around the stop itself, resulting in his passing Raikkonen through the second round for second place.

Pos  Driver        Team                      Time
1.  Alonso        Renault              (M)  1h25:251.927
2.  M.Schumacher  Ferrari              (B)  +     13.951
3.  Raikkonen     McLaren-Mercedes     (M)  +     18.672
4.  Fisichella    Renault              (M)  +     19.976
5.  Massa         Ferrari              (B)  +     31.559
6.  Montoya       McLaren-Mercedes     (M)  +   1:04.769
7.  Heidfeld      BMW-Sauber           (M)  +   1:11.595
8.  Villeneuve    BMW-Sauber           (M)  +   1:18.299
Fastest race lap: Alonso, 1:21.599
Qualifying best: Alonso, Q3, 1:20.253
Weather
With showers predicted on Friday, the running could be interrupted, and certainly there is expected to be more wind, which would make it interesting getting the cars set up properly. Temperatures are expected to hit 71 degrees (21 Celsius), though the track will be quite a lot warmer when it is not cloudy.
Strategy
Last year, this was a straightforward two-stop race, and it is likely to be seen that way again. Three stops is possible for someone who is prepared to pass aggressively, but that is not easy, so the track usually rewards long runners better when it comes to making up places. Considering most of the teams tested there after the North American trip, there are not expected to be any surprises with tyre wear.
Conclusions
With Ferrari coming back strongly in France, it is clear this season has not become a McLaren benefit. The Italian outfit will be looking for a dominant performance - they have some way to go for closing the championship points gaps - but at McLaren's home event, they can expect to see the British outfit put up a fight: this could be very tight fought at the front.
Behind the obvious candidates for the win, BMW-Sauber continue to keep the front-runners honest, and will find their way to the podium if either of those teams falters; Renault, Red-Bull, Williams, Toyota and Honda are all fighting over the remaining points: advantage will go to the team that qualify best, probably Renault.
A Lap of Silverstone with Lewis Hamilton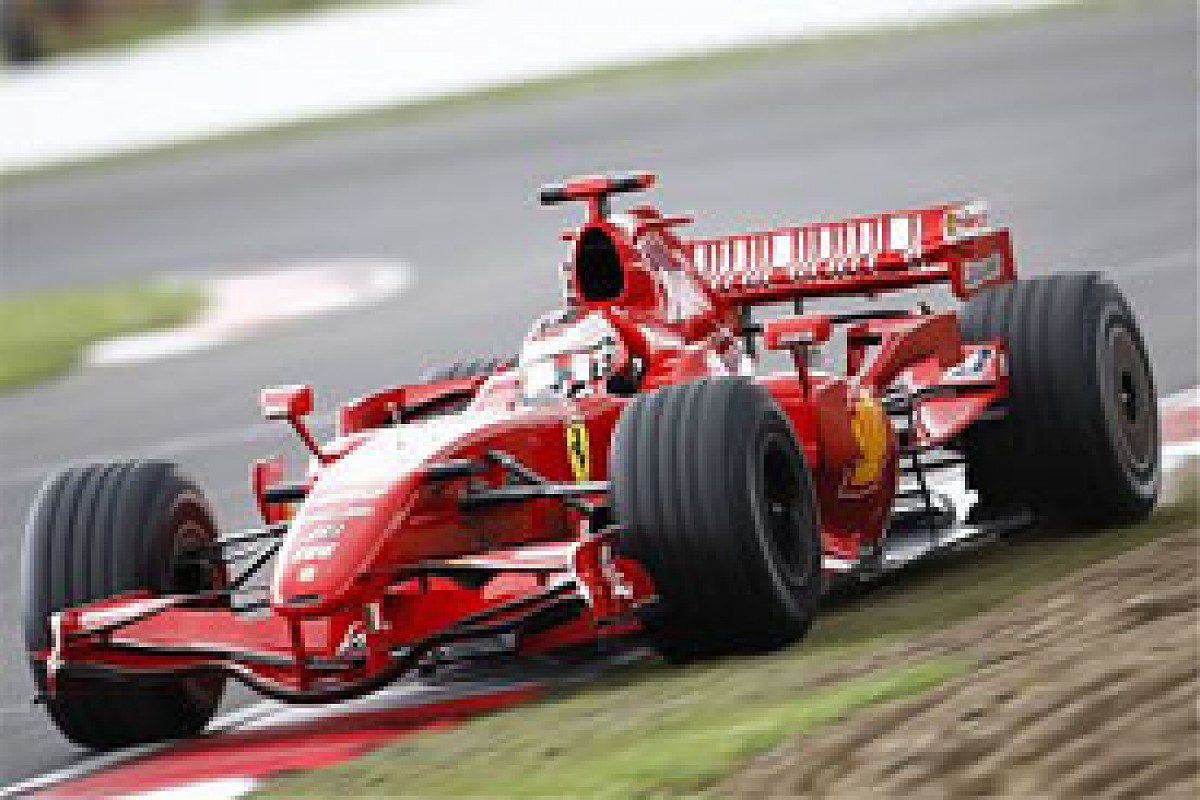 "Silverstone is one of my favourite circuits. Overall it is a very quick track and I remember when I tested the car here for the first time, I managed to get Copse (Turn One) flat out, which even I impressed myself with! You are obviously pulling some heavy G there and it is very fast. In fact for the whole first sector, up until Stowe (Turn Seven) you don't brake.
"This means that you are flat out through Turn One, with maybe a slight lift, then you are flat out again into Maggots, flat out through Becketts, lifting only as you come into Turn Five, carrying about 290km/h as you are lifting and turning. This is very tricky on the neck. Then it is all about the exit from Turn Five and Six, making sure you can carry the speed down the straight.
"Coming up to Club, it is quite a tough part of the circuit and very much about the exit you get from Turn Eight and the speed you carry through Turns Nine and 10. You almost have to slightly lift coming into Turn Nine to get the car turned a little bit, but then you are hard on the gas and use all the run-off area. It is tough and it gets longer and longer and you just have to make sure that you use the entire road there.
"Abbey is a pretty cool part of the circuit. It is just a normal chicane really but it leads up into Bridge, which is one of the famous sections of Silverstone. This part is flat out and you are pulling heavy G-forces through Turn 13, which is very quick. It is fairly easy flat-out but is all about getting back onto the right side of the track for the left-hand corner coming up, Priory; another difficult corner.
"You are coming up the hill and can't really see the corner, so it can be difficult to know where to brake. When you turn in you are going so quick that the car is a bit pointy sometimes and you don't really know how much run-off area you have got. As a result you can end up going in a little slower than you should, as you underestimate how much road you have.
"If you get that right then you are most likely to get Pole Position. Finally you have the tight Turns 15 and 16. They are pretty basic corners which lead down to the first straight. Last year when I raced at Silverstone in GP2 the support of the crowd was fantastic and I am really looking forward to their support again this year at the Santander British Grand Prix. "
Team by Team
McLaren Mercedes
Despite being comfortably beaten by Ferrari in France, there is no doubt that McLaren head to Silverstone in a strong position: they hold good leads in both championships, enough to know they will leave the weekend still leading.
Which is not to say they can be expected to be complacent - far from it. The team tested at Silverstone after their North American outing: perhaps one of the reasons they were caught napping in France was the testing emphasis on making a good showing at home.
At least, that is what their fans are hoping...
1. Fernando Alonso: having always been quick at Silverstone, this is a race that Alonso will be looking forward to - it perhaps represents an opportunity to get one over his rookie teammate, who will be under new and different pressures.
2. Lewis Hamilton: arriving in Britain, in front of a passionate home crowd with a comfortable championship lead, this rookie is about to discover a whole new pressure. To date, he has seemed only to get faster as the season progresses and has clearly been consistent - it will be interesting to see if the crowd has any impact on his driving.
Objectives: pole and race win.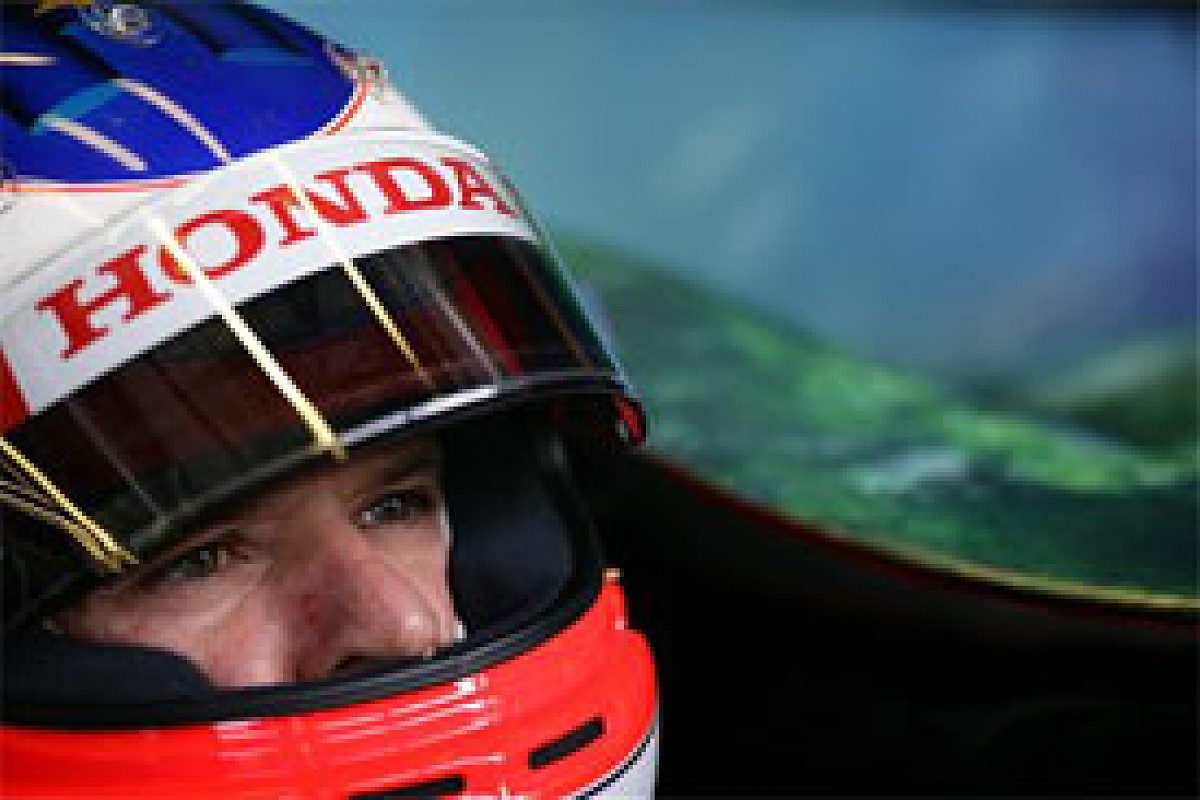 Kimi Raikkonen testing at Silverstone © LAT
Ferrari
France marked a big turnaround for Ferrari, and coming back from McLaren's domination of the previous three events to claim the one-two finish was a significant achievement. They might not have things quite so easy at Silverstone, but they will certainly be aiming for a repeat performance.
That said, they went to the British Grand Prix expecting to win last year, too, only to discover that Renault had a clear edge. It would not be surprising to discover that McLaren have also managed to keep something in hand too.
Whilst there may be question marks over whether it was their damaged wind tunnel that impeded progress on the specialist aero circuits, there is no doubt that for the medium high downforce tracks that make up the bulk of the European season, they have a package that is clearly to be reckoned with. McLaren will probably be closer in performance, but there is no doubt that Ferrari will be looking for another win.
5. Felipe Massa: clearly frustrated at coming second in France after encountering more traffic than his teammate at a critical time, the Brazilian will be looking for restitution at Silverstone. With confidence high and the team being thoroughly even-handed, he will be looking to confirm that he retains the edge over his teammate.
6. Kimi Raikkonen: with another win under his belt, following a strong qualifying session, it seems that Raikkonen is coming up to the form that he was hired to demonstrate - which will do a lot to quiet his detractors, for now anyway. Historically, he has qualified strongly in Britain but not gone quite so well on race day... perhaps this is his year to reverse that.
Objectives: pole and race win.
Renault
It was something of a mixed weekend for Renault at their home Grand Prix. The team qualified quite well, but saw Kovalainen's race ruined when Trulli punted him in to a spin, and Fisichella lost out to Heidfeld in the first round of stops - though he was fast enough to keep Alonso behind. All told, a frustrating weekend for the team, as they had rather hoped their latest improvements would put them up with BMW.
At Silverstone, they are unlikely to put together anything like the weekend they enjoyed last year, where they won with both cars on the podium: getting that close to the front would mean performing on a par with Ferrari and McLaren, which is an unlikely eventuality.
Realistically, although the team are close to BMW for performance and expect to have a qualifying advantage against most of their midfield rivals, they can expect to see pressure from Williams, Red Bull and probably Honda this weekend, so a good fight will be in order on Sunday if they are to score points.
3. Giancarlo Fisichella: when he finishes at Silverstone, Fisichella generally manages to do so in the points - he made his way from 20th to 6th in a Sauber in 2004. This is a circuit that usually sees him race well, so he can be expected to score points if he can make it in Q3.
4. Heikki Kovalainen: finally looking like he has a handle on the car, Kovalainen is starting to show the potential that he was hired for, and the results are starting to come in consistently. Although he has not raced in an F1 car at Silverstone before, he has tested there, so another solid outing is probably on the cards.
Objectives: get both cars in to Q3 and then scoring points.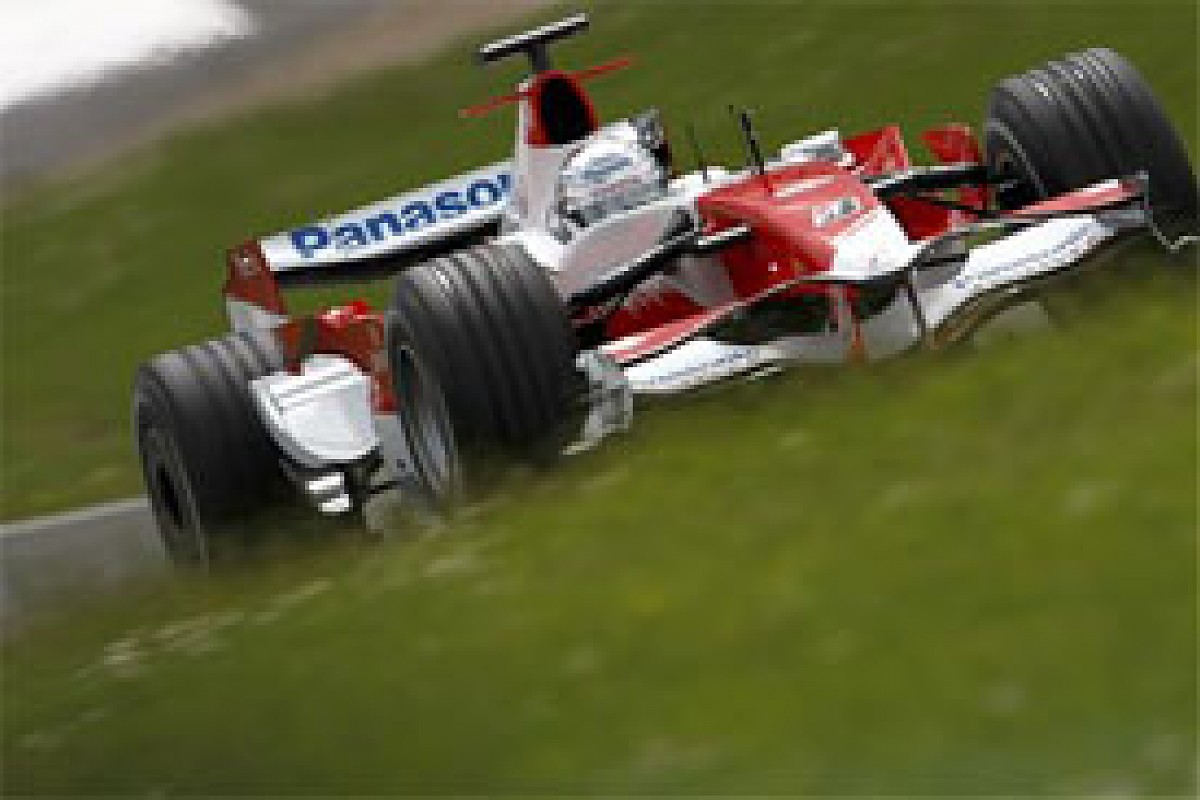 Rubens Barrichello © LAT
Honda
Silverstone was not a highlight for the team in 2006, with Button having a nightmare qualifying session and spinning out of the race in front of his home crowd whilst Barrichello slid backwards and out of the points on race day.
It was actually the kind of weekend they would have seen as promising at the start of the season, but in France, despite a lacklustre showing on Saturday, there was a very definite improvement to the race day pace, resulting in the team's first point and purely on merit.
Maintaining the momentum in Silverstone is going to be an interesting challenge. The improvements to the car have made it more predictable, which is a large part of why the race day pace has improved more than the qualifying pace. That these changes are particularly apparent in higher speed corners is positive for their Silverstone outing, as the circuit especially rewards strong aerodynamics over the opening corners of the lap.
7. Jenson Button: looking for more from his home race weekend this year, Button will be hoping at least to get out of the opening qualifying session on Saturday, before attempting to work up to another points finish. With the midfield expected to be very close, any lift from the crowd could go a long way to doing just that... though, for the first time in Button's experience, the weight of their expectation will fall on another Brit.
8. Rubens Barrichello: as a previous winner in Silverstone, Barrichello has a record that speaks for itself: he is very fast here, so his teammate is going to have to excel in order to get the better of the Brazilian this weekend, home crowd support or not. A decent qualifying session is possible, and that would set up the potential to fight for points.
Objectives: get the cars in to Q2 and at least one into the points.
BMW Sauber
The British Grand Prix showed BMW-Sauber had teeth in 2006: they took seventh and eighth, and would have done better still if not for a gearbox issue in a pitstop. This was a quality outing for the team.
Of course, this year they have the performance to expect both cars to finish in the points on every outing: fourth and fifth in France seemed almost normal, as they slowly work down the gap to the top two teams.
With so many races in the short period, BMW-Sauber are expected to have little new to show for the forthcoming weekend, but they are arriving on the front foot. Despite Renault appearing to close the performance gap in qualifying, there was little doubt that on race day they still had an edge. Heading to a circuit that emphasises aerodynamics, they can expect that edge to be sharper...
9. Nick Heidfeld: with back pain interfering with Heidfeld's running in France, he was a little off his game, yet still finished only one place behind his teammate. The German will be looking to reverse that order on Sunday - perhaps challenging for a podium if one of the front running teams is having a poor weekend.
10. Robert Kubica: having demonstrated he has lost none of his speed since the Canada accident, Kubica will be hoping to cause an upset in qualifying, though he did not benefit from running at the recent test.
Objectives: both cars in Q3 and targeting a podium.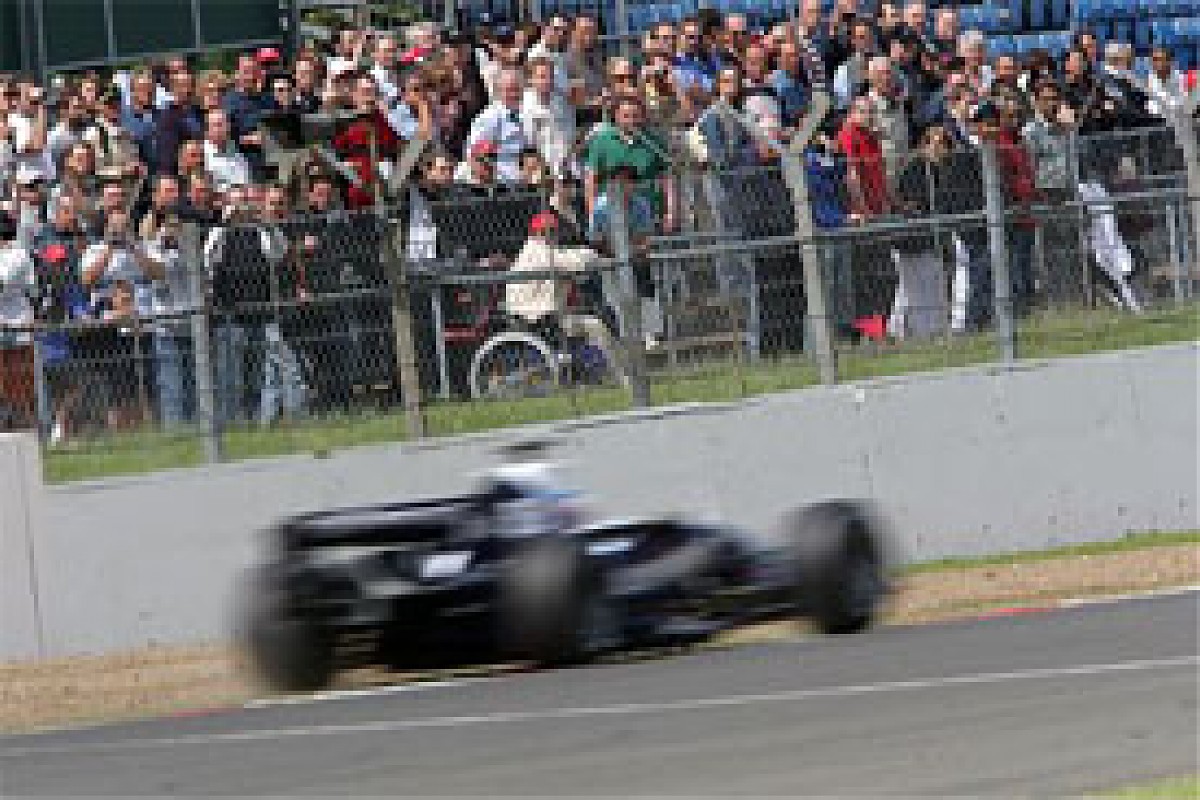 Jarno Trulli testing at Silverstone © LAT
Toyota
There has been little indication that Toyota are going to be able to do much about their performance problems this year. In qualifying, they are regularly able to get a car into Q3, only to see it going backwards on race day - clearly their race day pace is not on a par with the single lap results. Whether that is because the car cannot be dialled in to be quick with full and empty tanks, or they don't know how to get the best out of their Bridgestone tyres, they are coming into the weekend on the back foot.
Last year, the team had a tough weekend in Silverstone, as an engine failure and accident saw them out of the running - however, they did seem to show more pace there than at other tracks. Accordingly, it would be little surprise to see them make Q3 again, though scoring more points is going to require sustained pace on race day.
11. Ralf Schumacher: having a terrible season, the German is struggling to get to grips with the car and consequently failing to match up to expectations. The team have been trying to improve the car so that his style is less compromised, but there remains no doubt that he is on the back foot. Silverstone is a circuit that has seen him run better than most - he would benefit from an upturn this weekend.
12. Jarno Trulli: besides dominating his teammate, Trulli has his work cut out this weekend if he is going to get the car in to Q3, qualifying specialist or not. But without a decent session, it will be difficult to hold out for points on race day.
Objectives: get at least one car in to Q3 and score points.
Red Bull Racing
France should have been an opportunity for Red Bull to show progress from their new parts, but instead they failed to impress. Worse, the reliability bugbear that has troubled their efforts all season reared its head again with Coulthard's gears giving up in the second qualifying session. This is not auspicious, heading to their home race with no time to test: it would be no surprise to see at least one driver with more gearbox problems as the weekend unfolds.
It is not as though the team have a history of excelling at home, either. Last year, they came from a successful Monaco to Silverstone and finished twelfth and thirteenth - certainly not according to plan.
Although they showed definite progress before heading overseas this year, everyone brought out their latest and greatest developments ahead of the trip to France, rather levelling the field again. Getting both cars in to Q2 is a good target, but scoring points is probably going to require a fair bit of luck...
14. David Coulthard: although he has won twice at Silverstone, Coulthard's record at his home event has not been quite so impressive recently: the circuit has not really suited Red Bull. Should he be able to get something special out of the car in qualifying, then there is a chance he can push hard in the midfield...
15. Mark Webber: despite a great reputation for qualifying, Webber does not really seem to have quite the same edge at Silverstone, perhaps because the teams test there quite a bit... accordingly, getting beyond Q2 is unlikely, and a Sunday keeping the midfield honest seems likely.
Objectives: get both cars to Q2 and thence to the finish in one piece.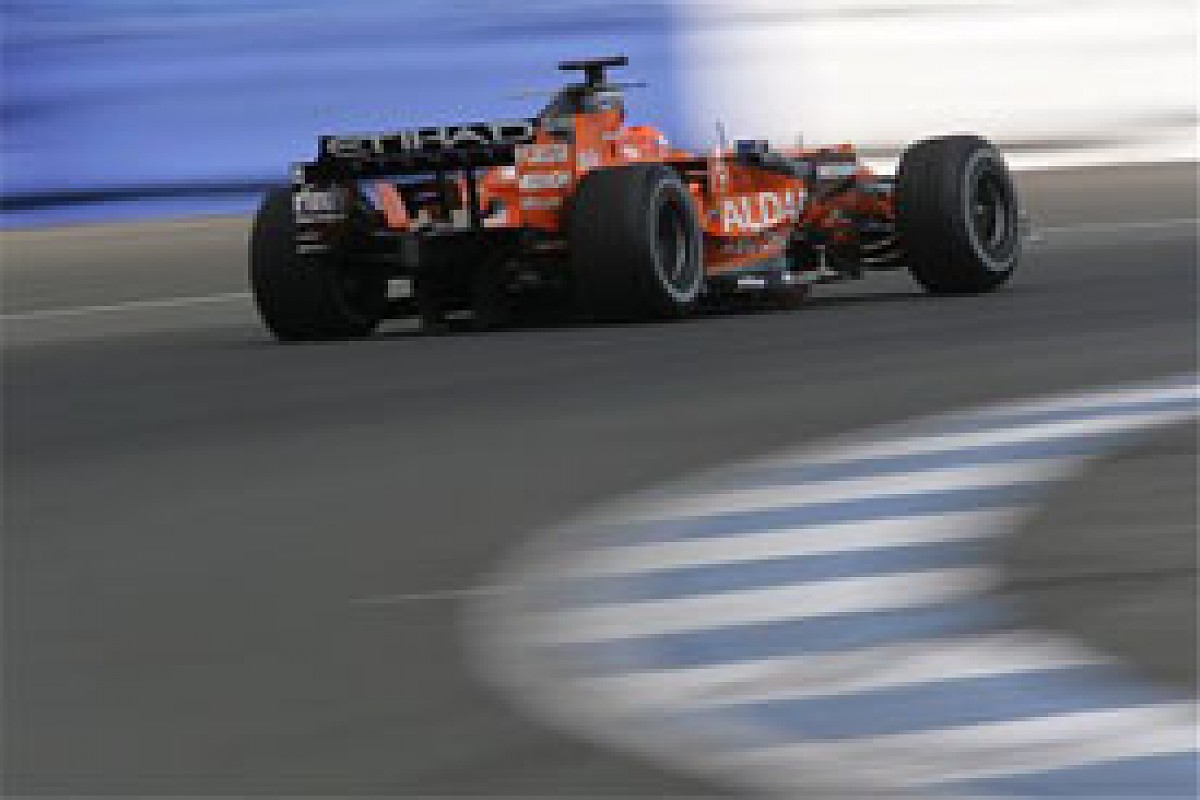 Alex Wurz testing at Silverstone © LAT
Williams
The British Grand Prix was not a highlight for Williams last year; they qualified badly, saw Webber collected in an accident on the first lap, and Rosberg unable to hold on to the positions he made on the start. All told, a miserable showing for the sponsors at their home event.
A year later, and things are looking more promising. The team have been fighting for tail end points at almost every outing; provided they can make a decent fist of qualifying, they have the performance to fight the other midfield teams and will very much be expecting to put on a show this year.
The team say that the departure of Loic Bigois for Honda is not expected to have a big impact: certainly, that should be true in the short term, but it will be interesting to see if their progress slows as a consequence, and developments intended for the end of the season fail to materialise.
16. Nico Rosberg: some excellent qualifying performances this year have seen Rosberg comprehensively outqualify his teammate, often setting him up in a good position to fight for points. In front of the teams home crowd, they will be looking for him to get in to Q3 again...
17. Alex Wurz: struggling in qualifying, Wurz is generally on the back foot from the outset. On race day, he seems to have good pace, but is lucky if his strategy takes him through the pack and in to the points. That said, he is generally there to pick up places if all goes to pot ahead of him, which is how he landed on the podium in Canada.
Objectives: get at least one car to Q3 and score points
Toro Rosso
It was a tough outing for the team last year: though they reached Q2 with both cars, neither driver was happy with the set-up. Speed took himself out attempting to pass Ralf Schumacher in the race, whilst Liuzzi had an uninspiring race - though his one stop strategy at least let him beat Klien.
France showed that, if nothing else, they can run with Red Bull, Williams and Honda on race day, though they are clearly struggling to get enough from the car in qualifying trim, and lack any edge that might gain them an advantage against these teams. Quite what that means for Silverstone is still to be seen but the odds are they face a similar outing: struggling to make Q2, but able to run with the midfield on Sunday.
18. Vitantonio Liuzzi: qualifying is largely going well, but there is still more to be brought out on race day; with this scope, a better weekend should be in prospect than last year, though the quest for points is unlikely to be completed on this outing.
19. Scott Speed: finally showing some of the potential he has promised, Speed is looking better in qualifying and running well on race day, so there is some hope he can make trouble in the midfield.
Objectives: get at least one car to Q2 and fight in the midfield.
Christijan Albers testing at Silverstone © LAT
Spyker
Despite now being owned by a Dutch outfit, having the factory opposite the gates of Silverstone means this is still effectively a home event - something that was punctuated last year with the first foray for Midland into Q2. Things have not been so happy in the race, but they had clearly made some progress on the year.
They are struggling more this season, though. France saw them qualify slowest again, then make mistakes in the race that saw one car fail to finish, and the other come home in 17th.
20. Christijan Albers: not only is he being shown up by his rookie teammate, particularly in qualifying, but Albers managed to drive off with his refuelling hose attached in France: even if he wins back the confidence of the pit crew, it is suddenly difficult to see what his value is to the team besides nationality. A strong, mistake-free race is required, if he wants to have a seat next year...
21. Adrian Sutil: although he had his worst qualifying session to date last week, Sutil has basically been doing a decent job for a rookie; however, he is still making too many mistakes - a pitlane speeding offence in France cost him any chance of staying with anyone.
Objectives: get off the back of the grid - and stay with the competition.
Super Aguri
The British Grand Prix was sufficiently early in the year in 2006 that Super Aguri were only ever expected to lap comfortably behind the rest - which they proceeded to do, once Sato crashed his car in practice and had to take the spare.
Last weekend in France, it was not a particularly inspiring outing for the team compared with their season to date: it seems their rivals in the midfield have been stepping up their games faster. Whilst some of that could be due to lack of experience with the surface at Circuit de Nevers, it clearly bodes ill for their odds of doing better at Silverstone.
22. Takuma Sato: to date, Sato has had indifferent races in Britain, though he has managed some decent qualifying sessions. Given another good qualifying, he might be able to hold on for a good result, but points are not likely.
23. Anthony Davidson: having had some particularly good outings as a test driver, it seems there is some curiosity over the Englishman's lack of performance in the Super Aguri on a race weekend. That said, his performance is hardly poor: he has outqualified his teammate five times to three; stepping up the game on race day is the ticket for dispelling that bugbear: perhaps a home crowd will lift him on Sunday.
Objectives: get in to Q2 and race in the midfield again...