Approach Scuderia Toro Rosso chiefs Franz Tost or Gerhard Berger in the paddock to ask if they have a few minutes to answer some questions, and you could forgive them if their shoulders dropped and a quick shake of the head indicated simply: "Sorry, not this time."
It's not that either man is unpleasant, unwilling to help or simply not interested in speaking to the media - in fact, far from it in each case. It's just that, for the past 18 months, all anyone seems to want to speak to Toro Rosso about is a controversy.
Controversy surrounding their decision to run with V10 Cosworths last season, their ultra-late call on their 2007 drivers, the 'commitment' question about Scott Speed, rumour of the team being up for sale and, of course, the customer car row and Spyker's protests this year. Toro Rosso have never been far from the centre of a big issue.
And fire fighting such stories for team principals in a pitlane that just loves such trouble can get really tiring at times.
Yet, surprisingly, Berger (co-owner) and Tost (team principal) are almost always approachable and available; they actually seem to be relishing the fact that they are permanently in the headlines - even for the wrong reasons.
As Oscar Wilde famously said once: 'There is only one thing in the world worse than being talked about, and that is not being talked about.' It is a mantra that Berger is well aware of it.
"I cannot choose it," says Berger about his team being in the limelight for all the wrong reasons. "If I'm honest, when we started to do this and move forward in this business to catch up, the decision was to go on the edge in every sense.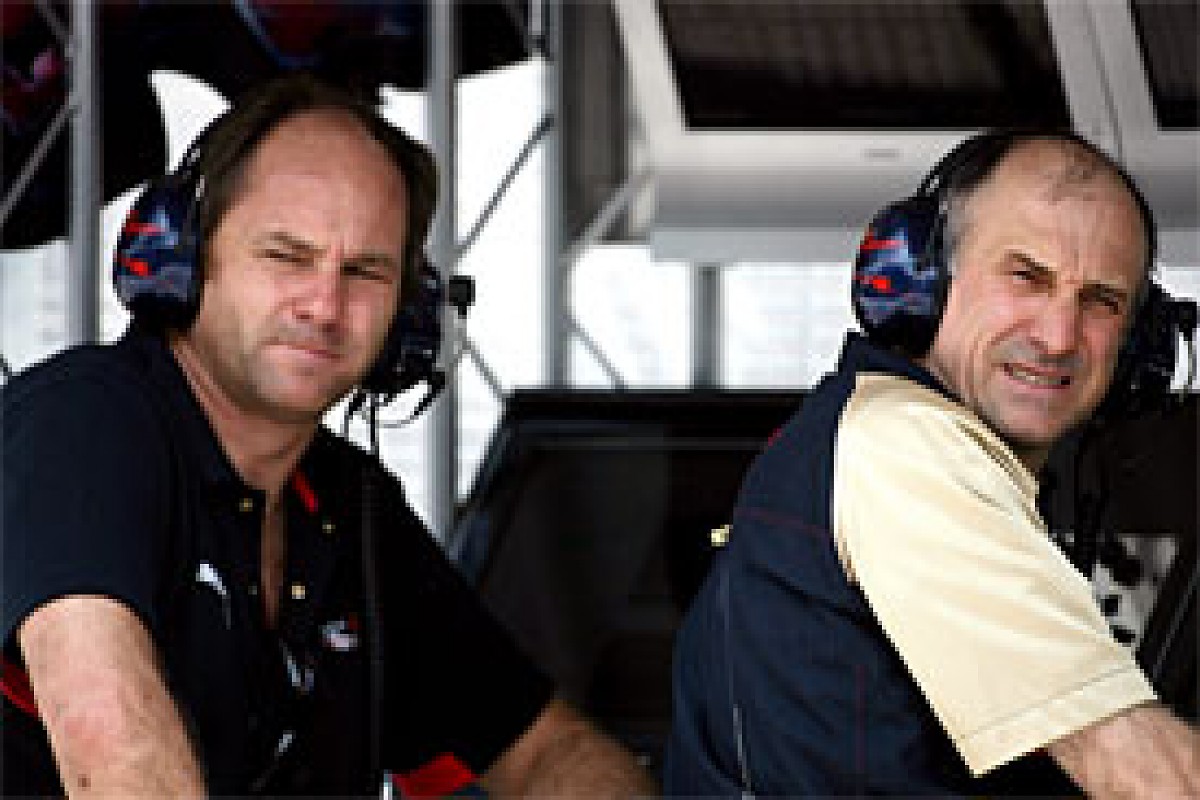 Gerhard Berger and Franz Tost © XPB/LAT
"I wouldn't like to be here just going around and being two laps behind. So obviously I'm trying to stretch everything to the limit - that's sometimes uncomfortable and maybe not right. But OK, that's the only way to do it. Even the top teams, you face the whole time other issues outside of the sport.
"I'm able to put the political debate completely on the side. We built a brand new car, we worked with new suppliers - mainly in Germany, Austria and Italy - and we were ready very late. We went to the first race and I was sweating because I said 'OK, we're not ready'.
"I just hoped that we didn't fall apart - because when everything's new, the team's really stressed, unready and we finished with one car. That was a great achievement even if from the outside it doesn't mean anything. But for us, it was a great achievement.
"And in Malaysia, we finished with both cars. Now obviously we are trying very hard to improve the performance, and if you look a bit deeper and check the lap times of Tonio [Liuzzi] after he lost his wing, they were good midfield lap times. And that's all we can achieve at the moment. We look a bit worse than we really are, but I'm happy that we are on schedule with the programme.
"And Spyker, that's stuff you have to deal with - but for me, only one thing counts, and that is the job you do at the circuit."
So let's take Berger's word for it. Let's ignore the controversies for once and take a closer look at the job the team are doing, and the real challenges they face - beyond the endless questions about chassis sharing.
THE CAR
As Red Bull Racing are finding out for themselves, simply getting hold of an Adrian Newey-designed car is not the instant passport to success that some had predicted.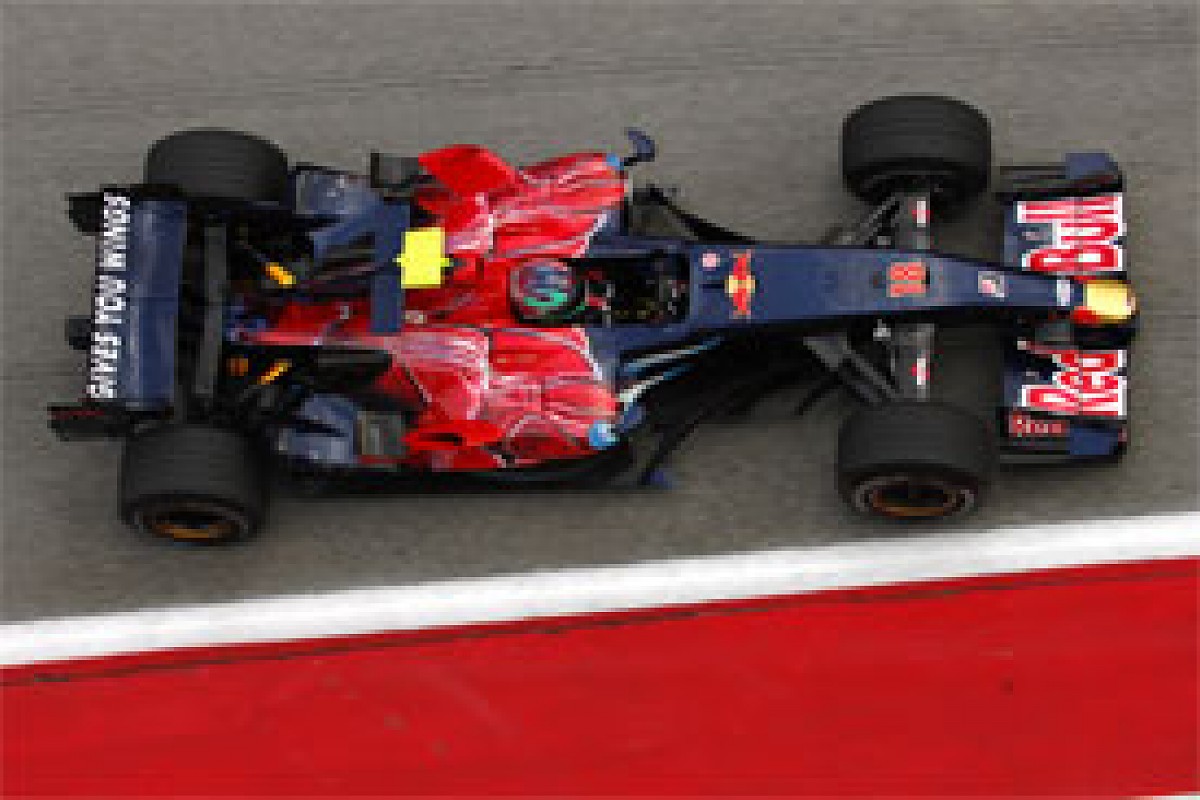 Vitantonio Liuzzi testing the Toro Rosso STR2 Ferrari at Sepang © XPB/LAT
Toro Rosso's STR2 is based on the same Newey concept that Red Bull Racing's RB3 has come from - although it has obviously been modified to accommodate the Ferrari customer engine rather than the Renault.
With Newey's car already being penned relatively late for the parent team, Toro Rosso obviously had their backs against the wall in trying to get all their extra work done in time. But despite talk of extra late crash tests, and the missed opportunities of early testing, the car eventually made it out a few weeks before the start of the season.
However, that track debut marked the start of what has been a fairly tough few weeks for the team in actually understanding the concept of the machine - including how to set it up, how to get the most out of it and how to improve it.
Tost explains: "The car was a month too late and these general tests at the beginning of February we missed for sure. It's a new car and to understand and learn how the car works takes some time, and at least it took us the first three races. And hopefully in Barcelona we will be prepared in a good way and we will see."
With most of Toro Rosso's staff being ex-Minardi employees, getting used to a car as state-of-the-art as a Newey-inspired one is obviously a world away from what they got used to as F1's perennial backmarkers.
"Yeah, it's a big step for the guys in Faenza but I don't want to say that the guys in Faenza aren't skilled enough on a completely new car," admits Tost. "It's just getting the experience to prepare things in a proper way and prepare everything in time. This takes time for every crew in the pitlane. We have some very good people within the team, otherwise I think we would have struggled much more.
"For me, Red Bull Technology did a good job because they started with a clean sheet of paper, and the technical level in F1 is very high. If you look at Ferrari and McLaren, their cars are development steps from last year's car. And we started from zero.
"And it takes some time - hopefully not too long - until we reach that level. If there's a new car you don't know everything, there are deficiencies in understanding the car and how it works, but I am convinced that we are in the right direction to find a way to improve the technical and performance side."
But at least Toro Rosso's close links with Red Bull mean that they can at least call on advice from Newey about any issues they have with the car - something a true customer car team may not have the luxury of.
"We don't talk directly about questions about design, but we were together in Malaysia to talk about which problems we face and where we can improve and to get some feedback from Adrian. Especially with Giorgio (Ascanelli, technical director) now, we can build up a strong team from this side."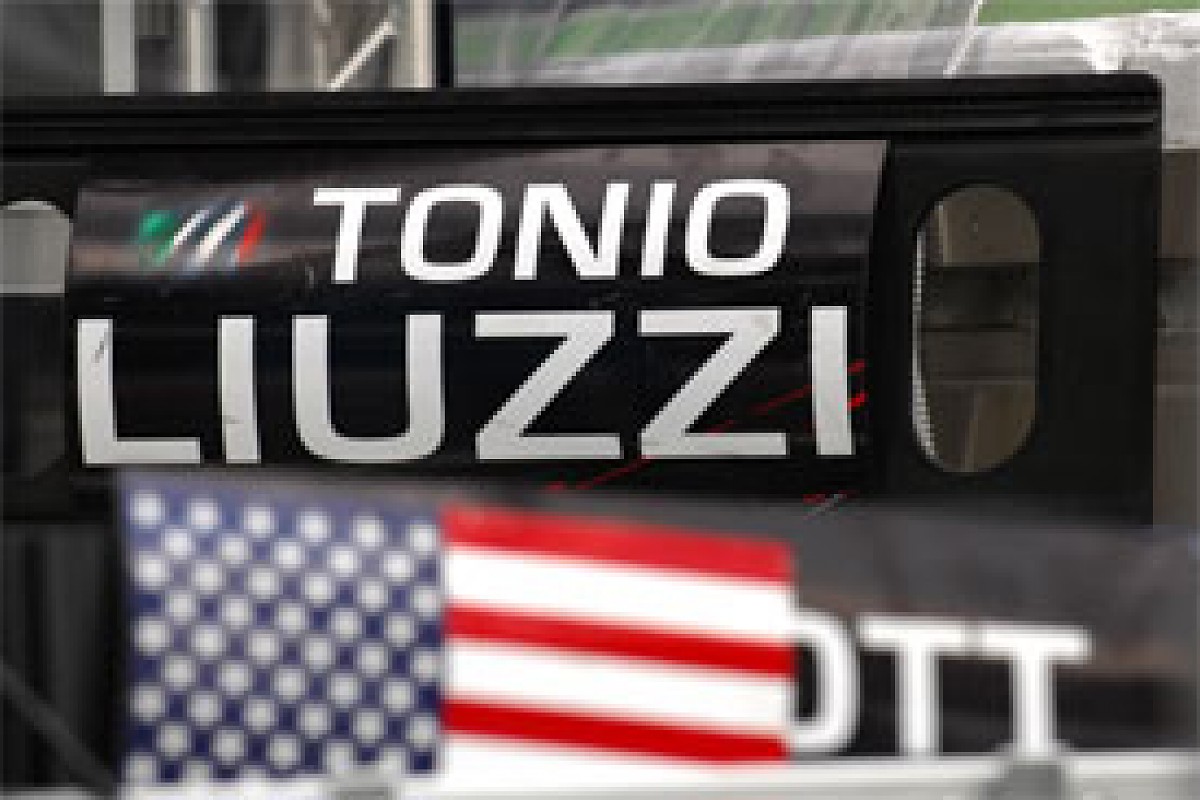 The pit boards for Scott Speed and Vitantonio Liuzzi © XPB/LAT
Red Bull Racing's Mark Webber has his own theory that the key to getting the most out of the RB3/STR2 is in getting engineers to understand exactly how Newey works. When that theory is put to Tost, he is swift and succinct in his response. "I agree with this," he says.
THE DRIVERS
Berger made it clear over the winter that he was not going to be a pushover when it came to choosing his drivers for 2007. There was talk of him of sending the feelers out for Mika Hakkinen (and Tost for Juan Pablo Montoya), as well as preliminary talks with Tiago Monteiro and Robert Doornbos.
While all this was going on, Vitantonio Liuzzi and Scott Speed were left waiting on tenterhooks to see if they had an F1 future. Berger clearly wasn't overawed by what he had seen throughout 2006 - when there seemed days that neither driver was performing at the level expected of them.
Eventually Berger believed he had seen enough from Liuzzi over the winter to believe that the Italian was committed enough to making the right steps forward; but Speed was left hanging on for a few more weeks.
In the end, Speed got the nod - before insisting to the press in Melbourne that there should never have been any doubts about his commitment to the job in hand at all. So after the start to the season, how do the team bosses view their driver pairing now?
"They've improved a lot," explains Tost. "If you hear the comments from them during the tests and qualifying and after the races, I must say they learned a lot and we are quite confident about the drivers. Both of the drivers, especially Tonio, are very committed. He visited the factory a few times and he is very positive and has a positive attitude and is pushing very hard. Scott as well.
"I have to say last year our main problem was to start with two young inexperienced drivers with an inexperienced team. That was a little bit much. Normally you should start such a project with a minimum of one very experienced driver and one from the Red Bull pool. For me personally, a driver needs a minimum of three years until he understands Formula One.
"F1 is not only driving, it's the complete environment - the marketing side, the press, engineering. He's coming from F3 or GP2 and immediately has to handle 20 or 30 people around him, and this is not so easy for a young driver. The driving itself is not the greatest problem, the greatest problem is just to keep everything under control within a large organisation."
Berger thinks that a lot of the criticisms of Liuzzi and Speed are unfair, considering their lack of experience and the level that the team were coming from.
"We have to be," he says. "They are both in their second season and we didn't give them a lot of mileage at the beginning of the season, so coming to Melbourne it's always difficult - a new car that nobody understands, and no testing.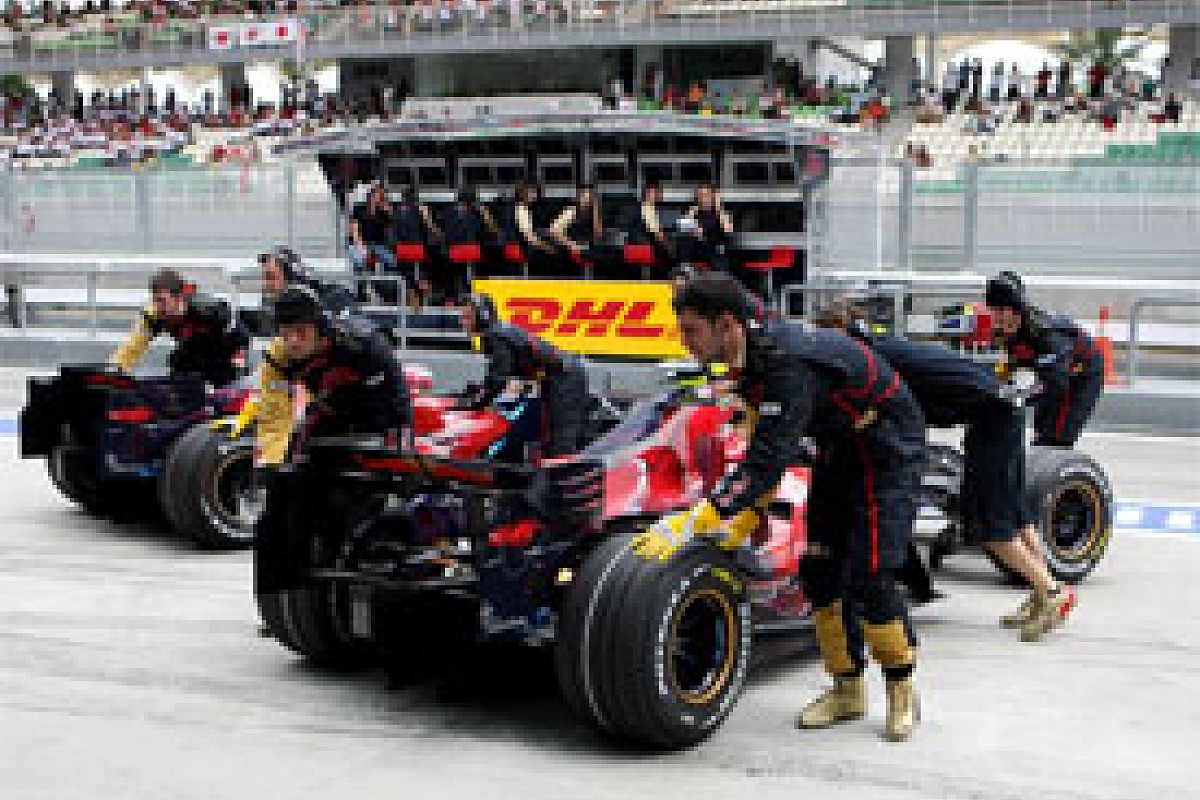 Scott Speed and Vitantonio Liuzzi are pushed back into their garages during practice for the Malaysian Grand Prix © XPB/LAT
"So the first race was a long way off where we should be but that has more to do than just the drivers. Malaysia, Tonio lost his front wing but I don't think it was his mistake, then he did bloody consistent, good lap times. In qualifying, he also did a good job so he's well where he should be.
"In Malaysia, Scott was a bit slower than Tonio but also to be fair he was stuck behind traffic and our car seems to be quite difficult when you're close up behind another car. So he was stuck. I think it's also fine. Now we have to see. We have to raise the game on all sides and that's what we try to do."
And Speed's commitment? "Both are much more fit this year, and you can see it in the consistency in the car," says Berger. "I'm very happy about it. As we're also pushing the drivers more on the technical and engineering side, I think there's nothing more I can say."
If you look at Berger and Tost's comments carefully, you will notice that there is always a bit of hesitation when it comes to talking about the progress Speed has made over the winter. Questions about him always ending up encompassing both drivers.
And interestingly, considering Toro Rosso was set up as a Red Bull junior team for Red Bull's young drivers, Tost has actually suggested the team would maybe be better off with an experienced man on board. Don't forget Tost has famous close links with a soon to be out-of-contract Ralf Schumacher...
"Now, in F1, all the teams are very competitive - you have six manufacturers and must work very hard not to end up in the last position," says Tost. "And if you have two young drivers, it's easy to end up in the last position.
"For sure, this is not the target of (Red Bull owner Dietrich) Mateschitz, Berger and Red Bull generally. If you have an experienced driver and a young driver, then why not? This was one of the reasons why Red Bull bought the team."
Berger insists, however, that young drivers remain the way forward - although obviously the team are only interested in the best men available.
"Generally, we would like to work with young drivers," he explains. "And that's a personal interest too - while I appreciate experience, I like young drivers. It's very difficult when they're in their first year because you pay for a lot of mistakes - but young guys fit our team and we're going to try and look into young ones.
"But at the end of the day, we are 100 percent performance orientated and it just doesn't matter which nationality, age - it's what can move our car the best way."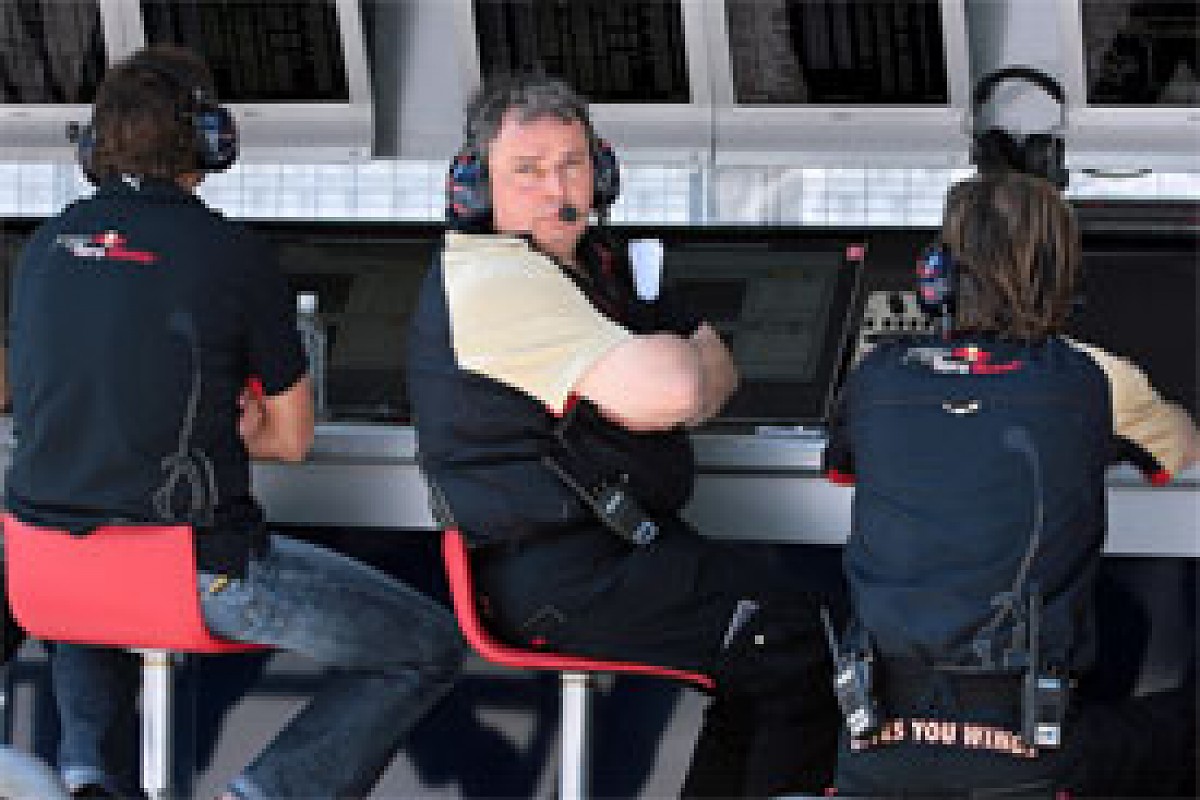 Giorgio Ascanelli © XPB/LAT
ASCANELLI'S ARRIVAL
With the steady move by some outfits to the 'customer car' model in Formula One, the technical make-up of teams has changed. While the big manufacturers retain the need for the traditional design-led technical chiefs, those outfits receiving an off-the-shelf car need technical men with more of an engineering background.
Improvements for a team like Toro Rosso will come simply from utilising what they have got better.
That is why Berger spent so much time wooing his former race engineer Giorgio Ascanelli to come on board - with the deal finally coming off on the eve of the Malaysian Grand Prix. Both Berger and Tost believe that Ascanelli's arrival will be viewed as a key factor in helping the team make steps forward this season.
"I know Giorgio well," says Berger. "I worked with for him many years and I always remember him as an extremely competitive guy. To have an Italian, with his home extremely close to our factory, winning races, enormously experienced, having a good relationship with me - it was a logical approach. Unfortunately, it took much longer than I was hoping to get him, but I'm very happy he's joined us. Slowly, our team is forming some quite competitive people."
Tost is equally praising of Ascanelli - whose colourful character has been absent from the F1 paddock for almost a decade.
"He's a new spirit," smiles Tost. "Giorgio is very important for us because he's such an experienced technical expert and the team will enormously profit from his work because he knows what to do and we are very happy that he is onboard. He will bring the technical side of the team forwards. I am convinced about this."
One of the benefits of having someone like Ascanelli is that he has arrived with quite an open-ended brief. There is so set role for him - and he appears ready to adapt himself in a way that will best suit the team.
"Obviously, we have to see what is possible for a private team the size we are, we cannot expect a miracle," explained Berger. "Step by step we want to raise the game. Every idea is welcome. The structure of the team is quite complete at the top level. Franz is doing a great job running the team, he is working very hard, then you have Giorgio responsible for the technical side.
"We have a great purchasing side - people looking at the commercial side. We have a good line-up and it only came together in the last couple of months so they need time to develop themselves."
Tost believes it will still take a bit of time for Ascanelli to decide for himself exactly what he needs to do.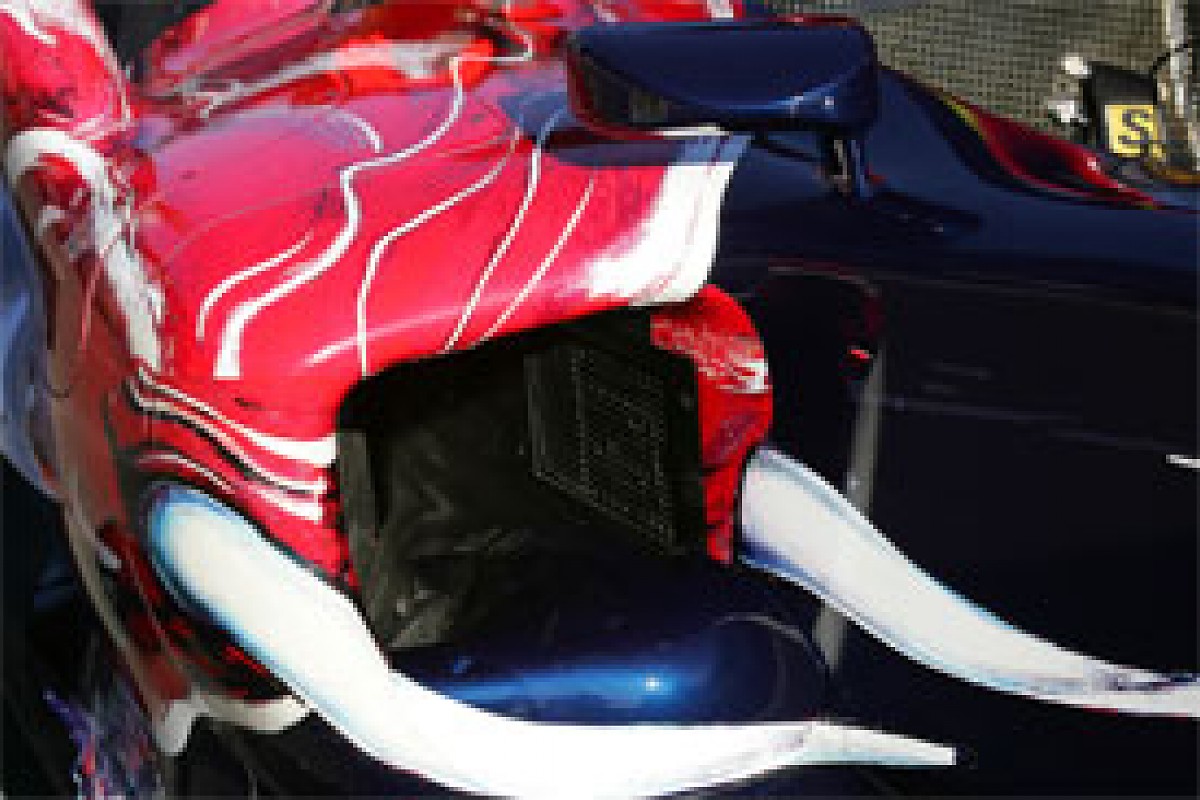 The Toro Rosso livery © XPB/LAT
"He needs two or three Grands Prix to see how the team operates, how the car is, then for sure he can improve the set-up. It's going step by step but first we have to start with the set-up and see how we are going there and how we can improve there. Then later on maybe he has some ideas about the general car and philosophy about its design. I'm convinced that he will come up with a lot of ideas."
THE IMAGE
The second that Red Bull bought out Paul Stoddart and got rid of the Minardi name, it was clear that expectations on the team were going to rise well beyond what they were going to be able to deliver in the short term - and when it became clear that Toro Rosso were getting their hands on an Adrian Newey-penned chassis for 2007, even more was going to be expected of them.
Yet one of the shortfalls of Red Bull's takeover has been in not really finding a suitable 'image' that fits the team. What exactly do Toro Rosso stand for in F1?
They are clearly no longer the always loved back of the grid boys at Minardi, yet their junior team status allied to Red Bull's marketing push seems to also not make them the kind of serious independent like Williams. They seem to be in the 'no man's land' inbetween.
Berger himself admits that the team are struggling a little bit to find their place - which does not help them in their quest to attract the staff and finances they need to move forwards.
"We are coming from Minardi, what can you do?" he says. "First, you try to convince some people to come to us and try and move us out from the last row and to do better. But it's very difficult from our position to convince an engineer from McLaren or Ferrari to come to our team to win races.
"It's a bit like on the stock market - do you put your money on something that's just starting, or do you decide it's much easier to go with something where you know what you have. At the moment, we are trying to raise the game and have better performance to have a more appealing product. But the team should create a new Toro Rosso image.
"The most important value we have in the team is Red Bull - no question - and we have to build up a platform that serves Red Bull in the best way. It's here to put the knowledge in, to put the contacts in, to get the right people together. But STR has to have its own image and be a perfect vehicle for Red Bull."
The uncertainties about what Toro Rosso stands for were probably a catalyst for the rumours over the winter than the team was up for sale - and that it was chasing pay-drivers for 2007. Berger expresses some frustration at those stories.
"All this bullshit in the winter about 'Gerhard wants a driver with money' - it was never a question about money," he says. "The only reason Scott was not confirmed was because we wanted to be sure he raised the game to prove he was the best solution for us. It was nothing to do with money.
"Secondly, obviously we have a comfortable situation because we have a relationship with Red Bull so the budget is done. And this was done last year. We are safe, but obviously we have dream to do more - and we have to create a budget to do that like every other team. That's why we look to see if there are partners available who are going to allow us to raise our game. Just like everybody else is doing.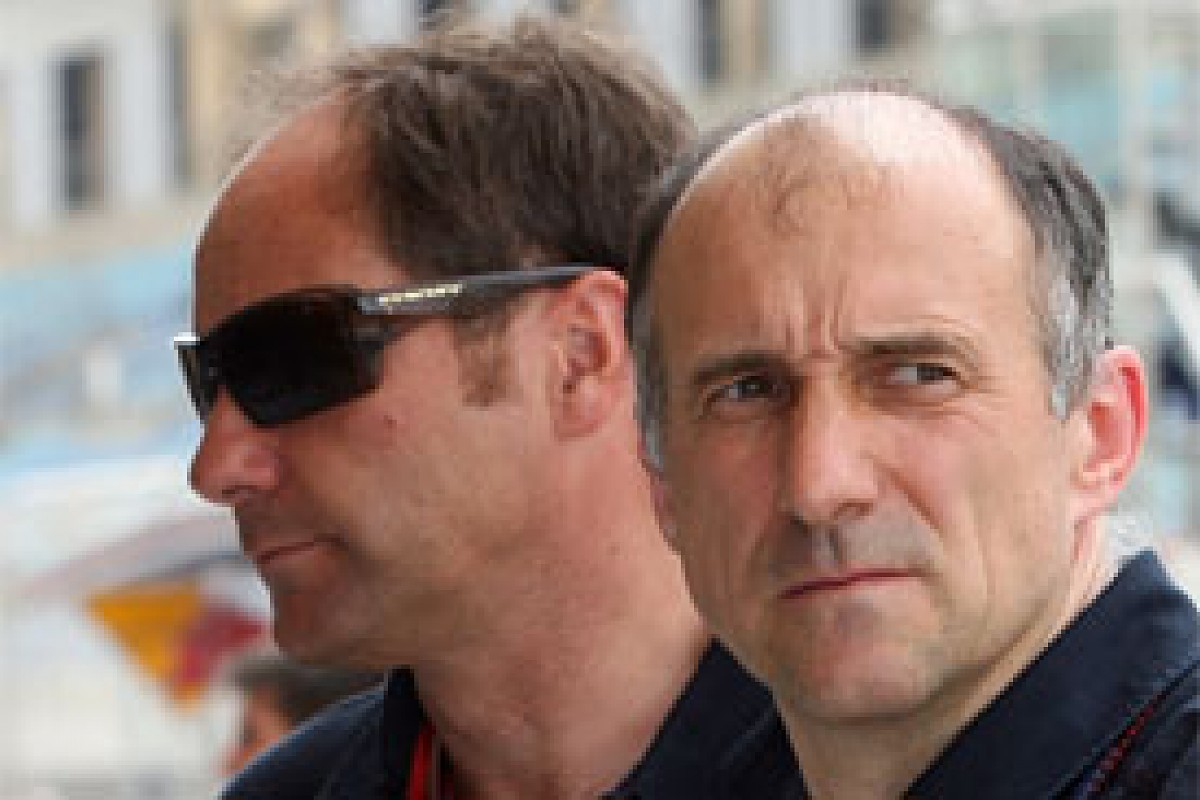 Franz Tost and Gerhard Berger © XPB/LAT
"But firstly, I would like to show what we can do - because it's important to be able to show people that the potential is developing - and second, it has to be somebody that fits the Red Bull ethos. We're not in a hurry and it's not easy - but we have a lot of plans for the future."
STABILITY AT THE TOP
In Berger and Tost, Toro Rosso have two of the most experienced, dedicated and canny men leading their charge to move up the grid.
Both are hard workers and while Tost is much happier plugging away behind the scenes to get the job done, Berger is more comfortable dealing with the media and political matters - which includes getting on the right side of Ecclestone.
And although Berger has had people express an interest in buying out his shares in the team (including most recently HWA co-owner Christian Wolf who enquired about whether there was any point in opening talks) the man himself says he is determined to continue.
When asked about whether he is interested in selling up, Berger said: "Totally no. This was rumour - I never talked to (Hans-Werner) Aufrecht at HWA. Never talked to them.
"Red Bull and myself we have a vision. We took this team, and a vision over the next years, to take it from the back row into the midfield; whatever we can do. And this is just starting. We are getting people together and people are coming to see what we can do in the future and how we can develop. My personal contacts. These people are coming and we are forming something and we are totally focused on bringing the team forward.
"If rumours come, I take it more as a compliment because people see value in the team. At the moment, we are fully concentrated on our goal."
Yet Berger has not ruled out the possibility of an investor coming on board to increase his and the team's ability to make progress. "There's a difference (between selling-up and getting an investor)," he adds. "Look at McLaren and see Bahrain investing in them. It can be very positive. It's always a question of what makes us better."
Such talk of investment and partners is longer term though. For now, the key factor that is going to help the team is that Berger is enjoying being back in F1 - having last been involved when he working alongside Mario Theissen at BMW.
"I love it," he says. "I started with ATS, Ferrari and then McLaren. We start at the back and somehow have to find a way through. It's very challenging. It's not every moment that I enjoy - and sometimes I say this is tough.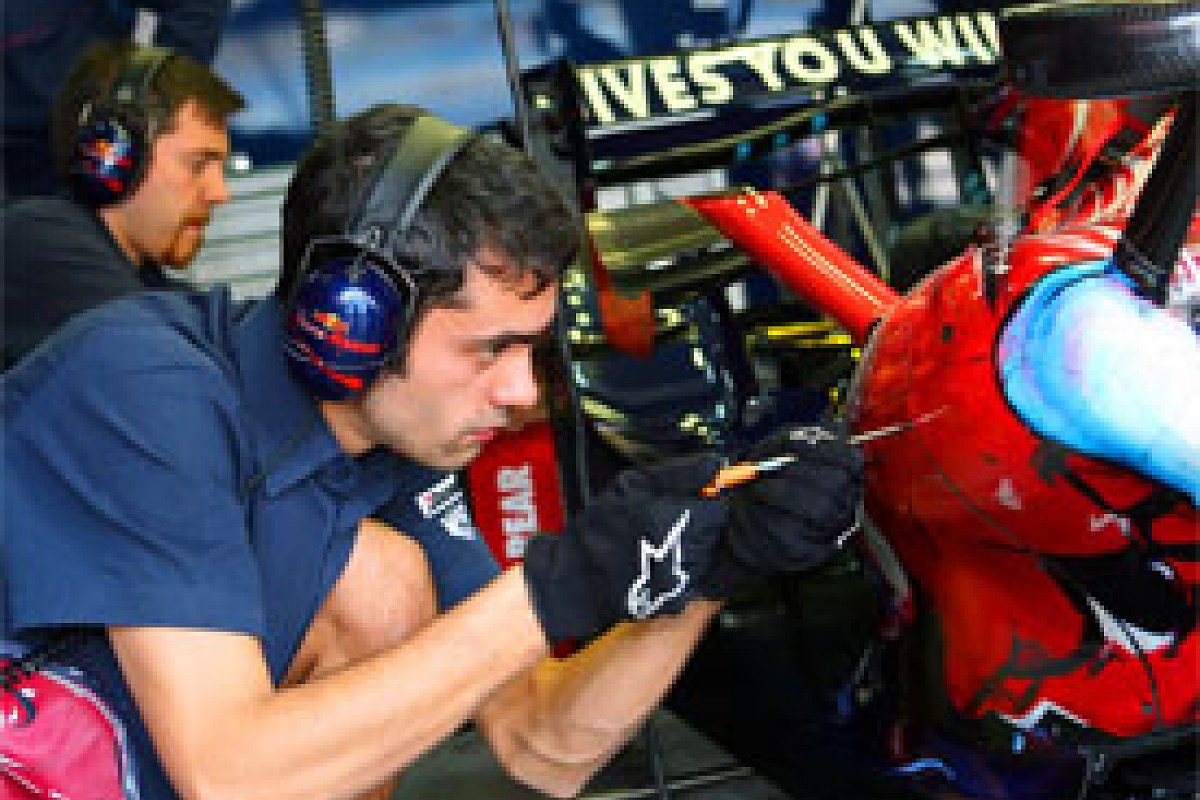 Toro Rosso mechanics © XPB/LAT
"A lot of people asked me to do a consulting role after I left BMW. I don't like this - what I really like is to get my hands dirty. If it's wrong you get shit. If it's right, you are proud about it. That's what I look for. And I like it."
Tost, too, seems to be relishing the technical challenges of being team principal - even if he is not too interested in the politics and glamour of the paddock. He is the kind of man who would prefer an extra 30 minutes sorting out paperwork than sipping champagne at a media party.
"It's a lot of work but I'm happy that I've got the possibility to do this. The main issue is to improve the performance of the team and a team principal can only do a good job if at the end the team gets good results. This should be his main target. Which means there's a lot of work in front of me."
TARGET: RESPECTABILITY
It is clear that Toro Rosso are slowly putting together a team that should be able to fight respectably in the midfield in the not too distant future. On the car and technical front, and in management terms, they have almost everything they need, although it certainly seems improvements can be made on the driver front - and in sorting out the team's image. Both the latter issues may simply sort themselves out with time.
But much clearer answers about the team's strengths and weaknesses will come in the second half of this year - when we will be better able to judge the job the team have done with their STR2 alongside what Red Bull Racing have got out of their RB3.
Berger, for one, is adamant that the team must not consider 2007 as simply another building year to bigger and brighter things in the long term. To do that risks the danger of the team always only living in the future - rather than delivering now.
"It's always a mistake just to look to next year," he says. "I think we did a good first step last year. We achieved what we could - make one point, be reliable and not look stupid during pit stops whatever. But this year, we want the next step.
"I was hoping it would be a bit easier. Williams have built a super car and Nico (Rosberg) is increasingly strong. Toyota looked to be struggling at the beginning but they've made a good step. So it's very competitive. We beat Suzuki and Spyker last year. The next step would be to beat one more, but that will be difficult as even Aguri is doing a good job.
"Several times last year we were close to points and on the grid in Melbourne I said to myself to finish the race because you never know if we can get a point. But only two cars failed to finish. And in Malaysia, it was hot again and I thought we could be there in the end. And again, everybody finished apart from Rosberg. It's tough like hell. It's very, very tough. The toughest time ever in F1."
And that's before you even begin thinking about the latest barrage of questions from the media on customer cars.