Injury, COVID, camels and redemption: A MotoGP star's Dakar odyssey
Danilo Petrucci's decision to switch to rallying at the conclusion of his time in MotoGP at the end of 2021 raised many eyebrows. Deciding to make his rally raid debut at the Dakar courted scepticism. With his debut almost over on several occasions before it began, Petrucci's Dakar odyssey was a wild affair full of ups, downs and a run-in with a camel. He sat down with Autosport to reveal all
It's 10am on a Thursday morning when Autosport sits down with a Danilo Petrucci showing no signs of the fatigue one might expect a human being to be suffering following two weeks of hellish punishment riding across the deserts of Saudi Arabia in your first Dakar Rally.
Even through the soulless eye of a Zoom camera, Petrucci still managed to fill this writer's living room with boundless enthusiasm and a fair few belly laughs as he recounted "one of the most beautiful experiences of my life".
While most of us spent the final throes of 2021 and 2022's genesis enjoying the festive period and nursing seemingly incurable hangovers, Petrucci ended his career in MotoGP – a double race winner popular throughout the paddock who'd sadly become surplus to requirements at KTM - and was gearing up for a radical shift in pace to take on the Dakar with his 2021 grand prix paymasters on a Tech3-run 450 Rally.
But if you thought planning Christmas visits to the in-laws' was stressful, it's got nothing on Petrucci's winter. In December he broke his ankle while training on his Dakar bike in Dubai. There and then his rally debut looked over as "the doctor suggested to me not to go racing". But some medical advice while back home and a "good crew" around him kept his Dakar dream alive.
When he arrived in Saudi Arabia the week ahead of the rally, Petrucci was subjected to a COVID PCR test before having a shakedown on his KTM. The result returned positive, and once again, his Dakar dream looked shattered. This is when the doubts started to creep into his mind.
It wasn't an easy start to the Dakar Rally for Danilo Petrucci due to injury and a positive COVID-19 test
Photo by: A.S.O.
"When I was there [in Saudi Arabia] we did the PCR and then the day after we go to try the bike, because was 20 days that I was not riding the bike," he recalled. "I did one loop, I come back to the fence and they said you're positive for COVID. I say 'no' - it's like something, someone is trying to tell me that I don't have to go through this race. Then I went into self-isolation. I did another PCR the day after, another one the day after again and was the last day [before the Dakar started]. Fortunately, the last one was negative."
That negative result came back in the early hours of 31 December – the day before the rally started. The build-up wasn't all bad, though: "I slept for four or five days in the test, New Year's Eve was absolutely amazing because I never slept in a tent and especially in the middle of the desert. There was no lights, no sound, nothing around me and it was really, really nice to see all the stars in the night."
"I said I cannot go back home because I don't have a mobile and I don't have a passport. I got nothing for going back home. So, I say, 'okay, let's try, you are here for making experience'. And from that moment on, in one day I was able to recover a lot of positions" Danilo Petrucci
Petrucci's Dakar switch – which he first revealed to Autosport back in June of 2021 – was met with some scepticism borne out of genuine concern for the Italian. Since 1979, 76 competitors are thought to have died competing at the event, 23 of whom were on two wheels. Met with questions about what spirits may have been influencing his decision while at the pub, seasoned Dakar runners felt Petrucci's introduction to the rally should have come in a more leisurely fashion.
"The more expert guys, especially who won say, 'Okay, it's nice, but you have to go on a tour with your friends, because you don't have experience in the desert, it is really, really difficult and especially it's dangerous," he noted.
The advice was not heeded – but not out of any form of arrogance or bravado. Off-road riding is a part of a MotoGP rider's training regime and most of them are pretty handy at it. For Petrucci, off-road riding is something he was – quite literally – built for. Standing at just shy of six feet and weighing 80kg – some 15-20kg heavier than the rest of the MotoGP grid – Petrucci's heavier frame is ideal for tackling the hostile landscapes rally raids generally take place on.
The Italian impressed many onlookers on his Dakar debut despite being warned not to make it his first-ever off-road race
Photo by: KTM Images
After a solid start to his rally in 13th after the opening stage, Petrucci was battling in the top five on the second stage. But bad luck one again intervened 115km into the stage. His KTM developed a technical issue. Unsure how to fix the problem, Petrucci went to get his mobile phone to call his team – only to discover that it had, much like his Dakar hopes, been claimed by the desert, as had his wallet, passport, driving licence.
Stranded, Petrucci had no choice but to alert the organisers to his plight. A recovery crew was dispatched to rescue him, but the act meant he would be handed a time penalty that ultimately ended his chances of claiming outright victory. That penalty meant he could re-join the rally for stage three if the bike could be fixed, but the internal voices of doubt once again began their choir.
"I asked to myself, I was 50/50 because I said that it's not possible that [all these things] happen all to me," he said after his stage two woes. "But in the same time I said I cannot go back home because I don't have a mobile and I don't have a passport. I got nothing for going back home. So, I say, 'okay, let's try, you are here for making experience'. And from that moment on, in one day I was able to recover a lot of positions."
His team did in fact get his bike fixed and Petrucci was able to get back out to continue his learning process. And his resilience would be rewarded that day… sort of. He ended the stage third to claim 'a podium', only to be slapped with a penalty for a speed zone transgression. Then on Stage 5 it all came together.
Getting lost at a way point along with a number of riders, Petrucci luckily ended up finding a way out and got his head down. He ended the stage just under six minutes behind winner Toby Price – before his fellow KTM rider was hit with a penalty of six minutes for a speeding infraction, converting Petrucci into the first MotoGP rider in history to win a stage of the Dakar Rally, doing so by just two seconds.
It was a result that sent an already fevered social media into overdrive, as Petrucci's Dakar exploits drew interest from far and wide to the event. It also once again stood to show the genuine affection Petrucci has in the MotoGP paddock, following the outpouring of support from his former combatants. The support was so much, in fact, that Petrucci started nightly Instagram lives to keep everyone updated.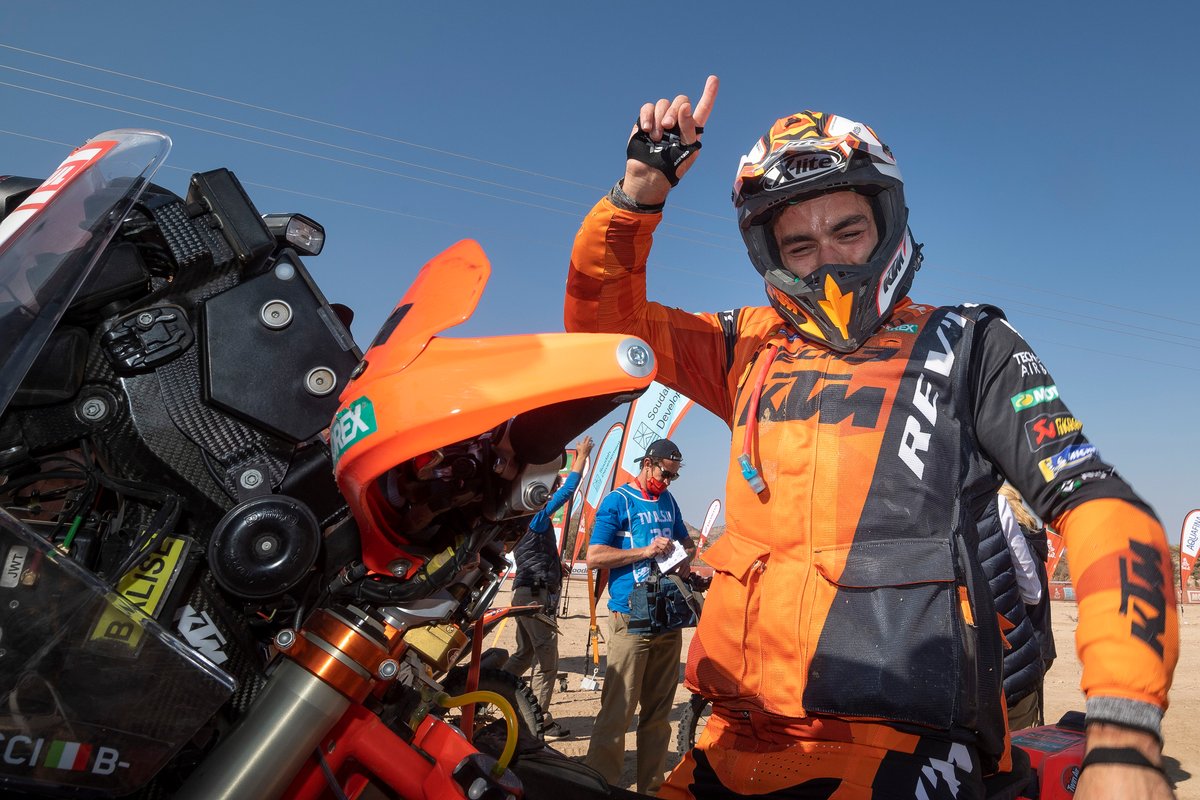 #90 Tech 3 KTM Factory Racing: Danilo Petrucci
Photo by: KTM Images
"It was so, so nice, because really, I've got a good relationship with all the riders in MotoGP, with my old colleagues and all the MotoGP people in the paddock," Petrucci, who called his stage win "something really unexpected", said.
"And really I received messages from all of them, from Carmelo [Ezpeleta] who wrote me the day I was on the podium, till the last people working in MotoGP. Really a lot of people sent me a message, or they were watching my Instagram lives. And this idea started because many times during my life, and especially during my career and especially during my Dakar experience I said if now I put a GoPro on my head and switch on I will become rich!"
Petrucci's stage win wasn't without incident, unsurprisingly. Having found riding alongside and into the path of massive 4x4s from the car race jarring, the unpredictable landscape nerve-shredding, and the random groups of locals coming close for a look odd, Petrucci had to face an obstacle most MotoGP riders probably never will – a camel.
"They say, 'if you kill a camel, you have to pay back to them [the people]'. And I said, 'no worries, I almost killed myself. They are caring more about them instead of woman but fortunately I got no big problem with them" Danilo Petrucci
And on Stage 5, the appearance of a camel – which can weight anything up to 1000kg and stand over six feet tall – as he came over a dune forced him into avoiding action and into a crash. Not unreasonably, he "wanted to kill" the offending camel. This led to him taking a pot shot at the hideously patriarchal Saudi regime on Instagram live by saying he didn't go through with his camel assault as they're more valued than women in the country.
"When I crossed the line of the stage, I said, 'Fuck there was a camel into the piste," Petrucci remembered. "And the other riders say 'yeah, we saw the camel, we saw the camel.' I said 'fuck, but I almost killed him' because it's really, really huge and it's more than three metres tall.
"So, when I saw him I said if I crashed into him I will destroy myself. When I was explaining this to people from the organisation they say, 'don't say that you hit the camel'. I said 'I don't hit the camel. And they say, 'no because here the camel now, if you kill a camel, now you have to pay back to them [the people]'. And I said 'no, no worries, I almost killed myself'. And then I recognise that they were caring a lot about the camels. For this reason, I say that they are caring more about them instead of woman but fortunately I got no big problem with them."
#90 Tech 3 KTM Factory Racing: Danilo Petrucci
Photo by: Red Bull Content Pool
The only minor problem he had with that comment was during his trip to the Saudi embassy to get his passport back when he was questioned about it. In the typically unconventional fashion that had already typified Petrucci's Dakar, he learned of his stage five win while in the Saudi embassy.
The rest of Petrucci's Dakar was a mixed affair, with crashes, injury and navigation problems stopping him from achieving anymore fairy-tale results. He admits the pressure he felt after that stage win was even greater than the pressure he experienced in MotoGP and found just getting to the finish of the rally was a challenge in itself.
"Unfortunately, after the first stage win I learned there was even more pressure than I had in MotoGP, because everybody was looking at me and said, 'you already did something really over the expectation of 100% of the world'," he candidly conceded.
"So, also from my team, everybody say, 'okay, now you have to go to the finish line.' And it's not easy. I discovered this is not the easiest thing because it's almost as difficult as winning a stage. So yeah, till the last moment, especially because in the last two days I did two very big crashes at the end of the stage. Maybe I was tired, but I don't know. So yeah, I was thinking a lot about my life and my shape during the Dakar."
Petrucci's 2022 Dakar debut was meant to be the start of a full campaign in the FIM's rally raid championship with KTM. But not even that has gone to plan owing to "some issues" with the Austrian brand and "a lack of dialogue".
Former employer Ducati – with whom Petrucci won the Italian Superstock championship in 2011 and won both his MotoGP races – has been in touch, however, and a move to the MotoAmerica Superbike championship is on the cards. Having ruled out World Superbike offers due to the pressure he would have to face and the likelihood of his physiological issues hampering him in WSBK just as much, if not more than it did in MotoGP, Petrucci is now set to race a Ducati Superbike in 2022.
#90 Tech 3 KTM Factory Racing: Danilo Petrucci
Photo by: A.S.O.
But this switch, as typically unconventional as it is (though nothing has ever been conventional in Petrucci's career) carries on the same trend as his rally move: Petrucci is doing it because he wants to have fun and feels like living in America for a while will give him just that.
Based on how he got on in his first Dakar, Petrucci will be a force in 2023 should he return
Having aimed for a top 20 or 30 finish in his first Dakar, doing MotoAmerica for fun won't diminish Petrucci's desire to also do well. That is reflected in his aim to return to the Dakar in 2023 armed with some proper preparation under his belt, which includes an end-of-season outing in the Morocco Rally.
And based on how he got on in his first Dakar, Petrucci will be a force in 2023 should he return. Riders and camels alike should definitely beware…
#90 Tech 3 KTM Factory Racing: Danilo Petrucci
Photo by: A.S.O.
Subscribe and access Autosport.com with your ad-blocker.
From Formula 1 to MotoGP we report straight from the paddock because we love our sport, just like you. In order to keep delivering our expert journalism, our website uses advertising. Still, we want to give you the opportunity to enjoy an ad-free and tracker-free website and to continue using your adblocker.
Become a subscriber.
Disable your adblocker.