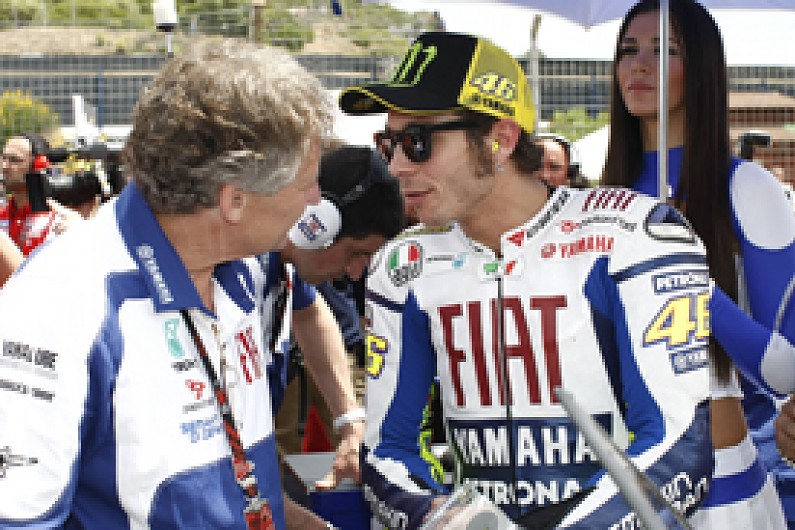 Valentino Rossi says he is '99 per cent' certain to remain at Yamaha for 2011 and is not in any talks with Ducati.
The world champion had threatened a Ducati switch last year, when he declared that Yamaha had to choose between him and team-mate Jorge Lorenzo in the long run as he did not believe it could support two top drivers.
But Rossi later backed down from those comments, and now says that although he is close to Ducati technical director Filippo Preziosi, he is not thinking about a move away from Yamaha at present.
"With Filippo Preziosi there is a friendship that has gone on for years," Rossi was quoted as saying by Gazzetta dello Sport.
"But beyond that there's no kind of ongoing talks with Ducati. It's 99 per cent sure I'll stay with Yamaha."
Preziosi agreed that the chances of Rossi joining Ducati were now very slim.
"With Valentino we have spoken for over one year, but it's a very remote possibility," he said. "We have an excellent relationship, on a personal level too, but there's never been the conditions to sit down and talk since Vale has made it clear he wants to stay at Yamaha."
He added that he expected to face a challenge to hold on to current Ducati rider Casey Stoner following former team manager Livio Suppo's move from the Italian squad to Honda.
"When Livio told us he would change teams, he immediately said that he would have done the utmost to take Stoner away from us," said Preziosi.
"Casey, too, has told us he has had contacts with Honda. He knows we want to carry on with him, but at the moment the most important thing is that he's satisfied with the bike.
"And as far as I know he hasn't signed yet. Livio has told me as much, he's a friend and I believe him."
Preziosi acknowledged that Ducati could be interested in hiring Lorenzo should he leave Yamaha, but said there had been no dialogue so far.
"Lorenzo is a very interesting rider, he's young, and now he is also leading the championship," he said. "However, it's too early to close any sort of deal. For more clarity we need to wait for the summer."