Valentino Rossi believes the retired Jorge Lorenzo "can think to come back" to MotoGP with Yamaha in the future, but is unsure of the triple world champion's motivation.
Lorenzo retired from MotoGP at the end of last year following a miserable sole campaign on the works Honda, but signed to Yamaha in the winter to become its official test rider.
The three-time world champion was due to make a wildcard appearance on the M1 at the Catalan Grand Prix before it was postponed by the coronavirus pandemic.
During the opening pre-season test of the year in Malaysia - at which Lorenzo rode the 2019 M1 on the last day - he admitted a full-time return was slightly more likely but insisted he was still 98% convinced of his retirement.
Commenting on having Lorenzo back alongside him in the Yamaha garage as a test rider, Rossi said: "For me, I think Jorge after the years at Ducati [in 2017/18], but especially last year with Honda, was a little bit like me after 2011 and 2012 after two very difficult seasons with Ducati, where I never had a good feeling with the bike and [scored] bad results.
"And every time I tried to push more, I'd crash. I crashed a lot of times during these seasons and I always lost the feeling.
"And you say 'it's over, stop, it's time to stay at home'. But after Jorge jumped on the M1, already after the first day he rediscovered that [good] feeling riding again.
"He pushed, and when he pushed he didn't crash. So, I think he can think to come back [to MotoGP] with Yamaha in the future, but I don't know if he has enough motivation."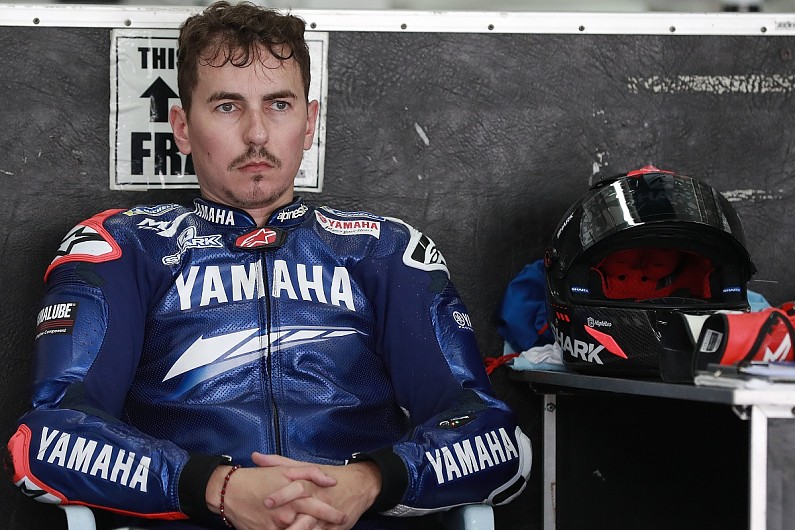 Lorenzo made his MotoGP debut with Yamaha in 2008 and spent nine years with the marque, scoring all three of his premier class titles and 44 of his 47 MotoGP wins in that time.
Rossi has lost his place with the factory Yamaha team for 2021, but has been guaranteed full works support - most likely with Petronas SRT.
In recent months, rumours have swirled of a potential SRT dream team featuring Rossi and Lorenzo as team-mates for the third time in their careers.
When asked about this possibility, Rossi said: "I think that Franco [Morbidelli] is not very happy [about that idea].
"This is a big problem because Franco last year was good, but [Fabio] Quartararo was better.
"But during the winter tests Franco was very fast, so I think he will give the maximum to keep one place in that team.
"So, I don't know what Lorenzo will decide, and maybe Yamaha have to field five bikes!"