Aprilia MotoGP rider Andrea Iannone says he was "surprised" to receive a provisional suspension over a potential doping violation, but has "every confidence" he will be cleared of any wrongdoing.
Motorcycle racing's governing body FIM announced on Tuesday that a prohibited substance, falling under the category of anabolic androgenic steroids, was found in Iannone's urine sample collected during the penultimate MotoGP round of 2019 at Sepang in Malaysia.
This triggered a provisional suspension for Iannone and means that he now awaits an International Disciplinary Court hearing that could yield a final sanction.
Iannone hit with provisional ban
In a statement posted on social media, Iannone said that he will seek a "counter-analysis", which potentially indicates that he will request a test of his B sample.
His suspension would be voided if it returned negative.
"I'm totally relaxed, and I want to reassure my fans and Aprilia Racing," Iannone's statement read.
"I am open to any counter analysis in a matter that surprises me, also because - at the moment - I have not received any official communication.
"Over the years, and also this season, I have undergone continuous checks, obviously always proving to be negative, which is why I have every confidence in the positive conclusion of this affair."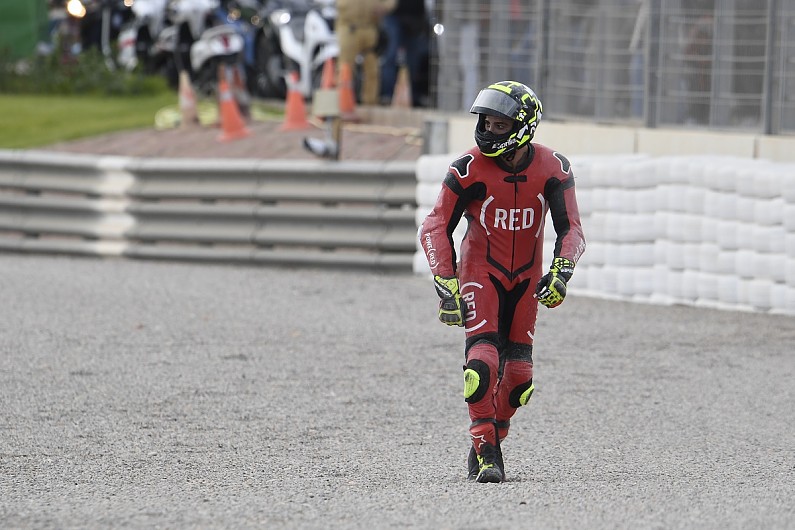 While Iannone claims that he has received "no official communication over the matter", Article 14.3.1 of the FIM Anti-Doping Code states that "the identity of any rider who is asserted by FIM to have committed an anti-doping rule violation may be publicly disclosed by FIM only after notice has been provided to the rider".
Iannone's employer Aprilia has yet to release a statement regarding the matter. Iannone tested positive for a 'non-specified substance'.
This means if he is not cleared by the B sample, article 10.2.1.1 of the FIM Anti-Doping Code states he would need to prove that the violation was unintentional to avoid a four-year ban.
Autosport has produced a standalone special magazine to celebrate our 70th birthday. All current print subscribers will receive a copy for free. To order your copy of the 196-page Autosport 70th Anniversary issue, please go to: autosport.com/autosport70th