Honda rider Jorge Lorenzo says the Spanish Grand Prix at Jerez left him "sad, disappointed and worried" about his current MotoGP form.
After a difficult start to life at Honda, Lorenzo had high hopes for the first race of the European leg but his second place in Friday morning practice proved a false dawn.
The three-time champion finished the race in 12th place, beaten by all three of his fellow Honda MotoGP regulars as well as wildcard Stefan Bradl.
"I cannot be happy about my race, obviously," Lorenzo said. "I cannot be enthusiastic. The only thing is to be sad, to be disappointed and to be worried.
"Obviously I am going to keep going, we have an important test [at Jerez post-race] with many things to test with the wish that some of them will give us some more speed.
"It is a difficult time for me but I will keep positive and that's the only mentality that I can have.
"You can see my face, it is not a happy face - this has a reason, I don't like to make a race like [Jerez] because I put everything on the track but I could not go faster.
"I don't like the position, I don't like the situation but I think I am a champion and champions keep fighting until they find a solution, and I will find a solution."
The Honda rider, who is struggling with corner entry on his new RC213V, conceded that he was simply not quick enough at Jerez.
"When I was alone in 14th position I had no pace, I did not feel comfortable on the bike and I was slow," said Lorenzo.
"If you are fast you recover positions but I could not do it because I was not competitive enough."
Espargaro lost out to Lorenzo after misread pitboard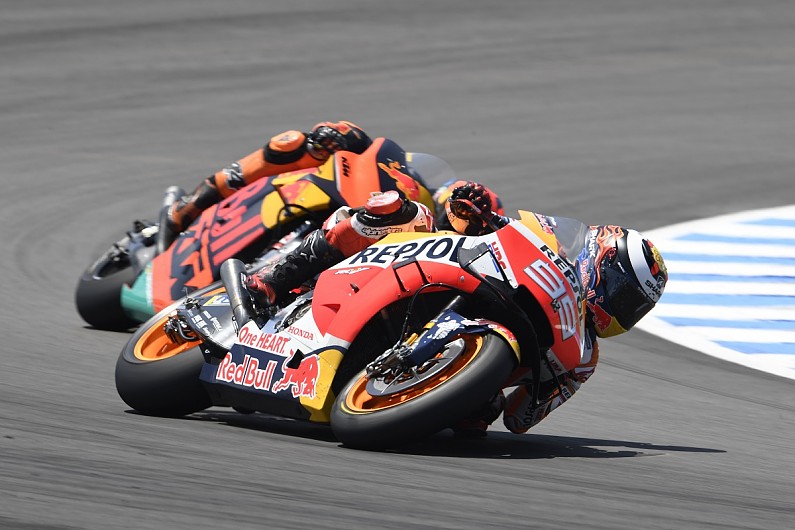 KTM rider Pol Espargaro said he only lost 12th to Lorenzo at the end of the race because he had misread his pitboard.
Espargaro reeled in and passed Lorenzo late on, but having lost track of the number of laps remaining in the race, he slowed up one lap too early and slipped back behind Lorenzo, before picking up his pace and preventing a further loss of position.
"I was pushing a lot at the end of the race, on my limits, front and rear, to catch Jorge," Espargaro said.
"I caught Jorge, I read the board, it was my mistake, instead of 'two laps remaining' I read 'three laps remaining'.
"I was so stressed with riding the bike on the limit that I didn't realise it was not the last lap.
"I lost 2.5 [seconds] in T1 [the first sector]. I should say that I had a problem with the bike, if I would be another rider, but no, honestly, this was my mistake.
"It looks like this is because I was not focused, but it's the opposite, I was so focused, so on the limit."