Ducati MotoGP rider Andrea Dovizioso says this year's post-season tests at Valencia and Jerez were the best he has experienced since joining the manufacturer.
Championship runner-up Dovizioso concluded last week's two days of Jerez running eighth fastest, 0.347 seconds off the pace set by LCR Honda rider Takaaki Nakagami.
But as was the case in Valencia a week earlier, Dovizioso's main focus at Jerez was to compare an early version of Ducati's GP19 to this year's bike.
Dovizioso's running was disrupted by a crash on Wednesday that left him with "big pain", but he was able to continue as normal on Thursday and, despite reporting only a "very small improvement" on turning with the new machine, was encouraged for next season.
"These have been the best winter tests since I've been a Ducati rider," said Dovizioso.
"It's hard to say if the Ducati is the most competitive bike. It's normal for our opponents to describe our bike as the best, but until you try the others you don't how they go.
"In the end it's only the results of the races that count. Now we have a very good base and this year we have demonstrated that in all conditions.
"We have to approach the season in the right way and we have to work well this winter, both myself and Ducati, to arrive ready for the start of next season.
"We will surely fight for the [2019] championship from the start and will start from a very good base."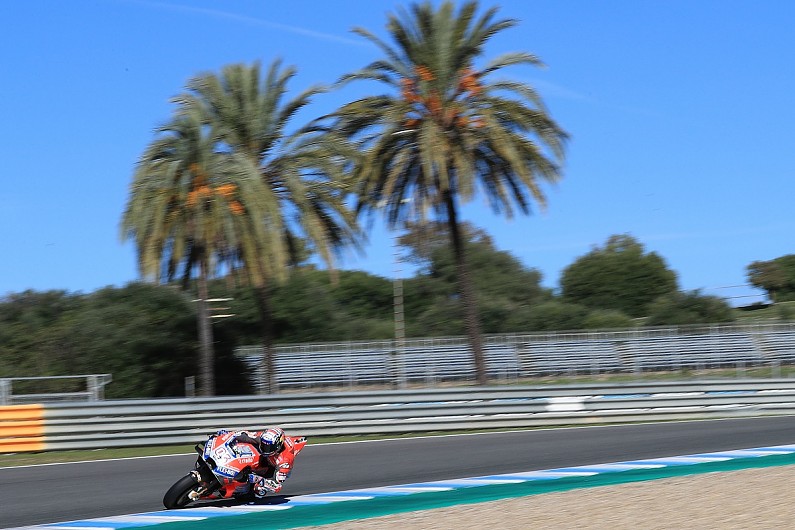 Dovizioso insisted that confirming the initial impressions he had of the bike from Valencia was of more importance than gunning for a single fast lap at Jerez.
"The lap times at the end of the test don't mean anything, especially when the riders are very close," said Dovizioso. "This is not too important.
"There are a lot of ways to make a test. Some riders want to push 99%, some riders want to push 80% and test the material.
"We don't have a lot of tyres, so you have to decide [whether] to use the tyre to make a lap time or to make a comparison of the material.
"The material we compared here, I had the same feeling of Valencia. It was the only goal we had, because we didn't have a completely new bike.
"The target wasn't to improve a lot in these two tests because we didn't have something big, and we didn't expect to improve a lot.
"We didn't really improve the bike, we just understood something."