Maverick Vinales believes that Yamaha's 2019 bike is good enough to make the team a title contender again based on his experience in winter testing.
After topping both days of last week's first pre-season test at Valencia, Vinales also figured strongly on the timesheets on both days at Jerez - setting the fourth-fastest time on Wednesday and improving to third on Thursday.
But it was long-run pace that left Vinales feeling particularly confident, as he and team-mate Valentino Rossi continued to evaluate which engine specification to use next year.
While Rossi had struck a downbeat tone on Wednesday, saying that the improvements Yamaha brought to Jerez were not enough, Vinales was much more positive and declared himself "quite happy".
By the end of the test, Vinales was even more buoyant - pointing to his speed on used tyres around a track he is not a fan of as evidence that he can be fighting at the head of the field in 2019.
"We were very competitive with used tyres, I could ride the bike really well during all the test," said Vinales.
"And that track [Jerez] for me is really difficult, I've never been fast with the MotoGP here, and I could keep really good lap times, I could push.
"It's really important to be just one tenth away from the top here, in that track that I think is the most difficult for us, it's really good.
"I think it's the bike to be competitive and the bike to win the title. I felt really good.
"So being competitive in the lap times, normally I just lose two, three tenths when I was 30 laps on the tyre, so that is really important, it's the most important."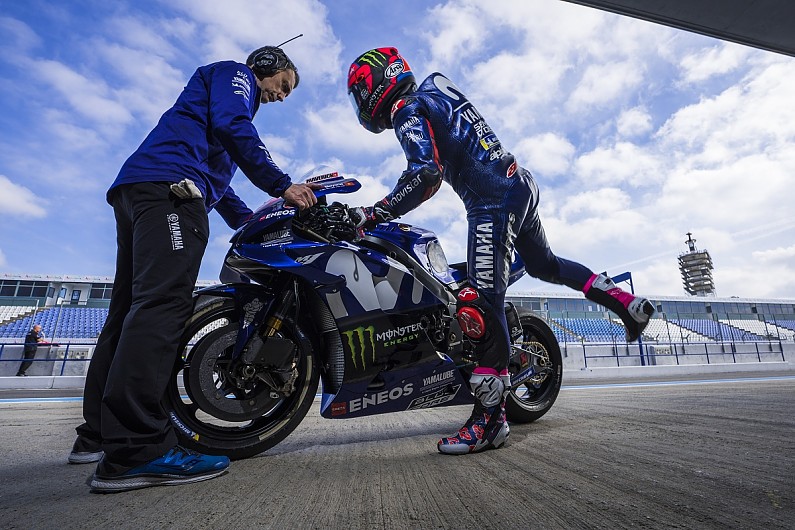 On where Yamaha can still improve, he added: "We need more traction. Still this is our weak point, so I'm really happy to hit these lap times with this traction. It means that the bike is working well.
"I think first of all we have to find a little bit of mechanical grip, and then we have to adjust the electronics.
"The electronics right now are quite good, I felt really good with how the traction control is working and the power delivery.
"But still I think mechanically we can improve and we're going to make a good jump when we improve mechanically on the grip."
Vinales also highlighted top speed as an area for Yamaha to work on for the next round of tests at Sepang next year.
"Finally what I saw is that in the race I can be very fast on the top speed, but if I don't exit the corners well, I cannot overtake," he said.
"So we need to first of all improve the mechanical grip and then we'll see.
"But for sure Yamaha will bring something better for next year and we can solve that problem."
Yamaha has not won a MotoGP title since 2015, and its place as Honda's main rival has recently been usurped by Ducati.