Jorge Lorenzo has delayed a decision on whether he will take part in the remainder of the Sepang MotoGP weekend to Saturday morning.
After being passed fit to compete in the Malaysian race by doctors on Thursday, Lorenzo completed a total of 21 laps across the two Friday practice sessions, but ended up slowest in both.
His best laptime was a 2m03.204s, which he set in the morning session, but that left him over 3.5 seconds adrift of practice pacesetter Alex Rins.
Ducati has placed test rider Michele Pirro on standby should Lorenzo decide that he cannot continue.
If Lorenzo were to withdraw from the event, it would mark the fourth race in succession that the Spanish rider has been forced to miss since his huge practice crash in Thailand.
The incident ruled him out of that race and the following ones in Japan and Australia.
"The situation is difficult," Lorenzo said after second practice.
"I'm frustrated because I wanted to be here [feeling] much better, because this track is good for me for me and the bike.
"I arrived here [feeling] better than Japan but we still have half of the problem, half of the pain - I'm not able to be very competitive.
"Tomorrow morning, before FP3, we will decide if it's better if I continue or if I lend the bike to Michele.
"When you try to push and you are only three seconds slower than the fastest one, there is no sense to push.
"Tomorrow, depending on how I wake up - I will feel if I am much better, just slightly better, or the same - we will make a decision."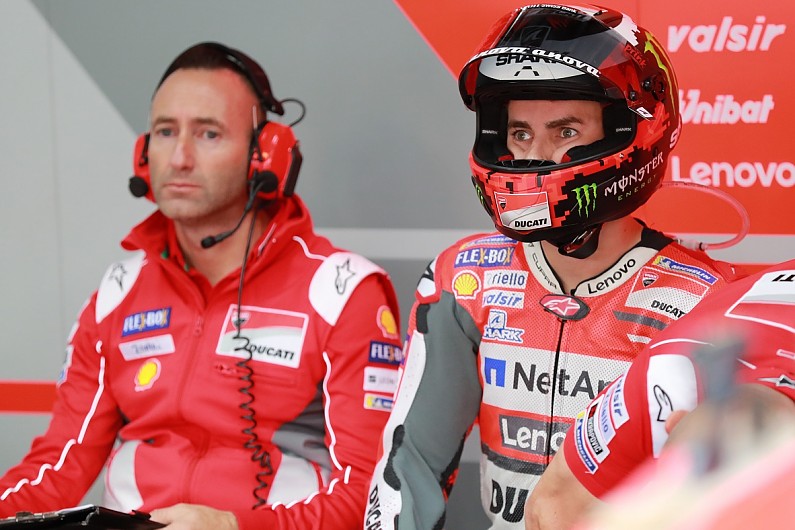 Lorenzo managed just two laps in practice at Motegi before withdrawing from the Japanese race, and the three-time MotoGP champion said the pain was less severe on Friday than it was on that occasion.
"When I'm riding, [the pain] is better than Japan," he said.
"Obviously not 100%, maybe 65-70%. "It's worse in the direction changing, but we are lucky here is just one change of direction. Also on the braking it's difficult."