Maverick Vinales' MotoGP triumph at Phillip Island ended a long winless run for Yamaha, but also highlighted the crucial decisions the manufacturer faces that could define its short-term future.
In the Motegi race a little more than a week ago, Vinales crossed the finish line in seventh, 13 seconds behind race winner Marc Marquez, and was in very low spirits.
After a meeting with Yamaha's engineers that lasted more than an hour, the Spaniard left the track and headed to Tokyo, where he tried to switch off and find some calm before flying to Australia.
In one of those moments, he visited the famous Meiji Shrine in Shibuya, where he asked the deified spirits of the Meiji Emperor for some help to get out of the tricky situation he was facing.
As if that wasn't enough, at Phillip Island Vinales promised to his crew that he would shave his head if he won on Sunday, something we will probably see at Sepang in a few days' time.
"I'll be ugly for sure, but I have to do it, as a promise is a promise", said Vinales, after putting to an end Yamaha's miserable run of 25 races with no win, its longest barren run in its grand prix racing history.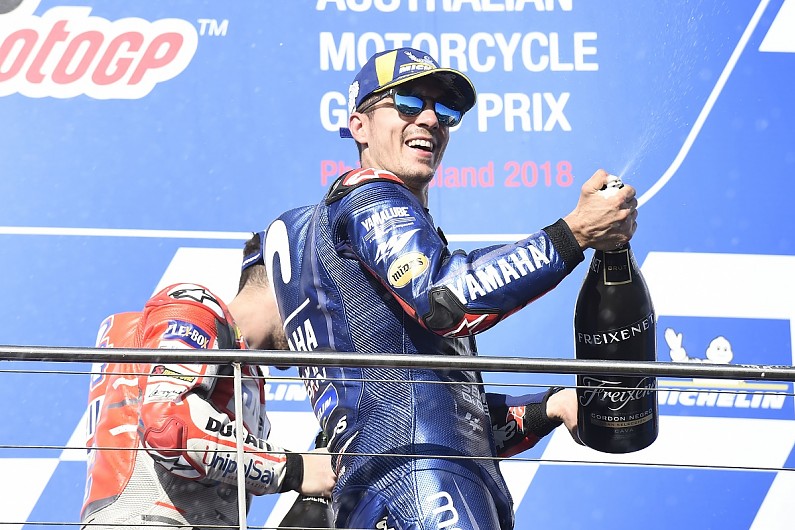 Vinales made good on his promise to try to taste the best cava there is (the one they award in the podium ceremonies), which means the ball is now firmly in Yamaha's court.
Until now, both Vinales and Valentino Rossi have been asking for considerably different things from Yamaha - which at this stage will have to decide a specific development direction to follow.
"I hope Yamaha see that I can win races on Sundays and therefore make an effort to give me a more competitive bike next year, a suitable bike for me," said Vinales on Sunday.
Although Vinales didn't want to be overly belligerent, it's true that he's been complaining about the decision Yamaha took at the beginning of the year, when it incorporated the new engine in the M1, for a long time.
At that moment, he preferred the evolution of the specification Yamaha had in 2016 - the one inside Johann Zarco's satellite Tech3 bike.
One of Vinales' main problems this year has been entry into the fast corners, as he often has to run wide because he can't stop the bike.
He says this happens because the current motor doesn't offer enough engine braking, and explains those mistakes at certain turns.
But Yamaha has told him that ahead of the first pre-season test in Valencia, two days after the end of the season, he will be able to try a new - and hopefully more suitable - engine.
Only then will it become clear whether Yamaha has listened to the requests of the rider who theoretically remains its best hope of challenging for wins and titles in the next two seasons.