Honda MotoGP team boss Alberto Puig admits the manufacturer has not consistently given newly-crowned champion Marc Marquez the equipment his talent "deserves" in 2018.
Marquez came into last weekend's Japan racex at Motegi with his first chance of wrapping up a fifth premier class title, and did so with his eighth win of the year as chief rival Andrea Dovizioso crashed on the penultimate lap.
Former 500cc racer Puig took over from Livio Suppo as head of the works Honda operation ahead of the 2018 season, and praised Marquez's ability to make up for the shortcomings of his machinery - admitting the RC213V at times did not match his talent.
"I already knew he was a champion, someone really fast and with a huge ability to adapt to any kind of circumstances and to any kind of bike," Puig told Autosport.
"From my personal point of view, he's someone that pays attention and listens, accepts advice even though he is a world champion. This is quite rare in a champion of his level.
"He's always in constant evolution. He adapts very well to every kind of circumstances and especially to the bike he's got.
"Many people don't take that into account, but the fact that a rider wins races doesn't mean his bike is good.
"Sometimes you have to add that thing the bike is missing, and Marc is the one with the best ability to do that. Others don't know how to do it.
"He doesn't complain at all. And we've been through times in which, honestly, the Honda hasn't been at the level a champion like him deserves.
"But he has overcome those moments without complaining and we appreciate it a lot."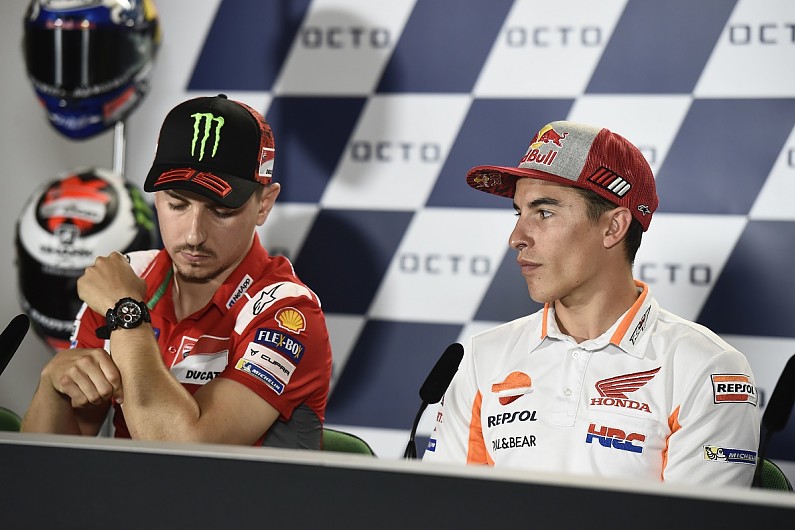 Jorge Lorenzo recently told Autosport he was "grateful" Marquez had not stood in the way of the his 2019 switch to Honda, with the current Ducati rider replacing the retiring Dani Pedrosa next season.
Puig said Marquez's attitude was not a surprise to him, and that the 25-year-old had no preference over who he is partnered by.
"At the end of the day he is a champion," said Puig.
"Marc is a professional and knows that best teams only allow the best riders. He is focused on his work and is aware he's going to fight against the best - Lorenzo and the rest, no matter the bike.
"His reasoning is very practical, he says to me 'What are you telling me? Do whatever you need to do, and I'll try my best to win'. He doesn't think so much about it."