MotoGP race director Mike Webb said the cancellation of the British Grand Prix was because Silverstone's new-for-2018 asphalt was not safe enough to race under wet conditions.
In an attempt to get rid of long-standing bumps and give the circuit layout a consistent asphalt, Silverstone was resurfaced in its entirety for the first time since 1996 at the start of this year.
But multiple MotoGP riders complained the bumps were no better when British GP running kicked off on Friday.
When rain started falling during practice four on Saturday, several riders crashed at Stowe - including Tito Rabat, who broke his leg as he was struck by Franco Morbidelli's bike.
The race then had to be cancelled outright due to persistent rain on Sunday.
"It is a direct result of the track surface," said Webb.
"We had a number of years of experience here in very wet conditions recently with the old surface and we've been able to run races.
"This year with the new surface is the first time we've encountered quite so much standing water in critical places of the track.
"When we've been running here in heavy rain, the circuit in some places is not safe because of the way the water does not drain from the surface.
"We did everything we possibly could to run an event today, obviously the very last thing any of us wants to do is to cancel an event. However, safety remains a priority."
The race was rescheduled to 11.30am in the hope it could be run before forecast rain arrived, and the grid was formed up at that point. But after repeated delays the event was called off at 4pm local time.
"Even when the rain abated a little, the track surface was still too wet," Webb added.
"We discussed various options - including running tomorrow, that was discussed with the teams and with the circuit, the promoter the organisers.
"It was concluded that that was not a possibility and so the other possibility that the circuit requested, that we agreed with, was to delay today as much as possible until such time the conditions were safe.
"We've reached the point where even though the rain is getting less, the circuit is still not in the condition that we could safely run race so we've taken a very difficult, regrettable decision to cancel."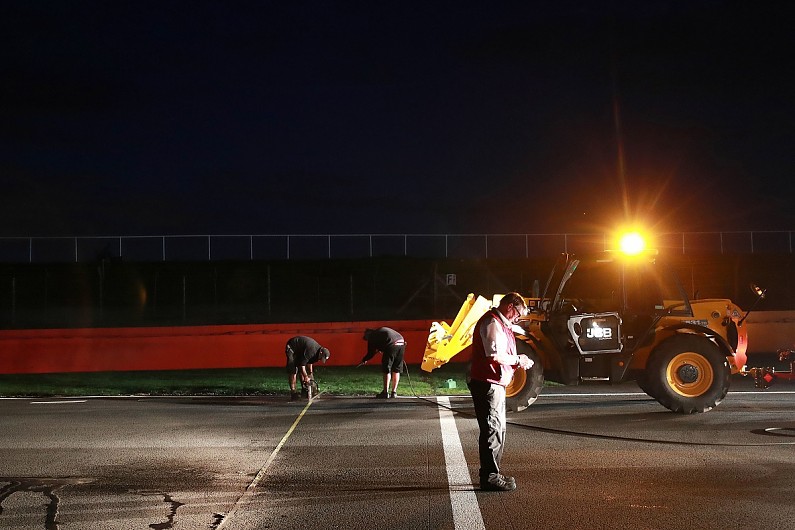 Webb praised the Silverstone staff for trying to fix the drainage problem, with track workers trying to mitigate the issue overnight.
"I must say from the circuit point of view, the staff, have done an unbelievable effort over the whole weekend, not just today," he said. "An enormous effort to try and make the track safe.
"'Until the last minute they were still working but unfortunately we couldn't battle nature."