Pol Espargaro could not feel his arms or legs in the immediate aftermath of the crash that ruled him out of last weekend's Brno MotoGP race, says his brother Aleix.
KTM rider Espargaro broke his collarbone in his warm-up crash at the Czech circuit and was transported to hospital in Barcelona, although he did not require surgery on the injury.
He remains under observation and will miss this weekend's Austrian Grand Prix at the Red Bull Ring as he recovers.
Speaking ahead of this weekend's race in Austria, his brother Aleix revealed more details about Pol's condition, having visited the hospital prior earlier this week.
"Actually it [the injury] was worse than what it looked like because the spinal cord was very inflamed," said the Aprilia rider. "On Tuesday afternoon he couldn't touch anything with his hands.
"He said he was very worried before he arrived in hospital with [Dr. Angel] Charte. He couldn't feel his arms or legs, nothing.
"And then when he arrived in hospital, they started to touch him and he felt the pain the arms, when he felt the pain, he relaxed a lot.
"It was quite scary. Yesterday we talked to the neurosurgeons, they told us he was very lucky.
"Pol was very worried in the first two days [in hospital], he had a lot of pain. I've never seen him that convinced to rest. He's not thinking about the race, because he was very worried.
"Yesterday night was the first time he could start to touch things with his fingers. The first thing he touched was [Aleix's baby son] Max, I went with him there and he was touching him for the first time and he started to feel better."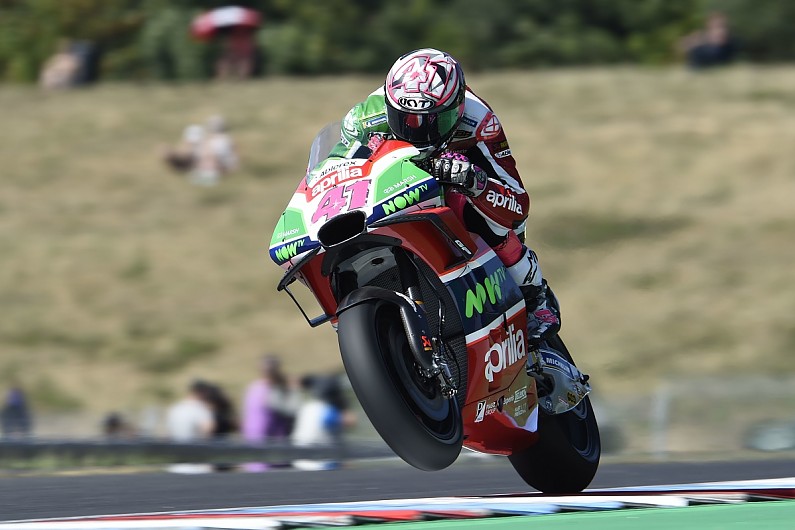 Aleix Espargaro (pictured above) added it was currently unclear how much longer his brother will need to recover from his injuries before making a MotoGP return.
"He still has to be in the hospital for a couple more days, next week he will still be in the hospital," he said. "Maybe then he stays one more week in bed.
"The doctors say to us they don't have a lot of information on how the spinal cord will improve or not. They say in two or three days it can be completely perfect, or it can be a very long [recovery].
"So we have to wait, it's very dangerous if he moves or races or before there's completely no inflammation."
KTM will field just a sole bike for Bradley Smith in Austria with Espargaro out of action, with test rider Mika Kallio also on the sidelines after damaging his knee in a crash at the Sachsenring last month.