Andrea Dovizioso blames both Dani Pedrosa and Jorge Lorenzo for the crash that led to the trio retiring from MotoGP race at Jerez, with emphasis on the Honda rider's actions.
In the closing stages, Lorenzo was keeping Dovizioso and Pedrosa at bay for second place when Dovizioso made a move on his Ducati team-mate at Turn 6.
Both riders went wide and as Lorenzo tried to cut back to retake his position, he made contact with Pedrosa, who had tried to move past both his rivals on the inside.
They colided, with Lorenzo's out-of-control bike going on to hit Dovizioso.
Dovizioso reckons Pedrosa made "the biggest mistake" as he was the one with a view of the two riders ahead.
"I think the biggest mistake comes from Dani, because he was behind us," said Dovizioso.
"He entered a bit faster than his normal way. If you enter faster than normal and somebody is in front of you, because we were in front of Dani, we decide the line.
"But Dani is behind, and he is able to manage the situation and he just cut inside, faster than every [other] lap, and created a crash. For sure he did a mistake."
But Pedrosa argued that he did not take the corner faster than usual, and felt that the speed difference came from the Ducati riders being slow because they went wide.
"No, I was not faster, otherwise I couldn't keep my line," he said.
"I did my normal line. They went slower because they were outside."
Dovizioso added that Lorenzo was also at fault: "But in another side Jorge didn't check, [he] didn't care about the rider behind him.
"And he cut a little bit too fast [to] the line to try to exit as fast as he can.
"It's a mix of a mistake [between Pedrosa and Lorenzo]. For sure both Dani and Jorge did a mistake."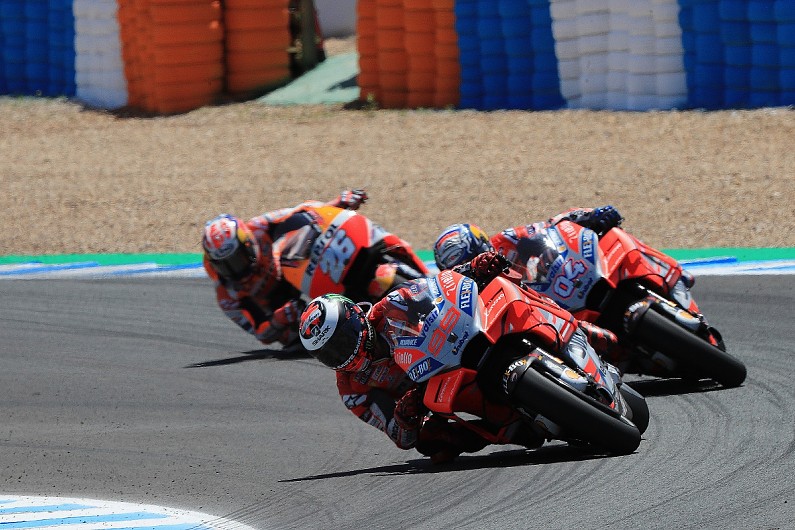 None of the three riders were penalised for the incident, and Dovizioso supported that decision, saying a sanction would have been "too much".
"After Argentina, they say they will be more restrictive, but at the end I think it's too much to penalise what happened today," he said.
"I mean, is always difficult to take the right decision about that, because what happened from that two riders is not over the limit, so [to] penalise Jorge and Dani is not good.
"But at the end I didn't make a mistake and I come home with zero [points]. So [it] is always difficult to take the right decision, to say 'okay, they have to be penalised' or not.
"At the end I think it's better not, but [it] depends which way you want to see that."
After failing to finish the race, Dovizioso has dropped from first to fifth in the standings, and is now 24 points behind new championship leader, and Jerez race winner, Marc Marquez.