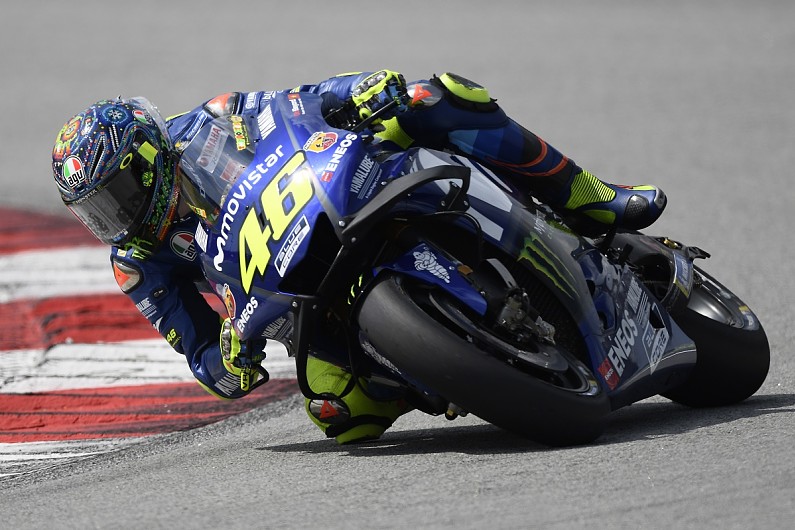 Valentino Rossi admitted his Yamaha team was left worried by a muted showing on the final day of MotoGP's first 2018 pre-season test at Sepang.
Rossi was second - 0.035s behind pace-setting team-mate Maverick Vinales - on Monday and declared it better than any test day in 2017, but could not match that pace on the following day, finishing six tenths in arrears in eighth place.
He admitted he had expected to be able to improve and likened the situation to last year's post-season test in Valencia, where the team was left puzzled by two "totally different" test days.
"Today was a bit more difficult, we struggled a little bit more from the morning with the grip, it was a bit more difficult to ride the bike on the limit," said Rossi.
"Yesterday night I was optimistic to improve the laptime, but it was impossible, a bit more difficult - especially with the new tyre, because with the used tyre my pace was good.
"We are a little bit worried, we need to understand why, because in Valencia test after the last race happen exactly the same.
"Me and Maverick had a good feeling with the bike and with the tyres.
"Next day, same bike, same tyres, same temperature, we lose three-four tenths and we don't understand why.
"Today happened a little bit the same, so we need to understand why."
Vinales, who finished the day 18th and 1.7s off the pace, also conceded the result was not what he wanted to see.
"Yesterday was much better," he said. "I felt better with the track.
"Today it changed a bit, especially at mid-day. Maybe the pace was not as expected, I expected more from this third day.
"But we worked hard and we completed a lot of laps."
Despite being underwhelmed by single-lap pace, Rossi nonetheless described Tuesday as "a good day".
He added: "For me the bigger improvement is my feeling with the bike, because I am good to ride, I feel comfortable, and also the pace - compared to last year I improve a lot because last year I suffer more the degradation of the tyre.
"In this test, at the end, in the fastest lap I am not so far [away].
"The position is not fantastic, but my pace is very good."
He also reckoned that, on evidence from the first three days of testing, MotoGP could be in for Moto3-like close competition once the season kicks off in earnest.
"I want to study the rhythm, but what I said is that six, seven, maybe eight riders have more or less the same pace - if the race start tomorrow, maybe you could have a Moto3 race," he said.
"We are in the top group, but we know that we have to work, we have to improve."