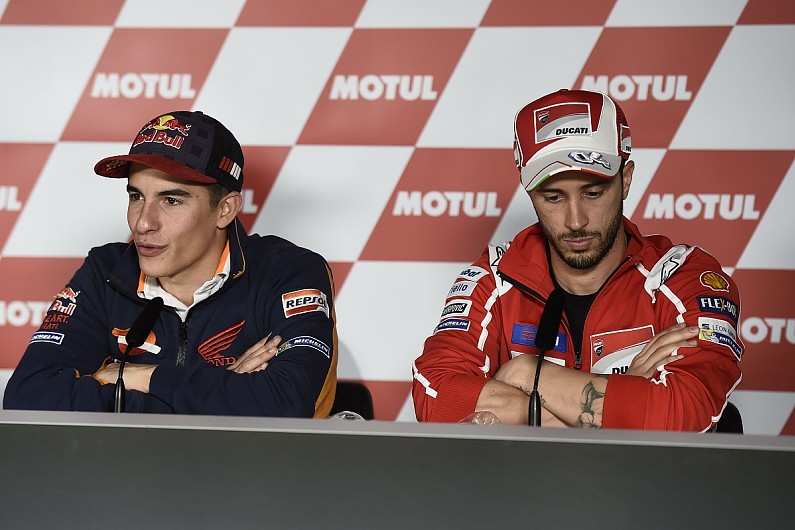 Marc Marquez says "nobody will remember" if he claims the 2017 MotoGP world championship with fewer race wins than title rival Andrea Dovizioso.
Honda rider Marquez comes to the final race of the season at Valencia this weekend with a comfortable 21-point advantage, meaning a finish anywhere inside the top 11 would be good enough to seal a fourth premier class crown.
Dovizioso has to win to have any chance of snatching the title.
If he were to do so, the Ducati rider would end 2017 with seven race victories to Marquez's six - a prospect Marquez shrugged off.
"It's obvious, I can only lose this championship and he can only win it," said Marquez.
"The one who leads by 21 points is the one who has to manage the advantage and the one who is behind can beat the other one.
"Dovi has to take risks and only has one strategy, which is to win the race and then see.
"I'm lucky that I am able to depend only on myself, all I have to do is finish the race.
"I have learned over the years that it is much more important to win a championship than a race.
"If I end the year with six wins and Dovi with seven, it makes no difference to me.
"A month from now, nobody will remember that. But the championship is forever."
Despite the widespread perception that Marquez already has one hand on the championship trophy, he said he would approach Valencia the same as every other race.
"If could sign to take a 21-point lead into the final race every year, I would, it's a very good advantage," said Marquez.
"But I do not want to tempt fate.
"Everyone you talk to sees it as being over, but sport and life can be very capricious.
"I don't want to relax or lower the tension even a little bit.
"You have to carry on as before."