MotoGP title contender Andrea Dovizioso says the speed that allowed him to top both Friday practice sessions for the Malaysian Grand Prix came "quite easy".
Dovizioso was fastest in dry and wet conditions at Sepang, the Italian going fastest by half a second in FP2 in the wet.
He led a strong day for Ducati, which was represented by four riders in the top eight in both sessions.
Dovizioso described his Friday as being "close to perfect", and said he did not have to work hard to be so quick.
"[The laptime] just came out quite easy, so easier the better," said Dovizioso. "Close to a perfect day and really happy about the lap time I did this morning.
"It was quite fast, but the conditions were strange. Anyway, the same condition for all riders.
"We did a good lap time, I was first, so a good feeling from the beginning - especially on the wet."
Dovizioso beat title rival Marc Marquez in both sessions, but the Italian admitted that making up the 33-point deficit between the pair in the championship will still be "tough".
"It's really a little bit tough, especially with Marc, normally he is fast in every condition, so it is difficult to find [a way], a difficult mission for me," added Dovizioso.
"Now we are focused about our speed, we have to be first, we have to be the fastest to try to gain the points.
"If some riders can be in the middle of us, it's the best thing, but first we have to work about speed."
Marquez 'still missing some feeling'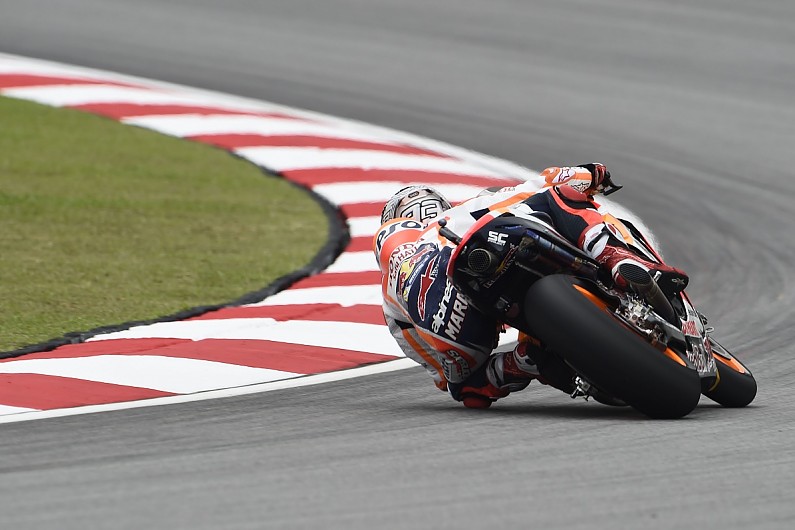 Marquez was fifth in first practice before improving to second in FP2, 0.526s off Dovizioso's pace.
The Spaniard, who can secure his title by taking first or second in the race regardless of where Dovizioso finishes, was generally happy about his Friday.
"Today was maybe not one of the best days about the feeling of the bike, but it was a good day for us," said Marquez.
"We started in the dry conditions with the base we had in pre-season, because we believed in that, but we already saw that it was not such a perfect base.
"Then we started to think and the second bike was ready with the base setup that we use this year.
"Tomorrow is something that we need to try there and then on wet conditions I was okay but still missing some feeling."
The Honda rider added that he still needs to figure out where he loses to Dovizioso.
"I'm looking at Dovi, all the top guys, [Maverick] Vinales, [Valentino] Rossi, you try to understand what they are doing different," Marquez said.
"Especially Dovi is very fast in T1, something there that I can improve about riding style also setup.
"But we are on Friday - basically I need to understand which parts we are losing and try to improve."
Autosport has produced a standalone special magazine to celebrate our 70th birthday. All current print subscribers will receive a copy for free. To order your copy of the 196-page Autosport 70th Anniversary issue, please go to: autosport.com/autosport70th