Avintia Ducati MotoGP rider Hector Barbera is poised to join Sito Pons' Moto2 outfit in 2018.
Barbera has suffered a disappointing 2017 campaign on Ducati's GP16, recording just a single top 10 finish at Barcelona so far and trailing team-mate Loris Baz - who uses an older-spec GP15 Ducati - in the points.
Avintia has already confirmed Marc VDS Honda rider Tito Rabat will join the team in 2018, and Moto2 rider Xavier Simeon is believed to be close to a deal to occupy the Spanish squad's second bike.
That leaves Barbera without a ride, but the Spaniard is set to return to the intermediate class, where he competed from 2005 to 2009 in its 250cc guise, in 2018.
"I'll go back to Moto2," Barbera told Autosport of his plans for 2018.
"Staying in MotoGP for seven years, it's very difficult to stay in front and the Ducati is a very difficult bike.
"Now I want to win, and Moto2 is easier because all the bikes are similar and the rider can make the difference."
Barbera stood in for an injured Andrea Iannone at the factory Ducati squad last year at Motegi and Phillip Island, but crashed in both races.
The 30-year-old said he knew from that experience that this season was set to be a difficult one, as the issues he experienced on the works bike are the same ones he's faced in 2017.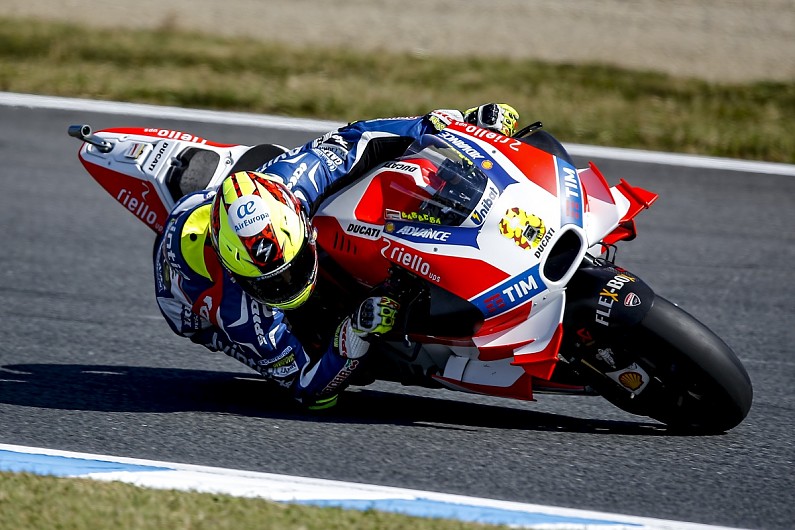 "This year I have had a lot of problems with this bike," Barbera said.
"When I do hard braking, I get a lot of vibration, chatter. It's impossible to push.
"When I tried this bike last year in Motegi, also in Australia, both races I crashed. I didn't have a good feeling.
"When I tried it again after [last year's] Valencia GP, the same problem.
"After 10 or 12 races, it's impossible to push. I've had this problem all year."
Baz, meanwhile, said he would look to return to World Superbikes, where he raced in 2012-14 for the works Kawasaki team and picked up two wins, should he lose his Avintia ride to Simeon.
"Of course it what's I would try, the first option in case I can't stay here," the Frenchman told Autosport.
"I always felt great in Superbike, I made some great results there, I left there a few years ago to come here.
"It's the second world championship, so it would be the best thing to do if I can't stay here."