Ducati's Andrea Dovizioso is among the MotoGP riders pushing for an "essential" change to the grand prix formats.
Ten of the 12 places in the second phase of qualifying are assigned based on the combined times from the first three practice sessions, leaving 13 riders in Q1 battling for the final two spots.
LCR Honda's Cal Crutchlow called that, and the subsequent new-tyre shootout at the end of each session, a waste of time late last year, but no change was made for 2017.
Inclement weather in Qatar and Argentina put formats back on the agenda, and Dovizioso says he has again called for a change to only count Saturday's third practice.
"I am one of the riders who believes we have to change the system," he said.
"I have pushed a lot since last year for it, but so far it hasn't been taken into consideration.
"But in Argentina I went back to the subject once more, and this time I found enough support from all the riders.
"We are working on it, but it's not easy to make it happen and I don't know when it will happen.
"But in my opinion it's essential that it happens."
The Italian concedes any change could also be to the detriment of the product.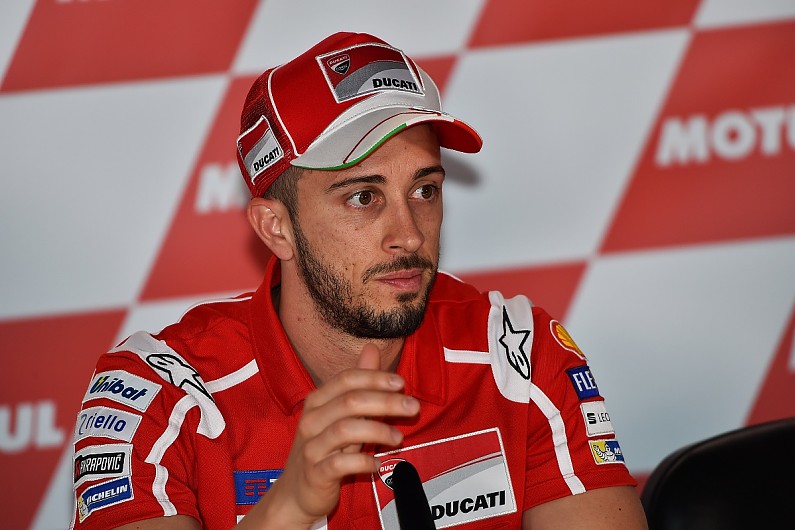 "If we change the rule, Fridays become dull and worthless," he said.
"But on the contrary, with the current system do you don't have time to work, because before the end of each session you have to set a time and get in the top 10 so you can progress [to Q2].
"That means you have to use more tyres, and always work knowing that before finishing the session you have to set a time.
"In every session you make three runs, and if one of these you have to set a time, you only have two to work on the bike and you cannot try all the tyres."
REDDING SUPPORTS CHANGE
Pramac Ducati's Scott Redding started sixth in Qatar based on a time set in practice, but failed to progress from Argentina's star-studded Q1 session.
The Briton said he felt the change flagged by Dovizioso was "not really a bad idea".
"Having all this qualifying and practice is a bit shit anyway," he said. "It's a waste of time.
"In FP1, you're working on electronics and a little bit of suspension and no one takes a lap time from that.
"FP2 you work on the tyre, but very few [set a quick time], so FP3 is a pre-qualifying, unless there's mixed weather conditions involved.
"Some guys gamble with time attacking [on Friday] because it could rain, and if you are working on the tyre for the race, it could cost you the race because you're not in a position to qualify well.
"I agree with him, it would be better because you can focus, knowing that you can save tyres for that FP3, so you work on your race set-up before."