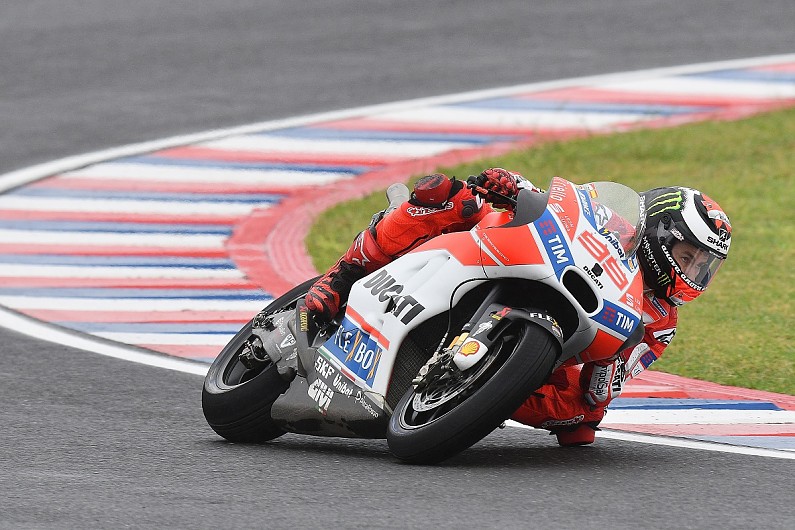 Jorge Lorenzo says seating changes during Argentinian Grand Prix practice revealed an early mistake with Ducati that meant his MotoGP pre-season testing was essentially "thrown away".
The three-time champion has endured a tough start with Ducati, finishing 11th on his debut in Qatar and qualifying 16th in Argentina, having failed to escape Q1.
However Lorenzo says changes made on Saturday, as he continues to come to grips with the bike, have highlighted an error made last November in his first test that has subsequently proven costly.
"We found something important today, some modifications we made on the ergonomics of the bike, especially in the seat of the bike," Lorenzo said.
"When I first rode the bike in Valencia, I felt the bike was quite high compared to my previous bike, I wanted it a bit lower. This was probably a mistake.
"I think we chose the wrong way and we missed a lot of months [of testing], thrown away.
"Now this position and some modifications we are going to do in future, we are going to get again the front weight and improve the feeling, at least to stay closer to the other riders."
After struggling to maintain a strong race pace at Losail, Lorenzo believes the changes should ensure he gets less tired and stays more competitive at Termas de Rio Hondo on Sunday.
"This weekend I was able to make much more laps in a row, [it was] much less physical and [I had] more confidence," he added.
"I will be better when I continue with this ergonomy of the bike, I won't go out of the bike like I used to do, I will get less tired and my pace will be more constant.
"We will have a better second part of the race than Qatar.
"The future looks much better, but we were not very lucky with the weather [in qualifying]."
DOVIZIOSO LACKS 'SPECIAL SPEED'
Lorenzo's team-mate Andrea Dovizioso also failed to make it out of Q1 in the wet, and will start Sunday's race from 13th.
Dovizioso set the pace for the bulk of the 15 minutes, but did not improve on his second run and was bumped down after the chequered flag by Dani Pedrosa and Valentino Rossi.
"The second run I had a soft [rear tyre] that didn't work," he said.
"It was too soft, the water was very low so the movement was too much. That is the reason why I couldn't go into Q2.
"I'm very disappointed about that, because on this track it's very important to start in the first two rows.
"To overtake riders is not so easy, and we don't have a special speed. To start 13th is really bad.
"But we have, I hope, the warm-up in the dry to try to improve a little bit the speed, because we are not too far to try to fight for third, fourth position."