MotoGP riders now face fines for delivering offensive hand gestures on track, as part of a new crackdown.
Between the San Marino and Aragon Grands Prix, riders were emailed and told that they would be fined by governing body the FIM.
It follows a prolonged exchange between Valentino Rossi and Suzuki's Aleix Espargaro during practice at Misano.
Impeded by Espargaro, Rossi slowed to ride alongside the Suzuki, gesticulating, even along the main straight after Espargaro entered the pits.
Rossi finished the move by raising his middle finger at Espargaro, one of the moves set to be eradicated.
"You're not allowed to stick fingers up, wanker signs, nothing," said Cal Crutchlow, who joked that it would send him "bankrupt".
"We got an email last week. I'm disappointed with that rule change.
"It adds a little bit of spice. I liked what Rossi did at Misano, why not?
"At the end of the day, it's what you feel at the time.
"It's no different to live TV [commentators] saying it, is it? I like it."
The LCR Honda rider conceded he could understand the move to a point, noting "we don't want to bring a load of bad stuff into the sport".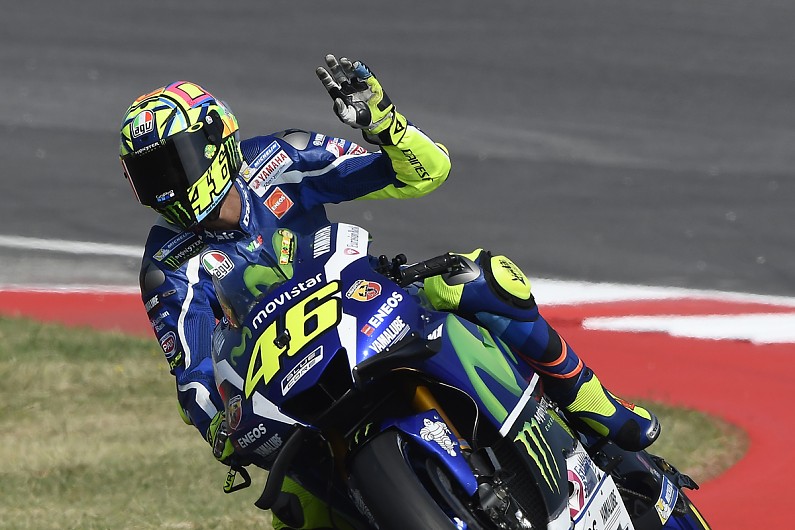 Rossi agreed with that notion, but felt Espargaro was more in the wrong at Misano.
"Espagaro did a big mistake because he stayed on the line," the Italian said.
"When I was running into him he said to me, 'fuck you!'
"My mistake is that I do like this [raises middle finger], but apart from that I was right 100%.
"When I do this [repeats gesture] maybe I exaggerate a little bit, so it's right you can't do like this.
"But from the other side, when one rider is on the track he has to keep attention to the other one; if not, it's not fair, and it's a lot worse [than hand gestures]."