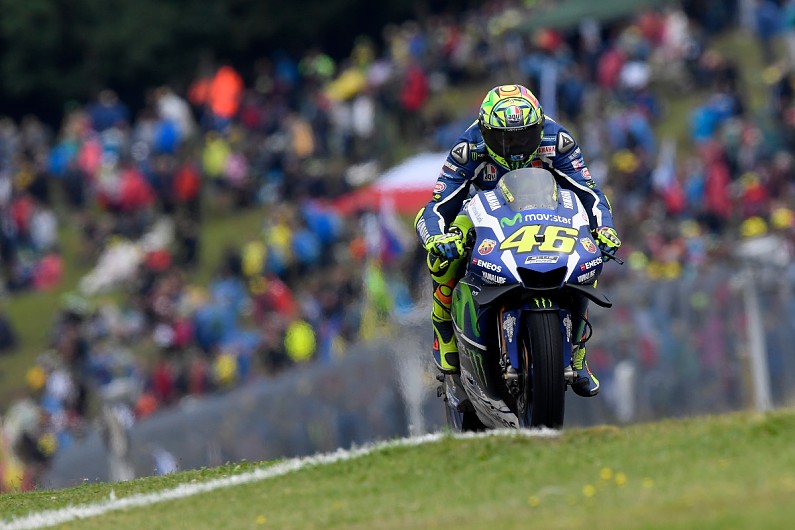 Valentino Rossi says the first part of his Czech Grand Prix was a "nightmare", before the Yamaha MotoGP rider's strategy came good and propelled him to finish second.
With rain having stopped one hour before the Brno race, the track was significantly drier than what riders had experienced in Sunday morning's warm-up.
While most headed to the grid committed to running Michelin's soft rain tyres, Rossi and Yamaha team-mate Jorge Lorenzo were among those who elected to switch to the harder rear.
They both fell down the order in the early stages, Rossi from sixth on the grid to 12th at the end of the first lap and then as low as 13th on lap seven.
But the tyres came good soon after - the track not drying sufficiently to prompt changes to intermediate or slick tyres - with Rossi eventually finishing seven seconds behind first-time winner Cal Crutchlow, who raced on the hard front and rear.
"The conditions were very different compared to this morning, this morning there was a lot more water," Rossi said.
"On the grid there was a little bit of confusion, to understand the tyre choices, [and] if somebody changed.
"It was a risk, but at the end we tried.
"Unfortunately we didn't also put on the hard front, I wasn't brave enough like Cal.
"The first laps were a nightmare, I made a mistake a lot of times and everybody overtook me from the outside and the inside. It was difficult.
"But from one point I understood that maybe it wouldn't dry enough for a flag-to-flag race, and from that moment I understood that maybe my choice was better [than the soft rear].
"Then Cal overtook me and I saw that he was very fast, and I knew that he had the hard, so I just tried to ride well, not make any mistakes and it was great fun, the second half."
The result moves Rossi back up to second in the championship for the first time since after the Argentina race in April, the second leg of the campaign.
He is now 53 points behind Honda's Marc Marquez, and six ahead of Lorenzo, who finished a lapped 17th after issues with his front tyre.
More importantly for Rossi, it ends a run in which he crashed out of the wet-dry Assen race while leading, then made the wrong flag-to-flag call in similar conditions at the Sachsenring.
"It's very important because I wasn't on the podium after the victory in Barcelona," he said.
"I had some races where I was competitive and unlucky and did too many mistakes - I lost a lot of points, and I lost the possibility to win, or to arrive on the podium.
"This result is important for me and for all of the team."