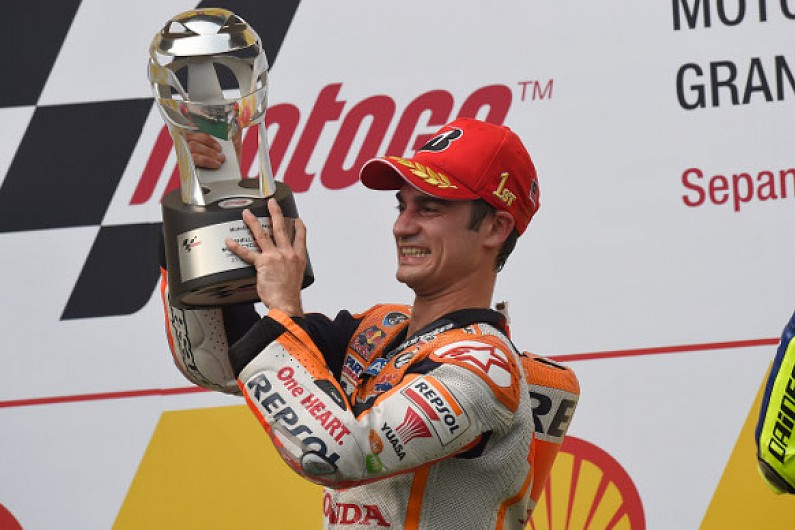 Dani Pedrosa says he is proud of himself for the "massive" achievement of reinvigorating his MotoGP season after radical arm surgery in early 2015.
The Honda rider withdrew after the season-opening Qatar Grand Prix to have a drastic operation involving the dissection of muscle fascia in an attempt to cure persistent 'arm pump' or chronic exertional compartment syndrome (CECS).
He missed three races, and initially struggled on his return before ending the year with two wins from the final four grands prix and recovering to fourth in the championship despite his absence.
"When I decided to take the risk of this surgery and find the right doctor and find the right time, this was a turning point in my head to overcome this situation," Pedrosa said.
"When I came back to racing it wasn't easy physically or with the bike.
"I was quite far back compared to the top guys. I had some bad races, then a little bit better, then back to a bad race.
"When you are in this situation, the energy and the effort you have to put just on yourself is massive.
"You cannot even think about what others do. You have to just focus on yourself and try to overcome it because no one else will do it for you.
"I had my team behind me and it shows we did a good job because I basically lost six races at the beginning and I could come fourth in the championship."
Pedrosa added that suggestions he had hung back in the title decider at Valencia because he and Honda team-mate Marc Marquez were in league with race winner and eventual champion Jorge Lorenzo seemed all the more laughable to him given the tribulations he had been through in 2015.
"Honestly, I can say that in my situation I always push fully to do my best," he said.
"I came from a very difficult situation.
"Everyone in my team knows how hard it is for me to ride these big bikes, and when I go on the track I always try to win.
"In my case, I sometimes win more than other times.
"Winning a championship and being at the top in MotoGP is super-hard, but to change the situation I changed [in 2015] was a target very difficult to reach.
"I'm so happy I could do races where I couldn't go quick in the beginning but I achieved the fitness to go quick at the end."
Told that he had emerged with a lot of personal credit for the maturity and neutrality with which he had handled the late-season controversies in which Marquez, Lorenzo and Valentino Rossi became absorbed, Pedrosa replied: "It's good people recognise that.
"I'm happy because I always stick to my attitude and my values."