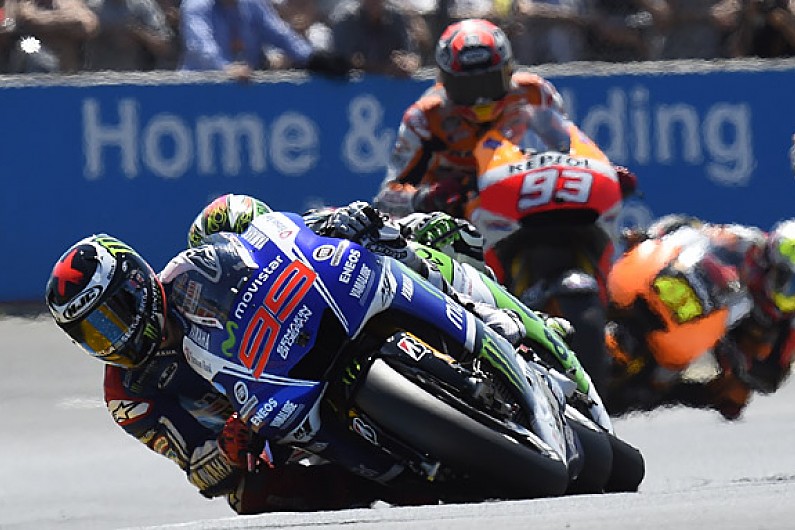 Valentino Rossi believes his Yamaha MotoGP team-mate Jorge Lorenzo is struggling psychologically in the face of Marc Marquez's domination.

Lorenzo ran Marquez close for the 2013 title, despite the rookie's Honda generally having a pace advantage over the double champion's Yamaha.

But so far this season Marquez has racked up five straight wins, while Lorenzo has just one podium finish to his name and has been overshadowed by Rossi, who is 36 points and two positions ahead of his fifth-placed team-mate in the standings.

Rossi said that while he can relax about being beaten by Marquez as just being back on the podium is a relief this year, the situation will be dispiriting for Lorenzo.

"Personally I'm in a situation where I want to try to win, but it's not a big problem for me, because I came from two or three years where my results were a lot worse, so I'm happy with my work," said Rossi.

"I understand Jorge a little bit. [For me] to finish on the podium and be behind Marc is acceptable. I can try to fight with him, but I'm more relaxed.

"For Jorge it's difficult, because Jorge wants to win.

"Last year Jorge did some races that were impressive - for me, they were the best of his career, even though he didn't win the championship.

"But this year with Marc having more experience and riding like he is, and also at the moment Honda is technically a little bit better than the Yamaha, for Jorge it's a bit frustrating because he knows that it's quite impossible and he doesn't want to be second.

"He's not happy. Maybe for this reason, he's having some problems."

Marquez agreed with Rossi's assessment that Lorenzo's biggest problem is his morale.

"For me the key is that if you want to be fast, you have to enjoy riding the bike," said Marquez.

"Valentino's enjoying it a lot, and he's so fast. I don't know, but it looks like Lorenzo is struggling a little bit more.

"I think he will find a way, and when he starts to enjoy it on the bike again, he will be fast. But if you don't enjoy it, it's impossible."

Lorenzo put his sixth place in Sunday's French Grand Prix at Le Mans down to an unsuccessful pre-race set-up change, continuing discomfort with the 2014 Bridgestone tyres and losing confidence in the pack after a poor first lap.