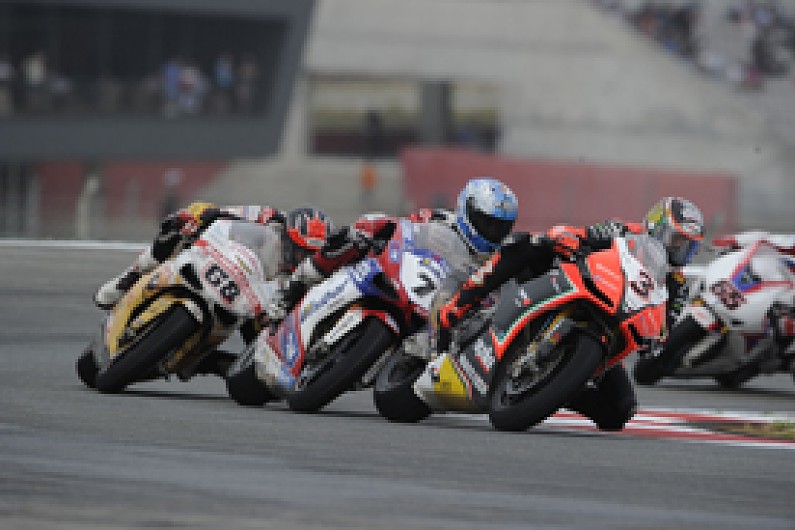 MotoGP and its rival World Superbike Championship will for the first time fall under the jurisdiction of a single organiser, it was announced on Tuesday.
Dorna, which already organises MotoGP, will now also take responsibility for the WSBK, taking over from Infront Motor Sports.
Infront will instead act as marketing partner and global advisor to both championships.
The shift was instigated by hedge fund Bridgepoint as a 'logical' way to ensure the long-term health of both series. Bridgepoint invested in Dorna in 2006 and Infront in 2011.
The two championships are run to separate parameters, with MotoGP showcasing prototypes and WSBK production-based bikes.
In recent years however there has been contention at some of MotoGP's plans to cut costs and improve the racing. MotoGP's CRT class, for example, was developed in part because it solved a conundrum of helping to boost grid numbers without impeaching the WSBK's exclusive right to production bike racing.
Infront and Dorna said the new move would benefit both series' long term prospects.
"We're very excited to have the two top motorcycle road racing series under one roof," Dorna CEO Carmelo Ezpeleta said.
"We fully expect to develop and strengthen the distinct nature of both MotoGP and WSBK as separate properties and remain committed to working with teams and manufacturers, circuit owners, sponsors and broadcasters to give fans the best experience yet."
Infront president Philippe Blatter added: "Under the new structure, the two leading motorcycle road racing events are now set for sustainable further growth and development. A true win-win situation has been created.
"Both Dorna and Infront can now further strengthen and focus on their core competencies and, in addition, achieve leading positions in their specific area of expertise."
Dorna has been the exclusive commercial and television rights holder to MotoGP since 1992.
Infront acquired previous WSBK promoter FGSport in May 2007.