The 2018 MotoGP British Grand Prix will forever appear as a blank mark in the record books, after a botched resurfacing job meant persistent rain on Sunday rendered the Silverstone track impossible to safely race on, forcing a complete cancellation of a grand prix motorcycle race programme for the first time since the snowed-off 1980 Austrian GP.

So far, the blame has been solely placed on the circuit's new asphalt, which was laid in February, and an investigation is now under way into exactly what went wrong.
Silverstone's surface had been notorious for being bumpy and ice-like in the wet. Prior to 2018, its last resurfacing came in 1996. Patches of fresh asphalt were laid last year in a bid to smooth some problem areas, but nevertheless there were still a flurry of calls from MotoGP riders to repave the entirety of the 3.6-mile Northamptonshire track.
"They've resurfaced a couple of corners here," LCR Honda's Cal Crutchlow said during the 2017 Silverstone weekend. "They were a lot better, so how about we resurface the whole track? It'd be a lot easier for all of us."
Silverstone heeded this advice, and invested in a new surface. But in a cruel twist of fate, MotoGP itself had sealed the cancellation of the 2018 British GP 12 months prior.
Crutchlow was the first to sample the new asphalt, taking to it on a Honda RCV road bike during a media day in May. He claimed the new surface would make MotoGP lap times up to 1.5 seconds quicker.
FIM safety officer, and the man in charge of circuit homologation, Franco Uncini, was satisfied with the initial results. But an unusually dry summer in Britain meant wet running on the new surface was limited. The 2011 and '15 races on the old surface were run in soaking conditions, so it was not unreasonable to assume this would continue to be possible on the new asphalt.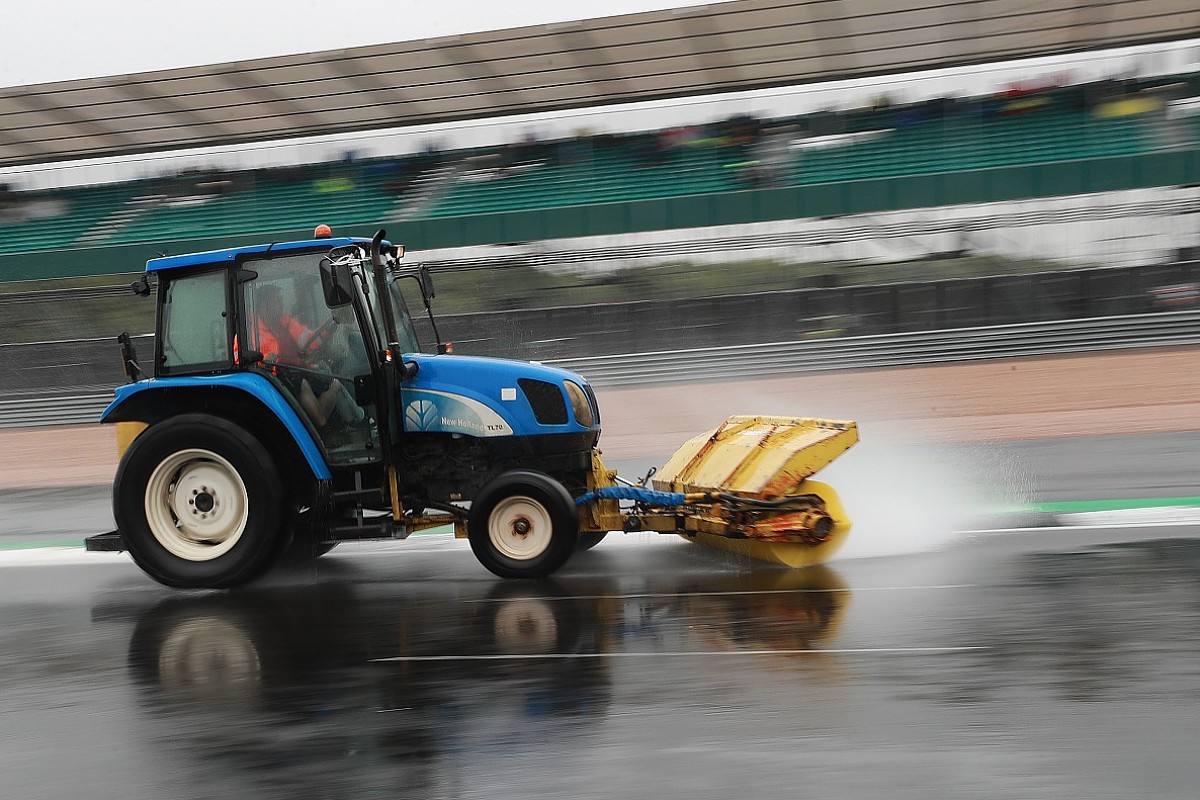 "We had a number of years of experience here in very wet conditions recently with the old surface and we've been able to run races," MotoGP race director Mike Webb said following the cancellation of racing on Sunday. "This year, with the new surface, is the first time we've encountered quite so much standing water in critical places of the track."
MotoGP had been offered a frightening glimpse into what could have occurred in the race when a heavy downpour at Stowe and Vale arrived during Saturday's practice four session. Alex Rins was forced to jump from his Suzuki at 100mph, while Tito Rabat suffered a triple leg break after being struck by Franco Morbidelli's bike in the gravel.
The ugly truth was laid bare there and then: Silverstone had become unrideable in the wet. The new asphalt could not drain standing water, with cuts made to the track on Saturday night at areas of notable water build-up failing to improve the situation. The Sunday timetable was moved forward in a bid to avoid the worst of the weather and to try to get a race programme in.
"We would love to have a test in those conditions before we race, the problem is to replicate those conditions. We can't schedule a test hoping it's going to rain, we actually have to have something to test" Mike Webb
But the 1130 start time came and went without a racing lap being completed, and none ever would - despite lengthy delays to seek out a clear weather window.
Numerous questions have been raised since the cancellation was confirmed, chiefly: why was this allowed to happen?
Ideally, a wet test on the new surface would have been conducted, but this is no simple task. During this year's Qatar test, the circuit was artificially soaked to allow riders to experience riding at the Losail circuit under floodlights and to test the track's new drainage, installed following the scrapping of qualifying for the 2017 event due to rivers forming after heavy rainfall.
This proved to be a mammoth undertaking, and did not provide much in the way of useable data. Wetting Silverstone for a test may well have flagged up the drainage issues that ultimately forced the cancellation of the race but, as Webb points out, replicating how the circuit coped with the continuous rain seen was just not technically possible.
"We spoke about this and the specific problem here was standing water after either continuous rain - so it can be normal rain but continuous like we had today - or the very heavy short burst of rain we had on Saturday," he said.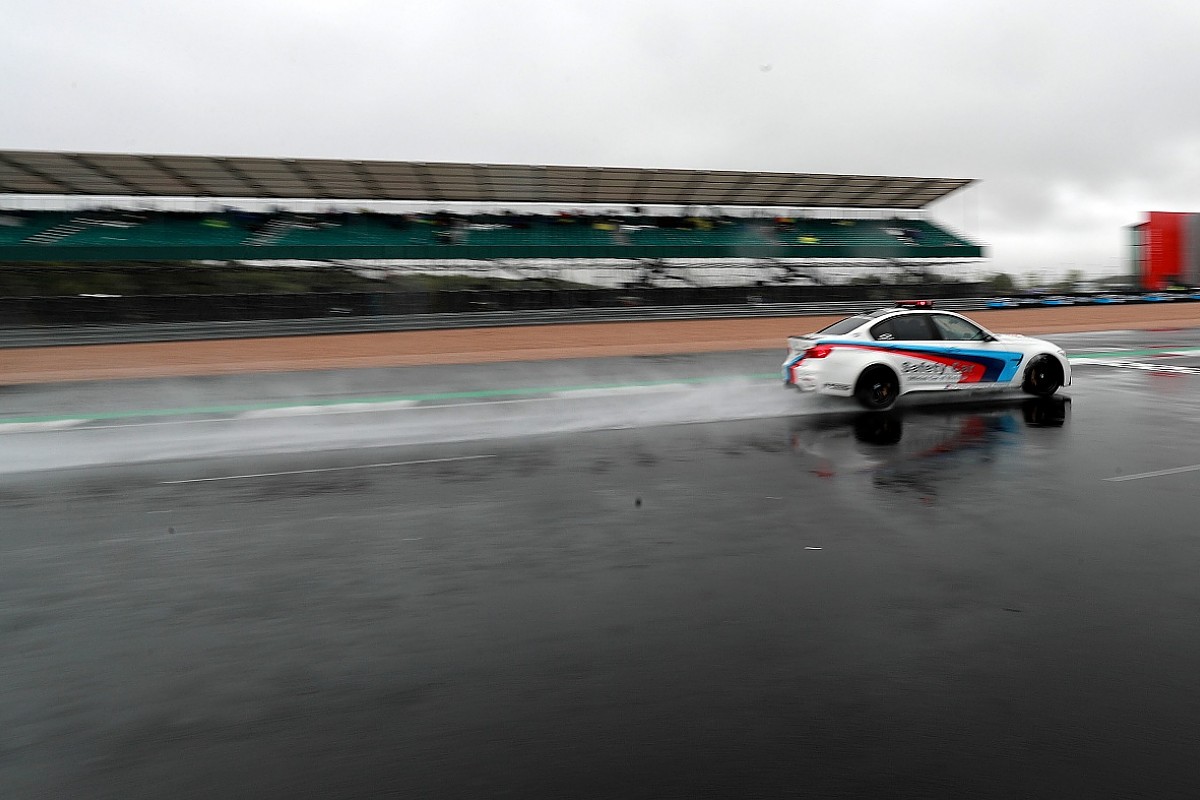 "Yes, we would love to have a test here in those conditions before we race here, the problem is to actually technically replicate those conditions. We can't schedule a test hoping it's going to rain, we actually have to have something to test.
"We'd have to find a way to technically do that and after our experience in Qatar with the wet test there, it's an enormous exercise to wet a track sufficiently to get real data. It's something we can work on, but the answer is 'yes we'd like to', but we'd need to find a way how."
Moving the race to Monday - as was done in Qatar in 2009 when the scheduled race was rained off - was mooted but knocked back by several factory teams, some of whom had weighed up the impossible logistics of getting everything from Silverstone to Aragon on Wednesday for a scheduled private test. Dorna also feared a lack of marshals, due to commitments at other national events on Monday, would make running the race 24 hours later unfeasible, although British Superbike Championship series director Stuart Higgs - who was acting as Clerk of the Course at the event - said core officials, more than 280 marshals as well as medical staff all confirmed within an hour of being asked that they could commit to covering a Monday race.
The earliest the teams and promoter deemed they could reasonably run the race was 1130, though this was through no lack of trying by Webb to try and get the schedule started even earlier.
"We suggested an earlier warm-up, shorter warm-ups, anything to get the race under way earlier and the consensus of the teams was, 'No, this is the schedule we want'," he said. "They are very constrained with time between warm-up and race, in preparation time, and also just the time of day to start warm-up."
Numerous riders have now called for MotoGP organiser Dorna to make more thorough checks on freshly resurfaced tracks, and Dorna CEO Carmelo Ezpeleta is open to setting up a resurfacing commission.
"We will have to think if we name someone [to issue approval] for when a circuit is resurfaced," Ezpeleta told Spanish media. "That cannot be decided by the naked eye on a dry day or by Franco Uncini or anyone, it has to be an asphalt expert to see how it has been done. It would be worthwhile to have one or more approved by the FIM, and they put the seal that this asphalt is good in any condition."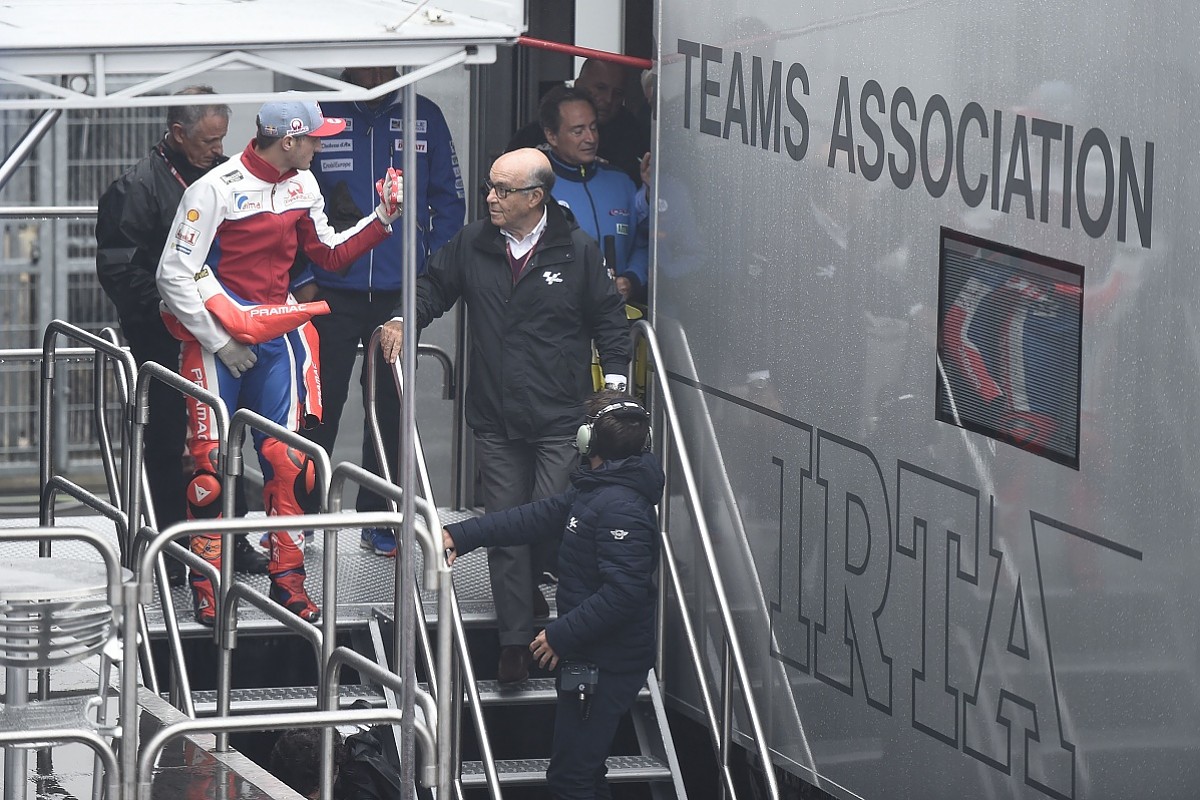 The next question is: what is Silverstone going to do now?
To blame the circuit itself would be wrong. It entrusted Aggregate Industries to relay the asphalt to the standard a world-class track demands, and after positive initial responses from Uncini and Crutchlow, it seemed this was the case.
But by the time Formula 1 arrived in July for its race, the track - as Uncini put it - had "degraded". After worrying comments made by F1 drivers, including Lewis Hamilton, Dorna hoped a second resurfacing could have been carried out. But to do so in six weeks was impossible, and even then, it is still likely no one would have had any idea the circuit simply could not cope with rain.
Stuart Pringle, Silverstone's managing director, has confirmed an independent investigation is under way "to get to the bottom" of just what has gone wrong with the surface. While Webb feels the issues were a "direct result" of the changes, Pringle was reluctant to immediately point finger at Aggregate Industries and feels the riders took the decision to cancel the racing from his hands.
Whatever comes next for Silverstone in this saga, the organiser remain steadfast in its commitment to hosting MotoGP
"I do not accept the criticism of the circuit and resurfacing because none of us have the data to substantiate those claims," he said. "It's conjecture and completely overlooks the significant rainfall that fell on the day and caused many other events across the country to cancel. I don't think the cancellation was a reflection of the track, it was just the sheer volume of water.
"In wet warm-up the riders were only 8.5% slower than dry times and the norm is 10-15% - so that indicates a very grippy surface. It wasn't our decision [to cancel the races] - it was the riders'. The race director was expecting the track inspection at 4pm to indicate that the circuit was ready for racing, but the decision was made before the agreed inspection time. We thought there was a weather window. We watched the weather and thought there was going to be an opportunity to put on the whole three-race programme.
"We had an agreement from [MotoGP commercial rights holder] Dorna that the teams would race up to dusk. But a couple of riders called the meeting before the scheduled track inspection and, contrary to what we had been told and the weather forecast indicating an improvement in conditions, they were not willing to race."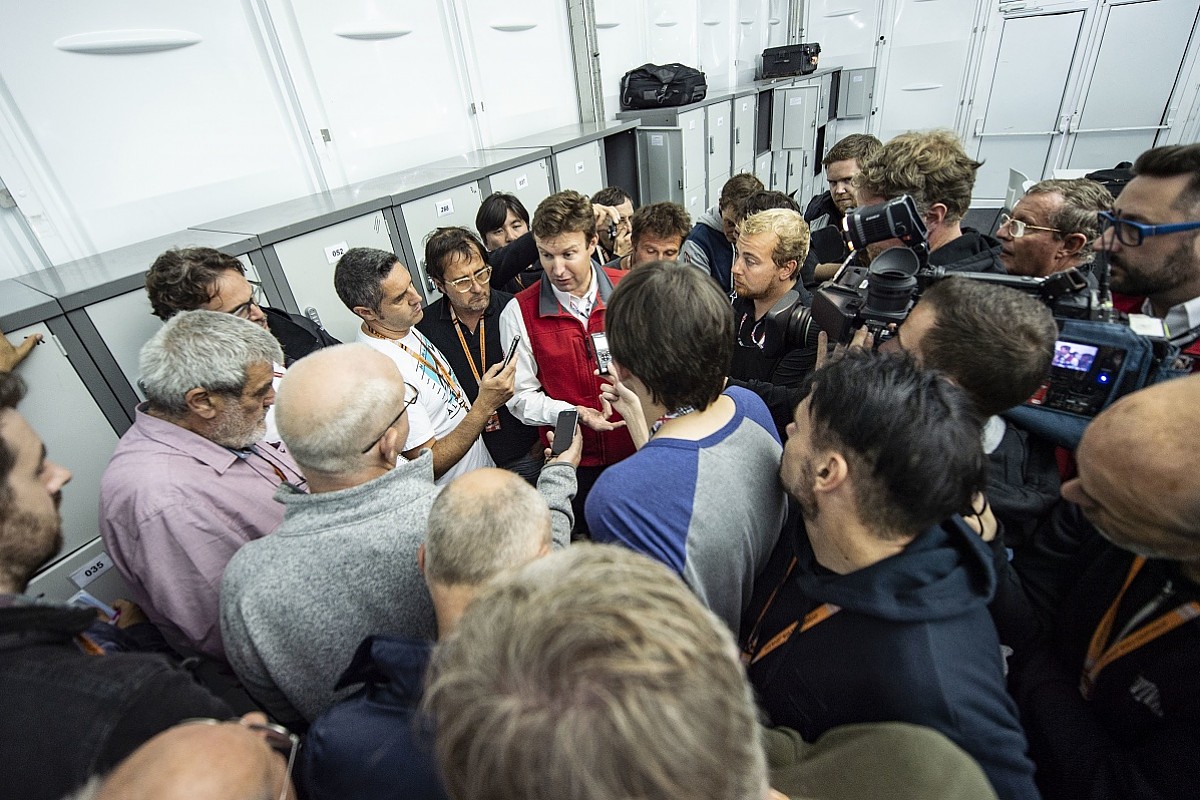 Ultimately, decisions on safety come down to the riders. They saw enough during FP4, and waiting till dusk to race on a wet, cold track would not have done much to alleviate the risks that ultimately forced the cancellation. There is nothing to suggest waiting any longer would have led to the race being started, regardless of the weather.
So, finally, what of the future of the MotoGP at Silverstone?
There is no question in most people's mind a new surface will have to be laid in time for next year's event, but this will come at great cost for a circuit already walking a financial tightrope.
Dorna has a contract with Silverstone through to 2020, and it is keen to keep the British GP. If the circuit does not retain F1 after next year, MotoGP becomes Silverstone's flagship event. And Dorna, should the riders make a request, is not against strong-arming a race organiser into carrying out circuit work if it wants to keep its race.
Last year it threatened to stop racing at Barcelona - effectively MotoGP's home race - if the circuit did not undergo a complete and immediate resurfacing following safety concerns over the old asphalt. Undoubtedly embarrassed at having to cancel a race because of rain, it would not be unreasonable to assume Dorna will be even firmer with Silverstone.
Whatever comes next for Silverstone in this saga, Pringle remains steadfast in his commitment to hosting MotoGP. But in turn, just how committed MotoGP remains if nothing is done remains to be seen.
"Do you know what? I'm really confident about the future of MotoGP at Silverstone, because we're deadly serious about our commitment to the championship, and I'm really pleased to say that even after six hours of my career - which I would put up there amongst my most challenging - we have a great relationship with Dorna, and we have a good respect with the FIM," said Pringle.
"We haven't had a great day here, it's been quite a difficult day in the office, but we are a world class circuit. We run a championship calendar of racing here that is like no other. So, we know what we are doing, we will get to the bottom of it and I thank all of you for your support. We all want this championship to thrive and we all want Silverstone to thrive."