By the end of the year, they had become known as 'the aliens'. Valentino Rossi, Jorge Lorenzo, Dani Pedrosa and Casey Stoner - the four riders who monopolised the top four in virtually every practice session, every qualifying hour and every race. Try as they might, the rest of the field found this foursome nearly unbeatable, and it wasn't unusual to see a one second gulf from the top four to the best of the rest.
When it came to the title battle, that quartet soon dwindled to a duo. Pedrosa began the year battered from a winter of falls and injuries, and was hamstrung by a Honda only occasionally capable of beating Yamaha and Ducati. Stoner led the championship after Mugello, but then an enervating illness saw his season fall apart.
That left Rossi and Lorenzo to fight it out for the championship. The established legend versus the man who could become his biggest ever threat. An internecine contest between the two 'team-mates' separated by a wall in the centre of their garage. A string of mid-summer races became ferocious one-on-one duels between Rossi and Lorenzo, and unsurprisingly it was the young Spaniard who cracked and either found himself pipped at the post or fell when pushed beyond the limit by the old master. Rossi's season certainly wasn't flawless, but he defeated or out-fumbled Lorenzo often enough to allow him to clinch his seventh MotoGP title with a round to spare.
Round 1 Qatar, 13 April
A downpour in the desert forces the season opener to be postponed until Monday evening. But once it gets underway, it's the usual Qatar story: a runaway win for Stoner, with Rossi and Lorenzo having to settle for the podium spots. The still-delicate Pedrosa salvages 11th, escaping further injury despite Alex de Angelis barging into him during the race. Loris Capirossi battles with the Yamahas at first, but crashes his Suzuki.
Round 2 Japan, 26 April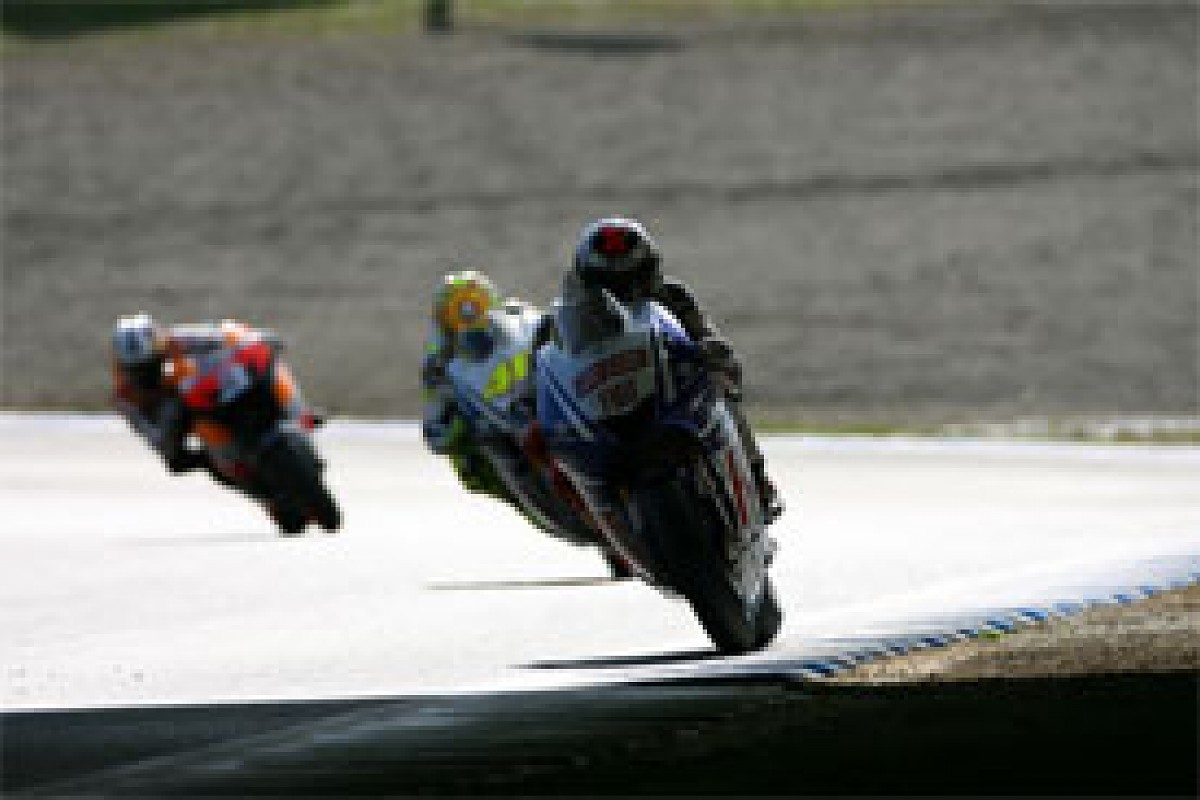 Jorge Lorenzo leads Valentino Rossi and Dani Pedrosa under the oval at Motegi © LAT
More rain means the Motegi grid is decided on practice times, putting Rossi on pole ahead of Stoner. The latter makes a bad start and spends the race clawing his way back up to an eventual fourth, as the Yamahas battle for the lead.
Lorenzo proves faster and is soon pulling away to take his second career win and an early championship lead, with Rossi having to fend off Pedrosa - who is stunned to be in contention when still far from fit - to take second.
Round 3 Spain, 3 May
Polesitter Lorenzo is fired up after topping qualifying for his home race while Rossi rules out winning having struggled to fourth. It's a different story 24 hours later: Rossi makes a set-up breakthrough and hunts down and passes all those ahead to secure his first win of the year. He also opens up an 11-point championship lead thanks to Lorenzo crashing out. The Spaniard had lacked race pace and slipped back to fourth behind Pedrosa and Stoner, the latter delighted to even be on the podium given how mediocre his Jerez form usually is.
The hero of the race is Marco Melandri, who battles to fifth, behind Randy de Puniet, on the ex-works Hayate Kawasaki.
Round 4 France, 17 May
Lorenzo makes up for Jerez by taking a canny Le Mans win. As everyone else dives for slick-shod bikes when the early rain disappears, he stays out on rain tyres and builds his lead until certain the track is dry enough, and ends up with a dominant victory. Rossi changes to slicks too soon and falls, then spends the rest of the race in and out of the pit changing bikes or taking penalties.
Poleman Pedrosa also takes his slick bike too soon and has to charge back to third, finally passing his team-mate Andrea Dovizioso a few corners from the flag. With Stoner lacking speed in the changing weather and only finishing fifth, an incredible second goes to Melandri, who stars in the wet.
The result leaves Lorenzo, Rossi and Stoner covered by just one point at the top of the standings.
Round 5 Italy, 31 May
A wet weather thriller begins with Stoner, Dovizioso, Melandri and Chris Vermeulen squabbling over the lead on a treacherous track. As Mugello dries and everyone switches to slicks, the underdogs fade and Stoner emerges in a clear lead after a brief dice with the flying Loris Capirossi. The Australian's win gives him a four point championship advantage.
A crash on the way to the grid and a bad start hamper Lorenzo, who ends up second, while Rossi's seven year run of Mugello wins is ended as he only manages third. He gets involved in the lead fight for a while in the wet but cannot get up to speed fast enough on hard slicks. Capirossi drops back to fifth behind Dovizioso. Pedrosa jars his hip in a practice incident then crashes heavily in the race.
Round 6 Catalunya, 14 June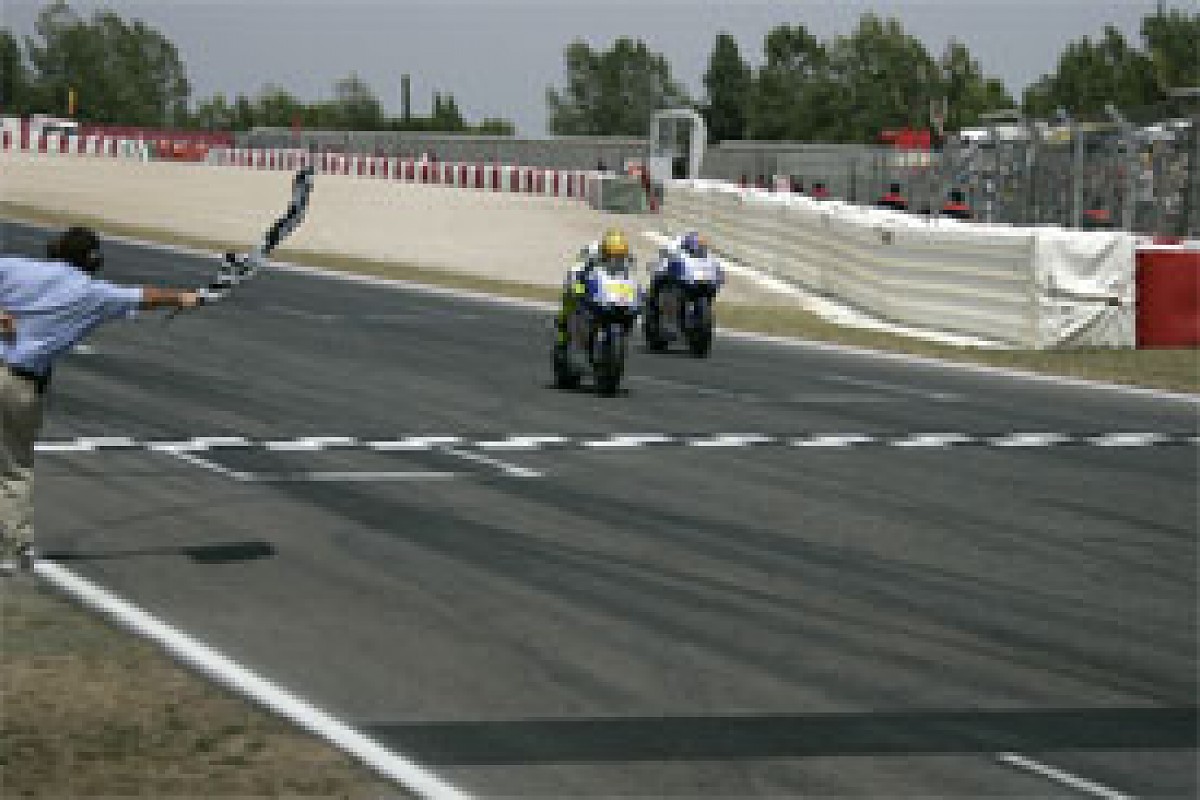 Valentino Rossi pips Jorge Lorenzo at the finish line © LAT
Rossi and Lorenzo produce a spine-tingling fight for victory, passing and re-passing each other countless times in the final part of the race before Rossi secures victory with a stunning dive into the final corner.
Stoner falls back as the illness that will wreck his title bid takes effect, but he still manages to fend off Dovizioso for third. Pedrosa has another crash in qualifying and finishes a quiet sixth. The result leaves Rossi, Lorenzo and Stoner tied on 106 points in a joint championship lead.
Round 7 Holland, 27 June
A second successive Yamaha one-two, but a far less dramatic one as this time Rossi escapes from an early squabble with Pedrosa and Stoner to dominate the majority of the race. Lorenzo recovers from a slow start to take second.
Stoner falls back as his sickness takes hold, although he remains third as both factory Honda riders fall at the same corner six laps apart while chasing him.
Round 8 United States, 5 July
Qualifying ends with Lorenzo and Stoner first and second - but both in the medical centre after violent accidents (in Lorenzo's case, his second of the session). Both are cleared to race, but it's Pedrosa who bursts into the lead at the start. That's not unusual given his traditional speed off the line - the surprise is that this time he stays there, and even pulls away in the middle of the race.
Rossi and the bruised, heroic Lorenzo catch up in the closing stages as Pedrosa takes it a little too easy, while further health problems leave Stoner a distant fourth.
Round 9 Germany, 19 July
Rossi's lead extends to 14 points as he beats Lorenzo in another Yamaha showdown that almost lives up to Catalunya for last minute excitement. This time Pedrosa finishes close behind in third having split them for a time, while Stoner manages to fight his way to the lead briefly before his fading fitness sees him drift away in fourth place.
Round 10 Britain, 26 July
The rest of the field finally get a look at the podium at a damp Donington Park. A drizzly start to the race sees Toni Elias and Dovizioso joining the Yamaha pair in a frantic lead tussle, which begins to split up when the Gresini Honda rider has a high-side and Lorenzo has a costly crash at the Esses and retires.
That leaves Rossi fending off the determined Dovizioso, but when the champion becomes the latest man to fall, Dovizioso finds himself with a commanding lead.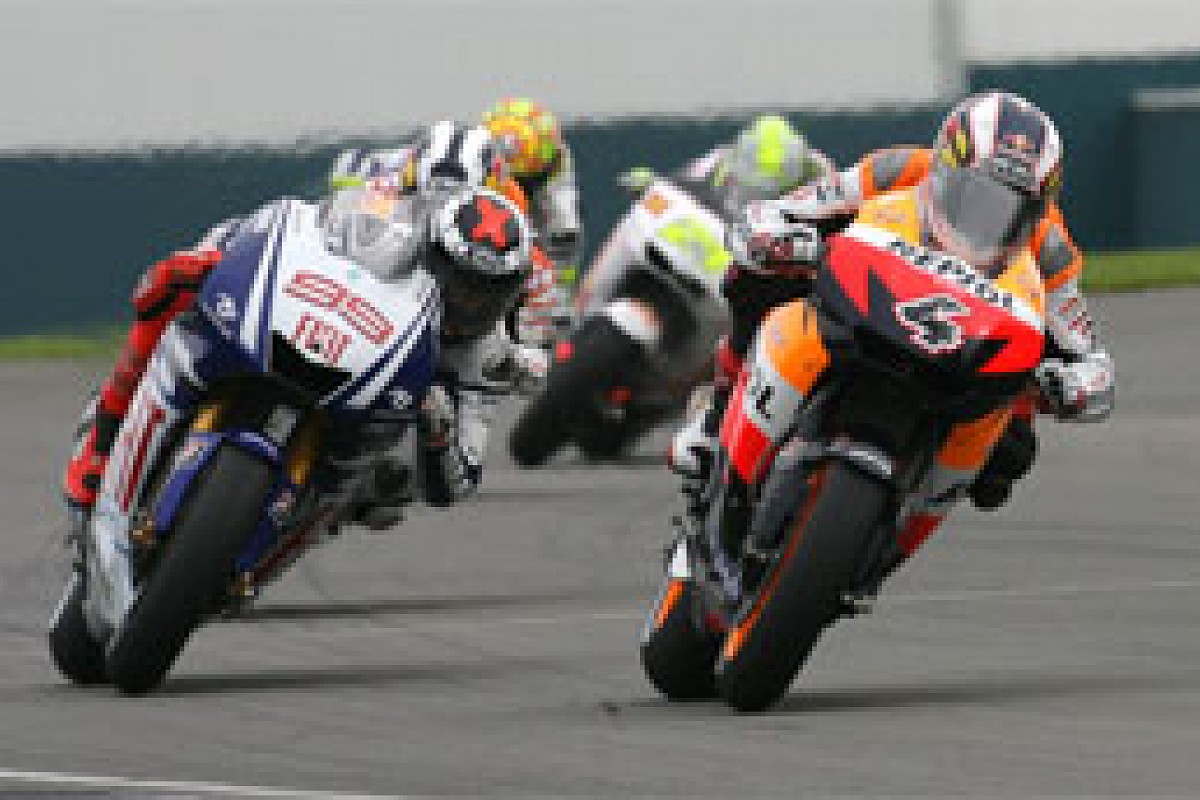 Andrea Dovizioso leads Jorge Lorenzo, Valentino Rossi, and Toni Elias at Donington Park © LAT
Then the rain intensifies and Colin Edwards and Randy de Puniet start tearing chunks from Dovizioso's lead and set up a grandstand eleventh hour shoot-out between three riders all hunting for a maiden MotoGP win. It's Dovizioso who breaks his duck this time, as Edwards and de Puniet lose slightly too much time battling with each other.
Rossi gets going again and recovers to a very useful fifth place on a day when Pedrosa lacks wet weather pace and slumps to ninth, and Ducati's disastrous decision to start on wet tyres leaves Stoner a lapped 14th as the rain fails to arrive in time for this bold strategy.
Round 11 Czech Republic, 16 August
Stoner decides his only option is to sit out some races and seek further treatment, so Pramac's promising rookie Mika Kallio is moved up to the second factory Ducati from Brno, although unsurprisingly he cannot replicate Stoner's performances.
The lead battle therefore comes down to Pedrosa versus the two Yamahas, and with the Honda rider soon losing his early lead at Brno, the race comes down to another Rossi versus Lorenzo duel. Just as they start a Catalunya/Sachsenring style frenetic battle, Lorenzo pushes too hard and crashes out, leaving Rossi to dominate and open out a 50 point championship lead.
Pedrosa is a lonely second, with Elias beating Dovizioso and Capirossi to third in a very close fight.
Round 12 Indianapolis, 30 August
Pedrosa dominates the Indianapolis weekend until the fourth lap of the race, when he falls while leading. His eventual 10th place is far less than his practice and qualifying pace promised.
The Spaniard's accident puts Rossi in the lead, but Lorenzo passes him and goes on to win, while Rossi crashes out soon afterwards and sees his points lead reduced to 25 again.
Nicky Hayden takes a breakthrough third place for Ducati, just ahead of Dovizioso.
Round 13 San Marino, 6 September
Rossi designs a donkey liveried helmet for Misano to mock himself for crashing at Indy - and then duly takes pole and victory on home ground, controlling the second half of the race after passing early leader Pedrosa on lap eight. Lorenzo pushes Pedrosa back to third, but cannot match his team-mate so has to settle for the runner-up spot.
The leaders are lucky not to get collected by a messy first corner pile-up caused by de Angelis bowling Colin Edwards and Hayden over, leaving the latter visibly enraged.
Round 14 Portugal, 4 October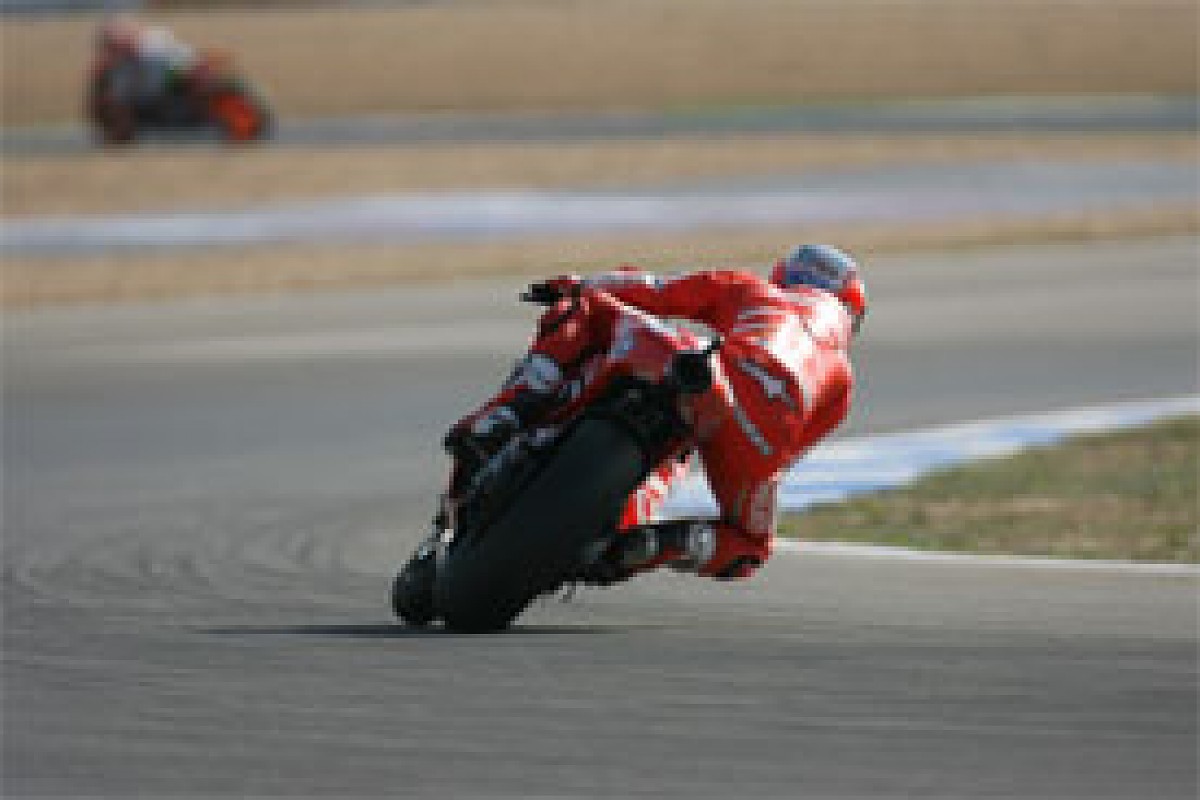 Casey Stoner made a competitive return aboard the Ducati at Estoril © LAT
Lorenzo dominates from pole at Estoril, while Rossi suffers a puzzling lack of race pace and slips to fourth, which brings the championship gap between them back down to 18 points.
A healthier Stoner returns to the series, but warns that his race fitness will still be below par. Nevertheless, he improves throughout the grand prix and beats Pedrosa to second.
Round 15 Australia, 18 October
Stoner wins his home race for a third successive year, resisting race-long pressure from Rossi. Second place is just fine for the Italian though, as Lorenzo is off-song all weekend and crashes at the first corner after tagging the back of Hayden's Ducati - which means Rossi leaves Phillip Island on the cusp of another title. Pedrosa finishes a distant third.
Round 16 Malaysia, 25 October
Everything seems to be going Rossi's way as he takes a commanding pole at a record pace, while Lorenzo has to start at the back after failing to get out of the pitlane in time during the confusion caused by a pre-race monsoon and a delayed start.
It only takes one lap for the flying Lorenzo to get ahead of Rossi, who runs wide at the first corner then takes a very cautious approach to the early stages. But it doesn't stay that way for long. As he settles into the conditions, Rossi starts moving forward and proves faster than Lorenzo, eventually beating his team-mate to third and becoming MotoGP champion for a seventh time in the process.
At the front, Stoner is utterly dominant and could have won by half a minute had he wanted to. Pedrosa is second, with Honda losing a potential double podium thanks to Dovizioso's late crash.
Round 17 Valencia, 8 November
Stoner looks set to end the year with three consecutive wins having been fastest in every session at Valencia. But he doesn't even start the race after a bizarre crash on cold tyres on the formation lap.
That leaves Pedrosa to dominate from pole and claim his second win of 2009, with Rossi narrowly beating Lorenzo to second.
While the race is very static at the front, World Superbike champion and 2010 Tech 3 Yamaha signing Ben Spies impresses by battling through to seventh place in a wildcard outing.