When Valentino Rossi sits down he is immediately engaged in conversation. There are lines of tiredness in the dark skin shadowing his blue eyes, but the gaze he fixes is alive with vitality.
Katie, Yamaha's press officer delivers Rossi a double espresso, checks he has everything, and leaves us to it. No paranoid protective dictaphone to deter me from asking awkward questions, no listening in from the next table. Just an AUTOSPORT writer and the eight-time world champion in an internal office at Yamaha's race headquarters. This is as exclusive as it gets.
It's the Thursday before the British Grand Prix at Donington, and the world champion is on the second of two back-to-back race weekends in the middle of the calendar. In a year that has called upon him to forge perhaps the most intense and robust defence of a crown that is rarely not his to protect, most of the minutes of his days are efficiently accounted for.
Today - monikered the Day of Champions - is a case in point. It has been one dedicated to the sport's fans and its charity Riders for Health.
Rossi like all the riders, has thrown his heart into it. Run this-way-and-that by the guardians of his hectic schedule, he has unflinchingly delivered. The people are important. This king is drawn to his public.
He is utterly aware of the awe bestowed upon him, and though he understands it is not a true reflection of the individual human he is, Rossi feels the sentiment behind the adoration deeply. He is also keenly aware that he must protect himself from the enormity of such fame.
"It is very important because if not you become a little bit crazy," he explains. "If you just speak always with people - who say: 'Ah, you are Valentino Rossi,' or you just do interviews and press conferences, then you lose a little bit of touch with reality.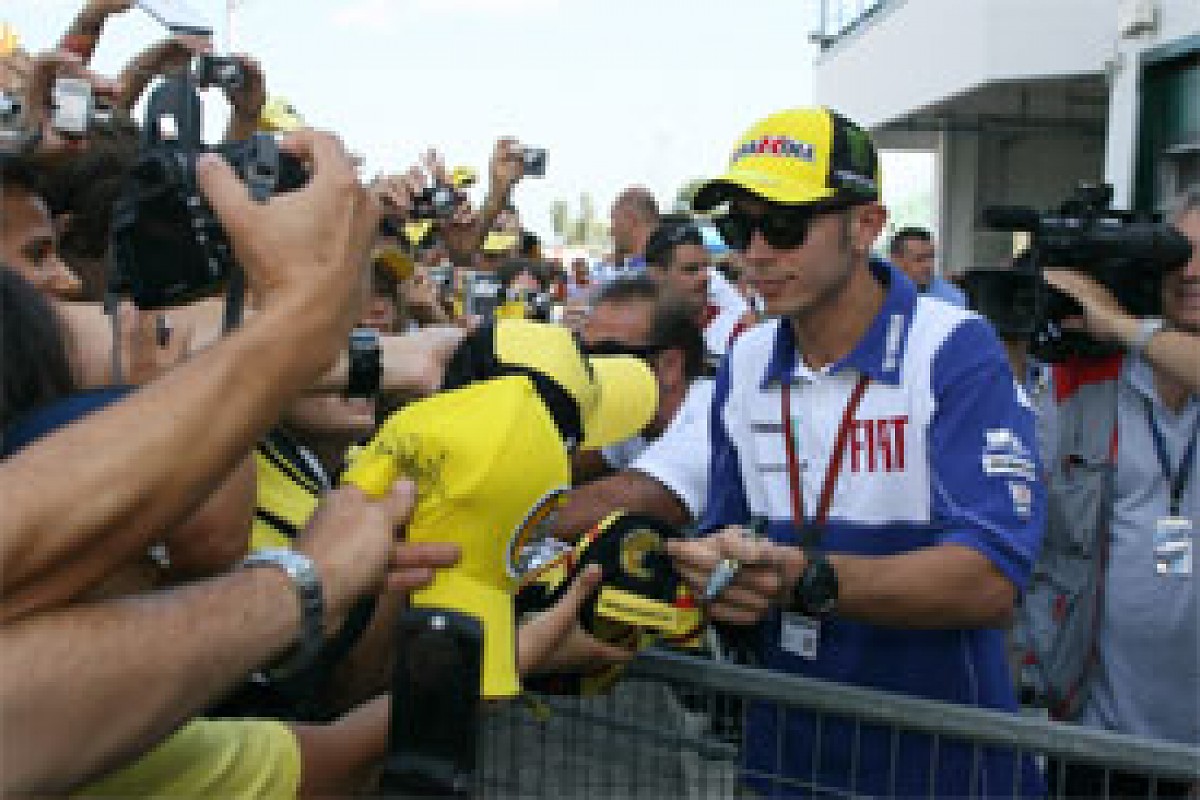 Valentino Rossi signs autographs © LAT
"I have a good group of friends who are very funny, that I have known since we were young so we have a special relationship. And with those people I am not Valentino Rossi, I am just Valentino, so this makes it great fun."
But what about the rest of his life, away from the race track? What does an internationally recognised sporting icon do then?
"My life is very focussed on racing. It is a big part of my normal day. Also because I train every day, I spend a lot of time at the gym, or running... to remain concentrated on the target. The rest of my life is normal. Another important space [in my life] is girls! Because this is always a good motivation!
"I stay in my house, I stay with my dogs, I like to hear music, to drive my car. It's quiet."
You sense, though, that the huge support he has garnered over the years triggers the raging competitive instinct within him. It provides another weapon to be harnessed in the quest of that 'target'. He knows well the advantage the traditional sea of luminous yellow on the spectator banks around the world gives him. Visiting a MotoGP event and going to watch Rossi have become one and the same thing over the last decade. To his fans, the riders Rossi conquers merely come and go.
Some of his rivals, those with more fragile egos - and there are some in the pitlane - feel a need to change the tide of that fluorescent ocean. It offends them that so many spectators only have eyes for Rossi. To a champion of Rossi's calibre, this presents an exploitable vulnerability. Such weaknesses provide an elixir upon which he can thrive.
Motorcycle racing is all about rider confidence. Ego. It is the ultimate modern gladiatorial contest, and Rossi's career is full of examples of vanquished foes. He gets inside their heads, finds the soft point and then, it seems, chooses the perfect moment to destroy them.
Max Biaggi (Brno '01), Sete Gibarnau (Jerez '05), Casey Stoner (Laguna Seca '08) are all examples of Rossi's ability to destabilise the mentality of a championship protagonist at a crucial point. Each time his message delivered with an audacious overtaking manouvre carved from a blend of genius and mischief that provokes fury and incredulity in equal measure.
These trigger points, and his astonishing victory tally - 103 grands prix wins and six premier class titles - have given him an aura of infallibility. He can beat anyone and seemingly win on anything. He is the one they all have to beat, the measurement by which talent is regarded.
Rossi laughs at this suggestion, but nods nonetheless, accepting his natural place at the top of the food chain in a matter-of-fact manner. It's not arrogance, it's just there is no point in denying it. And by walking tall, it further emphasises an air of superiority that filters into the psyche of his rivals. No competitive advantage must be wasted.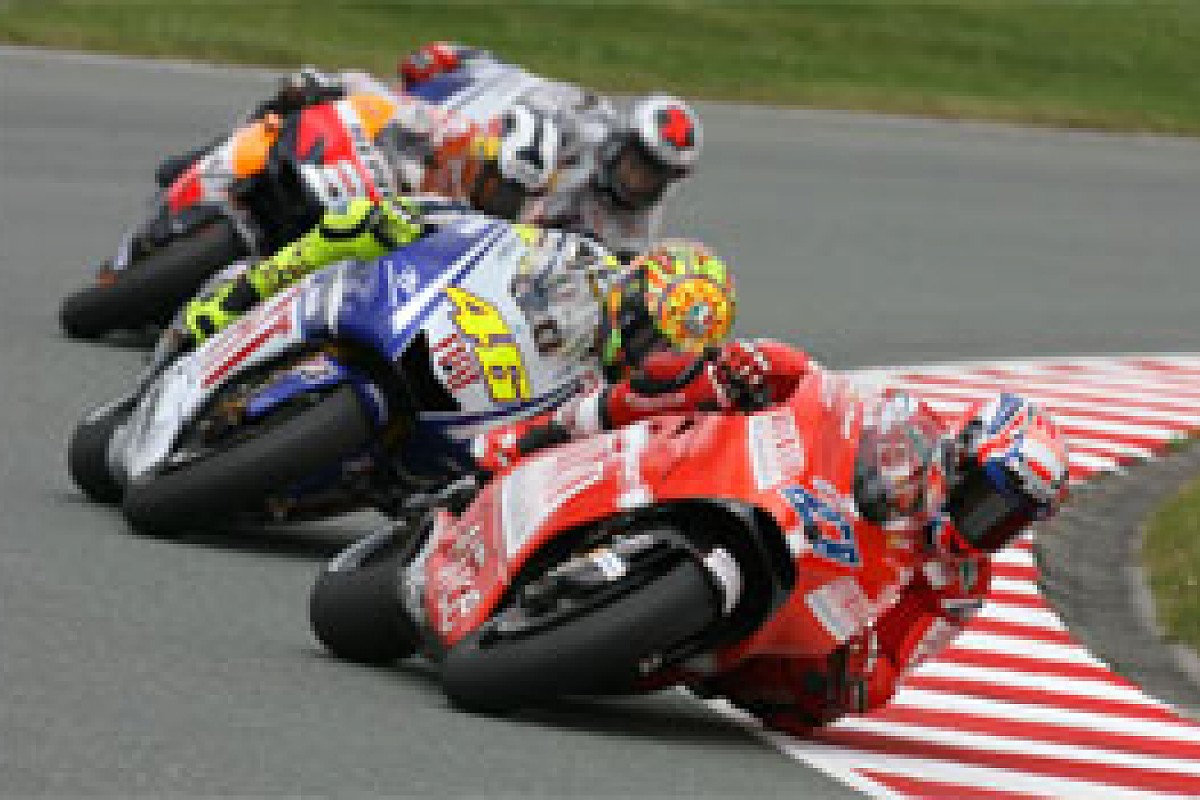 Casey Stoner, Valentino Rossi, Jorge Lorenzo, and Dani Pedrosa battle at the Sachsenring © LAT
This year they are coming for him. A new breed of young talented bundles of self-belief. His Yamaha team-mate Jorge Lorenzo, Honda's Dani Pedrosa, and before illness struck him down mid-season Ducati's Casey Stoner, are all rivals Rossi says he respects. But his response to them is 'bring it on'. After all, it's a fight he's been crying out for.
"I think this year the level is incredible," he says. "It is very high. The first four are potential world champions. Because me, Lorenzo, Stoner and Pedrosa have enough performance in the throttle and the head to win the MotoGP championship.
"Also the bikes are very fast. Yamaha, Honda and Ducati are very strong so this creates a high level of championship."
Stoner, to his credit, did beat Rossi in 2007, though Rossi argues the Michelin-shod Yamaha M1 he had at the time was no match for the Australian's Bridgestone Ducati - so much so that it prompted the Italian to insist on a controversial switch to the Japanese rubber.
"In 2007 Michelin was a lot worse than Bridgestone, especially in some race tracks," he recalls. "I fought a lot for the tyres against some other guys. Also against Jerry [Burgess] a little bit.
"I said 'Jerry, Jerry, trust me. Bridgestone are very strong, stronger than Michelin.' I battled a lot, with my blood, for Bridgestone, and I got them. But at the same time Yamaha made another step because also the bike was not fast in 2007."
That step helped Rossi in regain his crown from Stoner in 2008. But Rossi's opinion on the 2007 campaign also became the prevalent view among many in MotoGP. During the course of his title defence Stoner was increasingly agitated at suggestions that it was his bike, and his tyres, that had done the winning in 2007. Rossi, again, had got under the skin of a rival.
Since this interview took place, Stoner has withdrawn from three races under doctors' orders to convalesce until the effects of post-viral exhaustion have passed, but that inevitably prompted questions over his mental approach. Is he strong enough to go head-to-head with Rossi in another psychological battle for a title? And with Pedrosa's Honda RC212V not quite a match for the M1 this year, the championship has become all about Rossi and his precocious young pretender Lorenzo - a more headstrong individual you are unlikely to find in MotoGP.
Lorenzo is a refreshing new challenge for Rossi. One from within his team, and on the same machinery, from a man who is determined to replace him at the top of the pile.
Valentino, again, relishes the challenge. He uses the opportunity to talk about it to play down the significance of the rivalry, neutralise the threat of the distraction it inevitably brings.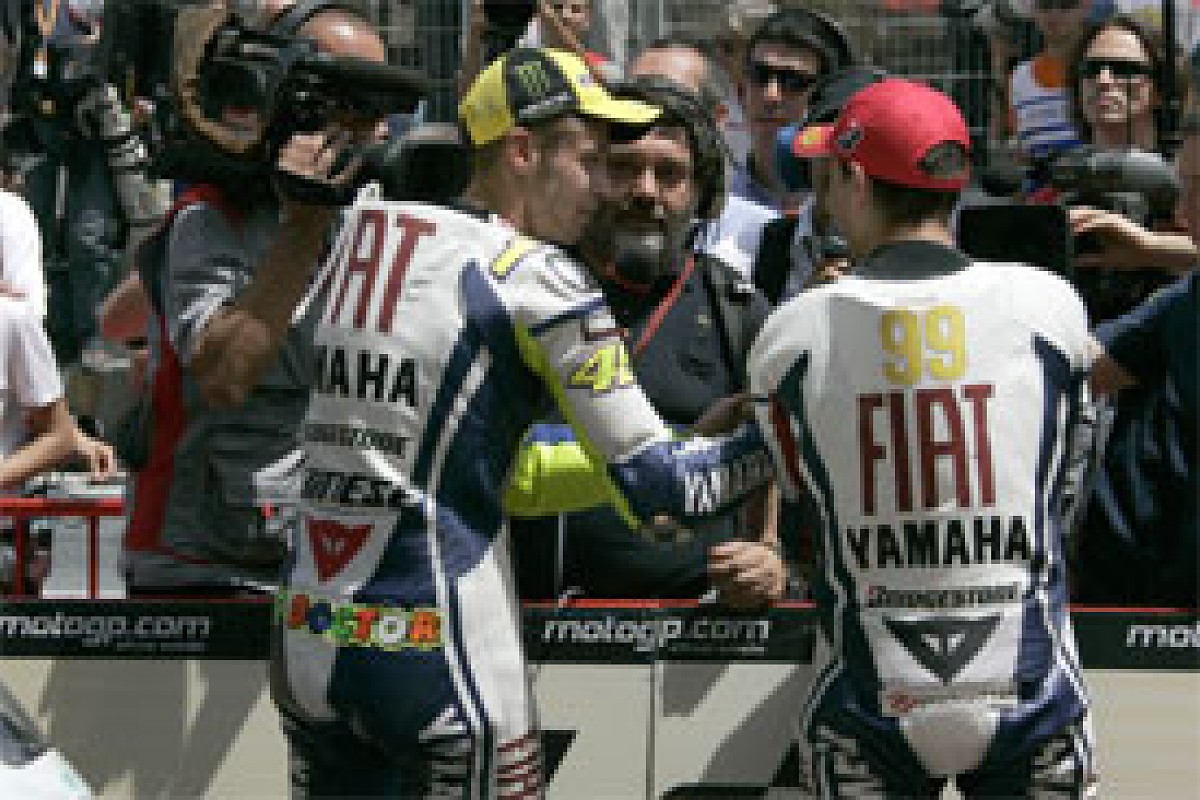 Valentino Rossi and Jorge Lorenzo in parc ferme after their duel at Catalunya © LAT
"First of all we have to pay attention because now the media makes a hard fight between me and Jorge, because it is more interesting to sell more newspapers," he says, earnestly. "I hope we are able to remain in a hard battle on the track, like the last round [at Barcelona], but out of the track have a normal relationship. Because I have a great respect for him.
"Also about his riding because he is very strong and very hard to beat," Rossi adds. "I think he has to become the world champion in the future."
Rossi is not always this kind when speaking about his rivals while in the throes of a championship campaign - just Google Rossi v Biaggi for evidence of that.
As for racing in the same team: "There are some advantages and some disadvantages, because for sure staying in the same team adds a lot of salt to the battle.
"At the same time you are able to measure with the same bike so you know that the potential of the bike is exactly the same," he explains. "I don't know if it is better for me that he stays or goes in the future. It doesn't make a lot of difference, because I think Lorenzo would be dangerous with Yamaha, but also with Honda."
Lorenzo joined Yamaha in 2008, but while he had the pace, several crashes dented his body and his confidence. This year he came back stronger, physically and mentally. So much so that the 22-year-old from Mallorca allegedly demanded equal pay to Rossi during his contract negotiations for 2010.
And while Rossi has forced mistakes from Lorenzo this season, who after consecutive crashes in the British and Czech GP, dropped 50 points behind Valentino, the great man has himself uncharacteristically fallen twice under pressure in the last three races.
At the time of writing, following the San Marino Grand Prix, Rossi's championship lead has reduced to 30. But he admits he is loving the chance to fight hard again for a title, that at one point was his to receive, seemingly, whenever he decided to win it.
"It is a great, great motivation for trying to improve," he says. "Like with Stoner in 2007 and '08 I have to make a step. I have to make a clear improvement and to do that at 29 years of age you have to work and struggle a lot - and make something more than in the past.
"And this year it is the same with Lorenzo. He is also my team-mate, with the same bike, so it means more concentration, more time dedicated to try and win. It is difficult, it is bad when you lose, but it is a lot, lot more exciting when you are able to win."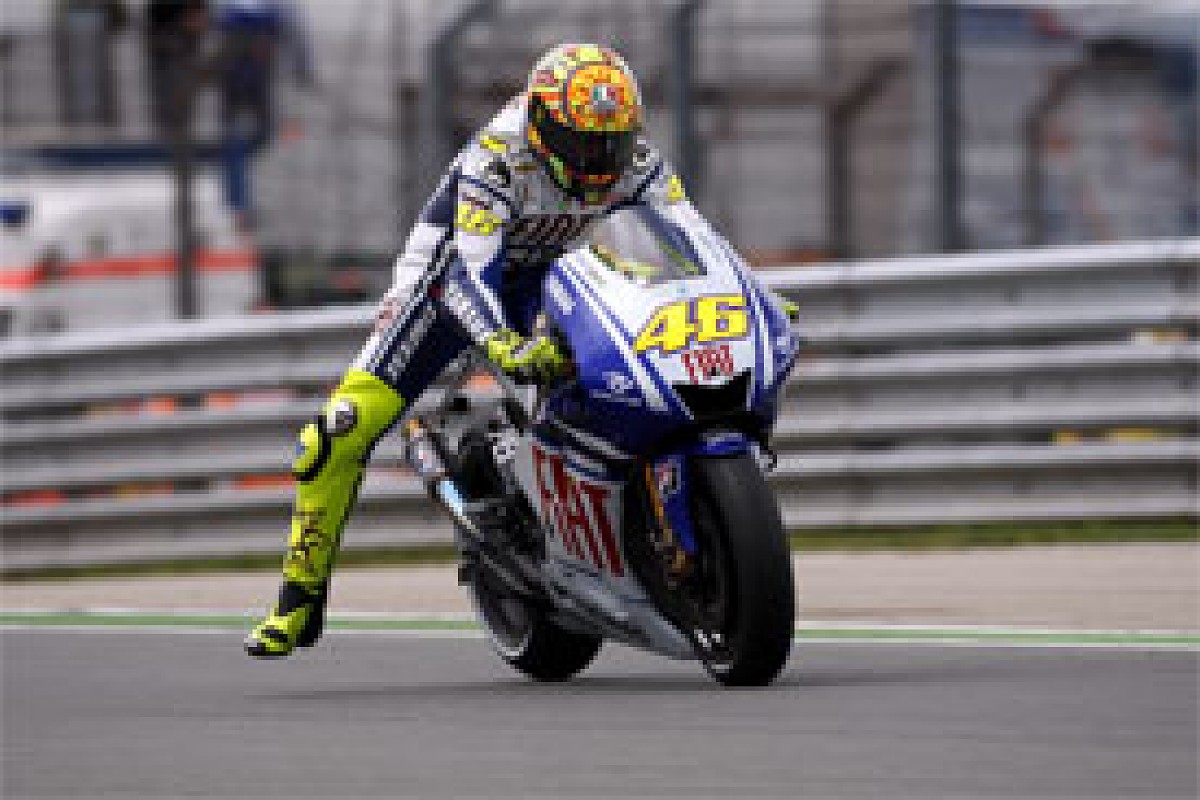 Valentino Rossi on the limit © XPB
Despite this, Rossi points out that Yamaha is his team.
When I ask him if he sees the competitive benefits of having two fast riders in the same squad, his response is telling: "Yes for sure. But I make a lot of work on development of the bike. I have a great experience and good sensibility, and usually how I set-up the bike is also good for the other rider so in that point of view I make most of the job.
"But also Lorenzo is fast, especially it is very good for Yamaha - they are very happy."
Yamaha loves Rossi. His presence has turned the fortunes of an ailing giant. And for its loyalty he remains devoted.
"This is the first time in my career that I feel like this," he smiles. "I mean, yes, with Aprilia it was a good relationship, also with Honda - okay some problems - but anyway a good relationship. But when I came to Yamaha it was different. So now when I go on the road, I don't want to ride another bike. I either ride a Yamaha or I go in the car."
The bond between the two is easy to understand and comes from the incredible achievements they have amassed together as a unit.
When Rossi acrimoniously left Honda at the end of 2003, a Yamaha rider had not won the premier world championship class since Wayne Rainey in 1992. Not only that, but by the time Rossi joined, the factory team was in decline and had gone 18 races without a win. The Italian, already a three-time world champion in the top class, had walked away from the best bike in the business - the RC211V - with no guarantee that Yamaha would be able to deliver an equal.
But much like Michael Schumacher's perceived revival of Ferrari's Formula 1 campaign in the mid-1990's, much of the success behind Rossi's immediate back-to-back titles in 2004 and '05 can be attributed to the crew of people he brought with him.
"Yamaha in 2003 was a disaster, but they had already improved the bike for the last race in Valencia," Rossi recalls of his first run on the bike at the end of that season. "So when I tried the bike, the bigger issue was the engine, the rest was not so bad.
"The problem you know is that [Carlos] Checa and [Alex] Barros had had a difficult season, didn't understand about the setting, had a lot of crashes and no results, so they were tired riders. When I arrived from Honda, with great motivation, it was another way to approach the bike.
"Being able to take Jerry [Burgess] from Honda, and all my team, was a great move. But after, I have to say that it is not just Valentino Rossi who is a wizard, it is Yamaha that decided 'now we take Valentino Rossi, but we also work in another way together with him to try and win'. This made the difference.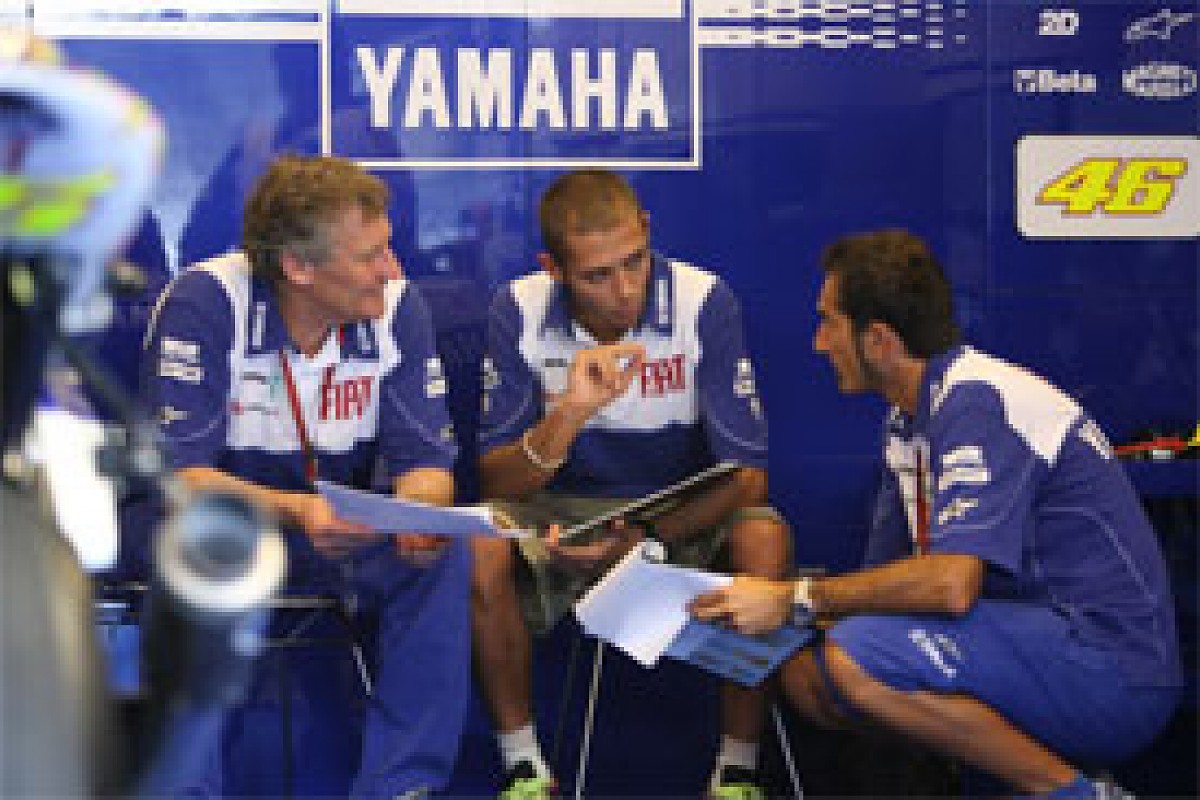 Jeremy Burgess, Valentino Rossi, and Matteo Flamigni © LAT
"In the years before, Yamaha was like: 'You know, we win some races, but we don't care because Honda is stronger'. Then they changed their minds - 'If we take Valentino, we have to try for the victory'. From that moment, three or four good choices were made, like the engine, we decided the setting to follow... pah, pah, pah and we made a massive step."
Rossi knows that he would not be as close to Giacomo Agostini's all-time victory tally of 122 without his technical guru Burgess, the Australian technical engineer that has overseen his entire MotoGP career, and Mick Doohan's before that.
When I mischievously enquire whether Yamaha pays Burgess enough, Rossi flings his head backwards and laughs loudly: "You never pay Jerry enough because he is a genius! And not just for the bike, but also for the atmosphere in the team.
"I am so happy to have him, when I met him I realised it was great luck, so I tried to stay always very close to Jerry and it is a long time that we have stayed together. I think it is impossible to have the same feeling with your wife, because year-by-year you love more, you know."
It's always ironic that in motorsport, where the pinnacle of performance is searched for in every area of technical innovation, so many drivers and riders do not seek coaching to improve their game. Golfing great Tiger Woods, for example, is not beyond calling for assistance in this regard. And yet ego again seems to play interference in this area of racing.
It's intriguing then, that Rossi reveals that it is essential the relationship between he and Burgess must go beyond technical set-up.
"In general about riding the bike, I try to study, I watch the races," he explains. "I try to understand how to go faster and I have some ideas and afterwards I speak with Jerry.
"But approaching the weekend, we make all the strategies together and which way we have to work because you know it is very important to be brave and it is very important to be fit. It is very important to be in good shape and have good concentration, but it is also very, very important to have the right setting.
"If you are fantastic, but you don't have a good setting, you have a limit. If you are fantastic but you have a good setting, it is possible to make a small bike more. So it is so important, the experience, and the way to work, and the relationship between me and Jerry and all the team, to arrive at Sunday in the right setting. This is the elixir that makes it work."
And work it does, in the first two years of their partnership with Yamaha, Rossi and Burgess secured 20 race wins, and two titles, the second of which was ridiculously dominant. In 2006 however, it was as though Rossi was looking for something new, to occupy his thirst for competition.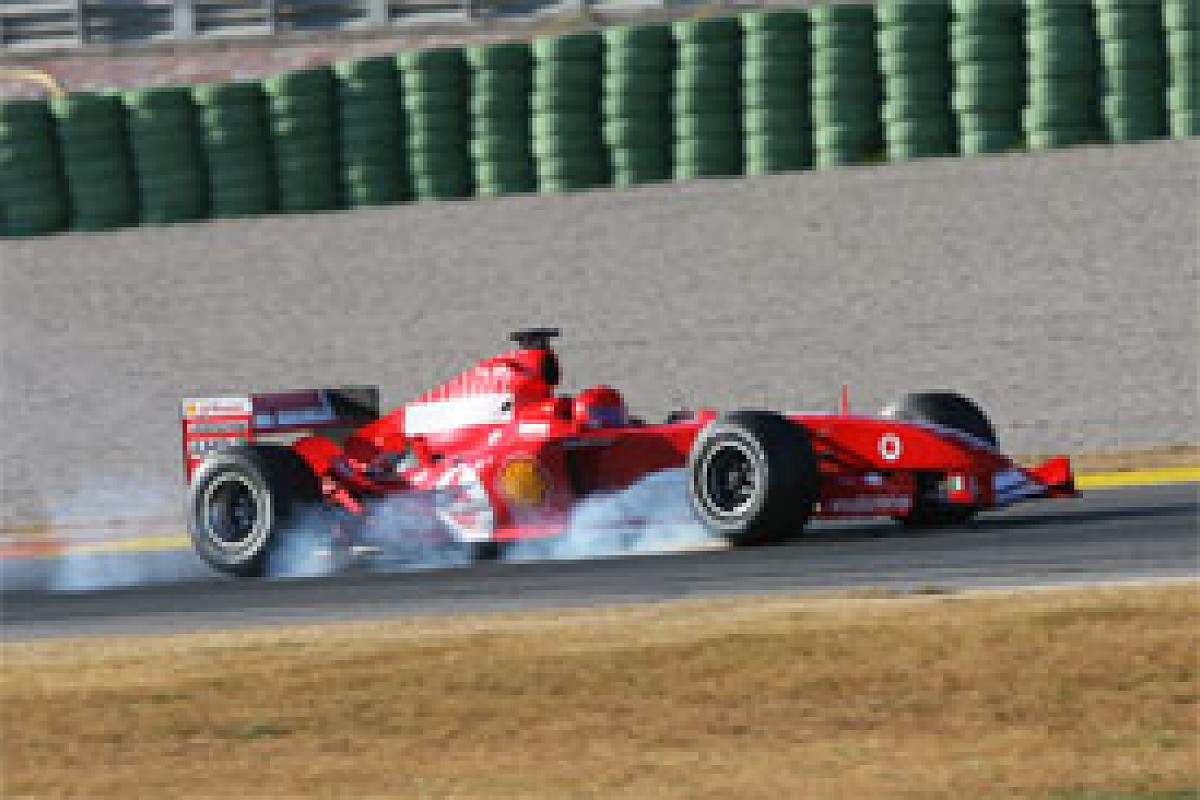 Valentino Rossi testing the F2004 at Valencia © XPB
The Yamaha had lost some of its competitive edge to Honda, and there were also hitherto unheard of technical failures. But it became clear the Italian, now nearly 27, was giving serious consideration to switching to Formula 1 with Ferrari. He tested for the team a couple of times, and did not embarrass himself alongside seasoned regulars at Valencia.
Looking back on it now, Rossi describes the opportunity as a dream, and reveals he came very close to making the decision to live it through.
"It was a difficult decision because I was very, very close to changing," he says. "It was like a dream going to Formula 1 with Ferrari, but what made the difference was that I wasn't ready to stop with bikes."
Moreover he admits now that he couldn't quite bring himself to risk all he'd achieved in MotoGP, and walk away from a potential legacy, to take on F1 with no promise of success. "I didn't have enough 'brave' to stop the bikes," he says "I was not ready to change."
But Rossi has remained a well-documented scholar of four-wheeled motorsport, and as an AUTOSPORT journalist, I feel welcome in his company. He admits to being a huge fan and animatedly chats about it. He wants to know about the rumours linking Sebastien Loeb to F1, having scratched it from his own dance card after no small amount of anguish.
"I am very curious about Sebastien, because I understand his level, and his power for real," he says. Rossi of course competed against Loeb in last year's Rally GB, and though he was soundly beaten by the Frenchman, the Italian did not disgrace himself. He finished 12th in a Ford Focus RS WRC.
"Last year in the Rally GB, when Loeb fought with Latvala for the lead over the last four stages on Sunday morning... f**k... he was unbelievable. With a rally car he is unbelievable. I go fast on the Sunday, I make good stage times and I go in front of good drivers. When I looked at his stage time, I say f**k.
"It is interesting, because I think rally drivers are like wizards. They have a great feeling for driving so I am curious to understand if he is as fast in F1.
"I think unfortunately for Sebastien, he needs his own Jorge Lorenzo and Casey Stoner," Rossi relates. "He is clearly stronger than the other guys. When it is like this, you have a lack of motivation. If you win, you are good, if you lose you are a f*****g bastard. So in this way it is difficult to race because it is difficult to keep the motivation. So I think he is looking to something else for this reason. If he had a Markku Alen or Marcus Gronholm or Colin McRae, at his level, for sure he would stay in the rally car."
Rossi still wants to race cars, and it is in his plans for the future. Indeed the very concept of the future, he admits, is perhaps the only thing that scares him in life. A world where he can't go fast, can't take on a challenge and defeat it, leaves him with a chill of nervous anticipation. There will be more racing after bikes, he promises, when I ask him what he will do when the great adventure comes to an end: "I don't have a good feeling. I'm not relaxed. I am very worried about the future.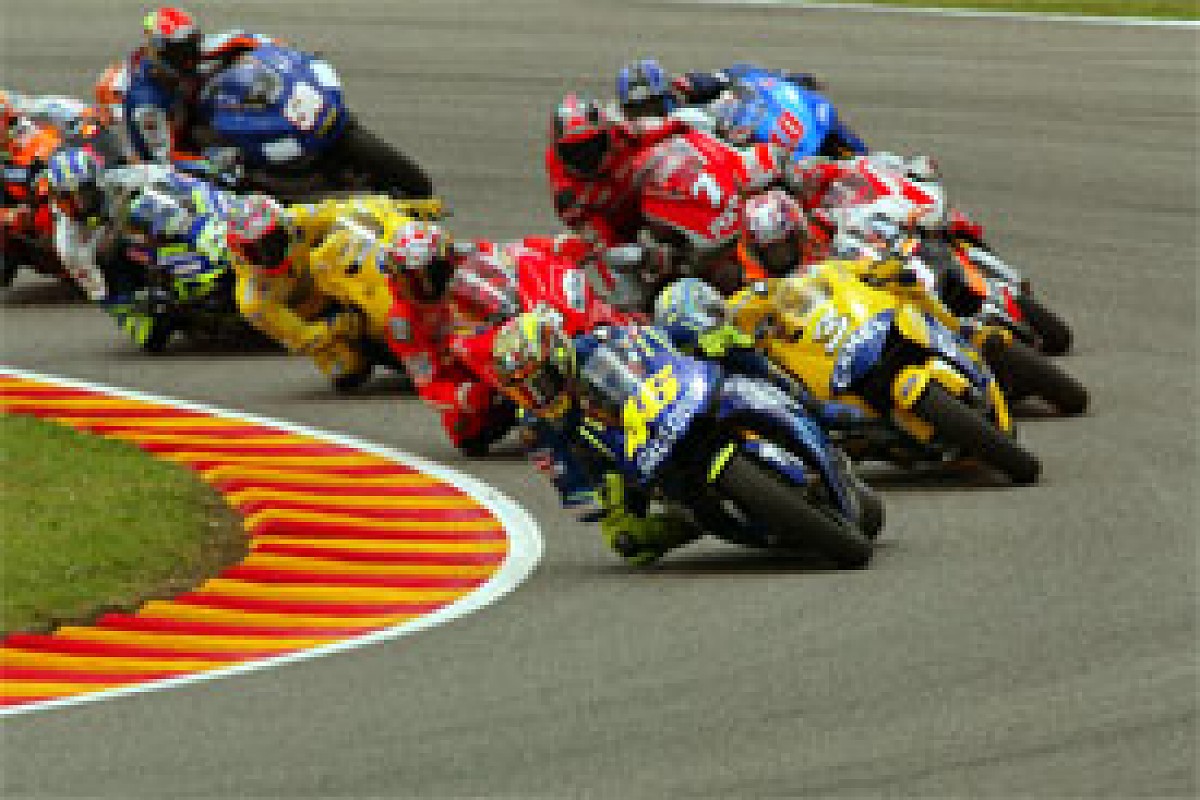 Valentino Rossi leads the MotoGP field at Mugello during the 2004 Italian Grand Prix © XPB
"For sure it is impossible for me to find something that gives me the same feeling, the same motivation and the same excitement [as MotoGP]," he says. "But I hope to continue for other years with bikes, while it is possible to stay at the top. After that a second part of the career with cars, if not at the same level, at a good level. And I think it is possible to go and race for another ten years. It's easy with a seatbelt, eh?"
When finally the incredible motorcycle racing story does come to an end, I ask him if he would consider the Le Mans 24 Hours, something Loeb did to great aplomb, finishing second overall with the Pescarolo team in 2005.
"Yeah," he fires back. "Le Mans is one option. I hope to have the chance in the future to make Le Mans."
For now though there's a legacy to chase, having decided to stay with Yamaha for the rest of his MotoGP career. And he is completely honest and open about his ambition to become the man that has won the most races in world championship motorcycling, having passed the 100-mark with a famous victory at Assen earlier this year.
"It is great," he says. "I think that already my career is fantastic, but to try to arrive close to Agostini it means that... Nothing is impossible. When I was at 65 victories and I looked at Agostini's 122, I said f**k! Unbelievable, it's double - impossible.
"Now I'm at 101, so now I say 'F**k!, It's far but it's not impossible'. Now it is a good motivation to stay at the top."
The interview is coming close to an end. Katie is hovering at the door, quite reasonably, for Rossi is required back on stage at the Day of Champions, to be questioned by AUTOSPORT columnist Toby Moody. We've been talking for more than 25 minutes. Rossi, I sense, wants to carry on, to know more about the latest F1 news from Hungary (Felipe Massa's accident won't happen for another day), and I still have a host questions to ask, but there is at least time for one more...
If Agostini's target number is 122, 20 wins away, does Rossi still have the speed to hold off Lorenzo, Stoner, Pedrosa et al for long enough. He smiles back, than narrows his focus, looks directly back at me and says: "Yes. I am faster now than I was in 2003.
"When you are 30 years old, you are at 100 per cent for riding bikes. It is not the 100-metre sprint. Physically it is important to be fit, but it is not worse than when I was 23. Now I am more experienced though.
"I will try...". He smiles, gets up, and walks out.