In a year when so many racing series are being turned inside out by new rules or mass pull-outs, MotoGP 2009 will look reassuringly familiar to all who enjoyed the past two seasons.
There have been rules tweaks and a few departures and arrivals in the entry, but the season will still be another thrillingly intense Valentino Rossi versus Casey Stoner contest, with all the positions behind the dominant pair wide open.
The biggest change for 2009 was made before the recession even bit, and largely for competition rather than cost-saving reasons.
With Michelin often trailing Bridgestone by a large margin in recent years, series organiser Dorna was unhappy that some of its most bankable stars were struggling to fight for victories due to uncompetitive rubber.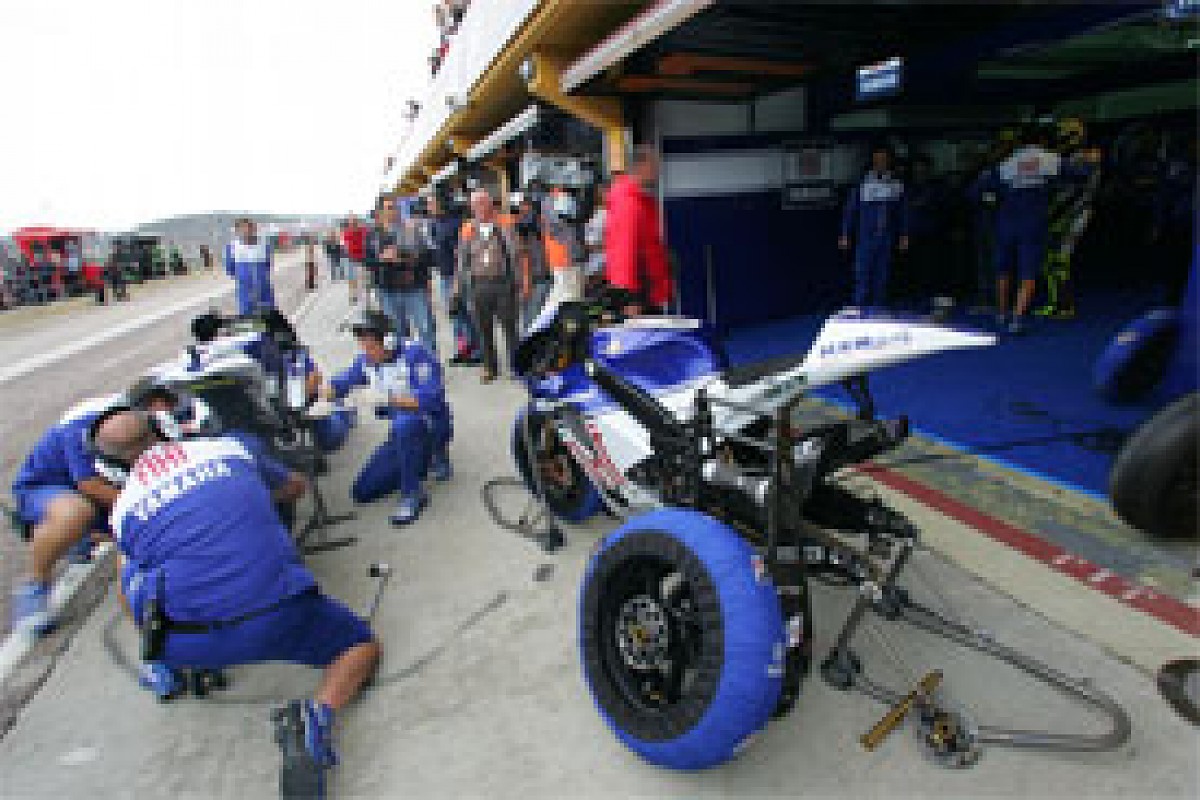 Bridgestones are in, qualifying tyres are out © Back Page Images
Bridgestone therefore supplies the whole grid, in a move not universally welcomed, especially by those who fear increasing standardisation. The change will undoubtedly level the playing field, and also cuts the need for endless tyre testing mileage, which makes this year's other main innovation - the dramatic reduction in practice and testing time - much more bearable for the teams.
Practice and qualifying are down from one hour to 45 minutes, with Friday morning practice removed altogether, and the regular post-race testing days slashed to just two all season, and those limited to test riders only. Some teams have complained that they will struggle to refine their set-ups in time for the races under the new truncated schedule. Others point out that without myriad tyre options to evaluate, they barely had enough work to fill their days in the remaining pre-season tests.
There are also new restrictions on exotic materials, and Formula 1-style engine use limitations, although MotoGP is still catching its four-wheeled counterpart up in this regard.
That comparison to F1 has regularly arisen during the winter, with FOTA and the FIA launching into cost cuts with much more urgency and enthusiasm than MotoGP.
Dorna and the teams promise that the truly radical changes will come in 2010 and beyond, and many in the paddock - particularly those on tighter budgets - cannot wait for this to happen. Conversely, the Yamaha top brass recently expressed their hope that by 2011 the lost practice mileage can be reintroduced, suggesting that the changes were only temporary measures for exceptional financial times and that all could return to 'normal' once the world economy got back on its feet.
Has MotoGP got the balance right while F1 has over-reacted? Or is MotoGP sleepwalking into financial meltdown? Some foresee privateers, satellite teams and even the remaining Japanese manufacturers questioning their long-term involvement in the sport, whereas Dorna's Carmelo Ezpeleta confidently expects the grid to grow in 2010 as the measures taken already start having an effect.
The catalyst for MotoGP to address the financial situation was Kawasaki's withdrawal at the start of this year. It was not so long ago that the company was talking of massive investment to turn its fortunes around and even a bid for Rossi's services, but as profits shrunk, it instead decided to bin its programme after a particularly torrid 2008 season.
But the field remains at 18 bikes, for Dorna 'encouraged' Kawasaki to fulfil its obligations and maintain a presence in the form of the new Hayate team and a single entry for Marco Melandri. A new satellite Ducati from Spanish property developer Francisco Hernando, with returnee Sete Gibernau as the rider, makes up for the loss of the second Kawasaki.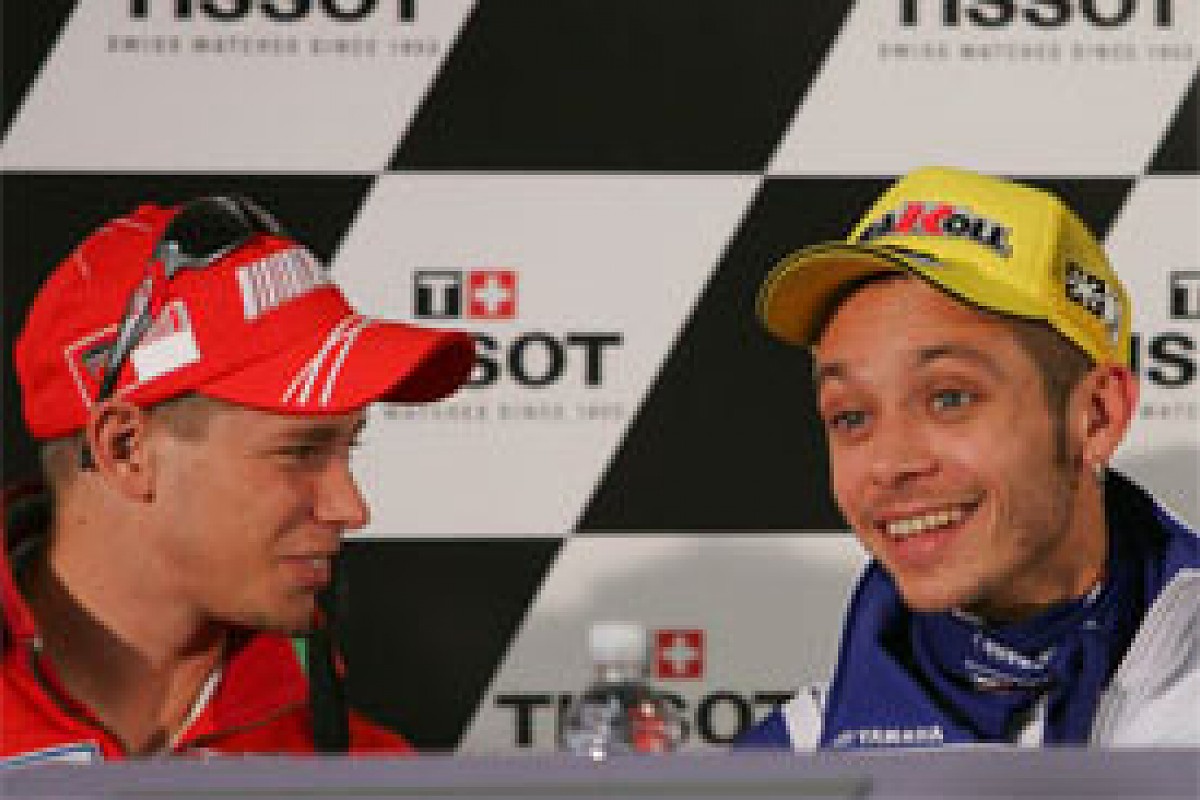 Casey Stoner and Valentino Rossi resume their battle in 2009 © Back Page Images
So no change in the overall grid size, and no change in the balance of power either. The score for the past two seasons is 16 wins for Stoner, 13 for Rossi, and seven for all the rest put together. Pre-season testing suggests these two remain a step ahead, and at this stage their battle is too close to call. Stoner and Ducati often had the edge on raw pace in 2008, but had a far more messy season than Rossi and Yamaha, who rarely wasted an opportunity once up to speed on Bridgestones.
Stoner has shown devastating pace in testing, but has limited himself to short runs while recovering from surgery on the niggling wrist problem that proved so costly last year. Rossi is not perturbed by Stoner's winter times in the slightest, and even thinks he can take the Australian on at Losail - something of a Stoner stronghold in recent seasons and tests - this weekend.
Normally Dani Pedrosa would be making it a three-way title fight, but his injury-riddled winter and Honda's lack of pace so far in testing suggests it will be several races before he is back on form - and by that time Rossi and Stoner will probably be long gone. Pedrosa will arrive in Qatar fresh out of plaster, and with barely any pre-season mileage.
Rossi's team-mate Jorge Lorenzo was faster than anyone at the start of 2008. Then the massive accidents started and the speed never quite recovered. After some initial tribulations, he has now got to grips with the Bridgestones and is the only man who can realistically intrude on the title battle.
Considering he was only on a satellite JiR Scot Honda, Andrea Dovizioso's rookie year was actually much more impressive than Lorenzo's.
The Italian showed similar speed at times, proved to be an outstanding racer, and spent far more time upright than his former 250cc nemesis. A move to Repsol Honda should be a big opportunity for Dovizioso, but not when Honda is struggling for speed and he has had to shoulder the development work (something he was already finding it tough to adjust to after privateer life) alone with Pedrosa sidelined.
With Nicky Hayden so far faring little better on the second Ducati than Stoner's other recent team-mates have, the other main threat comes from the Suzuki riders Loris Capirossi and Chris Vermeulen.
A breakthrough 2007 was followed by a thoroughly middling 2008 for Suzuki, but bar some concerns over straightline speed, the team starts 2009 full of optimism following some excellent testing times from Capirossi in particular.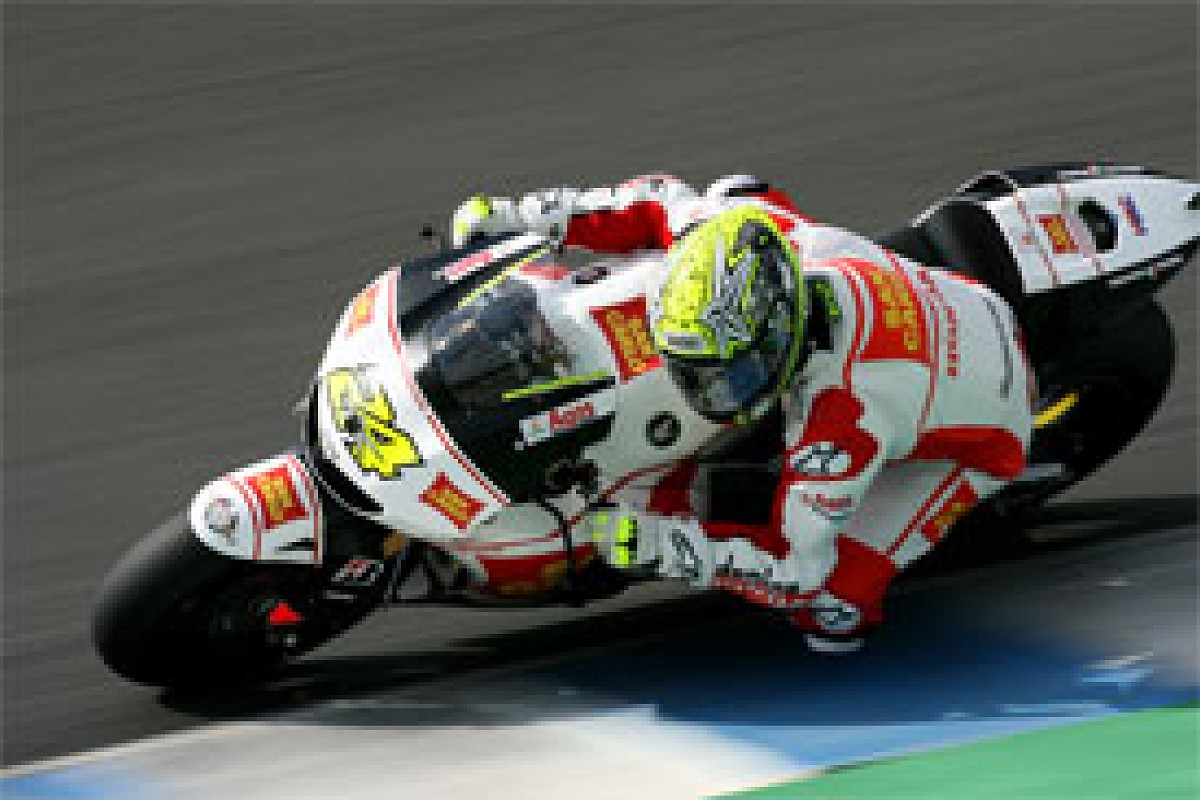 Toni Elias will ride a full-spec HRC RC212V for Gresini © Back Page Images
Rossi was right to recently highlight the gulf that now exists between the factory and satellite teams, and it is hard to see that changing in 2009.
Toni Elias's factory-specification Gresini Honda, Colin Edwards on the Tech 3 Yamaha, perhaps Melandri if Hayate can maintain some form of development without factory assistance, and judging by his stunning Jerez testing form maybe 250cc graduate Mika Kallio at Pramac Ducati, will start the season as the main non-works contenders, but none can realistically expect a victory.
In fact for anyone other than Rossi and Stoner, the bottom step of the podium could be a sensible target at most races. But if Rossi and Stoner can regularly deliver epic jousts such as their unforgettable Laguna Seca dice last year, then no one will mind if they monopolise the wins again.
Rossi's rampant enthusiasm for winning remains undiminished even after all his success. Stoner is still bristling at any suggestion that his title and victories were earned by a Ducati advantage.
Two awesome and very different talents, both still with points to prove. It is a classic rivalry, and one to relish in 2009.
THE OTHER CLASSES
125cc
Simone Corsi and Stefan Bradl are the highest placed 2008 riders staying on in the smallest grand prix category, but it is returnee Julian Simon who has set the testing pace having dropped back to 125cc after two years in 250cc.
The Spaniard is joined at the multiple championship-winning Aspar squad by Bradley Smith, although the young Briton is still yet to win a race - unlike his compatriot Scott Redding, who impressed so much in his debut season last year.
Sandro Cortese should lead the challenge from the Ajo team that took Mike di Meglio to the 2008 championship.
250cc
Champion Marco Simoncelli stays on to defend his title, amid various rumours of 2010 MotoGP deals already in the bag. After their spectacular contest last year, Alvaro Bautista will be determined to turn the tables on the Italian, while Mattia Pasini has to be considered a stronger contender in their second years.
Hector Barbera has been on the cusp of 250cc success for some years now, while former KTM rider Hiroshi Aoyama and veteran Alex Debon will also be contenders.
Simoncelli, Bautista and Barbera have all sustained injuries over the winter, in Simoncelli's case just a week ago after a motocross accident. He might find himself having to charge from behind again as he did following a poor start to what turned out to be his title-winning year.
The previous two 125cc champions both arrive in 250cc this year in the shape of last year's title-winner Mike di Meglio and his predecessor Gabor Talmacsi.