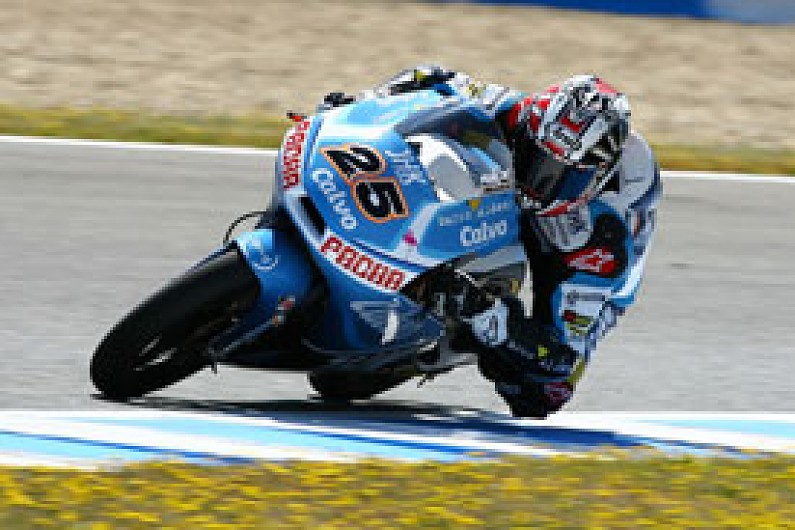 Maverick Vinales took his first Moto3 win of the season at Jerez, taking the championship lead from Alex Rins, who crashed out of second place.
Vinales had taken the lead from Rins at Dry Sack on lap three, but the two were heading a four-bike lead group that included Luis Salom and Jonas Folger in the laps that followed.
Rins then suffered a high-speed crash at the Alex Criville bend at the back of the pits on lap 11, and after that Vinales and Salom made a break from Folger.
Salom was biding his time to make an attack for the lead, but he never got the chance when the race was red-flagged on lap 17 after Alan Tescher crashed and required medical attention.
The race result was then declared from lap 15. Although Tescher was unconscious at first, he was reported to be okay and speaking afterwards. He will be taken to a Jerez hospital for further checks.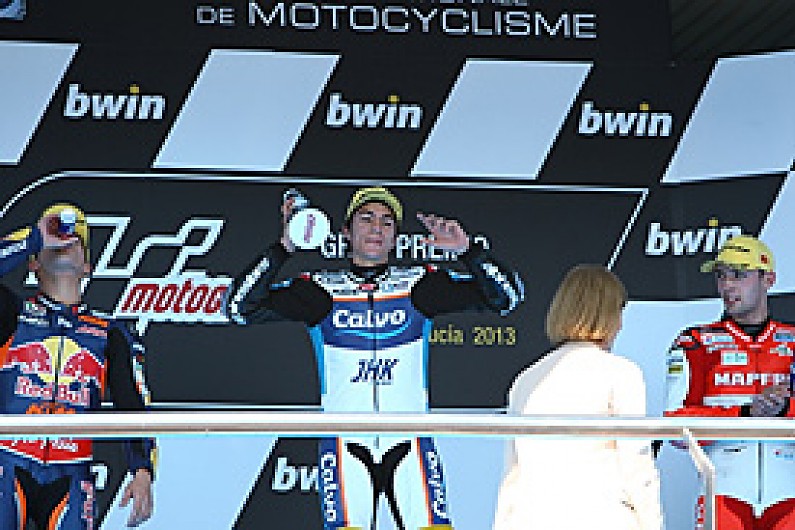 While Folger went on to take a lonely third place, Brad Binder emerged from a frantic battle behind the leaders to take fourth place.
Binder had been able to make his break when Jack Miller and Miguel Oliveira clashed at Turn 1 on lap 12 as the latter tried to pass Miller for fifth.
The battle for fifth then became a four-bike scrap between Jakub Kornfeil, Zulfahmi Khairuddin, Niklas Ajo and Efren Vazquez, with Kornfeil coming out on top.
Results - 15 laps:

Pos Rider               Bike                      Time/Gap
 1. Maverick Vinales     Laglisse KTM             26m57.338s
 2. Luis Salom           Ajo KTM                   + 0.263s
 3. Jonas Folger         Aspar Kalex-KTM           + 4.475s
 4. Brad Binder          Ambrogio Suter-Honda      + 15.104s
 5. Jakub Kornfeil       RW Kalex-KTM              + 18.412s
 6. Niklas Ajo           Tecno KTM                 + 19.064s
 7. Zulfahmi Khairuddin  Ajo KTM                   + 19.204s
 8. Efren Vazquez        Mahindra                  + 19.680s
 9. Romano Fenati        Italia FTR-Honda          + 22.763s
10. Alexis Masbou        Ongetta FTR-Honda         + 23.138s
11. John Mcphee          Caretta-RTG FTR-Honda     + 23.189s
12. Arthur Sissis        Ajo KTM                   + 23.796s
13. Danny Webb           Ambrogio Suter-Honda      + 27.897s
14. Jasper Iwema         RW Kalex-KTM              + 29.586s
15. Livio Loi            Marc VDS Kalex-KTM        + 29.776s
16. Miguel Oliveira      Mahindra                  + 33.158s
17. Isaac Vinales        Ongetta FTR-Honda         + 33.425s
18. Alessandro Tonucci   Tasca Honda               + 33.660s
19. Eric Granado         Aspar Kalex-KTM           + 35.004s
20. Philipp Oettl        Paddock Kalex-KTM         + 40.403s
21. Matteo Ferrari       Ongetta FTR-Honda         + 44.533s
22. Lorenzo Baldassarri  Gresini FTR-Honda         + 44.657s
23. Alex Marquez         Monlau KTM                + 50.055s
24. Hyuga Watanabe       Tasca Honda               + 1m02.153s
25. Kevin Hanus          Sabo Honda                + 1m22.197s
26. Francesco Bagnaia    Italia FTR-Honda          + 1 lap

Retirements:

    Alan Techer          CIP TSR-Honda             15 laps
    Florian Alt          Kiefer Kalex-KTM          13 laps
    Ana Carrasco         Laglisse KTM              13 laps
    Jack Miller          Caretta-RTG FTR-Honda     11 laps
    Niccolo Antonelli    Gresini FTR-Honda         11 laps
    Alex Rins            Monlau KTM                10 laps
    Toni Finsterbusch    Kiefer Kalex-KTM          9  laps
    Juanfran Guevara     CIP TSR-Honda             7  laps
    Jorge Navarro        MIR                       5  laps