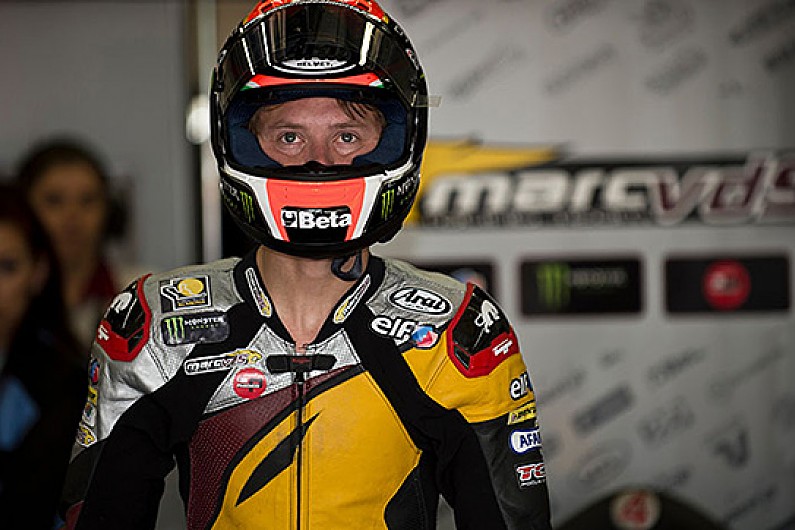 Runaway Moto2 championship leader Tito Rabat has committed to another season in the second-tier category in 2015 rather than a MotoGP move, even if he wins the title.
The 25-year-old Spaniard, who has raced in Moto2 since 2011, currently holds a 19-point lead over Marc VDS team-mate Mika Kallio, having won four of this season's nine races so far.
Although his contract contained a release clause that would have allowed him to leave Marc VDS for a MotoGP seat if he won the 2014 Moto2 crown, he has already decided to stay on with the team in the intermediate grand prix class.
"I have a good team of people around me and they ensure I have everything I need to win, so why would I go anywhere else?" said Rabat.
"Nobody has ever won the Moto2 world championship and then returned the following year to defend the title, so I hope I will be the first."
The last intermediate level world champion to attempt a title defence was Marco Simoncelli, who stayed in the 250cc series after winning the 2008 championship, but lost the '09 title to his future Gresini MotoGP team-mate Hiroshi Aoyama.
Marc VDS team president Marc van der Straten, whose squad has investigated a MotoGP move of its own, said Rabat had rejected offers from top-class teams to stay on board.
"When you have a rider in your team that isn't just leading the championship but pretty much dominating it, then you know that MotoGP teams are going to be knocking on his door, and that's exactly what's happened with Tito this season," he said.
"But, despite the offers, he's made the decision to remain with the Marc VDS Racing team for another season and I'm proud that he feels his future lies with us."