Robert Kubica made a victorious return to competitive motorsport last weekend, winning the Italian Rally Gomitolo di Lana - the first event he had entered since his horrific rally accident in February 2011.
So where next for the pole? In this week's AUTOSPORT we hear his plans for the future, in particular his desire to be back on a race circuit in the near future in a bid to speed up his recovery, and analyse where he could go next.
In a frank interview with Roberto Chinchero, Kubica also reveals his satisfaction - and frustrations - at the pace of his comeback and his reaction to finally getting a chance to assess his body, reactions and mentality after 19 months away from competition.
Alonso v Vettel heats up... The simmering rivalry between two of Formula 1's biggest stars exploded at Monza, with Fernando Alonso furious at Sebastian Vettel's defence at Curva Grande. Theirs is a rivalry with the potential to define an era, echoing the great enmity between Alain Prost and Ayrton Senna.
...as does the fight for the French GP: We hear how the future of the French GP could be decided within the next few weeks, with Paul Ricard and Magny-Cours vying for hosting honours.
McLaren ups Hamilton bid: McLaren is set to improve its contract offer to Monza winner Lewis Hamilton to ensure he stays with the team. Further talks are expected on the eve of the Singapore GP, although it is not clear whether McLaren will be able to match the retainer potentially on offer from Mercedes. Should the Briton leave, we also look at the best options available to McLaren.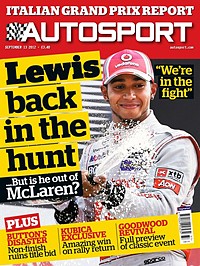 Mark Hughes column: AUTOSPORT's grand prix editor offers a tongue-in-cheek assessment of how Hamilton's first test in a Mercedes could play out.
Italian Grand Prix: Of course, we have comprehensive analysis of the Italian GP, from Alonso's qualifying woes to Hamilton's sublime performance and Sergio Perez's starring role - plus all the latest design tweaks underlining each team's performance with the expert views of Gary Anderson.
GP2 Monza: Luca Filippi was the homecoming hero during GP2's penultimate round, winning at Monza - the scene of his last victory one year ago. In the championship meanwhile Davide Valsecchi stretched away from Luiz Razia after winning Sunday's sprint race.
GP3 Monza: On the same support bill, Mitch Evans did just enough to become the third GP3 champion at Monza - although his win also owed to Tio Ellinas denying Daniel Abt in the season's final race.
British F3 Silverstone: Jack Harvey's title aspirations took a blow in a breathless visit to Silverstone in which Jazeman Jaafar, Felix Serralles and Alex Lynn shared the spoils. Harvey remains one of five in mathematical contention for the championship heading into the Donington Park finale.
World of Sport:Action from the NASCAR Sprint Cup, Grand-Am, GT Open, Super GT and Scandinavian Touring Cars.
Sports Extra: All you need to know about BRDC Formula 4, the new MSV-run series launched this week in a bid to revive junior single-seater racing in the UK.
From the Archive: In celebration of Bruno Giacomelli turning 60 this week, he revisits his victory at the 1978 Pau Grand Prix.
Race of my Life: Two-time BTCC champion John Cleland picks the best event of his career, which involved beating a notable F1 champion...
Read this week's AUTOSPORT digital magazine