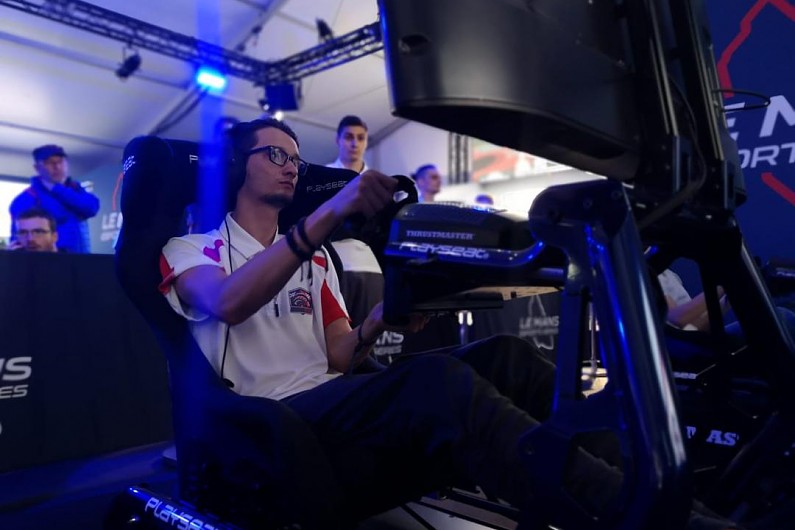 Baguette Racing leads the Le Mans Esports Super Final after five of the nine races, with the team holding a slender lead over Kitty Krew.
There are 12 three-driver teams battling over nine-races in a 24-hour period for a $100,000 prize pool and a place on the real-life Le Mans podium.
The first eight races set the grid and time intervals for the 90-minute finale, which will decide the series champion.
The Baguette squad, which is made up of Red Bull Esports driver Aurelien Mallet, Christopher Cabrera and Alexandre Arnou, did not win any of the first five races but finished no lower than fourth in each race.
It therefore leads the standings, four points ahead of Kitty Krew, which was victorious in a tense third race based on Silverstone that used modern prototypes.
The team with the most prize money accumulated so far is the Mad Motorsport entry. It sits third in the points standings, but won the opening two races and brought its total prize money up to $9,000 by dominating the fifth race.
Mad opted to prioritise its budget on cars that would be advantageous in the early races, sacrificing its chances of major success in the finale.
"Our team has gone for the strategy, where we're aiming for the wins in the smaller races," Mad Motorsport driver Cian Butler told Autosport. "
We're going for top six in the final race. Anything more is a bonus."
Williams Esports sits level on points with Mad in fourth place, after it picked up second place and $2,000 in the second race, while wildcard entry Veloce rounds out the top five. Both Williams and Veloce have suffered mixed fortunes so far.
In the fifth race, Veloce was punted off down the order. It recovered but was then handed a stop-go penalty for causing a collision.
Veloce then nicked fifth place from Kitty Krew on the final lap of the race, while further up the road, Williams lost the final place on the podium to Keep it Simple Racing.
Keep it Simple's Tobin Leigh had taken a dominant victory in the previous race, lapping the entire field.
The remaining four races of the Super Final are being streamed right now across Motorsport.tv, YouTube and Twitch. The final race will also be on Facebook, with the broadcast beginning at 9.15am CET on Saturday morning.