The power behind Honda's American dreams
For 30 years, Honda has flexed its muscle in US motorsport and enjoyed a fair share of success in IndyCar and sportscars. We went behind the scenes to find out more
In the rolling hills north of Los Angeles, next door to a movie lot, Honda's American motorsport division HPD has produced some of the most potent engines in US motorsport; powerplants that have claimed 18 IndyCar championships and 15 Indianapolis 500 wins, along with a surfeit of sportscar titles and a trio of overall Daytona 24 Hours victories for its luxury Acura marque.
But Honda is a Japanese company, right? Parent company Honda Motor Co is the multinational conglomerate based out of Tokyo, but the American Honda Motor Company, founded in 1959, has grown into a massive concern in its own right – not bad from an initial staff of three with a start-up budget of just $250,000 to sell motorbikes!
Based out of Torrance, a few miles south of Honda Performance Development's 123,000-square-foot facility in Santa Clarita, it began building road cars in the US in the 1980s. It is now one of the top-selling automotive OEMs in a humongous market.
Honda began its US motorsport operations in 1993, joining the CART Indycar series as an engine builder (with support from Ilmor) in 1994, and then became a bedrock supplier for the Indy Racing League and IndyCar series, where it currently supplies 15 cars in competition with Chevrolet (which, ironically, now uses Ilmors).
In sportscars, after a Spice-chassised programme in the early 1990s using engines straight from Japan, Acura's entry into the American Le Mans Series raised its game in 2007 – it featured a first bespoke racing engine built completely in-house – beginning with an LMP2 class win at the 12 Hours of Sebring.
That very car, the Andretti Green Racing-run ARX-01a piloted by Dario Franchitti, Bryan Herta and Tony Kanaan, resides in a back room at HPD. It's pointed to by company president David Salters as the starting point to its heritage as a true factory sportscar entrant, and that reworked Courage chassis has led to a firm partnership with its spiritual successor, ORECA.
In 2023, Acura's ARX-06 LMDh cars have made a fast start to the IMSA SportsCar Championship, and you could argue that it's got the second or third-fastest sportscar prototype on the planet, after the World Endurance Championship's Toyota and Ferrari. Its winning start at the Daytona 24 Hours followed the three-time championship success of its DPi predecessor and, coupled to its successful NSX GT3 project, Acura has scored over 100 race wins in sportscars.
HPD brand Acura took the first win of IMSA's LMDh era with Meyer Shank Racing at the Daytona 24 Hours
Photo by: Richard Dole / Motorsport Images
Salters, who hails from the north-west of England, moved to the US in 2015, after working for Ferrari in Formula 1 and, before that, at Mercedes-Benz High Performance Engines and Cosworth. He says his time in F1 taught him to "see how it can work… and cannot work! Some people were awfully good – Ross Brawn, what a genius – and I've been lucky enough to see a lot of different things."
Of his role today, Salters explains that HPD works independently of its equivalent HRC in Japan, but that they communicate on a regular basis.
"We respond to the marketing side of the brand, and our goal is to promote Honda and Acura, and to develop people and technology," he says. "We're all crazy motorsport people, we communicate well together, and Honda is a very respectful company. Racing can be quite an aggressive environment, but there's a real respect for the individual inside Honda.
HPD can trial the business end of its car on a virtual race track, even simulating the air pressure into the engine and its physical responses to being driven around… while completely stationary
"We do our own thing, because you need to do that to be fast, but we come together every so often. It'd be pretty stupid if we spent all this money and didn't share the knowledge. The mission here is different to Japan, really. They go and win F1 world championships, so they're the best in the world. And [Toyoharu] Tanabe-San, the technical director there, used to work here."
Honda motorsport manager Chuck Schifsky adds: "I think there are two big misnomers about us – the first is that this programme is overseen by Japan and that David does everything they tell him to. He actually reports straight to our North American CEO Mr [Noriya] Kaihara.
"The second is that our operation is exactly the same as Chevy's, especially in IndyCar, where Ilmor is their partner. There is not another building, with another name on it, that is making all of our engine components for us."
HPD's staff level is running at a record high of 250 after, Salters says, "we decided it was a great idea to do new IndyCar and current IndyCar, plus DPi and new GTP all at the same point", so an extra 100 staff were effectively brought onboard in six months.
"Four projects meant more firepower, but that number will come and go," he adds.
Schifsky (left) and Salters work independently of Honda in Japan
Photo by: Michael L. Levitt / Motorsport Images
Our tour of the factory starts at the assembly shop, where 20 or more engines are in various stages of build in the bays. One thing jumps out immediately: there are many more powerplants covered with red dust jackets (IndyCar units) than blue ones (IMSA units) – a simple, yet effective, way of avoiding confusion when not being worked on! – and we've arrived in mid-April just as the Indianapolis 500 qualifying motors are being crafted.
Next door is another huge production room that's crammed with humming CNC machinery, where the engine parts are created. These machines can be programmed to work 'lights out' – to ensure 24/7 production if need be, much as you'll find in the aerospace industry.
We encounter some neat stuff at every turn as we meander around HPD's rooms, including a metallurgy office boasting some electro-microscope and analysis equipment that Autosport has only encountered previously in the back of the Ferrari F1 pits. Its sample testing identified a problem with IMSA's new 80% blend of renewable fuel for 2023, which led to an oil contamination issue inside its GTP powerplants. After finding levels of up to 20% of fuel (a far from ideal lubricant) in its oil, HPD found a novel solution to an age-old problem.
"We actually discovered a [scientific] paper that was 100 years old," says Salters. "All those years ago, a group at a university had modelled the equilibrium status of how fuel and oil interact. So, we did loads of classical sums and we were able to use that old paper with 21st century measuring equipment, and we were able to figure out how the oil and fuel would reach an equilibrium state."
A short-term fix led to a 1-2 finish in the Daytona 24 Hours, and it has since "done the engineering, so now it's more-or-less under control".
The real mindblower of this facility is seeing the dynamometer cells, where all the engines are tested to ensure their performance levels. One of the Indy 500 units is revving flat-out on a qualifying simulation, and it's an awesome sight to see the exhausts glowing brightly on the other side of the window. "How hot are they running?" we ask. "950C," is the matter-of-fact answer.
But it's not just proving out the existing kit; there are specific dynos for research and development, including a neat single-cylinder set-up featuring all kinds of measuring equipment. We can even see inside the cylinder, as it fires, via a tiny camera linked to the plethora of screens outside.
The best is yet to come: a transient dyno that not only tests the engine but the gearbox and the energy store. This is where HPD can trial the business end of its car on a virtual race track, even simulating the air pressure into the engine and its physical responses to being driven around… while completely stationary! Today it's an IndyCar V6 that's being developed for the series' 2024 hybrid era, when supercapacitors will give a 100bhp boost.
Assembly of twin-turbo 2.2-litre V6 IndyCar engines are given priority in Indy run-up
Photo by: Honda Performance Development
There's also a high-voltage battery lab, and a refrigerator-sized dSPACE simulator that is attached to the F1-spec GTP ECU. This is constantly being put through its paces, with three full-time coders working on updates for the open-software IMSA hybrid control system.
Upstairs, in an airy corner of the offices, is its mission control for the GTP programme. Banks of huge screens are situated in front of multiple workstations, where remote engineers support those at the track. Today, there's a test session running at HPD's simulator in Indianapolis, where we can see Filipe Albuquerque behind the wheel of the full-motion rig that's running the virtual ARX-06 at Long Beach. In a side room at HPD, IMSA racer Matt McMurry is part of this process, and has his own static simulator that runs the same rFactor2 software.
"It's predictive simulation," says Salters. "This car has never run at Long Beach, but we know how it performed at Daytona and Sebring, so it's about correlating the model of the car and tyres with data from the track."
"It's not rocket science, it's about getting the right people in the right places with good energy, to push in the right direction" David Salters
It's just another example of the amazing level of technology to power success at the elite level of American motorsport, but Salters is keen to point out that the kit is nothing without the people who use it.
"It's all about those boys and girls who work here, so it's nice you got to see them at their work to show you what it's all about," he says. "It's not rocket science, it's about getting the right people in the right places with good energy, to push in the right direction. That's when you achieve a lot. All the rest is just fluff!"
Looking to the future, HPD's programmes are set in IndyCar, with the hybrid era kicking off next year, and IMSA GTP. After the Long Beach GP, the top brass of American Honda and Acura met for a future strategy discussion. They looked at two years out, but time was set aside for five or 10 years hence, and Salters and Schifsky also got a steer from an advisory board that guides them on the direction of Honda and Acura as automotive brands.
"It's a great discussion of HPD asking, 'What do you want us to do?', and marketing saying, 'Well, what can you do?', and that leads to an outcome of what's best for selling cars," says Schifsky. "Otherwise, you're racing, which is lovely and kudos to everyone, but at the end of the day we do it to sell cars."
But if Acura doesn't sell cars outside of the US, does that mean we'll never see the ARX-06 race at Le Mans?
"I disagree," says Schifsky. "There's some difference of opinion. If and when we go, do we run it as a Honda or an Acura? The Acura team in the US will say it's a global race, and the effect of that race is not just felt in Europe. It's a wide-reaching event."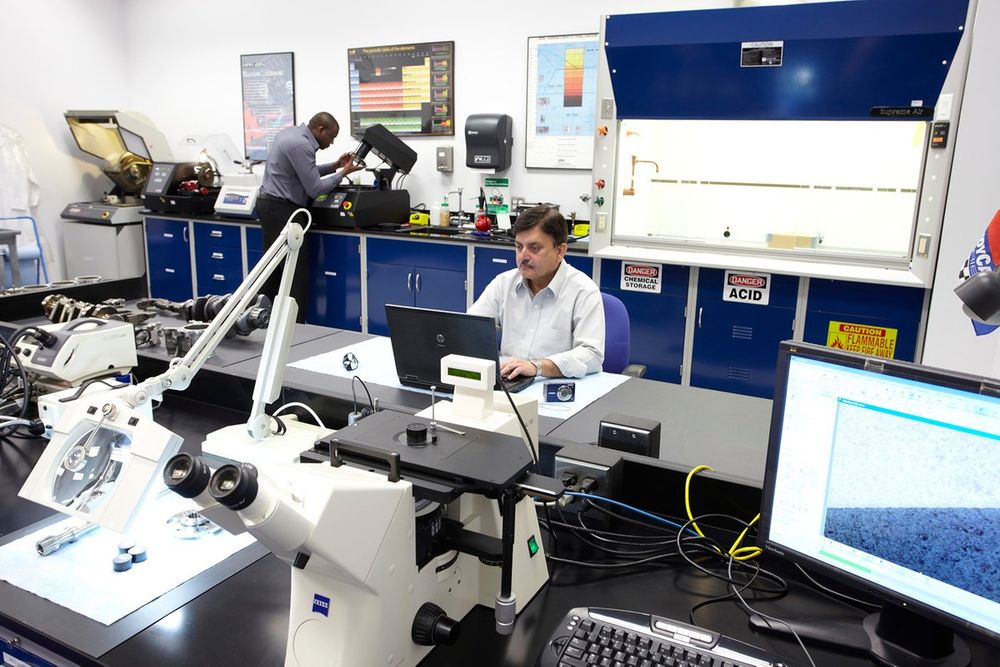 Metallurgy office's analytical capability a problem-solving boon
Photo by: Honda Performance Development
Salters adds: "Of course we'd all love to go, who wouldn't? We're here to look after the US so let's do a reasonable job of that first. It's what pays the bills! We've got to get to grips with these cars.
"We speak with our Honda Motor colleagues in Japan, they're quite interested – they love what we are doing – but because it's global, it's out of our remit. So, it's what works for Honda Motor, it's got to be coherent, but it's in discussion. It's a big picture thing, it's up to them to sort out."
Schifsky clarifies: "Formula 1, MotoGP and Le Mans are the three main areas they have direct control over."
And that leaves HPD to its own devices, with an Indy 500 crown and an IMSA title to defend, so it's plenty to be getting on with. For now, at least…
Ericsson scored HPD's 15th Indy 500 victory last year and all eyes are securing number 16 this month
Photo by: Jake Galstad / Motorsport Images
Subscribe and access Autosport.com with your ad-blocker.
From Formula 1 to MotoGP we report straight from the paddock because we love our sport, just like you. In order to keep delivering our expert journalism, our website uses advertising. Still, we want to give you the opportunity to enjoy an ad-free and tracker-free website and to continue using your adblocker.
Become a subscriber.
Disable your adblocker.