Rinus VeeKay said he would apologise to his Ed Carpenter Racing crew after his "biggest nightmare" of hitting crew members was realised in his second pitstop at the Indianapolis 500.
The Dutch rookie was the best of the Chevrolet-powered cars in qualifying and moved up from his fourth place starting position to run third after the first pitstops.
But entering the pits for his second stop on lap 62, the 19-year-old locked up his inside front and slid into his pit crew, and then exacerbated his woes by stalling the engine.
A subsequent stop-go penalty for the incident left him two laps down, and although he managed to gain one back, he finished a lap adrift in 20th position.
Describing his ill-fated second stop, VeeKay said: "I came into the box and just hit the brakes a little too hard.
"I locked up my inside front and my biggest nightmare happened; I hit the crew guys.
"They work day and night for me so I feel terrible. I will make sure to apologise to everyone.
"I made one mistake, but it was a big one. Pitstops are something I'm not as familiar with yet, but that's not an excuse."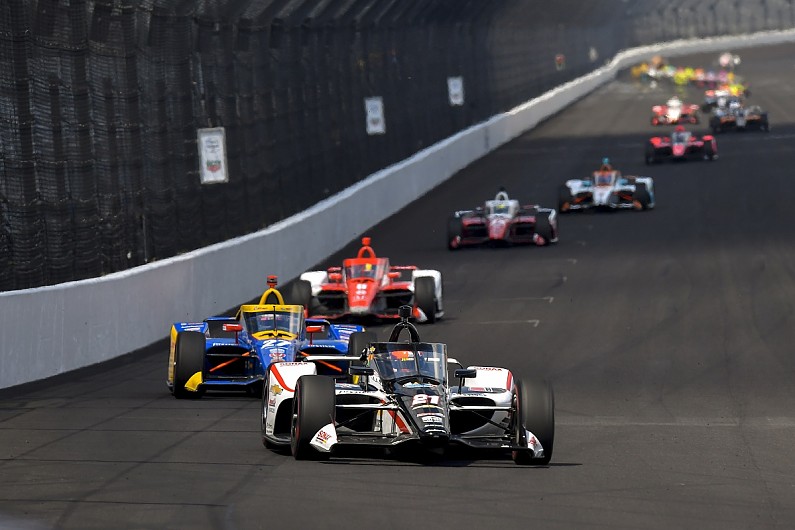 VeeKay added that his car continued to improve over the rest of the race and allowed him to pass cars on the inside and outside, although it mattered little to the outcome.
"We had a great car, it got better and better and I was able to pass cars on the inside and the outside," he said. "I learned a lot, but not fully in a good way.
"I just want to thank the team for giving me such an amazing car, but I threw the race away."
Fellow rookie Alex Palou also starred in qualifying, putting his Dale Coyne Racing with Team Goh entry seventh on the grid, but like VeeKay also saw a good result slip away with a crash exiting Turn 1 on lap 122.
The Spaniard was running behind Josef Newgarden, who finished fifth, when the incident occurred, and said he felt the car was "capable of winning".
"I don't really know what happened, if I was too low or too high," he said.
"It's difficult to say when you are going so quick. I had been working on getting a run on Newgarden for two or three laps because I think our car was quicker than his. It's just a big shame for all the Dale Coyne Racing with Team Goh crew.
"I think we had a car capable of winning.
"When I look at my experience as a whole, it's been awesome being here. I turned so many laps and I was learning every lap, it was a lot of fun. I just wish it didn't end the way it did."