When reigning Indy Lights champion Oliver Askew secured his step up to IndyCar with Arrow McLaren SP, he never expected to wait until the middle of 2020 to make his debut. But as he and the rest of the grid get ready for action in Texas this weekend, it will test how good his extra preparation has been
For race fans, the moment one season ends the countdown starts for the next one to begin. But, as the chequered flag fell on the 2019 IndyCar finale at Laguna Seca, nobody could have imagined they would be counting for quite so long.
Eight months on, as IndyCar tentatively emerges from its coronavirus-enforced hiatus, series rookie Oliver Askew explains how lockdown has helped him prepare for the challenges of making his debut at Texas Motor Speedway this weekend.
Reigning Indy Lights champion Askew raises a smile as he considers he must hold the record for the longest time being an IndyCar driver without actually starting a race.
The 23-year-old, who joins the Arrow McLaren SP squad alongside fellow youngster Pato O'Ward, admits that although the extended break has been testing at times, it has brought some advantages too.
"It's been like six or seven months, so we're definitely ready to go," Askew says. "I think it's been hard for everyone to stay motivated. But I'm sure once the season starts, I'll be able to get into that zone again.
"Lockdown hasn't affected me too much, as I've just used the time to get myself more prepared physically than I was before [planned season opener] St Pete. I think I needed that extra time. I know what my weaknesses are and that's my motivation, to make sure they don't hinder my performance this year.
"It's also been good for the guys at the shop, as we've had more time to learn and grow together. Our practice pitstops are faster now than prior to St Pete too, so hopefully we'll be able to capitalise on that this weekend."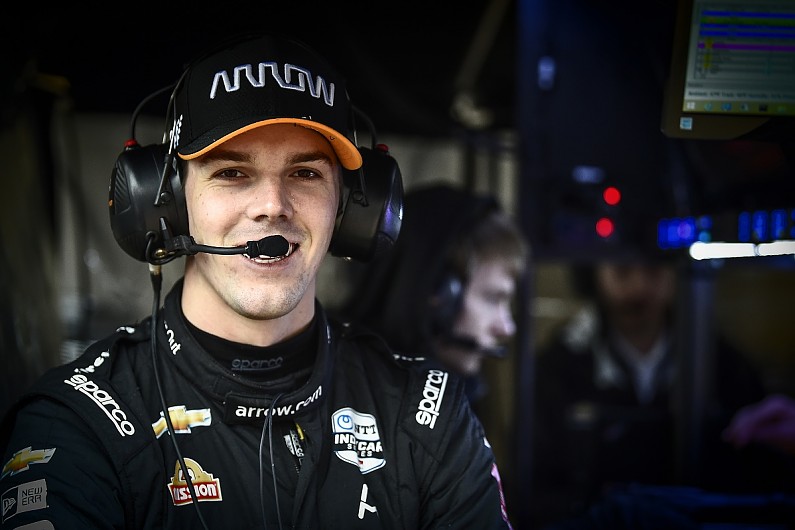 Although it's created varying levels of controversy for some drivers, Askew has found the sim racing events hosted by IndyCar during the postponed start to the season helpful with his real-life preparations.
"We really didn't have anything better to do through those weeks, but it's actually been good for me to get used to racing around the IndyCar drivers I haven't competed against before," he explains.
"Obviously, it's not the same as reality by any means, but just to be around those names has helped my confidence. Again, being able to work with the guys on the AMSP pit stand has been a big positive too. We were able to kind of emulate what the strategy would be like in real life, and how the spotters would be talking to me, relaying information. So, for that kind of thing it was very beneficial."
PLUS: The shared past of IndyCar's champion and its next big star champion
Nothing beats real racing though, and the young American is more than ready to join his fellow drivers on the grid for the belated opener this Saturday.
"I'm going in thinking of it as more of a glorified practice day. But if we have a good qualifying, which I really think we can make happen, then stay on the lead lap and out of trouble, I think we could have a top 10 easily" Oliver Askew
But making his debut on the super-fast, high banked Texas Motor Speedway, with a condensed practice and qualifying schedule, under lights and with the brand new aeroscreen, it is a far cry from the introduction to IndyCar he was expecting.
"It's going to be my first IndyCar race, first IndyCar speedway and with the condensed schedule as well, it's probably going to hurt the rookie drivers and help the veterans," Askew accepts. "I don't feel any added pressure, as the expectations are already pretty measured for both Pato and myself.
"You know he's never even been to the track, and I've only spent a day there for my rookie evaluation. I'm going in thinking of it as more of a glorified practice day. But if we have a good qualifying, which I really think we can make happen, then stay on the lead lap and out of trouble, I think we could have a top 10 easily. Ovals are kind of strange that way, where you just circulate where you have to and stay out of trouble, and that usually turns into a good result."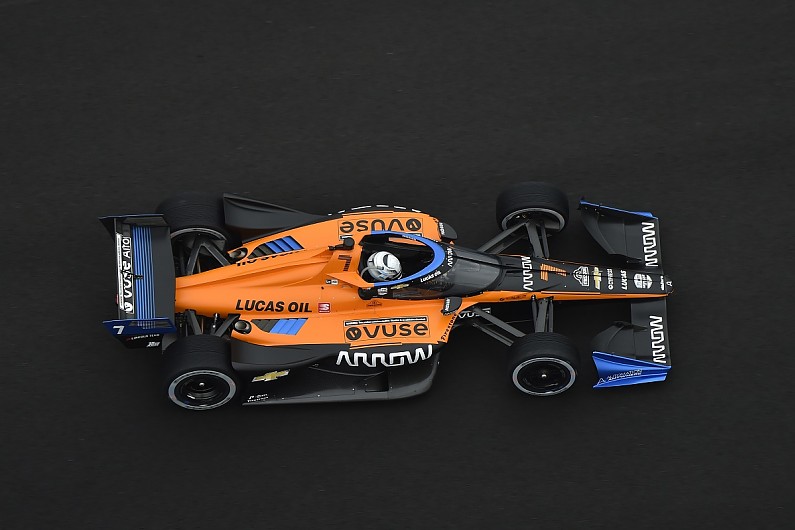 The Florida-born driver has a strong record on ovals, having won both races on last year's Indy Lights schedule, including the Freedom 100 at the iconic Indianapolis Motor Speedway, as he stormed to the title after seeing off a late-season surge from Rinus VeeKay.
"I'm also undefeated on the Texas iRacing oval as well, winning there during quarantine!" Askew says. "I know it's not the same but having that alongside my two Indy Lights oval wins last year most definitely gives me confidence. I enjoy the challenge of racing on ovals and think they kind of suit my style, in the way it requires smooth input and a methodical approach."
Though he's competed in night races while karting, the sunset finish under lights at Texas will be yet another new experience for Askew on Saturday.
But, as he points out, the fact that the new aeroscreen safety device has yet to be tried in racing conditions at night suggests it will be a learning process for all the drivers.
"None of us have the answers to how it's going to be, so it'll be interesting finding out. I guess we're all just going to be in 'show up and race' mode," he says.
"To be honest, I don't really know what the challenges are going to be this weekend, but I will be focused on not making any mistakes and executing when I need to. I hope I can perform at my best through the whole race. Beyond that I just have to figure it out as the challenges present themselves."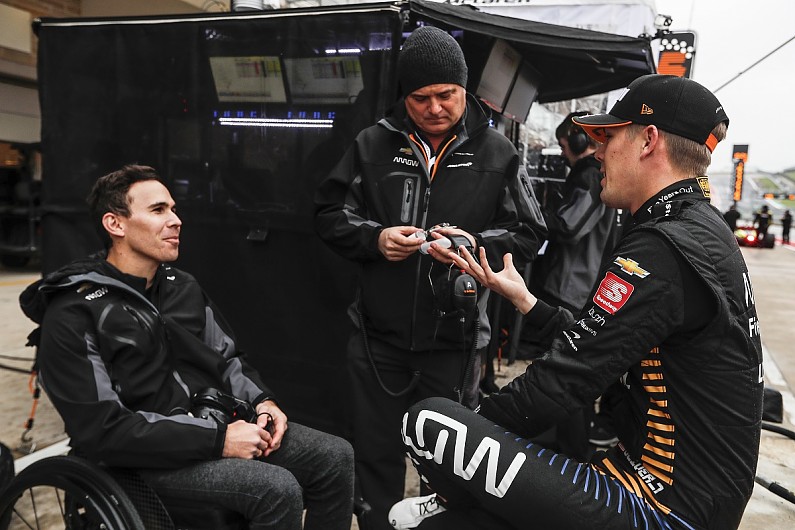 Askew takes pride from joining the Arrow McLaren SP line-up and has found one particularly key support provider as he adapted to the team and the step up to IndyCar.
"Robert Wickens [above left] has been a lot of help to me. I like to call him a good friend and I can go to him with anything really. He understands the challenge that's in front of me now, as he went through the same thing and has such relevant experience in IndyCar," Askew says. "He's a great person to have on our side. I think he's probably the best mentor in the paddock right now."
"I think this is going to be the steepest learning curve that I've come across in my racing career" Oliver Askew
Wickens' advice and support will certainly be a vital asset heading into the unknowns at Texas this weekend and for the season ahead.
"I think this is going to be the steepest learning curve that I've come across in my racing career, and the people around me understand that," Askew adds. "So, we'll just focus on the weaknesses and trying not to make the same mistake twice."
Given his impressive record through the Road to Indy ladder system and extended preparations for the challenges ahead, Askew now faces his true test starting this weekend.