Josef Newgarden and Ryan Hunter-Reay say IndyCar must look into its decision to allow drivers to run off-track at Austin's Turn 19 by deciding not to enforce track limits.
In IndyCar's pre-season open test at Austin drivers repeatedly ran wide at the penultimate corner, raising the possibility of the series having to review continual violations at the corner come the race weekend.
It was also believed that the wider approach to Turn 19 would help tyre wear at a track with high degradation, despite the bumpiness of the off-track line.
James Hinchcliffe collided with Felix Rosenqvist off the track at Turn 19 to cause the caution that cost the leading three of Will Power, Scott Dixon and Alexander Rossi the chance of victory.
Third-place finisher Hunter-Reay said a rethink was required.
"We have to look at it next year. Race control had its hands tied on this," he said.
"In the open test here, there were hundreds of violations. You don't want to be watching a race and cars start peeling off the track from penalties from race control.
"Why? 'He was an inch-and-a-half wide from this corner'.
"Nothing we can do about it. Just have to come back next year with a better solution.
"I'll be glad not to see Turn 19 again for a few weeks."
Asked for his view on IndyCar's approach, second-placed finisher Newgarden said: "It's a fine line.
"The positive is there's no interference, which is good. We like it when race control has less interference.
"The Turn 19 thing, I think we need to look at for next year.
"For me, I didn't have a big problem with it. Seemed like it was fair enough. You got a lot of side-by-side, you had a place to go if you got knocked off. You had to know in your mind that's racing ground.
"Again, it just takes out that equation where race control can get involved. At the end of the day, sometimes that's a good thing.
"Fine line, good and bad. Overall I was OK with it."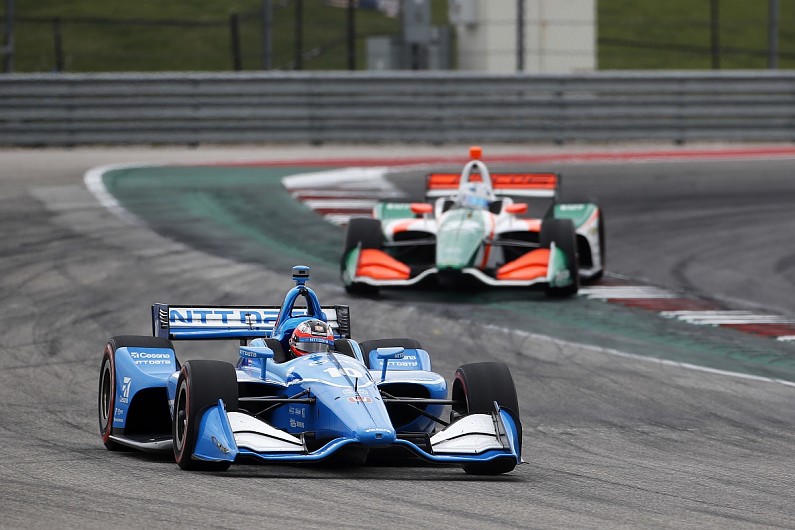 Leading rookie Felix Rosenqvist, who has extensive experience of racing at circuits with track limits regulations from his European career backed IndyCar's handling of Turn 19.
"I'm a fan of opening it up," he said. "You know it's going to be the same for everyone. They're not going to look at this guy who was one millimetre over the line or not, which is a bit ridiculous."
IndyCar did not respond when asked for comment by Autosport.
But ahead of the race Max Papis, who advises series race director Kyle Novak in race control, explained to Autosport that "the intent of IndyCar has been to not have to enforce track limits when it's not needed".
Papis added: "During the test, there was not a factor that suggested running beyond the kerb would give a clear advantage.
"So it was decided that if you see someone run behind the kerb exiting Turn 19, their lap will still count.
"We're all about consistency and predictability and we've been putting a lot of thought behind it.
"But that is the only part of the track where you will see people deliberately running beyond the kerb.
"The asphalt beyond the kerb is not supposed to be used for improving speed, it's for improving safety."