Penske driver Will Power claimed his second victory of the 2017 IndyCar season in a heavily disrupted Texas Motor Speedway race that finished under caution.
The high-attrition event featured nine cautions, many for crashes and incidents.
Power emerged unscathed to claim the win and lead home Chip Ganassi's Tony Kanaan.
Having started in ninth place, Power hit the front for the first time after the opening caution for Alexander Rossi's early crash.
He continued to feature at the front of the pack through the pitstop phases and found himself in a close battle between five cars towards the end of the race.
The final caution came with just five laps remaining, when Indianapolis 500 winner Takuma Sato clipped the grass and collected Scott Dixon while battling for second place.
With limited time and four damaged cars to clear - after Conor Daly and ex-Formula 1 driver Max Chilton got caught up in the aftermath - the race finished under caution.
Behind Power, it was Kanaan who rallied back from falling two laps down to claim the runner-up spot.
He survived several incidents but lost ground with a stop and hold penalty.
This was for blocking and causing an avoidable collision in a multi-car crash that took out several leading contenders and changed the course of the race.
James Hinchcliffe was drawing alongside Kanaan when he was squeezed and lost control, crashing into early leader Tristan Vautier - who then speared into Mikhail Aleshin.
Eight cars were involved in total, with Carlos Munoz, Ryan Hunter-Reay, Ed Jones and JR Hildebrand getting caught up too. Ed Carpenter also suffered damage but did later reappear.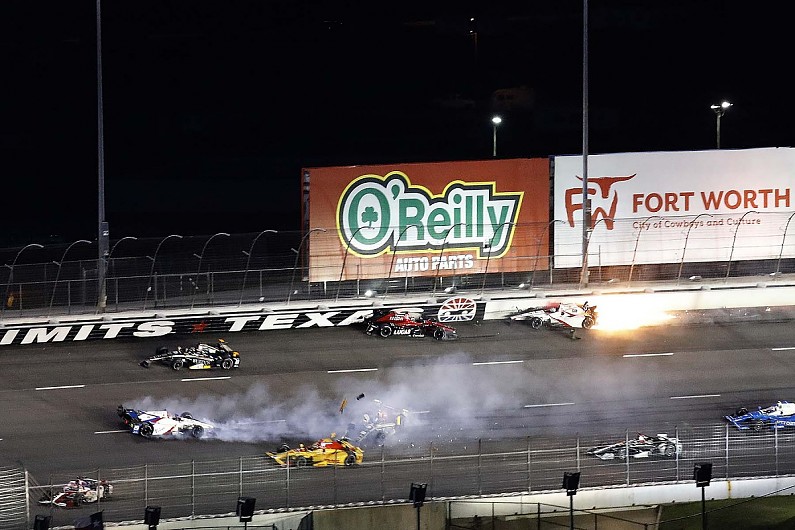 The race was red flagged for just over 30 minutes while the cars were cleared, with Kanaan two laps down at the time, but the following cautions - two of which were competition yellows - allowed him back onto the lead lap.
Quick progress on the late restart and the Sato/Dixon collision elevated him to second, with Simon Pagenaud emerging from the incident-filled race in third place.
Last year's Texas winner Graham Rahal was fourth, with Gabby Chaves and Marco Andretti - who recovered from being lapped - the only other drivers on the lead lap.
Penske's Josef Newgarden could have been in contention for victory after bouncing back from an earlier drive-through penalty, but he tried to go three-wide late on and crashed out.
Alongside Rossi, Helio Castroneves was another driver to find the wall early on the race, suffering a flat right-front tyre at Turn 2 just after he had moved into third place.
Early leader and polesitter Charlie Kimball retired in the opening pitstop phase, during the caution after Rossi's crash, due to an oil leak.
RESULTS - 248 LAPS:

| Pos | Driver | Team | Car | Gap |
| --- | --- | --- | --- | --- |
| 1 | Will Power | Team Penske | Dallara/Chevrolet | 2h32m31.0118s |
| 2 | Tony Kanaan | Chip Ganassi Racing | Dallara/Honda | 0.1978s |
| 3 | Simon Pagenaud | Team Penske | Dallara/Chevrolet | 0.3740s |
| 4 | Graham Rahal | Rahal Letterman Lanigan | Dallara/Honda | 0.8112s |
| 5 | Gabby Chaves | Harding Racing | Dallara/Chevrolet | 1.8984s |
| 6 | Marco Andretti | Andretti Autosport | Dallara/Honda | 4.1632s |
| 7 | Conor Daly | AJ Foyt Enterprises | Dallara/Chevrolet | 1 Lap |
| 8 | Max Chilton | Chip Ganassi Racing | Dallara/Honda | 3 Laps |
| 9 | Scott Dixon | Chip Ganassi Racing | Dallara/Honda | Contact |
| 10 | Takuma Sato | Andretti Autosport | Dallara/Honda | Contact |
| 11 | Ed Carpenter | Ed Carpenter Racing | Dallara/Chevrolet | Contact |
| 12 | J.R. Hildebrand | Ed Carpenter Racing | Dallara/Chevrolet | 33 Laps |
| 13 | Josef Newgarden | Team Penske | Dallara/Chevrolet | Contact |
| 14 | James Hinchcliffe | Schmidt Peterson Motorsports | Dallara/Honda | Contact |
| 15 | Mikhail Aleshin | Schmidt Peterson Motorsports | Dallara/Honda | Contact |
| 16 | Tristan Vautier | Dale Coyne Racing | Dallara/Honda | Contact |
| 17 | Ed Jones | Dale Coyne Racing | Dallara/Honda | Contact |
| 18 | Carlos Munoz | AJ Foyt Enterprises | Dallara/Chevrolet | Contact |
| 19 | Ryan Hunter-Reay | Andretti Autosport | Dallara/Honda | Contact |
| 20 | Helio Castroneves | Team Penske | Dallara/Chevrolet | Contact |
| 21 | Charlie Kimball | Chip Ganassi Racing | Dallara/Honda | Mechanical |
| 22 | Alexander Rossi | Andretti Herta | Dallara/Honda | Contact |
CHAMPIONSHIP STANDINGS:

| Pos | Driver | Points |
| --- | --- | --- |
| 1 | Scott Dixon | 326 |
| 2 | Simon Pagenaud | 313 |
| 3 | Takuma Sato | 312 |
| 4 | Helio Castroneves | 305 |
| 5 | Will Power | 286 |
| 6 | Graham Rahal | 283 |
| 7 | Josef Newgarden | 277 |
| 8 | Tony Kanaan | 264 |
| 9 | Alexander Rossi | 254 |
| 10 | James Hinchcliffe | 232 |
| 11 | Max Chilton | 229 |
| 12 | Ed Jones | 228 |
| 13 | Marco Andretti | 210 |
| 14 | Ryan Hunter-Reay | 194 |
| 15 | Mikhail Aleshin | 192 |
| 16 | J.R. Hildebrand | 191 |
| 17 | Carlos Munoz | 180 |
| 18 | Charlie Kimball | 143 |
| 19 | Conor Daly | 140 |
| 20 | Sebastien Bourdais | 136 |
| 21 | Ed Carpenter | 124 |
| 22 | Spencer Pigot | 124 |
| 23 | Juan Pablo Montoya | 93 |
| 24 | Gabby Chaves | 83 |
| 25 | Oriol Servia | 61 |
| 26 | Fernando Alonso | 47 |
| 27 | Sebastian Saavedra | 33 |
| 28 | Pippa Mann | 32 |
| 29 | Esteban Gutierrez | 27 |
| 30 | Jay Howard | 24 |
| 31 | Zach Veach | 23 |
| 32 | Sage Karam | 23 |
| 33 | James Davison | 21 |
| 34 | Jack Harvey | 17 |
| 35 | Tristan Vautier | 15 |
| 36 | Buddy Lazier | 14 |