McLaren executive director Zak Brown has revealed that the original idea of Fernando Alonso competing at the Indianapolis 500 this year was initially suggested a joke.
Alonso shocked the world on Wednesday when he announced he would be skipping Formula 1's Monaco Grand Prix this year so he could line-up in a McLaren entry at the Indy 500.
With the deal having only been finalised in the last few days - following talks over the Chinese Grand Prix weekend - it has emerged that the original proposal for an Indy 500 assault was proposed in jest before the start of the season.
Brown said: "It is one of those where one of your jokes has some truth in it.
"I said to Fernando pre-Australia: 'Hey one of these days we should do Indy together.'
"I threw it out there to see what type of reaction I would get. He joked back and I thought I had thrown the bait in the water and would leave it at that.
"But when Fernando and I were with Eric [Boullier, racing director] and Honda in Australia, it came up in conversation one of the mornings.
"Fernando brought it up and said: 'Honda had an unbelievably great history at the Speedway and I have a dream to win the Triple Crown. I wanted to do Le Mans in the past and would love to do Indy with you.'"
Alonso said the idea crystallised further in the days following the Australian GP when he held a chat with Brown while he was on a photo shoot in Los Angeles.
The Spaniard said: "I received a call from Zak about different things, not this one, and in one moment of the conversation, it came out again the Indy 500 possibility.
"At that point I was happy that McLaren was considering this Indy 500 entry, as they had won in the past a couple of times.
"I was happy when Zak joined the team last year but I was even happier when Zak was telling me these plans for the future.
"But in a way I was thinking for 2018, as obviously it was only 55 days until Indy 2017."
Matters accelerated quickly, however, over the Chinese Grand Prix weekend when on Friday night, Alonso, along with his manager Luis Garcia Abad, met with Brown and Boullier for dinner on Friday night to discuss the plan further.
Alonso added: "We talked a bit more serious about this, and we decided if this is going to happen it had to be made by tomorrow [Saturday] the decision.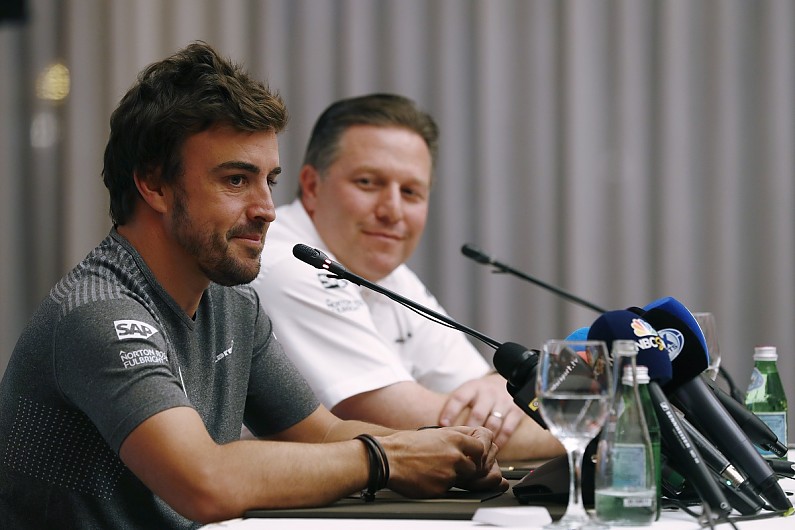 "I said 'I will sleep tonight' on Friday and on Saturday I would make a decision.
"On Saturday I arrived at the circuit and said, 'Yes this is a good decision for everyone: a win, win for myself, for F1, the fans, everyone'.
"I was not completely sure on Saturday in China if it was still possible to make it so quick, but we had a huge help from Indy, from the Speedway, from the promoter and together with Zak's contacts and Andretti Autosport.
"They helped everything become real in two days."
Brown said that it was only after Alonso gave the green light in China that he properly went about pursuing sorting the Indy entry.
"When Fernando said. 'let's go do Indy 500 with Honda', I thought 'now I have to pull this off'. And we did.
"There was a lot of hard work from IndyCar helping us being the scenes, Michael Andretti too, and it wouldn't happen without Honda's support.
"That is how we got started and how we ended up where we are today. And we are all very excited about it."
Alonso has not yet finalised his plans to test the IndyCar, but he hopes to drive the Dallara simulator soon.
He will also attend the IndyCar race at Barber on April 23 to get closer to the Andretti Autosport team and better understand the cars and series.