Andretti Autosport continued to set the pace at the end of the sixth day of practice for the Indianapolis 500, with Carlos Munoz leading team-mates Ryan Hunter-Reay and Marco Andretti for a 1-2-3 Andretti sweep of the timesheets.
Munoz set the fastest time so far this week with his 225.163mph lap, which came during a late flurry of activity following a restart with 20 minutes of running left.
"The fastest lap was an unbelievable tow," Munoz said. "Each time [I got out], I felt more comfortable. We are improving the car, and I think right now we are really strong.
"But tomorrow and Saturday is another thing entirely. We will have to prepare for qualifying."
Andretti managed to get four of its five drivers into the top six in the times, with EJ Viso finishing up just behind Scott Dixon and Helio Castroneves with the sixth fastest lap.
The only Andretti driver not among the frontrunners was James Hinchcliffe, who was down in 20th and admitted that he was struggling.
"Earlier in the day, we accomplished a few useful things," he said. "We had another long run that, in all honesty, proved that we have a slow car even if the handling wasn't terrible.
"But late in the day, getting ready for our second long run, we scared ourselves with something.
"I'm not sure what it was, but there was definitely something amiss on the car because I couldn't even run a corner flat by myself in clean air, never mind a full lap or with traffic in the mix.
"Sometimes that happens. I'm sure whatever the culprit is, we'll diagnose it and fix it."
Eight drivers managed to post times above the 224mph mark, with speeds expected to climb higher again on Friday when the boost is turned up in preparation for qualifying.
The day was marked by the first accident of the week when Connor Daly crashed heavily at the exit of Turn 1; his car briefly lifting from the ground before finally coming to rest at Turn 2.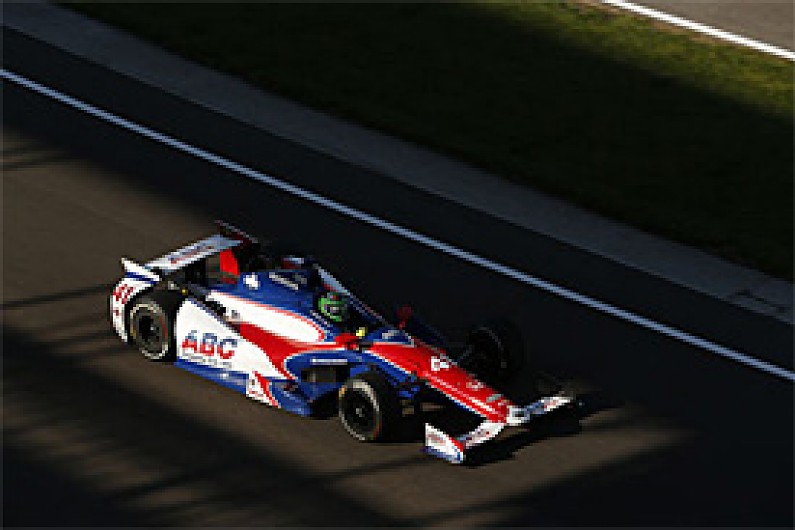 The rookie was taken to the speedway's medical centre, but was quickly released and cleared to drive.
"I'm just glad that the car wasn't as damaged as it might have looked flying through the air," he said.
"I tried to save it, and I would have saved it if we had about another 100 yards wider.
"But I know they're going to work hard and get it all prepared, and as long as we can get out tomorrow and shake it down and make sure she's pulling in the right direction, I think we'll be fine."
Also notable was the first appearance by 1996 race winner Buddy Lazier, who began his campaign in his family-run car with a handful of installation laps towards the end of the day.
Pos Driver               Team        Engine  Mph      Time       Gap
 1. Carlos Munoz         Andretti    Chevy   225.163  39.9711s
 2. Ryan Hunter-Reay     Andretti    Chevy   225.006  39.9990s   + 0.0279s
 3. Marco Andretti       Andretti    Chevy   224.882  40.0210s   + 0.0499s
 4. Scott Dixon          Ganassi     Honda   224.468  40.0948s   + 0.1237s
 5. Helio Castroneves    Penske      Chevy   224.457  40.0968s   + 0.1257s
 6. EJ Viso              Andretti    Chevy   224.221  40.1389s   + 0.1678s
 7. JR Hildebrand        Panther     Chevy   224.075  40.1652s   + 0.1941s
 8. Ed Carpenter         Carpenter   Chevy   224.019  40.1751s   + 0.2040s
 9. Oriol Servia         Panther DRR Chevy   223.995  40.1795s   + 0.2084s
10. Takuma Sato          Foyt        Honda   223.660  40.2396s   + 0.2685s
11. AJ Allmendinger      Penske      Chevy   223.660  40.2397s   + 0.2686s
12. Simon Pagenaud       Schmidt     Honda   223.465  40.2748s   + 0.3037s
13. Justin Wilson        Coyne       Honda   223.460  40.2757s   + 0.3046s
14. Townsend Bell        Panther     Chevy   223.182  40.3259s   + 0.3548s
15. Dario Franchitti     Ganassi     Honda   222.818  40.3918s   + 0.4207s
16. Will Power           Penske      Chevy   222.383  40.4708s   + 0.4997s
17. Tony Kanaan          KV          Chevy   222.165  40.5104s   + 0.5393s
18. Sebastien Bourdais   Dragon      Chevy   222.130  40.5169s   + 0.5458s
19. Tristan Vautier      Schmidt     Honda   222.020  40.5369s   + 0.5658s
20. James Hinchcliffe    Andretti    Chevy   221.887  40.5611s   + 0.5900s
21. Charlie Kimball      Ganassi     Honda   221.886  40.5614s   + 0.5903s
22. Simona de Silvestro  KV          Chevy   221.776  40.5815s   + 0.6104s
23. Alex Tagliani        Herta       Honda   221.584  40.6166s   + 0.6455s
24. Ryan Briscoe         Ganassi     Honda   221.414  40.6479s   + 0.6768s
25. Sebastian Saavedra   Dragon      Chevy   221.315  40.6661s   + 0.6950s
26. Pippa Mann           Coyne       Honda   221.241  40.6797s   + 0.7086s
27. Josef Newgarden      Fisher      Honda   221.152  40.6960s   + 0.7249s
28. Conor Daly           Foyt        Honda   220.780  40.7646s   + 0.7935s
29. James Jakes          Rahal       Honda   220.676  40.7838s   + 0.8127s
30. Graham Rahal         Rahal       Honda   220.555  40.8061s   + 0.8350s
31. Ana Beatriz          Coyne       Honda   219.930  40.9221s   + 0.9510s
32. Buddy Lazier         Lazier      Chevy   106.867  1:24.2170s + 44.2459s

All cars Dallara DW12