It's not enough to say that the Indianapolis 500 is different to other major motorsport events. With its own complex mythology and its own pantheon of gods, it even stands independent of other IndyCar races.
You only have to listen to the pre-race driver introductions to get a sense of who matters to the 200,000 in the grandstands, and they're not always the drivers who are popular elsewhere.
The likes of Ryan Hunter-Reay, or Will Power, or James Hinchcliffe, are greeted with polite applause, but the full force of the crowd's support is reserved for those whose stories have become intertwined with that of the Speedway.
Three-time winners Dario Franchitti and Helio Castroneves are obviously part of this tiny club, but success is not necessarily the only means of admission.
As evidence, take this story, which Rubens Barrichello enjoyed telling in the second half of 2012. He was walking through Indianapolis last May with a friend when a fan stopped and asked for a picture. Barrichello said yes, whereupon the fan handed the 20-year Formula 1 veteran the camera and posed with his companion - Tony Kanaan. When the admirer had left, Kanaan elbowed the bemused Barrichello in the ribs and told him, 'You're in my town now'.
You can't manufacture the kind of folk hero status that Kanaan had cultivated at Indy any more than you can invent a new cultural movement. It has to happen organically, and in Kanaan's case, it came about though him being an integral part of the story in pretty much every start that he made at the Brickyard, right up to when he finally won the thing on Sunday.
He set a new record by becoming the first driver to lead the Indy 500 in each of his first seven appearances, and the myriad ways that he found to turn a position of strength into one of sometimes catastrophic misfortune turned him into the guy that everybody ended up cheering for.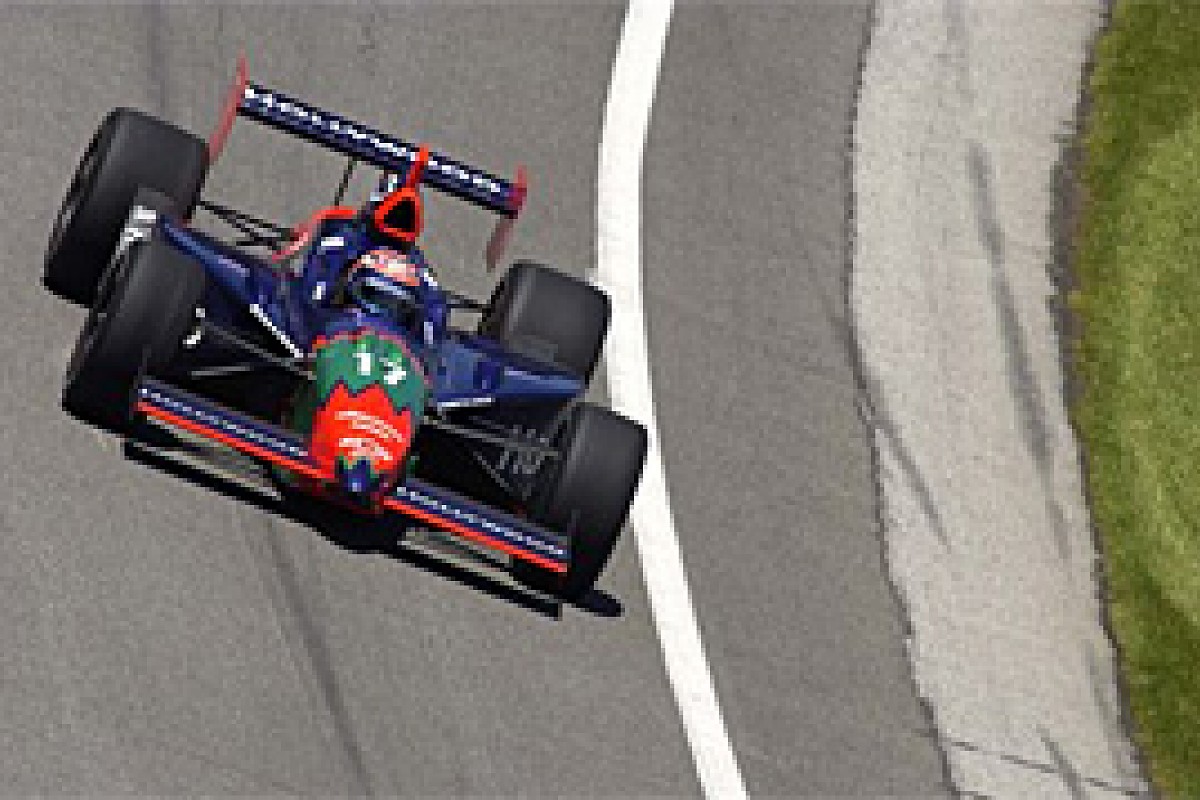 Kanaan made his first appearance at Indy in 2002 © LAT
In his first visit to Indy in 2002, he was leading when he hit a patch of oil - left, most probably, by the car of his now-boss Jimmy Vasser - and spun into the Turn 3 barriers.
The following year was less dramatic, with Kanaan finishing third behind the Penskes of Gil de Ferran and Helio Castroneves; and 2004 was a crapshoot due to the thunderstorm that forced the race to be ended early, although Kanaan was running second at the time.
He started from pole for the first time in 2005 only to drift to eighth in the race, and 12 months later was leading with a few laps to go when the yellows came out just as he was pitting for a final splash of fuel, shuffling him back to fifth.
His mystique started to really gather some steam in 2007. Rain forced a red flag on lap 113, at which point Kanaan was leading. Had it not restarted he'd have been declared the winner. Instead, the weather cleared, the contest resumed, and a few laps later Kanaan spun trying to avoid Jaques Lazier on a restart and ended up 12th.
A duel with Marco Andretti in 2008 ended with Kanaan in the marbles and, very shortly afterwards, in the wall, and his next visit ended in the same place after a driveshaft failure that resulted in an impact recorded at 175G.
In 2010, he very nearly didn't make the field after crashing on pole day, getting the spare car out, and then crashing that one on Bump Day. He squeezed onto the 33rd and final grid spot, then raced through the field to climb up to second with 10 laps left before being forced to make a late stop.
The following year his race was derailed when he had to overshoot his pit box to avoid the car of Pippa Mann, although he later managed to recover as high as second before settling for fourth.
Last year, he was leading with half a dozen laps remaining but was passed by the Ganassi pairing of Dario Franchitti and Scott Dixon as well as Takuma Sato, although the latter's last-lap crash enabled Kanaan to finish third.
Last Sunday - a day when 14 different drivers shared a total of 68 lead changes - Kanaan was finally in front when it mattered, and earned the right to kiss the bricks.
"This place... I've always said it, it's been special to me," Kanaan said. "I didn't have to win here. When I finished 11th here [in 2010], starting dead last, I got out of the car and [the fan reaction] was exactly the same.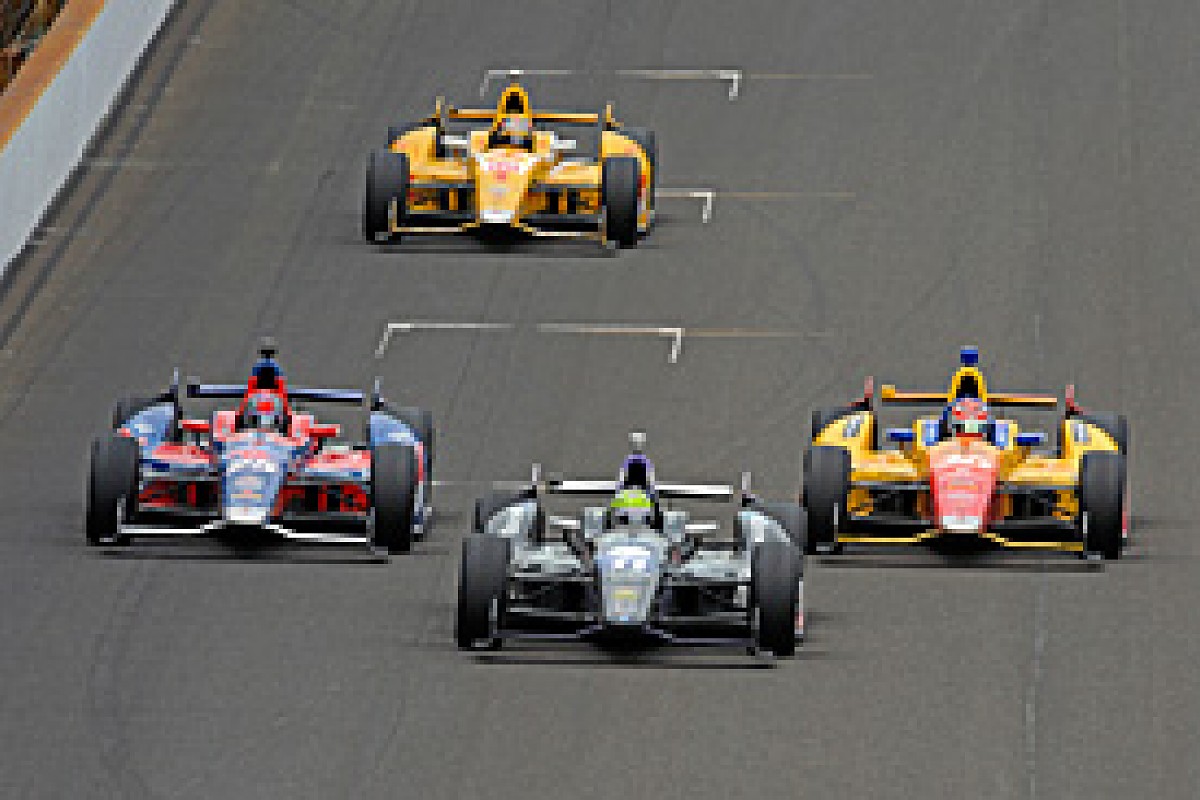 Kanaan on his way to an overdue victory © LAT
"I said before the race, I believed that this win was more for people out there than for me. I wanted it all my life. Over the years, I was kind of okay with the fact that I may never have a chance to win it. But from day one [of practice], [the fan reaction] catches me by surprise.
"I can't walk out there [in the paddock]. I couldn't before; I don't know, now maybe it's going to get worse. Every year that went by that I didn't win, the fan base kept growing. More people felt sorry [for me]. More people felt that I deserved to win. It got out of control, actually. It's awesome."
That Indy fans are so tuned into the Speedway folklore means that the nature of Kanaan's win will not have gone unnoticed; nor will the ramifications for how that achievement is memorialised.
There would have been very few people at the track, regardless of their alcohol intake level, who would have failed to recognise some degree of symbolism in the fact that the driver whose crash brought out the yellows that guaranteed Kanaan's win was Franchitti, one of the Brazilian's partners-in-crime from the Andretti Green glory years of a decade ago.
This same generation of fan will also forever appreciate the significance of Kanaan's likeness being cast in silver alongside those of Franchitti and close friend and fellow Andretti Green cohort Dan Wheldon on the trophy.
It's traditional before any major race to sit around talking about who might win, and every time the topic was raised at Indianapolis on Sunday morning, mention was made of how a Kanaan victory would be received. That has now been realised, and whatever else the Brazilian achieves in his career, his immortality within the vicinity of 16th and Georgetown is guaranteed.