Depending upon what you read last week - and when you read it - you're likely doing one of the following: 1) Waiting for IndyCar CEO Randy Bernard to learn the hard way that all this fancy bullriding cred counts for nothing at the intersection of 16th and Georgetown in Indianapolis. 2) Waiting for IndyCar to collapse or split against the backdrop of distraught hand-wringing and wailing about the failure to learn from the past. 3) Wondering what all the fuss is about.
It took less than 140 characters to spark the recent flurry of speculation about Bernard's future. And unusually for this sort of situation the initial source was Randy himself, who took to Twitter on the Tuesday after the Indianapolis 500 to reveal that one of the team owners was trying to have him ousted.
Perhaps more surprising than the tweet itself was the timing. Bernard is fond of speaking about storylines and momentum, and after the extraordinary finish to this year's 500 - and a run of another four races on consecutive weekends to follow it - he had both. But as soon as he released that message to the world, that all changed. On the Google Alerts IndyCar feed the following day - just days after the Indy 500 remember, and only a few days before the series returned to the streets of Detroit - 80 per cent of the stories were about turmoil and dissent.
As of last weekend, Bernard still hadn't cooled off, and he remained convinced that what he'd done was the right thing. Without knowing the full story, it's impossible to say whether there was perhaps some sort of political leverage to be gained by going public on his own terms and controlling the story, or whether it was simply the angry Twitter equivalent of drunken texting.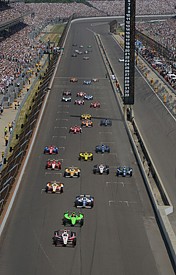 This year's Indy 500 was hailed as a great success © LAT
Bernard has made PR missteps in the past, but he's also not shy about owning up when he has put his foot in it. At a dinner earlier this year, it was him who brought the conversation around to the time that he promised to resign if a particular race didn't achieve a certain TV rating. So the fact that he remained committed to the path that he'd taken when he answered questions about it in Detroit last week seems significant. Time may yet prove that his judgement was out after all, but it's equally possible that it could validate his actions.
As for whether the owners really want him gone, the prevailing sense in Detroit seemed to be in the negative. Certainly some of the team owners are unhappy about particular things, and many of their concerns are valid. That the new DW12 costs more than promised is a legitimate gripe at a time when funding is hard to come by.
The reawakening of the war over aero kits is more complex. Bernard admits that he is neither racing-minded nor technically-minded. He is a commercial guy, and his job is to secure and develop the commercial viability of the series, not to make calls on which sections of aero should be fixed and which should be free.
And as a commercial guy, it's easy to see why alternative aero kits appeals to him. It offers more variety for the fans, and an additional hook for manufacturers and sponsors. Why have a National Guard livery when you can have National Guard-specific bodywork? Bernard's job is to add value to the series in order to encourage investment and help it develop, and if you consider alternative aero purely from that perspective, the plan seems like a winner.
But it's equally easy to see why the team owners hate the idea; at least, at the moment. The kits are expected to cost $75,000 each - and each car will need a different one for road/street courses, short ovals and superspeedways, plus spares. If you're running four cars like Ganassi, or three like Andretti, it adds up very quickly.
That said, it's also a historical fact that team owners are pretty much never happy, and that applies to every form of racing from a club event at Silverstone to Formula 1. (Just try typing 'FOTA' into the search box on this website).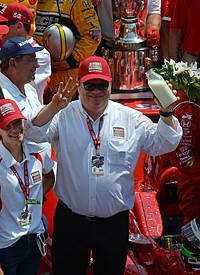 Chip Ganassi celebrates his latest Indy 500 win © LAT
According to some reports, other grievances related to what are perceived to be excessive fines. For that at least, the solution is simple. The easiest way to cut down on what you're spending on fines is to cut down on the number of rules that you're breaking. Or if you come from the Smokey Yunick school of race engineering, get better at not getting caught.
But for all that, the paddock only exists because of a lot of symbiotic relationships, and Chip Ganassi was right last week when he said that team owners don't grow on trees. The more teams that flourish, the stronger the field is. And that doesn't just benefit the series, it benefits the other teams as well. IndyCar is currently in a situation where there is no dead wood on the grid; no team that could vanish and not be missed. It has taken years to get to this point, but it wouldn't take much to unravel it.
Some of the more reflective team owners have already recognised that even if they had the power to remove Bernard, which they don't (he is contracted to Hulman and Co via the Indianapolis Motor Speedway Corporation), doing so would be tantamount to suicide.
For starters, who could do a better job? You only have to look at the last decade of CART/Champ Car to see how hard it is to find someone capable of steering the ship. On the IRL/IndyCar side, there are undoubtedly a couple of owners who'd like to see Tony George return - but there are more who recognise the value of having a CEO whose sole agenda is the betterment of the series. And even Bernard's critics would have to concede that whatever else they have to say about him, they cannot question his work ethic or commitment.
(This journalist has personal experience of the former. In the past few months, I've had text messages answered at 5am, done a phone interview just after 6am, and had an exchange of emails at 10:45pm on a Sunday evening when the series was supposed to be having a weekend off. The guy does not sleep).
Bernard accepts that every decision he makes is going to make someone unhappy, whether it be a team owner, a manufacturer, or a track. Picking a path through all the competing interests to create an ultimately stronger series is an extraordinarily difficult task. But if it wasn't, the US single-seater fraternity wouldn't have spent the last 10 years replacing Tony George, or Joe Heitzler, or Chris Pook, or Dick Eidswick, or Steve Johnson to begin with.